Build your site in a minute!
GT3 Page Builder is a special WordPress plugin for building unlimited number of custom pages. It helps you to display the content on the pages through the user-friendly GT3 editor. This useful plugin includes a lot of modules which have their own settings and are fully customizable. You can add them one-by-one to the Page Builder section by clicking on the required module.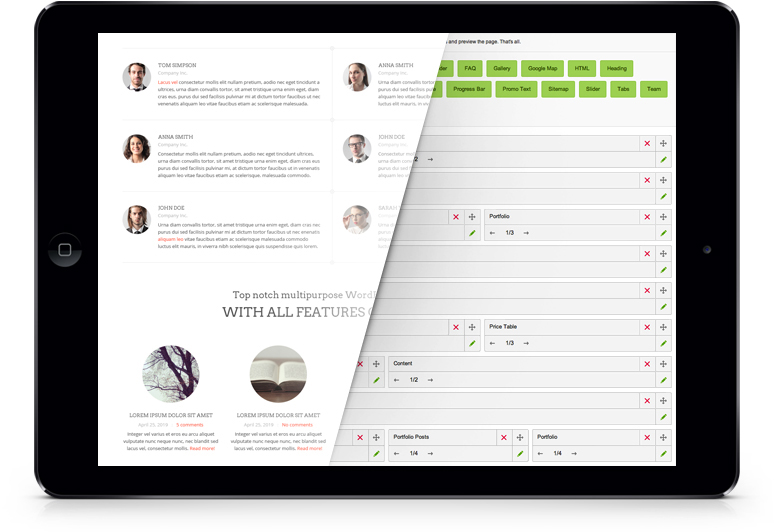 discover the power of GT3 Page Builder plugin
Everything you need to get things done
Enjoy awesome modules including:
accordion & Toggle
Used to display collapsible text content panels for showing information in a limited amount of space.
Team
Used to show your coworkers on your website. You can create unlimited number of team members, set any social profile icon, link.
Testimonials
Displays testimonials from the associated section. It will fit perfectly to show user or client comments or any other comments of that matter.
partners
It will fit perfectly to display your company partners logo. You can assign a link and featured image, then simply use this module to show all the info.
progress bar
Perfectly for the presentation purposes. Allows to display your information in a unique manner, circle style with the progress bar.
message boxes
Designed to display different kind of notification messages. Choose the desired icon, put the notification text into the text area, choose the notification type.
Heading
You can edit heading to any page area, highlighting the main idea of the text. Fill out the required fields, select necessary options and you can easily set it.
Gallery
Allows you to display the photos and videos from the gallery section. You can easily configure the galley to display on the page.
Portfolio Posts
Displays the newest or random posts from portfolio list. The module supports the option to choose the post from the selected portfolio categories.
Blog
Using this module, you can add as much Blog Posts for your website as you need. Also you can filter blog posts by categories.
Content
Using this module, you can demonstrate the entire content of the standard Wordpress editor. That's why you can use it once at the page.
Sitemap
This useful module assists you in displaying the whole website sections, providing user-friendly navigation through the website.
Slider
You can add any slider that uses shortcodes.
Icon Box
Allows to insert a short description of something you might want to present and allows to assign a custom icon to it along with the title and description.
Tabs
Single content area with different panels, each one associated with a header title in a list. Placement can be horizontal and vertical.
Price Table
It will fit perfectly for promotion or displaying different kind of business offers. You can set name, price, description, add link etc.
Promo text
Allows you to display promo information that can be easily linked to your main article. Consists of main text, additional text and the button.
Google Map
With the help of this module you can simply set the map to show your business address to the visitors and customers.
Background
Perfect solution for those who want to have a fullwidth custom background behind the modules you add to the site.
Divider
Simple horizontal line that helps visually to divide content of the page and used to divide page section regions. You can specify different devider types.
Icon List
Using it, you can easily create a custom icon lists on the page. Choose the icon from the library, add the title, link, color etc. We use FontAwesome icons.
Blog Posts
Displays the newest or random posts from blog list. You can specify number of posts to show along with the number of posts per line to show.
Portfolio
Provides you with a great opportunity to set your Media content without Ajax effects. Choose the necessary fields and customize it for your needs.
Text Area
With the help of this module you can edit text to any part of the page.
javascript
This module helps you to add a required Javascript code and shortcodes into your content.
Video
Allows to display videos from two the most popular video hosting services Youtube and Vimeo. You can specify Title name and Video Height if needed.
16028
Downloads & Counting