Restaurants and hotels are really profitable and quite popular types of business no matter what country you live in. New cafes and pubs are opened anywhere both for tourists and residents of any city or town. Creating an attractive website is always essential when it comes to promoting your business online 'cause good advertising campaign is impossible without a strong online presence.
Choose the best and the most elegant design for your website to engage the more target customers the possible, and our team is pleased to assist you in making the right choice. Today we represent the collection of clean and fresh HTML and Bootstrap templates which would be the pick of the bunch for promoting the website of your café, restaurant or hotel.
A Tasty Offer from GT3 Themes
Firstly we would like to suggest you an elegant and easy-to-use theme which will come in handy for your hotel and restaurant business' online promotion.
Cook Recipes Website Template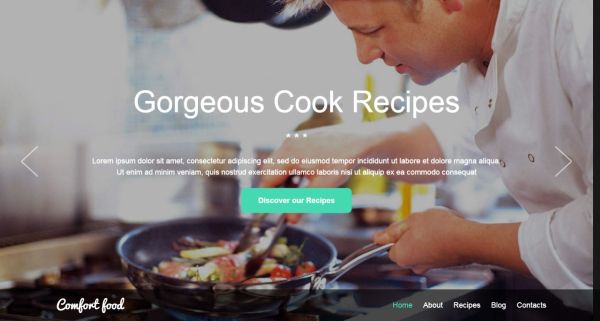 Take a look at this stylish premium template which would be ideal choice to start your business in the food industry. This one-page HTML template is sure to place all your creative ideas into one impressive online presentation. You can use the template to perfectly represent your cuisine, interior design, service and staff. This ready-made design is useful both if you want to open your own culinary school, introduce your restaurant or promote your hotel in a very professional way.
Free HTML Restaurant and Hotel Templates
The following beautiful templates will not only help you represent your business in the most pleasant way but also help you save your costs because they are absolutely free to download.
1. Foodee Free HTML5 Template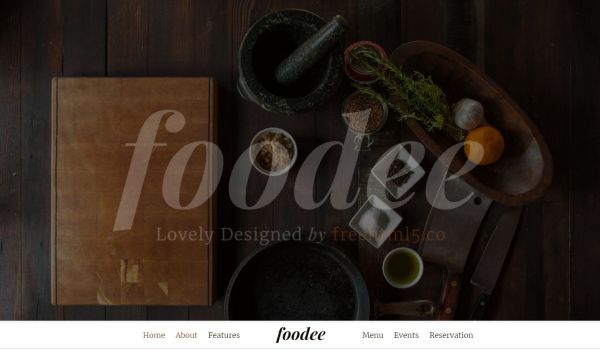 An elegant and unique free HTML5 template which is perfect for restaurants and cafes of any type. Choose this template to impress your customers and visitors and provide them with really great user experience. Download and use it for free.
2. Cooks Hotel Category Flat Bootstrap Responsive Web Template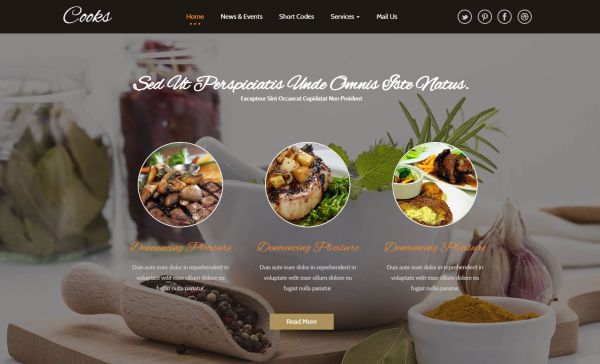 A free responsive Bootstrap web template which is sure to be very helpful to make your facility popular. Use this template to promote fast food centers, restaurants, pubs, food points, and so on. The template is compatible with all browsers and devices.
3. Urbangrill – HTML5 Restaurant Template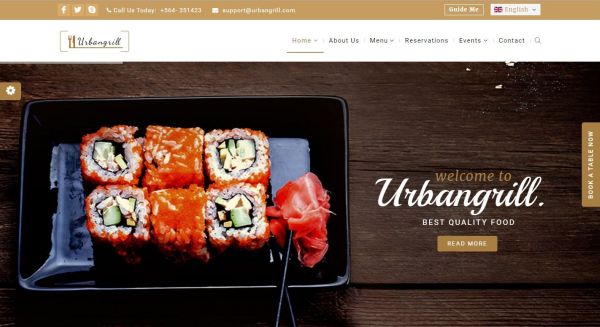 A free HTML5 template that can become a good solution for your website's appearance. Choose this template to do your best for building really efficient web presence and make your advertising campaign successful and your restaurant business profitable.
4. Hotel Deluxe Hotel Category Flat Bootstrap Responsive Web Template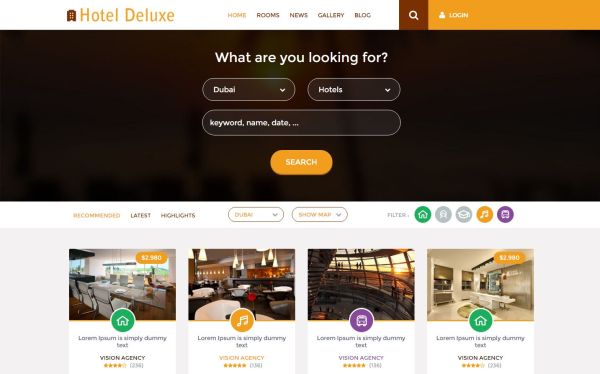 A free HTML5 and CSS3 responsive Bootstrap template which will perfectly fit your debut website for your hotel or restaurant. Yellow and brown colors are combined in this design and make it look stylish. The template can be customized as per user requirements.
5. Liqueur Hotel Category Responsive Web Template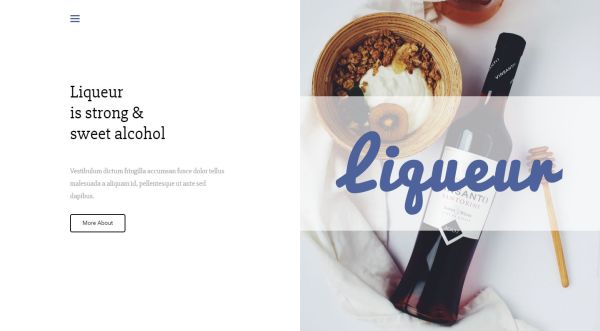 A free HTML5 template designed with a fancy style and available for promoting a hostel, a hotel, a restaurant, a pub, and the related facilities. Attractive color scheme and good grid style elements make it attractive and usable, though you can customize it up to your needs.
6. Sea King Restaurant Hotel Category Flat Bootstrap Responsive Web Template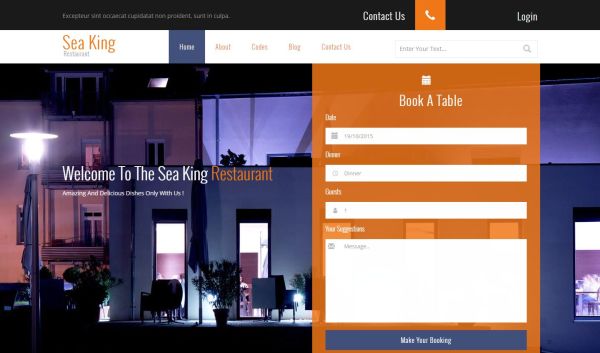 A free and stylish Bootstrap template designed to fit your promotional campaign and meet your ever-evolving expectations concerning the appearance of your debut website. Choose the template to make your restaurant's site look modern and stylish.
7. Espresso Restaurant Category Flat Bootstrap Responsive Web Template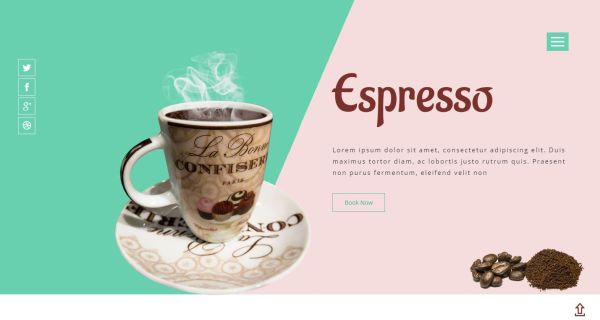 A free Bootstrap template which is sure to be appropriate for creating a promotional website of a coffee shop, a resort, a food corner, or any other related facility. The template is fully responsive so it will look great on any screen resolution and any device.
8. Free HTML5 Theme for Restaurant Site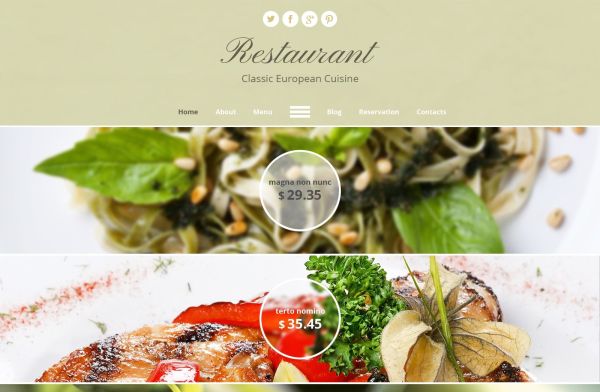 A stylish and good-looking HTML5 template which will make your website look refined, clean and functional. The theme was designed with a Scandinavian chic so it will be the icing on the cake that makes your project stand out from the crowd.
9. Free Website Template – Cooking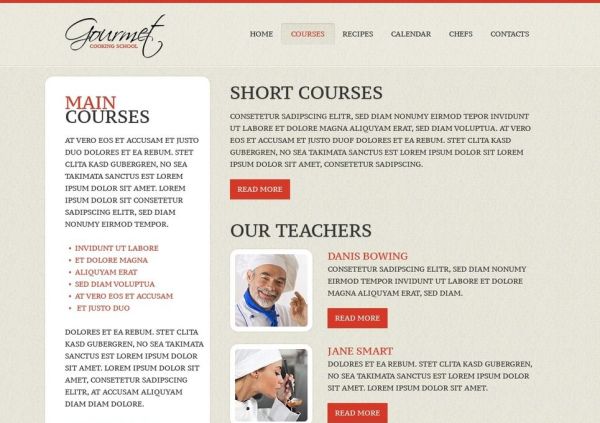 A free and fresh website template for culinary website designed by design professionals for restaurant experts. The theme has been made in warm color scheme and with effective typography which makes it look really stylish and engaging.
10. Free HTML5 Theme for Restaurant Website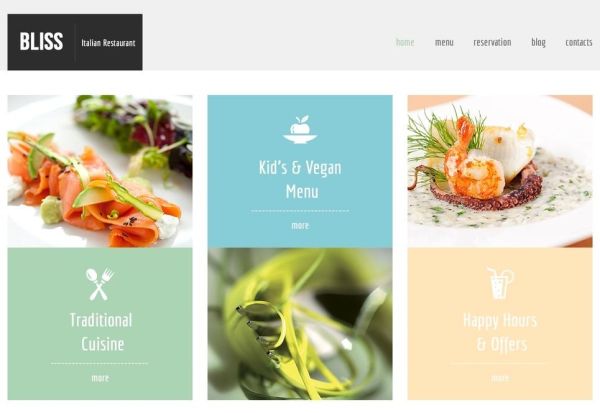 A free and tasty HTML5 design which is sure to win the hearts of gourmets. This refined theme has clear and intuitive navigation and contemporary look which is sure to be to the taste of your potential customers and regular visitors.
11. Free Website Template – Restaurant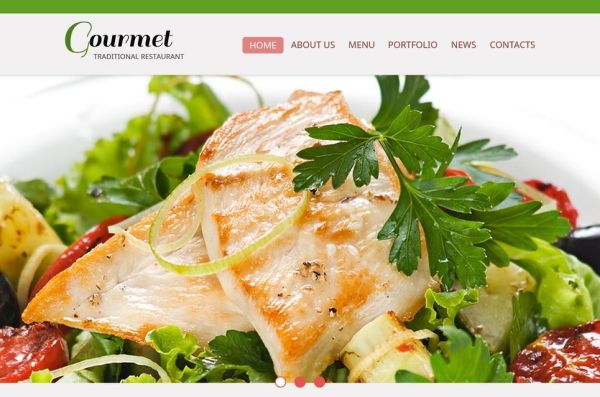 A free and attractive design for the restaurant website designed in sappy colors. The theme has large images, sliders and galleries so it works perfect for making an appealing website for engaging clients of a restaurant or a cafe.
Premium Hotel and Restaurant Website Templates
The following bunch of templates is designed by skilled professionals to help you choose the right design from the great list of carefully crafted themes. They are easy to customize and meet all modern requirements referring usability.
1. Local Expert – HTML Responsive Template for Local Guide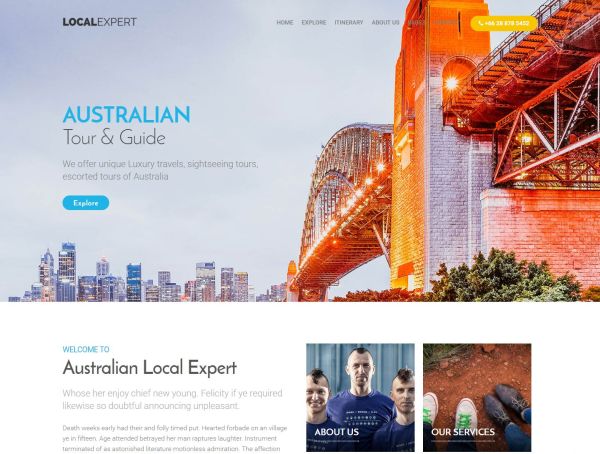 A premium responsive HTML template applicable for individual local guide or a small tour company to provide their trip programs for their local destinations. The hotel items and hotel search form are also included here.
2. Tensilon – Creative Multi-Purpose Html5 Template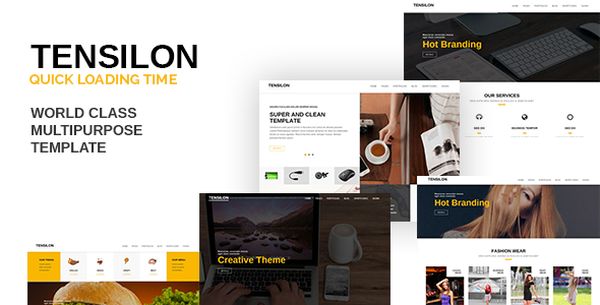 A premium multi-purpose HTML5 template designed with Bootstrap 3.x and applicable for becoming a full-fledged website for promoting the services of a restaurant or a hotel. It is absolutely flexible and compatible with any devices.
3. Enhance – Multi-Purpose Onepage & Multipage Template
A premium multi-purpose HTML5 template with clean design and responsive and retina-ready layout. You can use this design for promoting either a hotel, a restaurant, a spa resort, or any other business you run.
4. Frokost – Restaurant / Cafe One Page HTML5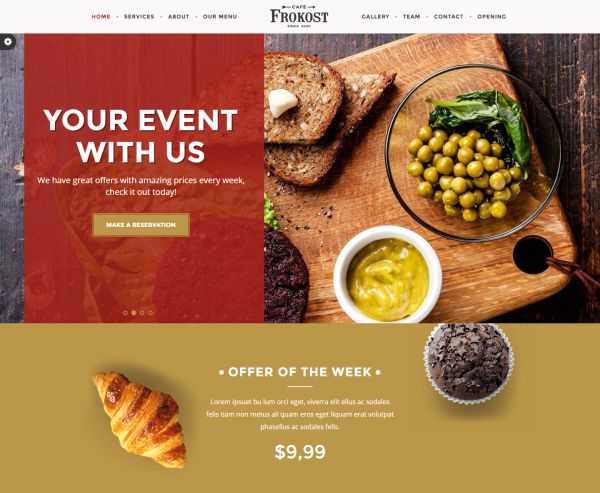 A premium clean and fully responsive one-page HTML5 template designed for restaurant or café business. The color scheme and all elements of this template are easy to edit and customize to create your perfect website.
5. Saveur – Food & Restaurant HTML5 Template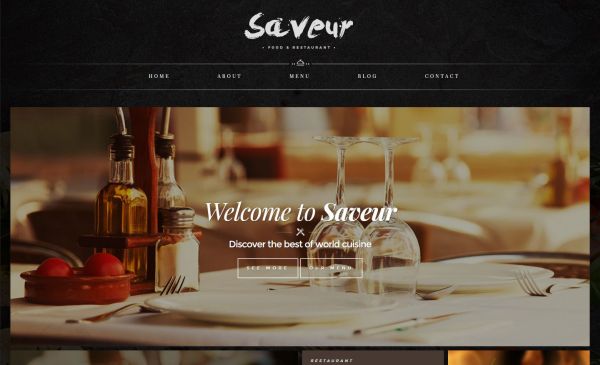 A premium and exquisite HTML5 template designed with interactive and unique concept and focused on business like restaurants, pubs, coffee shops, and so on. Intuitive navigation and sophisticated layout are its main advantages.
6. Intense Multipurpose Website Template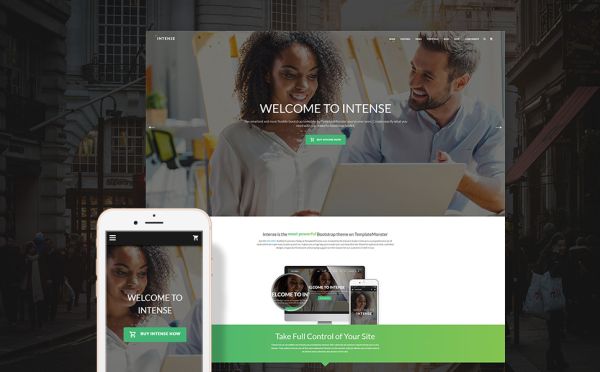 A premium and fully-featured multi-purpose responsive web template applicable either for launching or upgrading your blog or business website. You can choose this design for your restaurant, pub or café website and easily customize it up to your needs.
7. Sushi Bar Responsive Website Template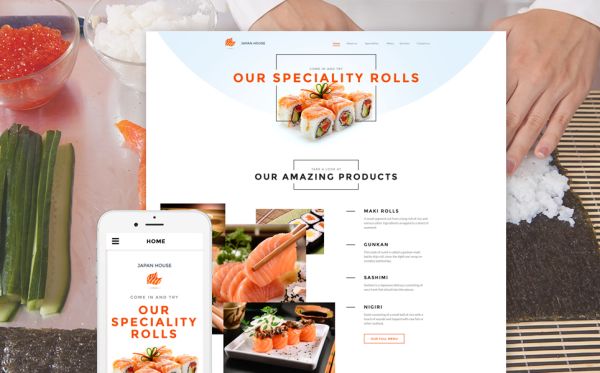 A premium and gorgeous HTML5 and CSS3 website template designed to become a website of profitable sushi bar or a welcoming café. The design is very easy to edit and customize and its responsive layout makes it compatible with any device.
8. Beerista Website Template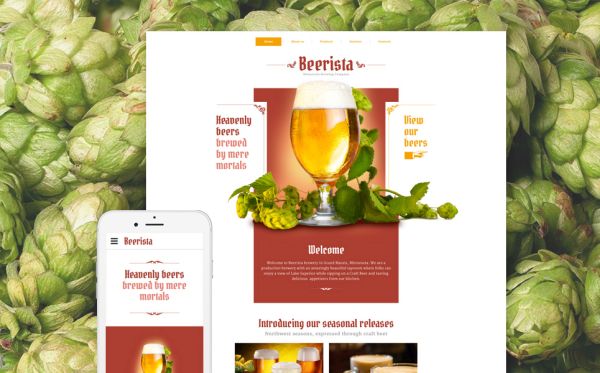 A premium professionally designed web template which will be perfect variant for creating a website of a bar, a pub or a café. The minimal layout of this ready-made design will make your content look very clear and structured.
9. Mexican Website Template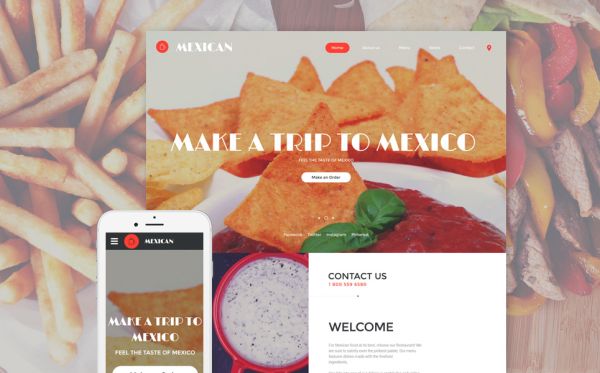 A premium flat website template for building a professional culinary blog or a business website of a café or restaurant. A fullscreen slider, various hover effects and galleries make this design extremely attractive and easy-to-use.
10. Cafe and Restaurant Responsive Website Template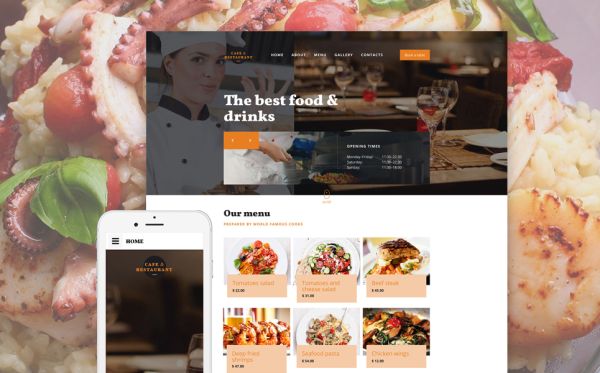 A premium and delicious responsive design which would be the splendid choice for your debut cafe or restaurant website. Choose the template for creating or revamping your website and use your favorite html editor to customize it as you wish.
11. Candini Website Template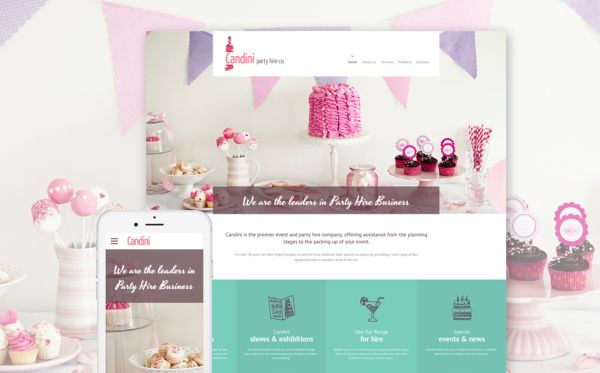 A premium stylish website template which is sure to appeal to a wide audience of visitors. Simple but impressive layout as well as soft color palette made in light pastel colors make this template look really engaging for your future customers.
Conclusion
All of the mentioned above HTML and Bootstrap templates are designed in accordance with modern trends and meet the expectations of contemporary users. They are extremely easy to use and customize with any HTML editor you prefer. So feel free to choose the most beautiful one and make your business much more profitable.