Entertainment is something that everyone understands in different ways. Someone likes to attend events or spend time in cafe or cinema, other ones prefer visiting music concerts, there is also someone who's hobby is to run a blog, and busy people can make a break and read an online magazine. We have collected a great bundle of readymade HTML and Bootstrap designs that you can use for creating top-of-the-line entertainment related websites.
Free HTML and Bootstrap Templates related to Entertainment
Take a look at the hand-picked new HTML and Bootstrap templates you can download absolutely for free.
1. Rock Star Free HTML and Bootstrap Template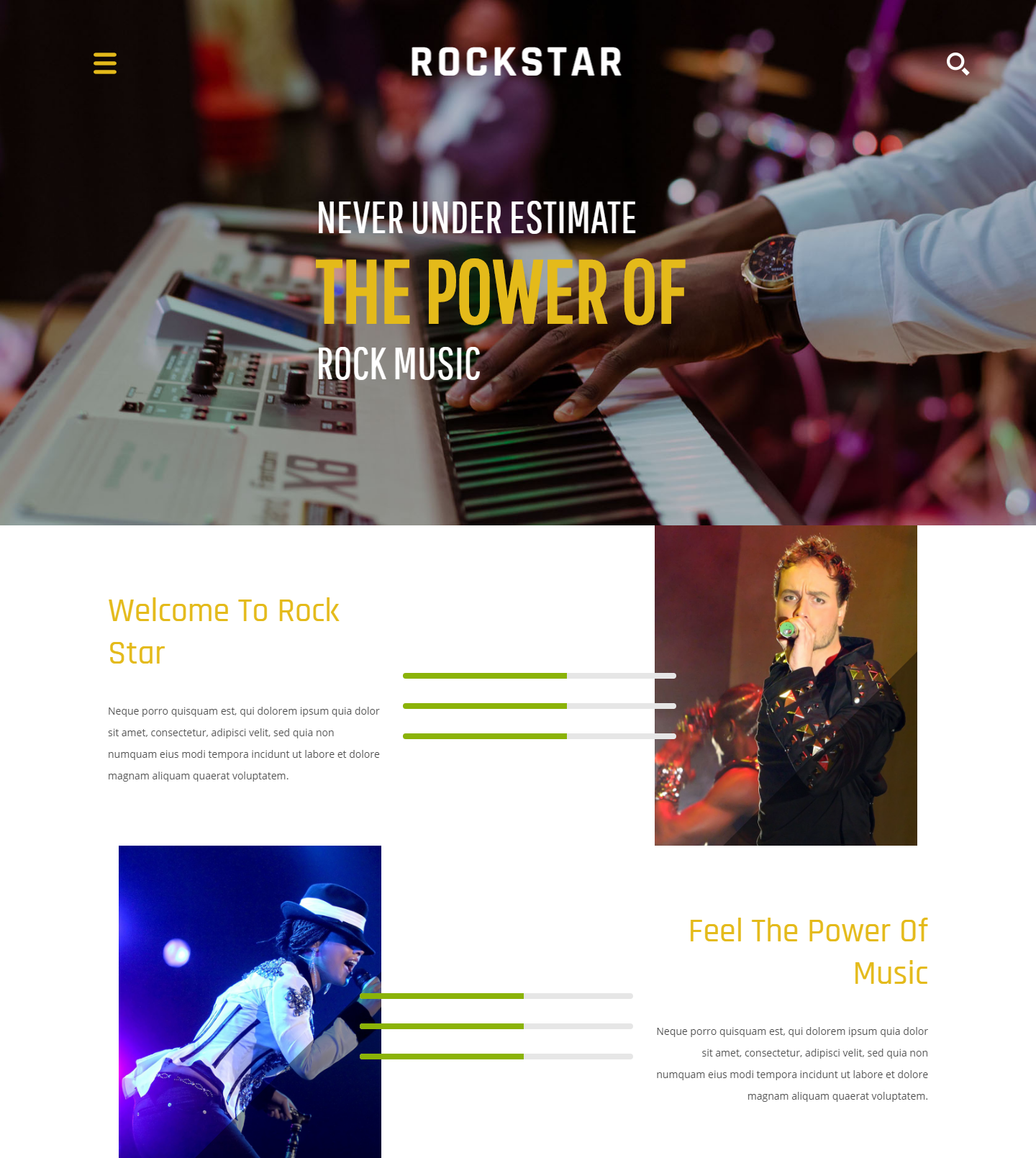 A nice free HTML5 and CSS3 template which is a glorious outcome resulted from diligent web-development. The template has been stunningly designed upon Bootstrap framework which makes it absolutely great clean and responsive solution for your perfect music related website. The exceptional ease of navigation, fabulous style of hover patterns, several fully-functional web-page templates, fluid responsive layout, and cross-browser compatibility are only a few amazing features of this beautiful and professionally-designed template.
2. Youth Fashion Free HTML and Bootstrap Template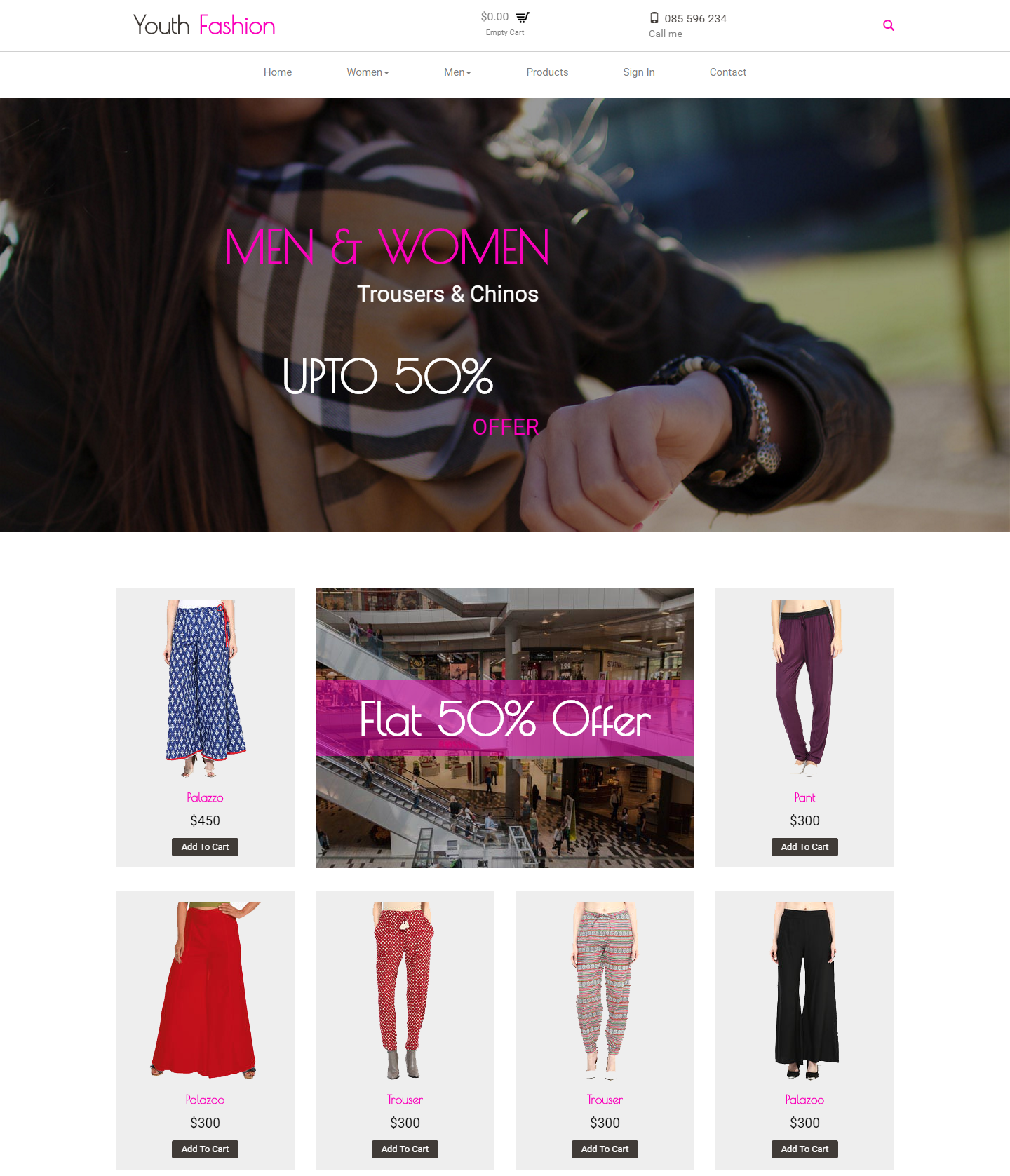 An eye-catching free HTML5 and CSS3 template designed with Bootstrap and stuffed with pragmatic functional features. As it is an e-Commerce style template you can use it for creating a great online store for selling clothes or any other products. Adopted colors, hover animations, image zooming, flat grid style, and other useful features make the template look absolutely awesome and attractive for your future visitors. The design is fabricated with abundant features on par with market leaders so it can elevate your eCommerce business across the globe with style.
3. Robes Free Multipurpose HTML and Bootstrap Template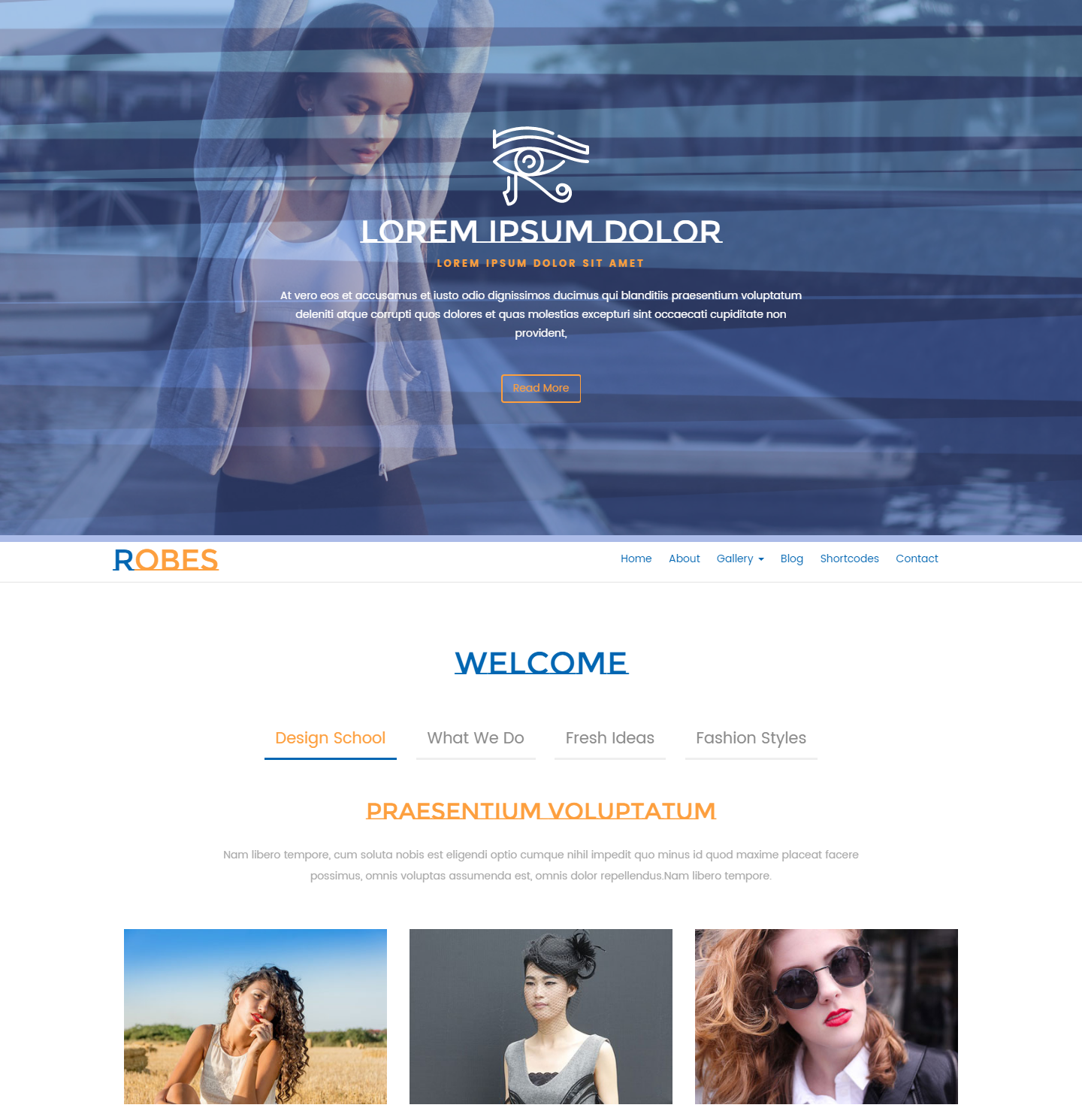 A clean and stylish free multipurpose HTML5 and CSS3 template which will be suitable for models and style makers. The design can be easily customized like any fashion category websites and can become a full-fledged website related to shopping and personal style trends. A free flat Bootstrap full page background slider with thumbs, fancy style, clean flat grid system, responsive layout, and some other amazing features make this template an excellent solution for a worthy website. Download this template for free and have fun.
4. Combat Game Free HTML and Bootstrap Template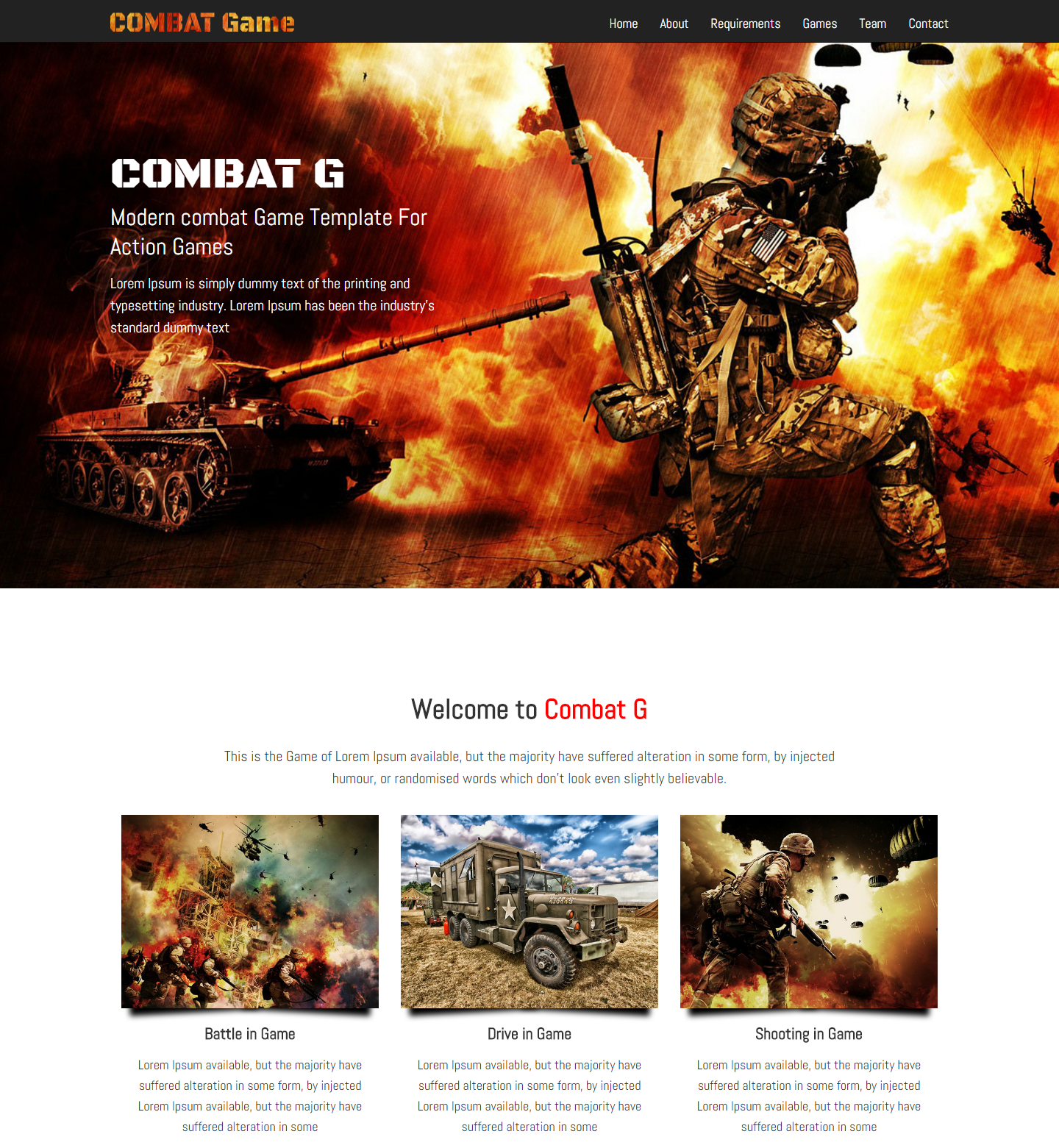 A stunning free HTML5 and CSS3 template which is based on Bootstrap framework and comes with fluid responsive layout allowing it to look good on the screens of any devices. The template is applicable for online and offline games websites and other related resources. The design is built in fancy style, however, it can be used as per user requirements. It is built with a good color scheme and good grid style of elements. You can customize the template to modify its pages and make them look perfect.
5. Corsa Racer Free One-Page HTML and Bootstrap Template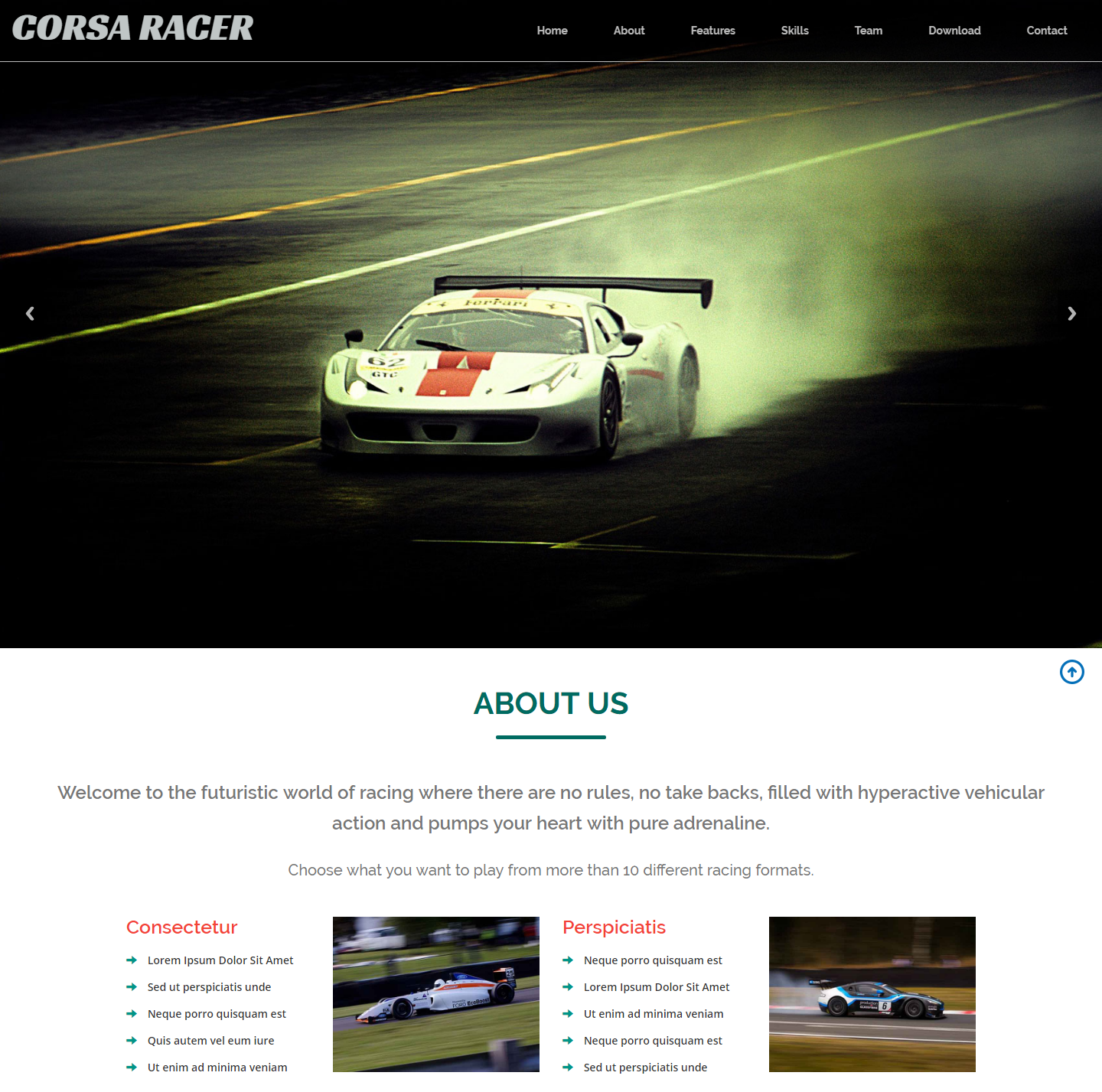 A nicely-looking free single-page HTML5 and CSS3 template available for any gaming business websites. As Bootstrap framework played a pivotal role in sculpting this galloping web template, it has a stunningly responsive layout which is also cross-browser and cross-platform supportive one. Its glossy landing page is crafted with amazing slides and pacifying text which is sure to attract as many visitors as possible. The components of this design are reusable for customization and created perfectly like a crystal.
6. Estelle Free HTML and Bootstrap Template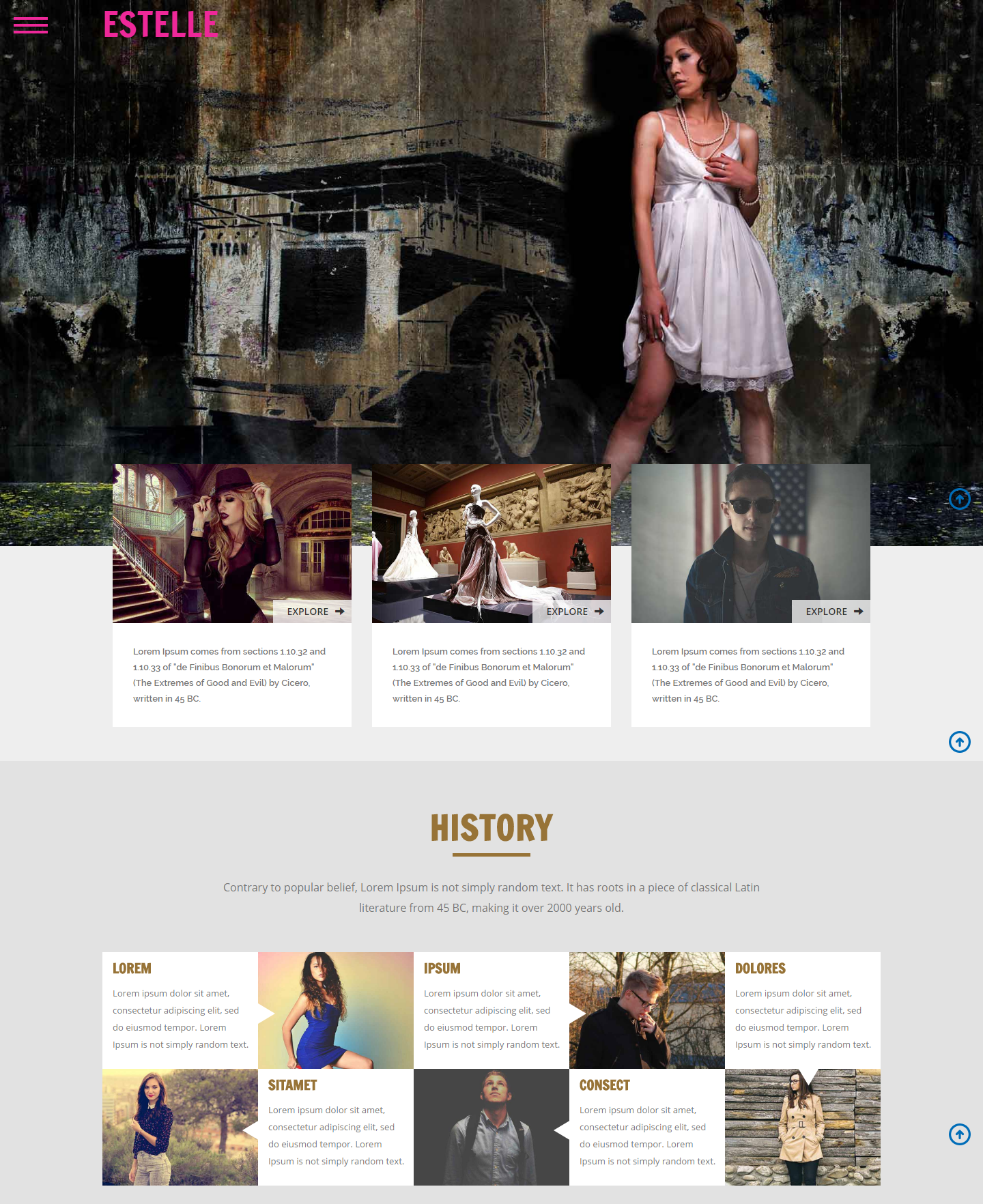 A top-notch free HTML5 and CSS3 template available for almost any type of fashion website. The amazing colors, images, icons, animations, alignment and navigation are perfectly chosen to make this high-class web template an extremely great solution for any fashion related website. A lot of great customization features, eye-catching design, and many more advantages make this theme a top-grade one. Responsive layout is another amazing feature which allows the template look awesome on the screens of any devices.
7. Tasty Food Free HTML and Bootstrap Template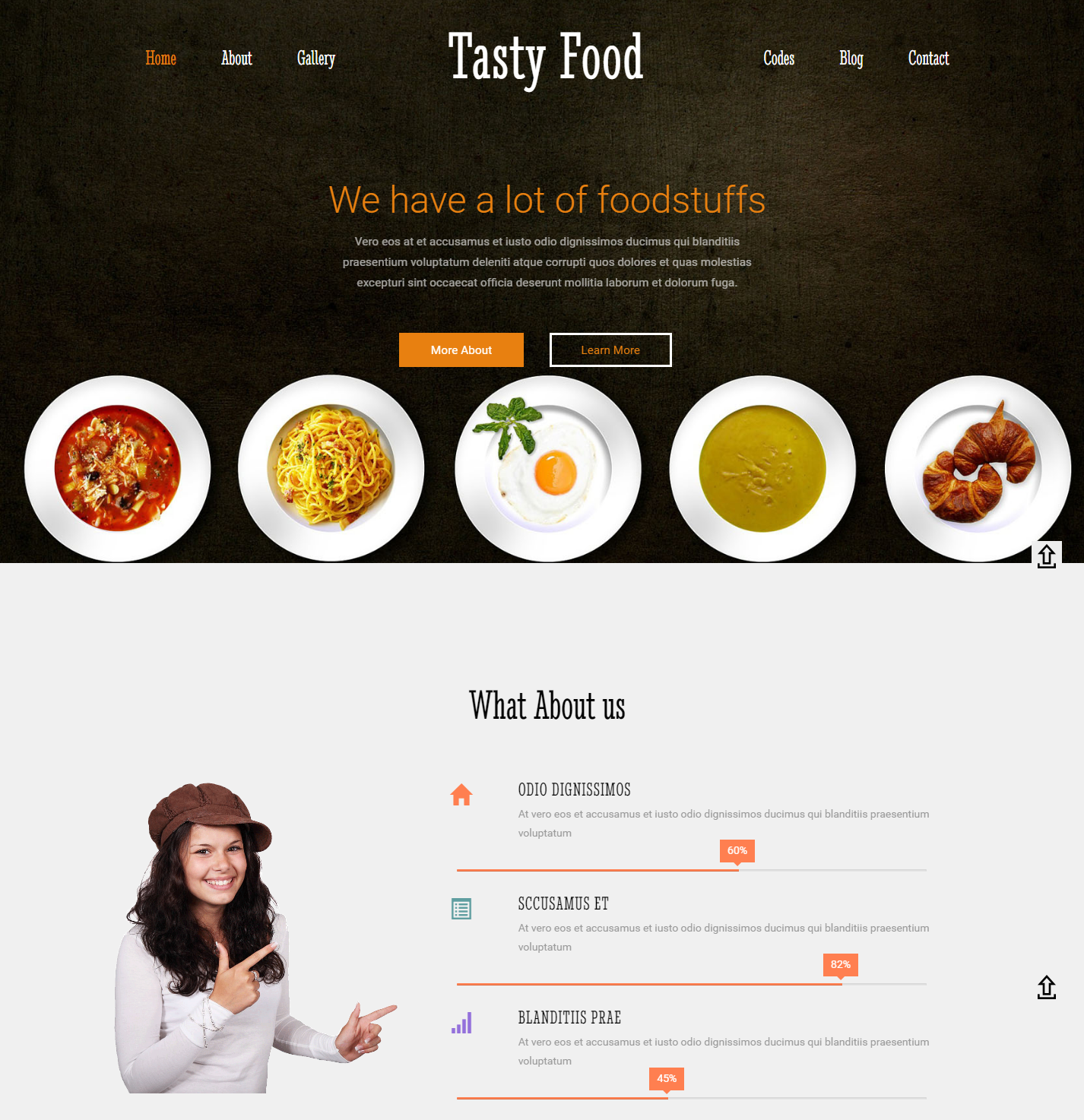 A deliciously prepared free HTML5 and CSS3 template available for creating a top-notch website of a hotel, restaurant or café. The template has been built with Bootstrap framework so it is sure to reach your satisfaction quotient. The template has beautiful colors, texture, hover animations, parallax images, and alignment. Its amazing functionality is sure to help you make your website look and work perfectly. Download the template for free, customize it and share your experience. The design is fully responsive.
8. Roasting Free HTML and Bootstrap Template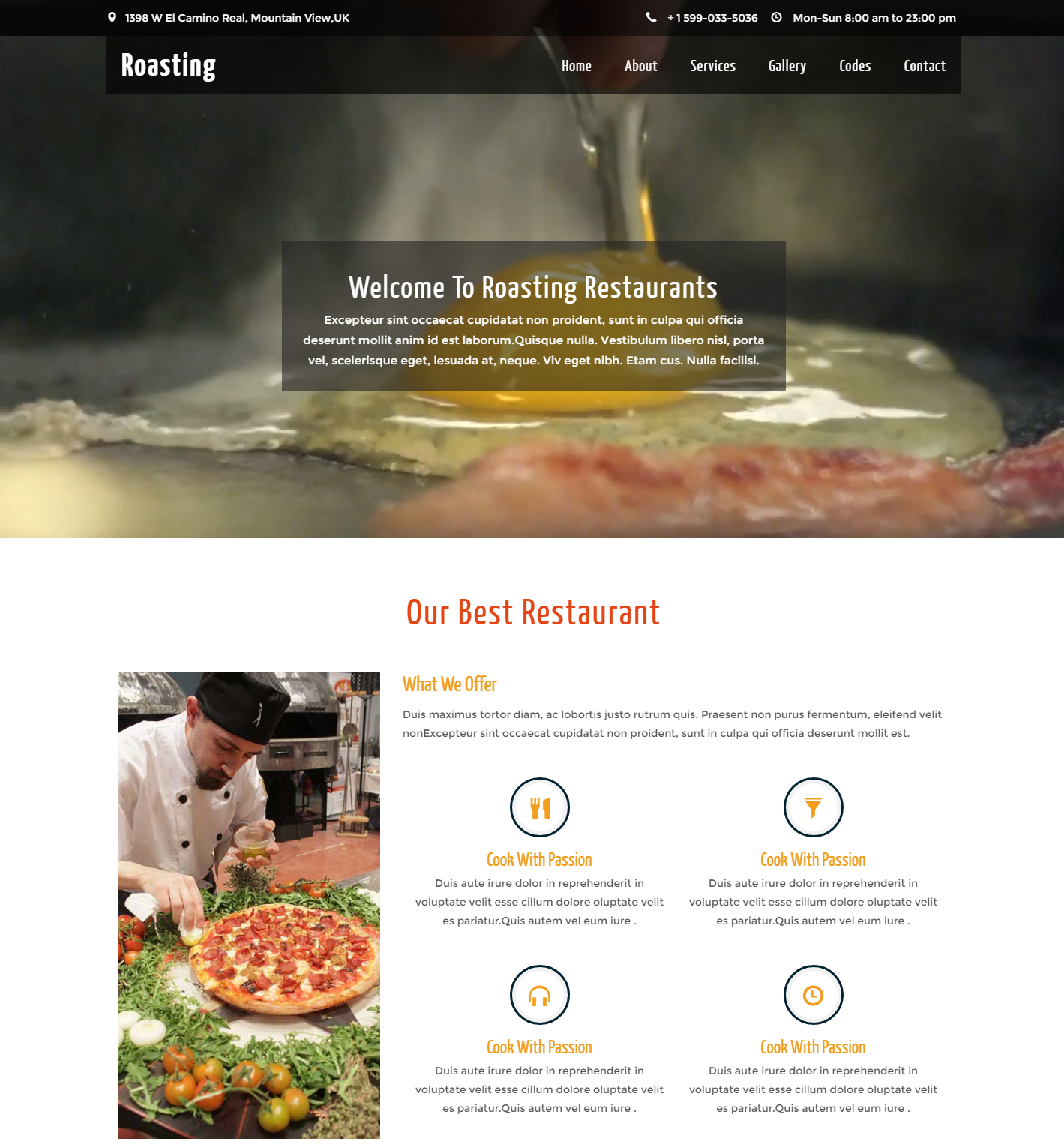 A heavenly delicious free HTML5 and CSS3 template which has been catered with precision for your restaurant and motel business website. This luscious web template is designed with Bootstrap and meets all contemporary standards on the Web. The appetizing Video background is one of the best things here allowing to demonstrate the menu of the restaurant to the visitors. Plenty of features available for this template are sure to come in handy and reach your amusement scale. The template is fully adaptive to different screen resolutions as well as cross-browser supportive.
9. Hot Cuisine Free HTML and Bootstrap Template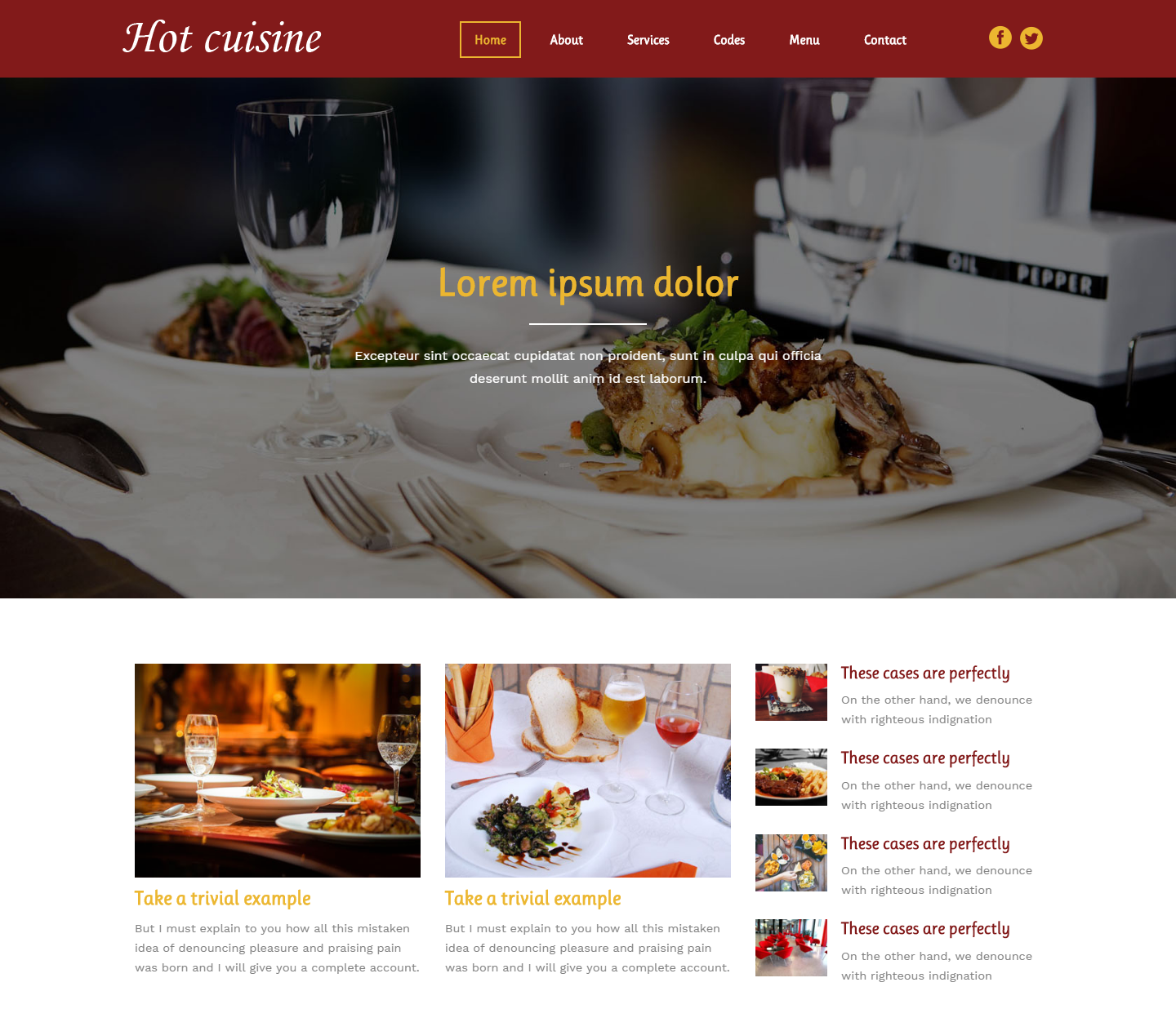 A great free HTML5 and CSS3 template based on powerful Bootstrap framework and suitable for multipage restaurant related website crafted with exotic colors, fancy icons and funky animations. The template is fully responsive so it looks great on displays of any devices. By the way, it caters the needs of a hotel and restaurant category business website. The design is very easy to customize and edit so you can create your website without any coding knowledge and it will be completely ready in a matter of hours.
10. We Go Free HTML and Bootstrap Template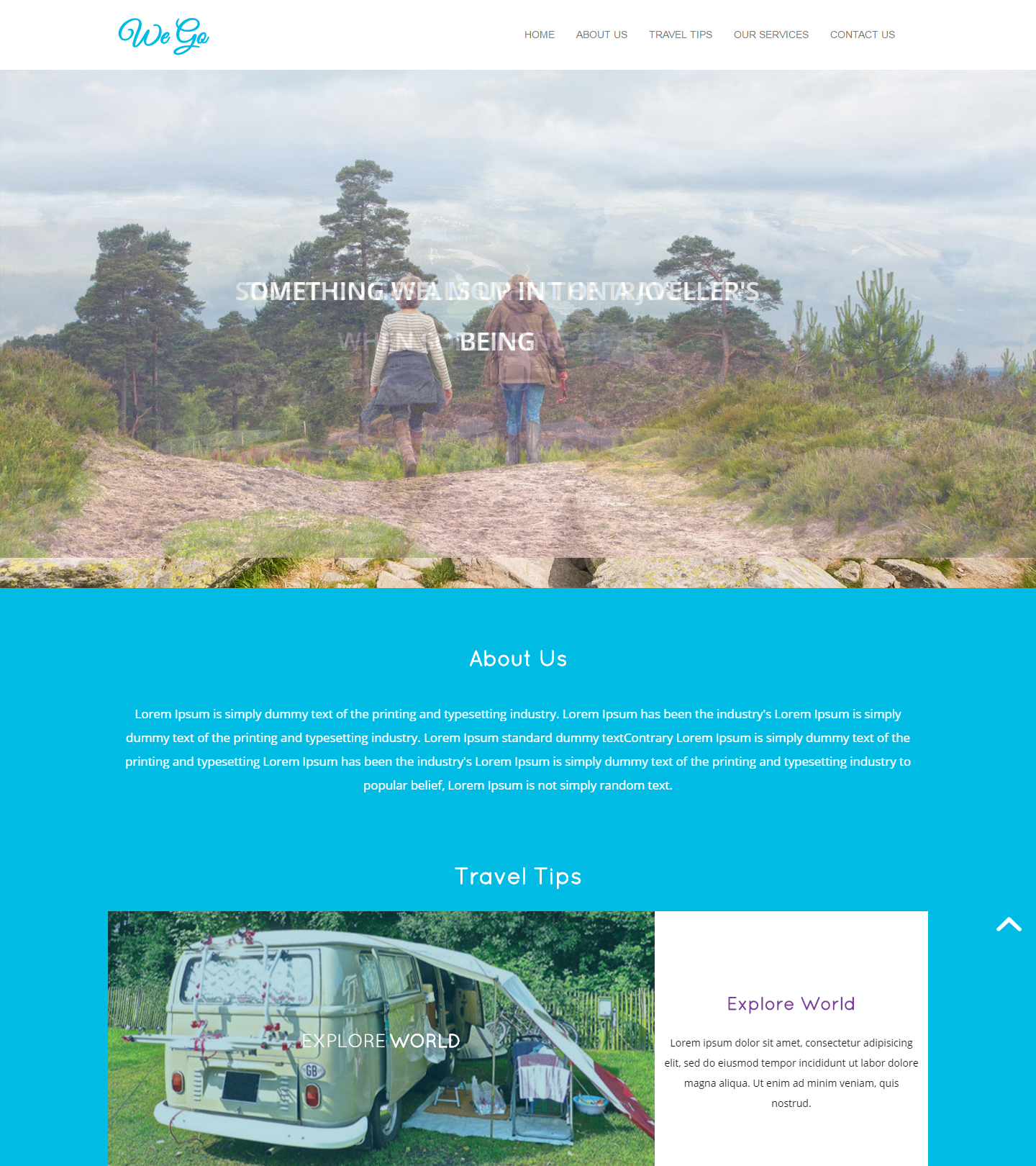 A nice free HTML5 and CSS3 template available for travel category website. The template is crafted with the help of Bootstrap framework and is fully responsive as well as cross-browser compatible. The astonishing images, mesmerizing color choices, flat icons, beautiful hover animations, flat-grid design, and perfect alignment made a sonorous combination to shape this eye-catching template. Download this amazing template for free and settle down steadfastly in your business.
Premium Website Templates Made with HTML5 and Bootstrap
The following list of templates is selected and prepared specifically for you to help you create an absolutely perfect entertainment related website.
1. Benavente Premium HTML Template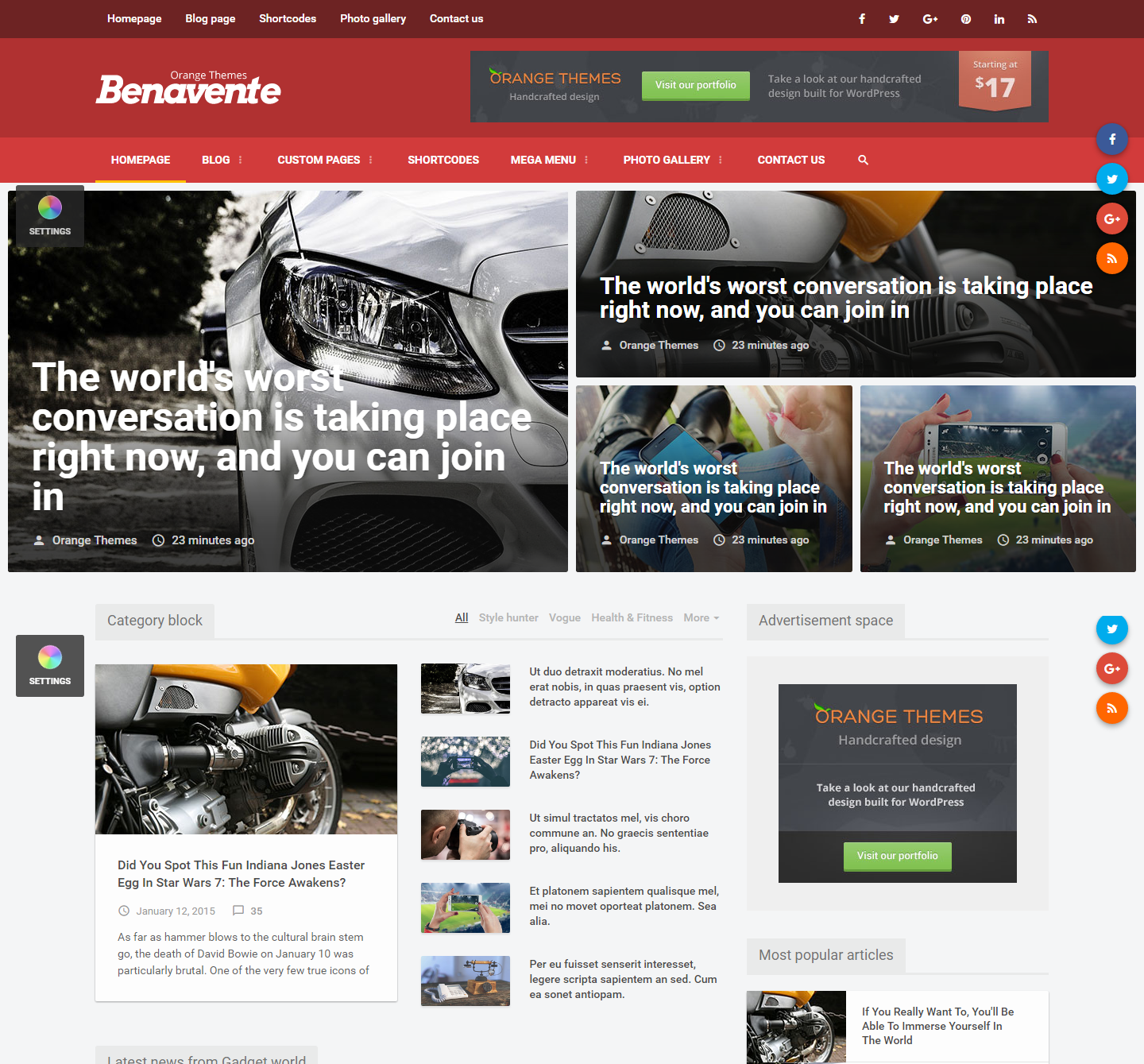 A great premium HTML template designed to become a news or magazine website. The template has a lot of amazing features that make it exceptionally attractive and usable. JQuery plugin added here, automatically resizes and sets images to @2x so all logos, photos and other elements of design look sharp on retina displays. Tabbed article blocks, blog list with sidebar, material style widgets, and many other visually engaging features make this readymade design a great solution for creating a blogging or news website in a matter of hours.
2. MaterialZine Premium HTML Template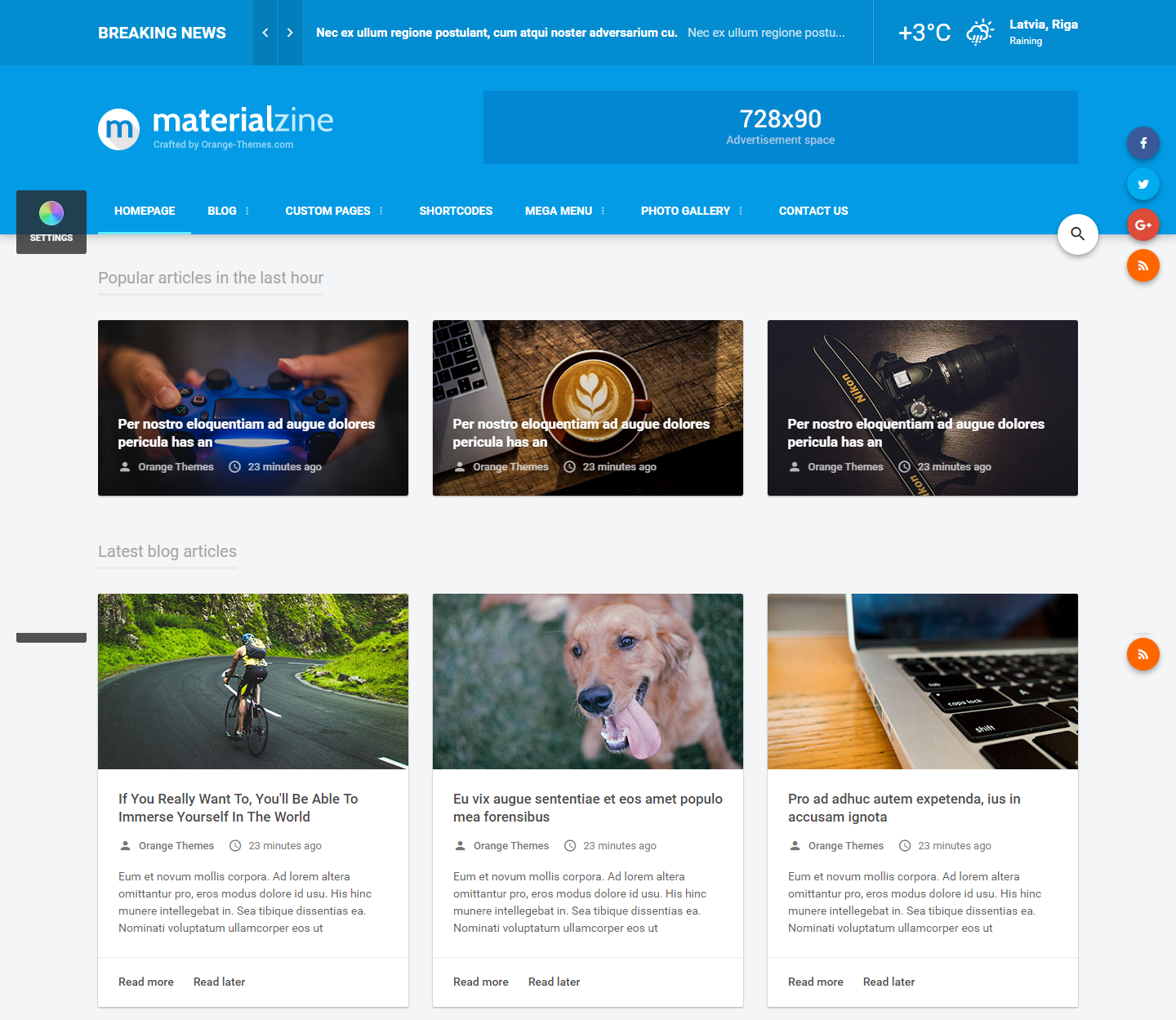 A nicely-looking and professionally designed premium HTML template suitable for blogs and online magazines. The design includes the off-canvas menu for mobile version as well as fully responsive layout and blocks with plugins for retina sharp photos and other elements. By the way, the theme includes a breaking news slider, a fixed main menu, unique home blocks, list type articles list, and many more features required for a full-fledged news website. The theme is highly-customizable and easy to edit.
3. Lavie Premium HTML Template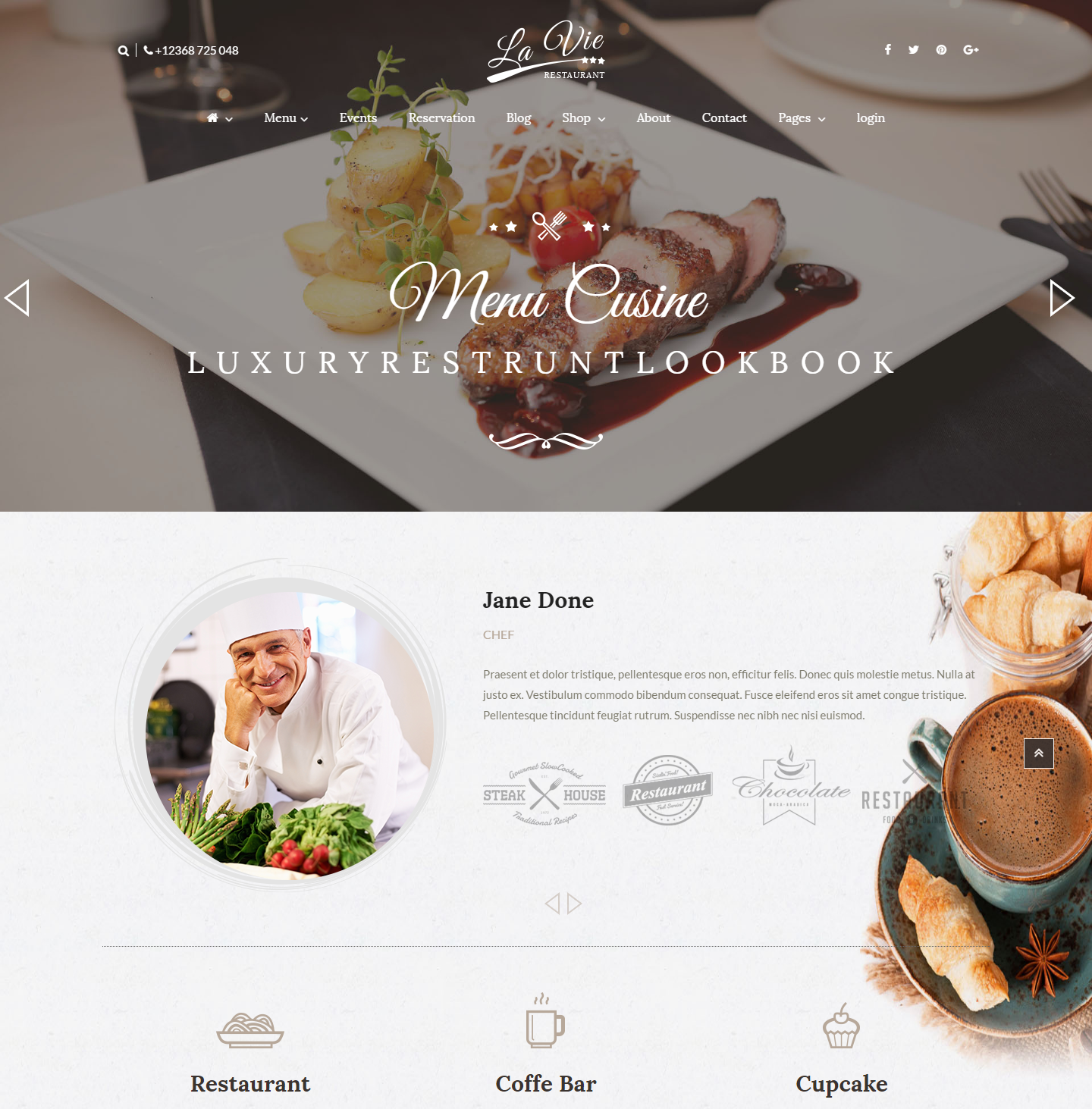 A gorgeous premium HTML template appropriate for creating a promotional website of a restaurant or a pub. Amazing Revolution Slider, font awesome icon integration, RTL support, and many other features make this template exceptionally perfect choice for your top-notch website. As the template is based on Bootstrap 3 framework it has fully responsive layout and is compatible with any browsers and screen resolutions.
4. Videofy Premium HTML Template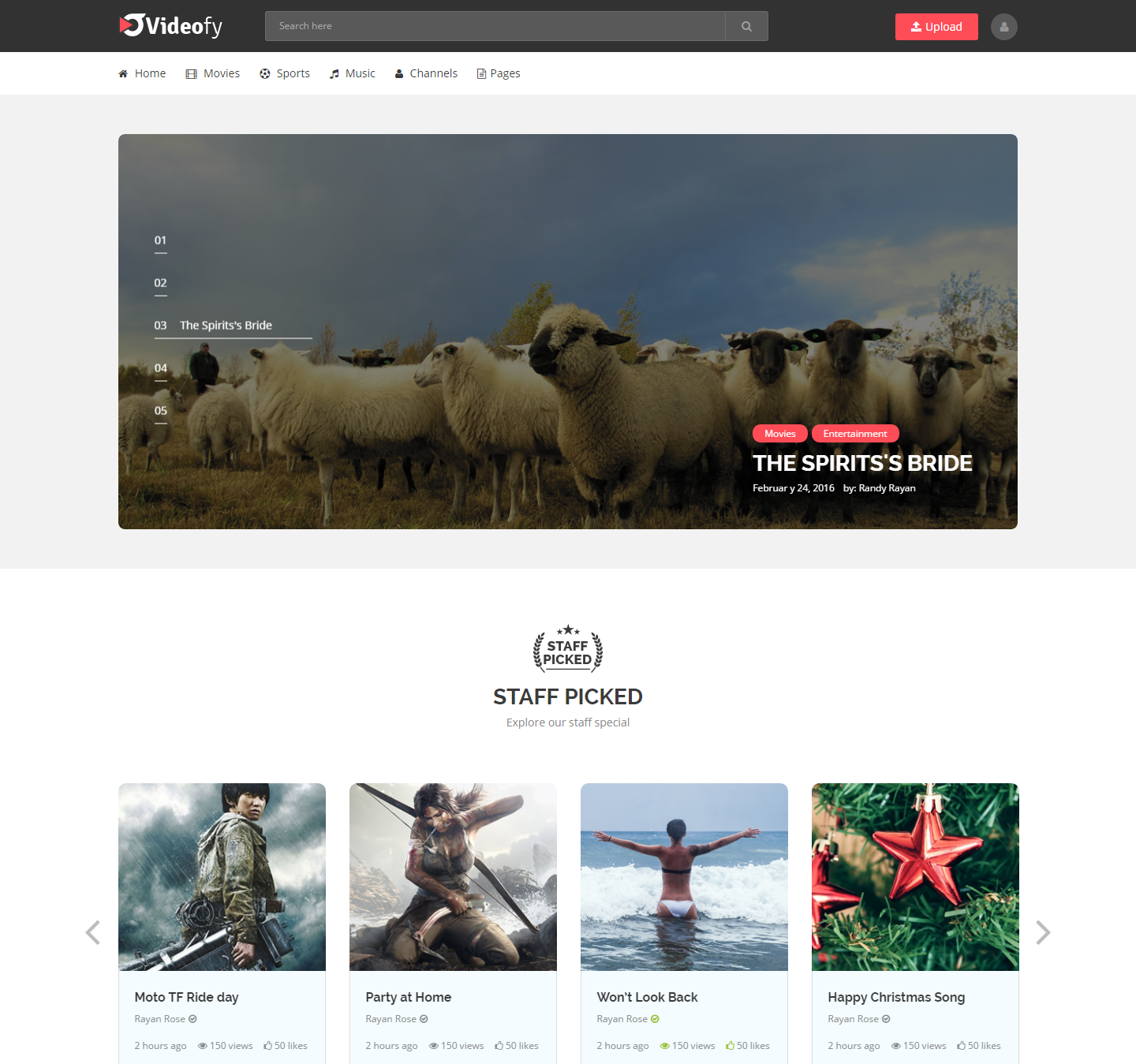 A clean and well-organized premium HTML template available for video portals, blogs, video sites, and other related resources. A lot of powerful features make it really attractive for website owners wanting to revamp their existing websites or anyone wanting to create their debut ones. The template includes a few homepage styles, several navigation styles, a few channel pages, front-video submission, multiple video detail pages, and a specific slider for categories. The template is fully responsive and retina-ready.
5. Memory Premium HTML Template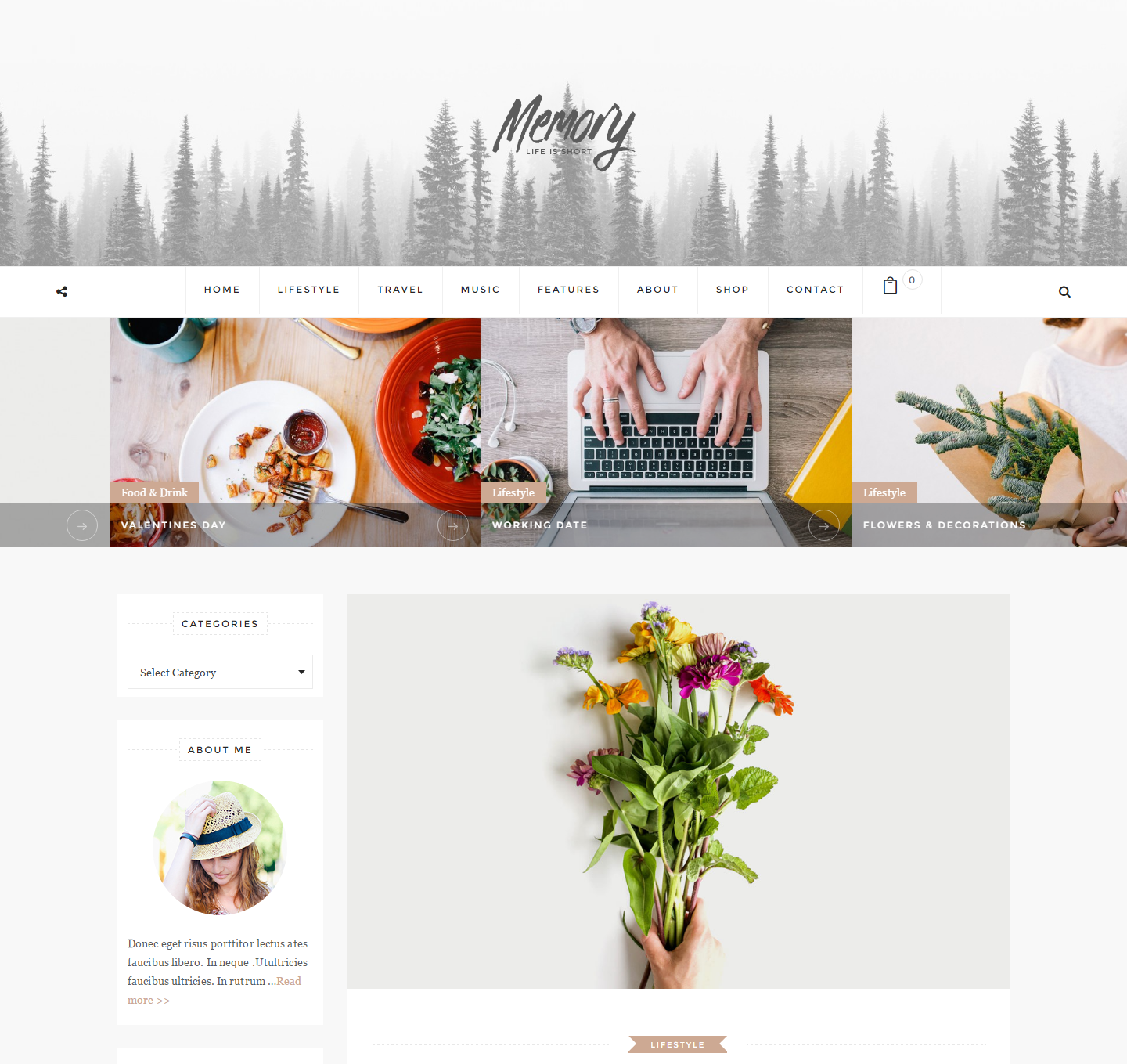 A pretty and stylish premium HTML blogging template which you can also use as a shop website. This design is created to give you an elegant, smooth and mobile friendly template to create a blog and enjoy your popularity on the Web. Mega menu support, SEO-optimization, 12 variants of homepage and 4 blog list styles are not only available features of these template. Gallery block, progress bar, custom categories and comments, numerous shortcodes, and other features you will discover when you pick it out for your online project.
6. Aevent Premium HTML Template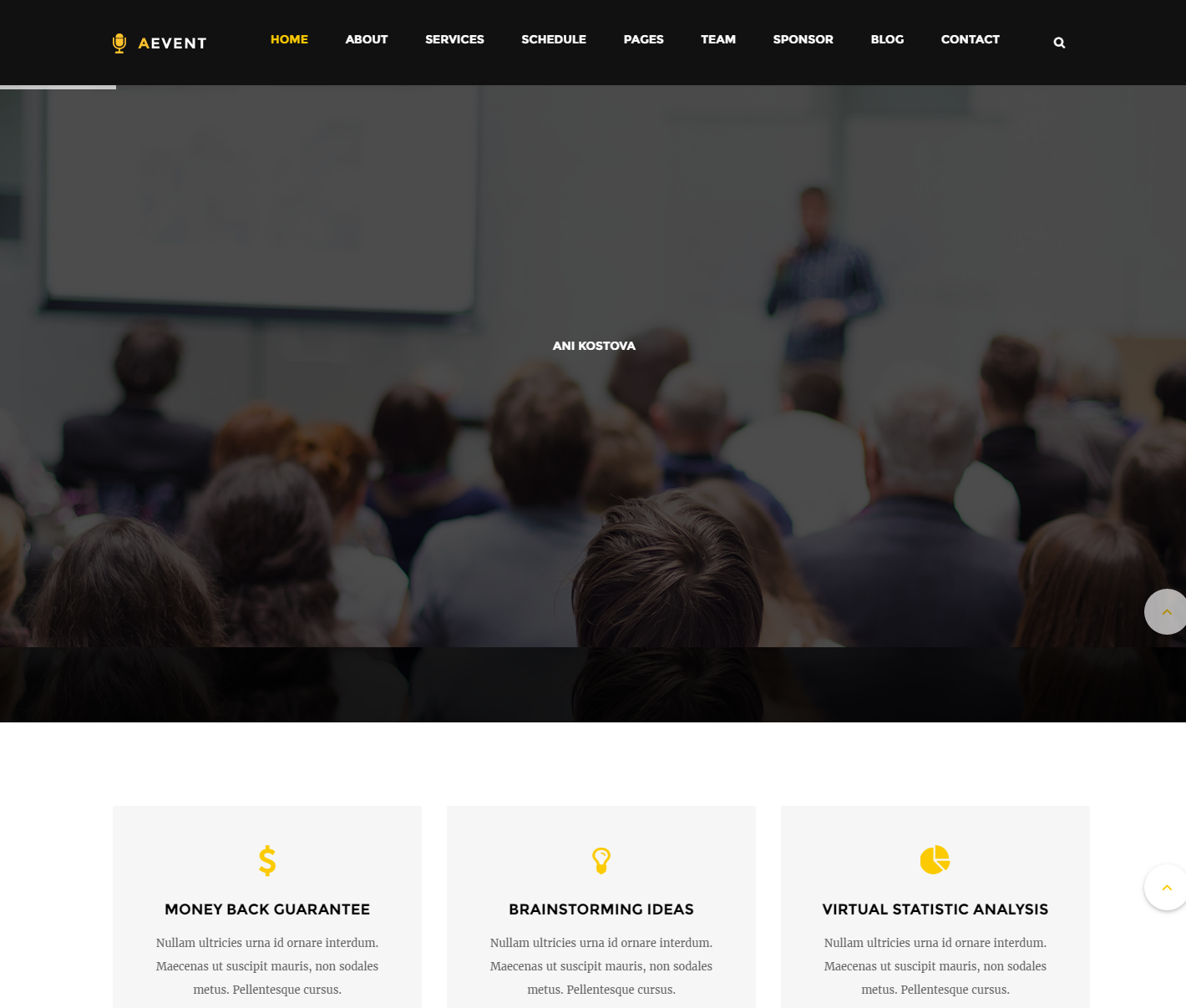 An amazing premium HTML template suitable for conference, meeting or event sites. Companies that plan meetings or event management organizations can pick out this template for their promotional websites. A purpose oriented design, responsive layout, appointment forms, schedules, services, event planner, pricing plans, and other page layouts are pre-configured here for your convenience. Beautiful parallax effects and smooth transition effects add visual interest to the design.
7. RadioFM Premium HTML Template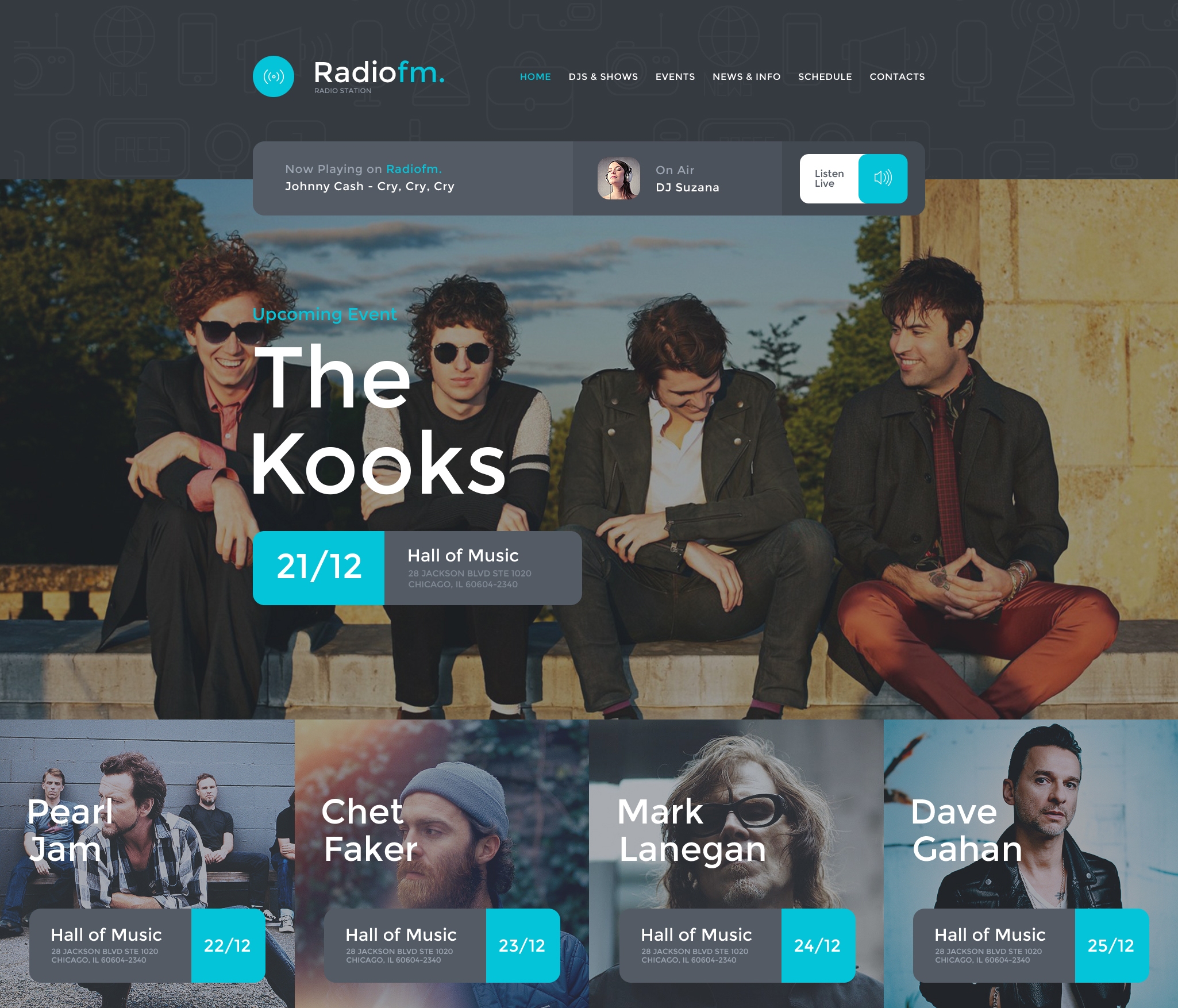 A modern premium HTML template custom-made for radio stations and easily adaptable to any entertainment website. The template includes a stick-to-top menu, powerful navigation, valid semantic code, and many other awesome features that make it really engaging. News previews and music chart are shown in white and clutter-free block for ultimate focus, and topic-related background pattern impacts a sense of flair to the overall aesthetics. The layered PSD is included here to make the design easier to edit.
8. Online Movies Premium HTML Template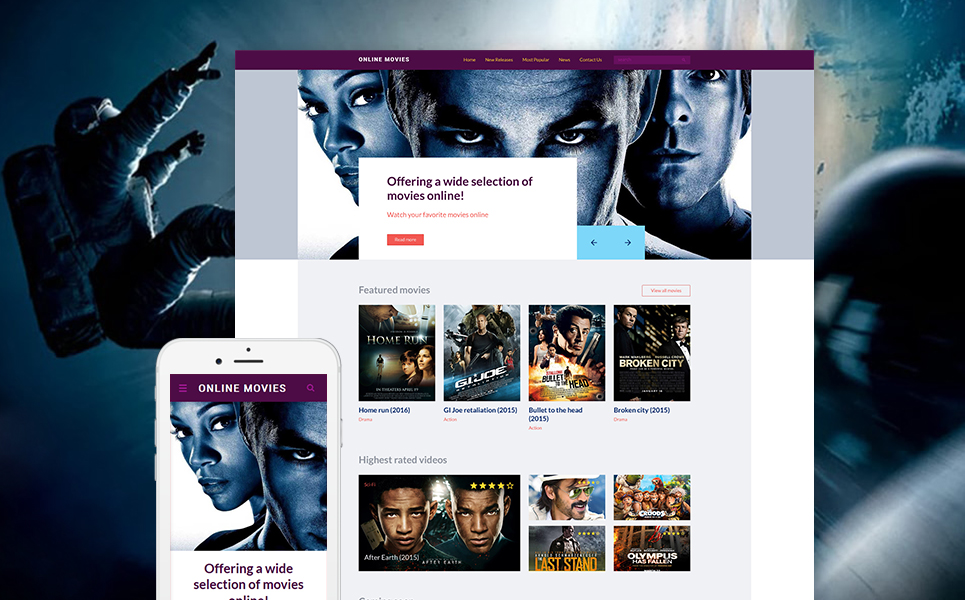 A premium HTML template which is suitable for launching a movie-related website. Its diverse layout, powerful features, amazing sliders, interactive maps, and other useful features make it attractive and intuitive. The template includes mega functionality allowing you to incorporate buttons, videos, banners, custom blocks, and other elements into your menu items. Owing to cross-browser compatibility and complete responsiveness your website will look equally great on the screens of any modern devices.
9. Cinematique Premium HTML Template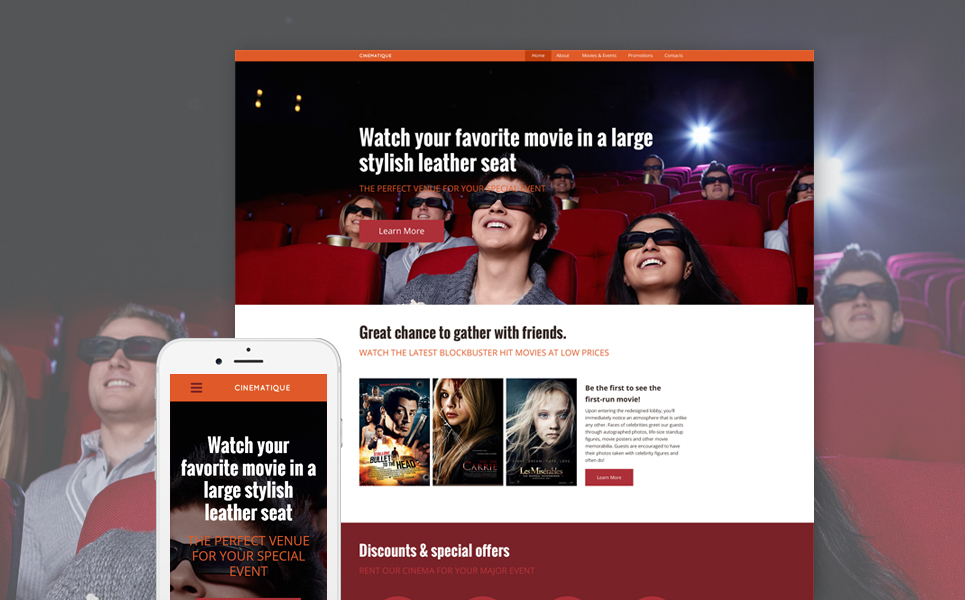 A beautifully designed premium HTML template focused on images and available for creating a website of cinema or a full-fledged video portal. Valid code, beautiful animation, multiple color options, powerful navigation, bold call-to-action, and other amazing features make this design really stunning and suitable for building a perfect website. Cross-browser compatibility ensures seamless performance and full responsiveness allows the template look amazing on the displays of any modern devices.
10. Vanilla Water Park Premium HTML Template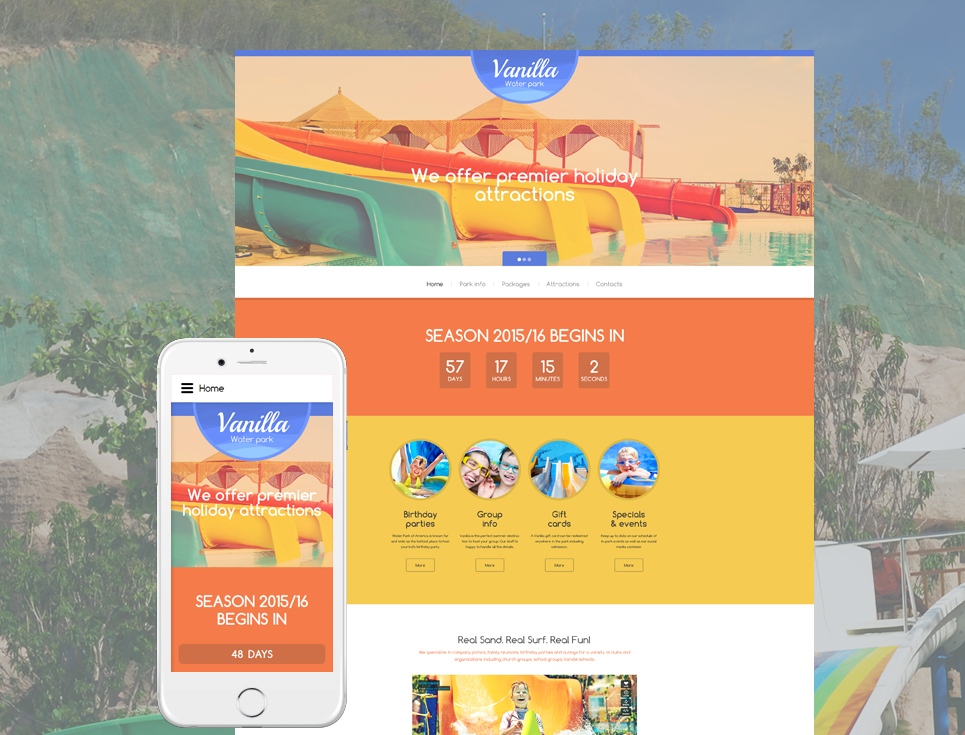 An attractive premium HTML template designed in cheerful and bright colors. It has simple and intuitive layout and a great full-width header slider which can be used to represent your business, products, services or special offerings to the visitors. A built-in countdown, Vimeo and YouTube support, social sharing options, and more features are available here to make your website fully functional and interesting to use. The grid-based structure makes the page easy-to-scan and fonts of different sizes and colors add hierarchy to the page and make it more usable.
Conclusion:
All of these templates can perfectly suit your website related to any kind of entertainment. Choose the best one up to your needs and have fun.