Sports is a compulsory condition of healthy lifestyle and this is beyond any doubt. When you target to launch a sports website, you probably expect it to show the action, excitement and fun, and you surely want it to be engaging enough to make people think of the possibility to start a healthy living and join your community.
Our goal is to help you choose the best design for your future fitness and sports related website and make it really attractive for your target visitors. The following collection of ready-made WordPress themes perfectly expresses the essence of healthy and active life, that is why we are happy to represent them to you in this extensive showcase. Enjoy!
A Premium Quality WordPress Design from GT3 Themes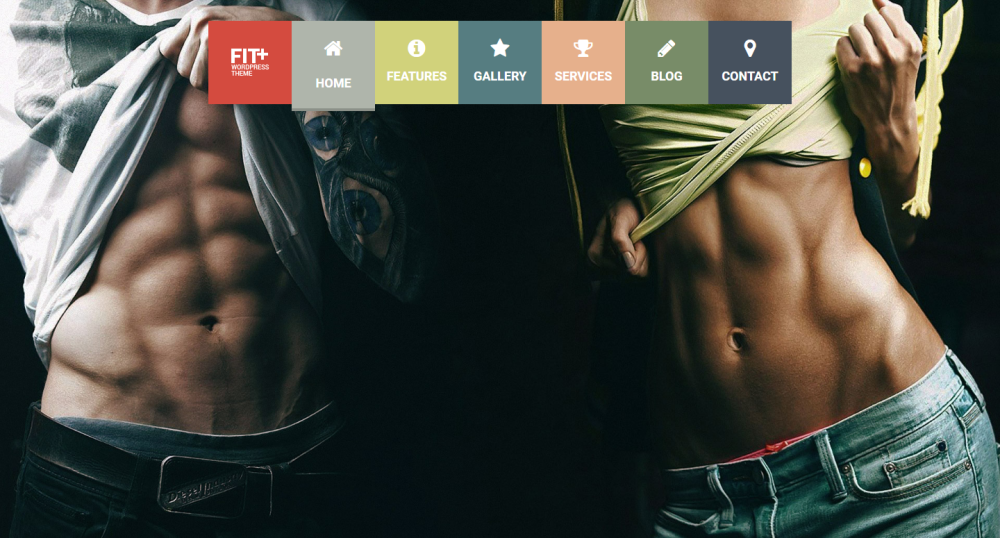 First of all we recommend you to pay your attention at this premium responsive FIT+ Multipurpose Sports WordPress Theme which is sure to become a good choice for building up an outstanding promotional website. The theme is designed to become a perfect website of gym, fitness center, baseball or soccer sport club, and any other related facility. The theme includes several easy-to-navigate and usable web-page layouts which make it easy to place any type of content to attract your visitors, showcase the best photos from the training sessions, keep in touch with your customers and provide them with the latest news on your activities. The built-in GT3 Page Builder allows to customize the theme up to your potential customer expectations.
The Impressive Collection of Best Free Health and Sports Themes
And now we would like to suggest you check out the following bundle of interesting free designs created right for your particular purposes.
1. AllSport Free WordPress Theme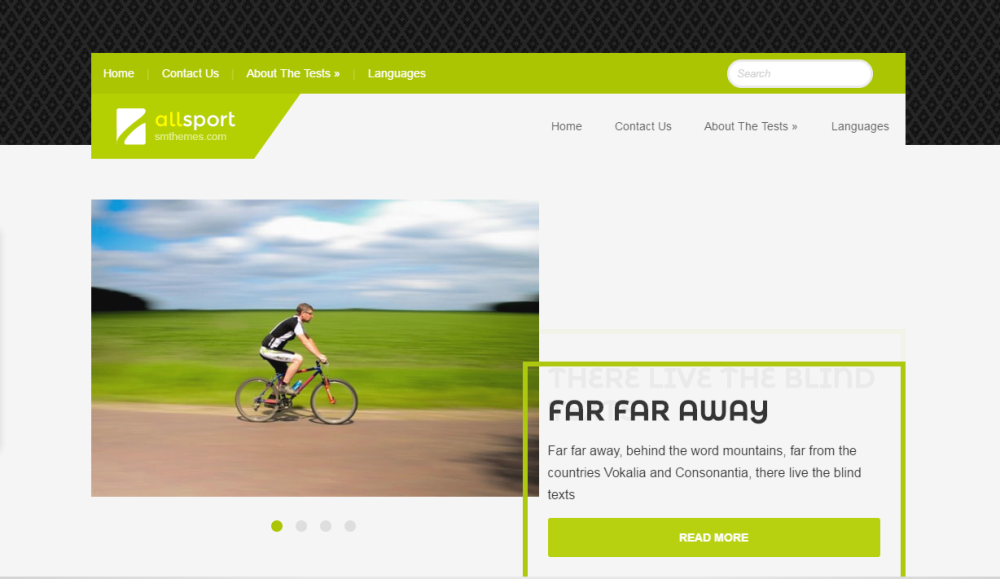 A free responsive WordPress theme applicable for building up a news website about sports or an active lifestyle online magazine. You can take the theme to create a sports journal of your achievements, or even start a blog about health and fitness. The theme includes a nice slider and a few well-organized page layouts for your visitors can share their opinions on the sport events, read articles about their favorite teams or competitions, etc.
2. SportsWear Free WordPress Theme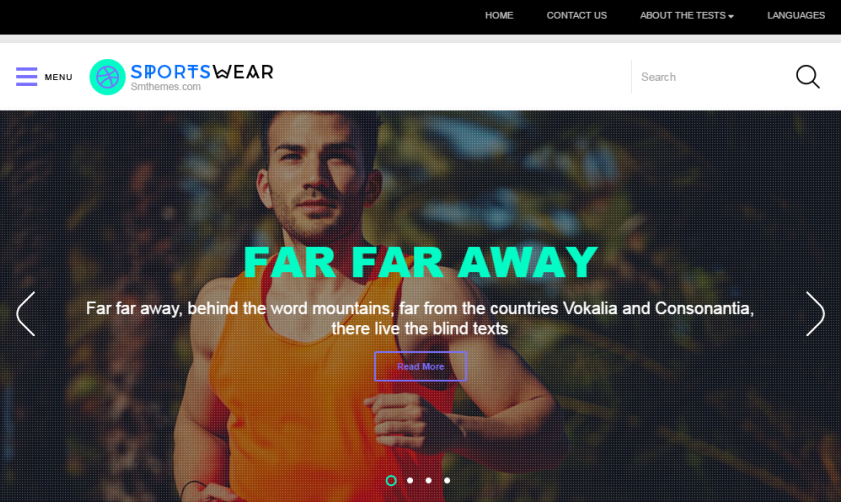 A free fashionable and stylish WordPress design is going to attract a lot of target visitors. The theme is fully responsive and user-friendly one offering a WooCommerce support so you can use it to create your debut online store to sell goods for sportsmen. The theme is also a reasoned choice for building up a great promotional website to represent your gym or fitness center and highlight the advantages of your services.
3. FitRun Free WordPress Theme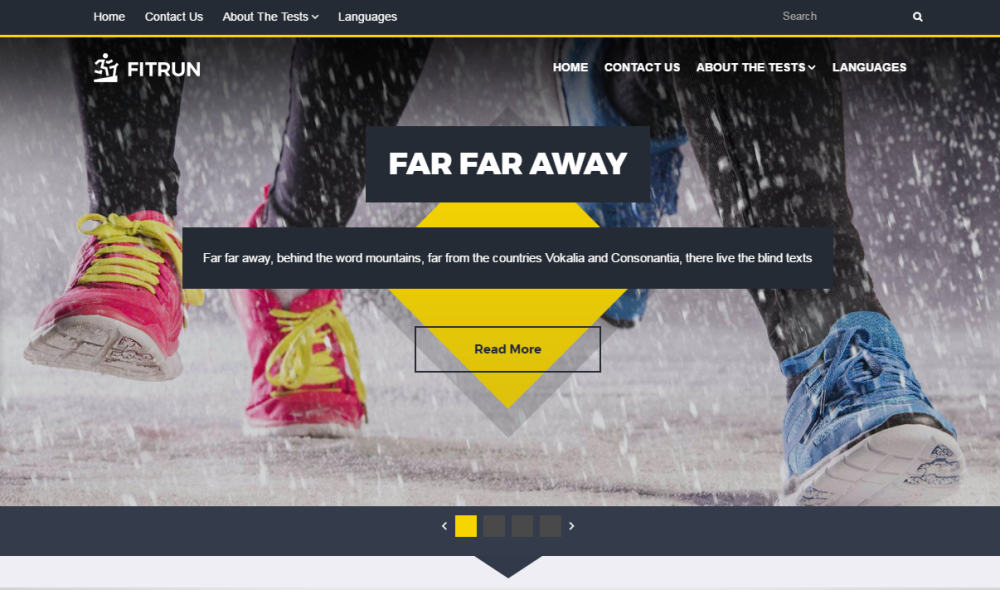 A free and snitzy WordPress theme with a few well-designed and responsive page layouts. A large amount of customizing options, fullwidth slider, advanced navigation, custom sidebars, and other useful features make this theme suit the most varied needs of website owners. Choose the theme to create your debut track and field athletics related website or revamp the existing site to make it up-to-date and much more powerful one.
4. Sporty Free WordPress Theme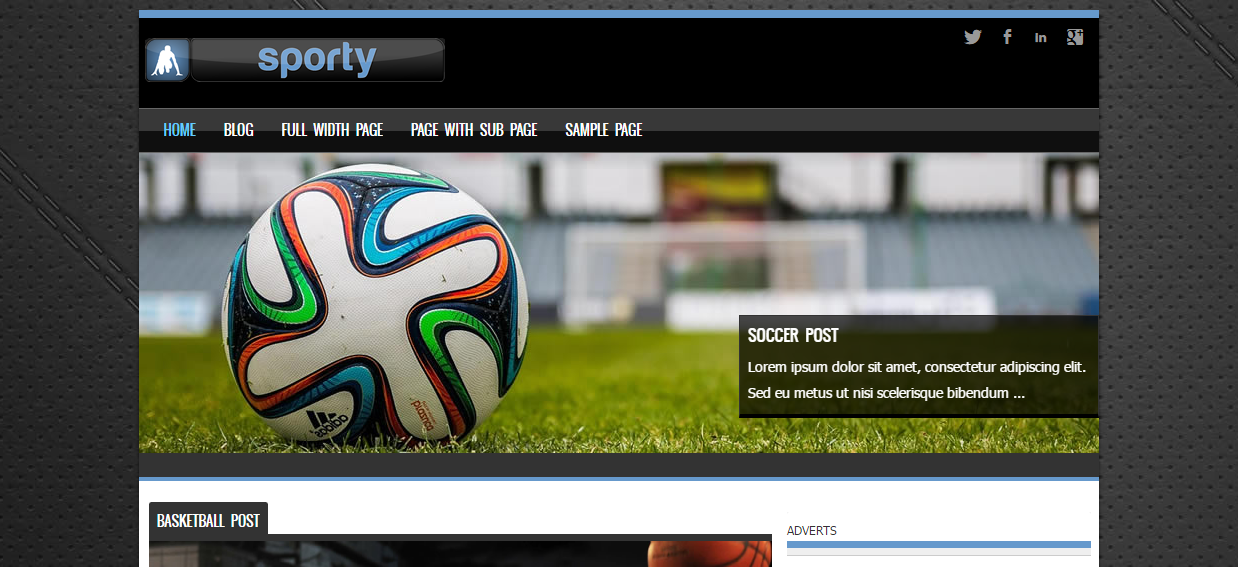 A free responsive and feature-rich WordPress theme which will suit best for creating your top-notch sports news website. The theme is highly customizable one so you can edit it up to your needs to create a full-fledged amazing website for your target visitors. You can easily add your custom header image, personal logo, featured text areas, background, social media links, and much more. This is the excellent choice for your sports WordPress website.
5. Yogi Lite Free WordPress Theme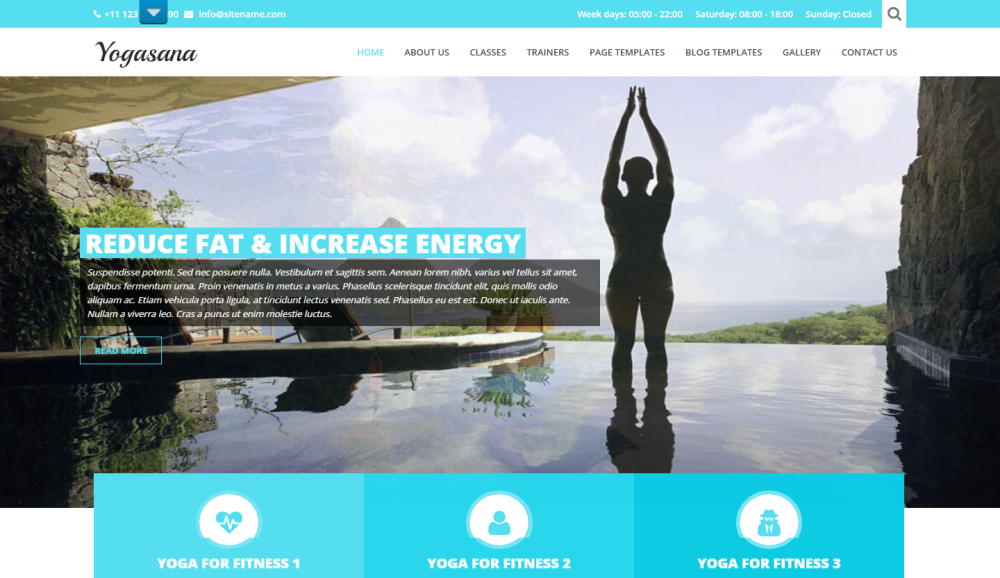 A free simple and responsive WordPress theme with a fullwidth slider and multiple page layouts allowing to upload any type and amount of content for your target visitors. It is easy to manage settings with the help of native WordPress Customizer so you can edit the theme as per user requirements to create a perfect top-of-the-line website for promotional needs. The theme offers a WooCommerce support so you can also choose it to create your store on the Web.
6. Rookie Free WordPress Theme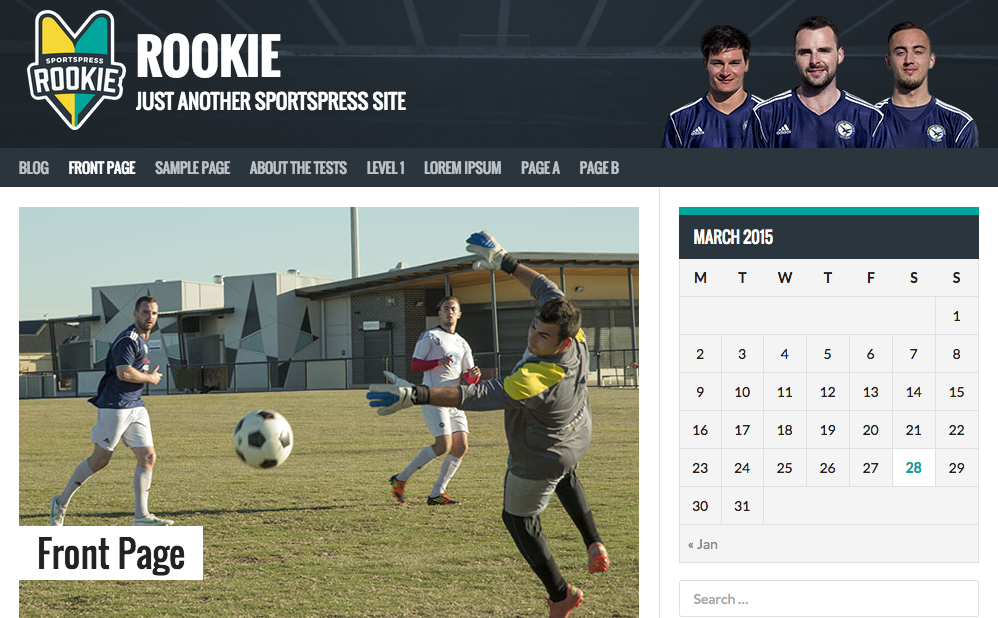 A free and fully responsive WordPress theme designed to become a sports team website, a healthy lifestyle blog or a promotional site of gym. You can choose this theme either to build a brand new impressive website or redesign your existing one to give it a finalized look. The theme can be customized as per any needs to become a fully-featured site of any sports organization. The theme is compatible with SportsPress plugin which will help you start building your excellent sports website.
7. Kundalini Yoga Club Free WordPress Theme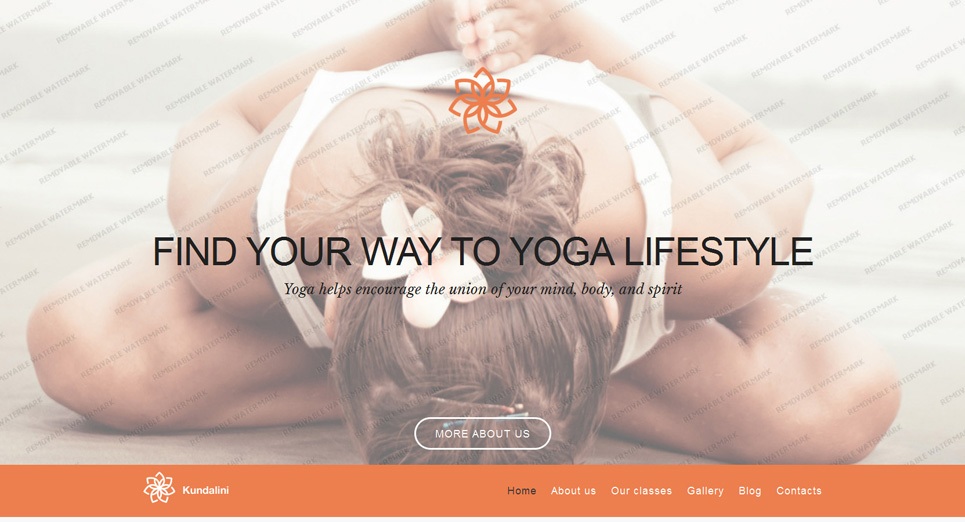 A free and functional WordPress theme applicable to setup a site with engaging appearance and impressive features. The theme is a perfect ready-made basis for sports and yoga related website with pixel-perfect design and intuitive navigation. The pleasant user and visual experience is spiced up here with impressive features like parallax scrolling, stunning sliders, retina-ready photos, fully responsive and stylish-looking layout. Fast and effortless customization is possible thanks to clean and valid coding of the theme.
8. Fitness Lite Free WordPress Theme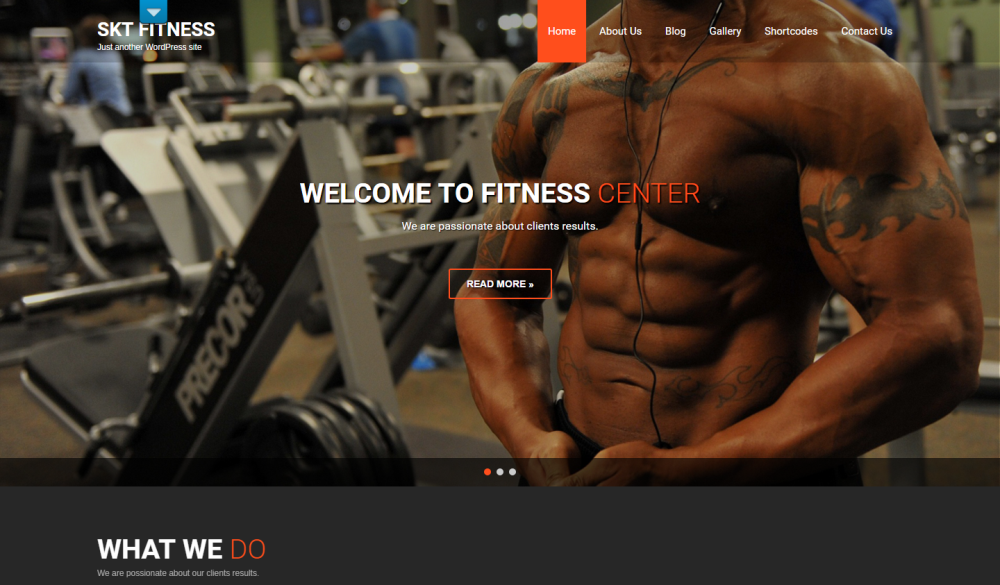 A free responsive fitness WordPress theme which will help you create a top-notch and informative website which is sure to become a great part of your advertising campaign on the Web. The theme includes a large slider with 5 high-res photos in slides, allows to easily change colors and hover effects and applicable for editing through WordPress Customizer. The theme is easy to setup and highly-customized so you can modify its elements up to your visitors' ever-evolving needs.
9. FitCoach Free WordPress Theme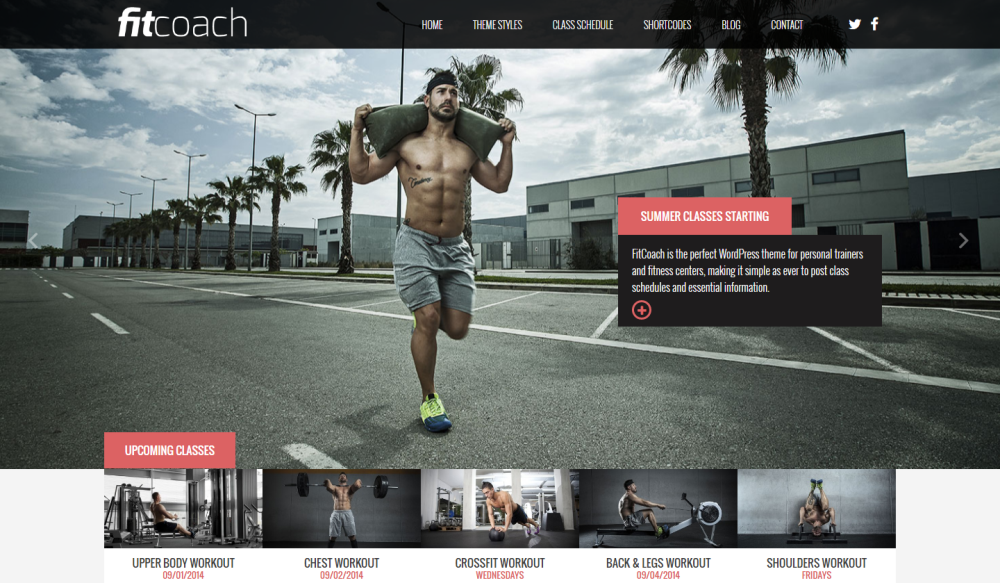 A free fully-featured WordPress theme for business based around sports classes or a schedule. The theme is easy to configure in the native WordPress theme Customizer so you won't have to take efforts to build up a perfect website for your target customers. The theme comes both with standard and unique templates, the great selection of fonts from the Google library and a lot of other impressive features. Responsive layout allow the theme look perfect on any device.
10. Strength Free WordPress Theme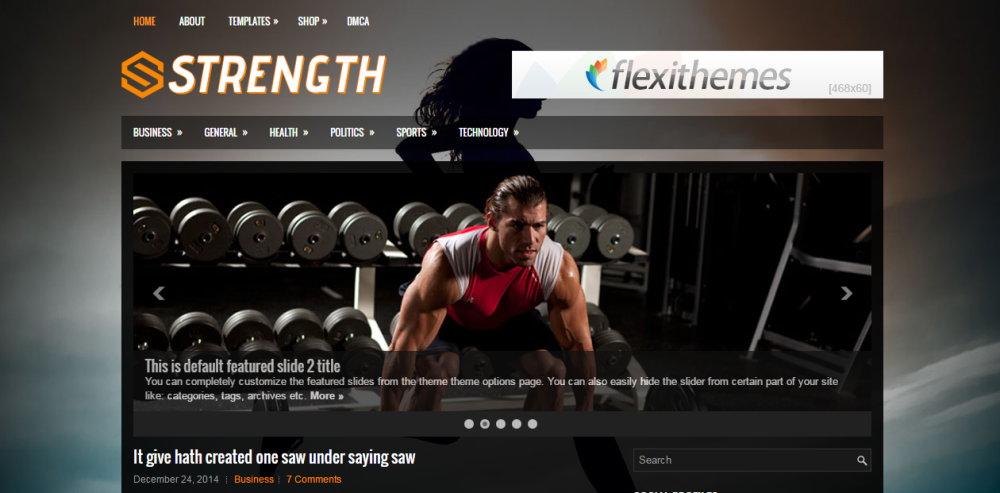 A free and unique WordPress Theme suitable for creating any sports related websites and blogs. The theme is very easy to setup and comes with a comprehensive set of features like the built-in theme options page, a convenient shortcodes generator in the post editor, custom page templates, featured posts slider, and even WooCommerce plugin compatibility. As the theme is designed with responsive layout, it is compatible with all browsers and mobile and desktop devices.
The Elite Collection of The Newest Premium WordPress Themes
The following bunch of hand-picked WordPress themes is specifically designed to make your life easier and your sports website more popular.
1. JustFit Premium WordPress Theme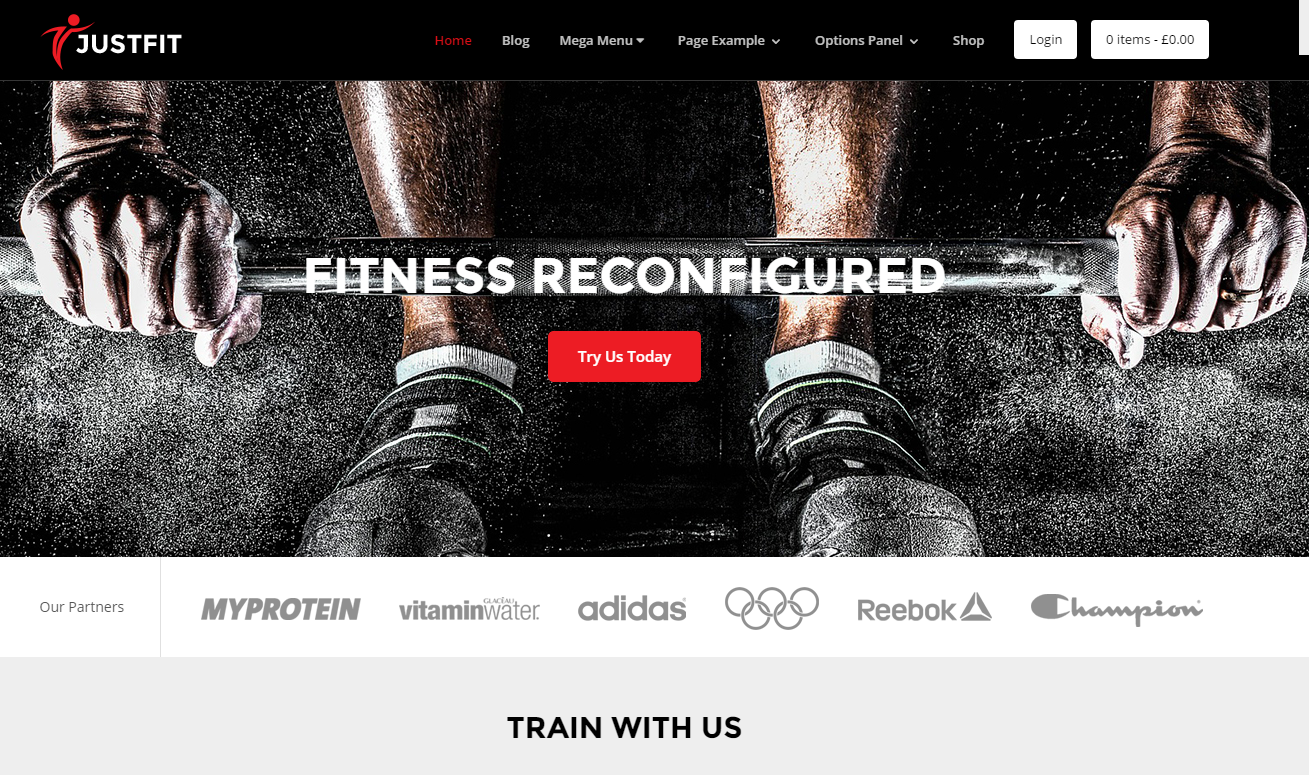 An ultimate premium WordPress theme for fitness, exercise and health enthusiasts. The theme is a great choice if you run a fitness community, you are a personal trainer, own a local gym, or wish to start running a sports online magazine or a blog. Impressive CSS effects, numerous web-page layouts with responsive design, stylish and modern color scheme, and user-friendly navigation are only a few amazing features of this unique design. You can choose from Default, Blog and Shop variants of page layouts depending on the type of the site you want to build.
2. Energy Premium WordPress Theme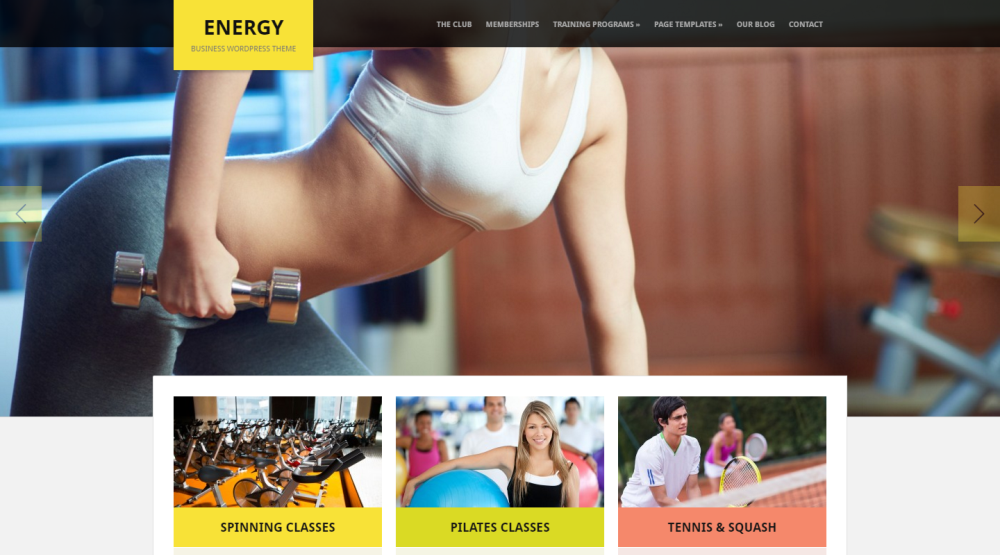 A good-looking premium WordPress theme suited for local gyms, fitness centers, sporting venues, and other related facilities. Beautiful fullscreen photography, amazing fullwidth slider, easy color styling and responsive layout are just several key advantages of the theme. An advanced Theme Options Panel allows to customize every detail of the theme to best suit your visitors' needs. Dynamic Homepage Builder also available with the theme will help to customize your homepage layout and structure with multiple widgetized areas.
3. Yoga Premium WordPress Theme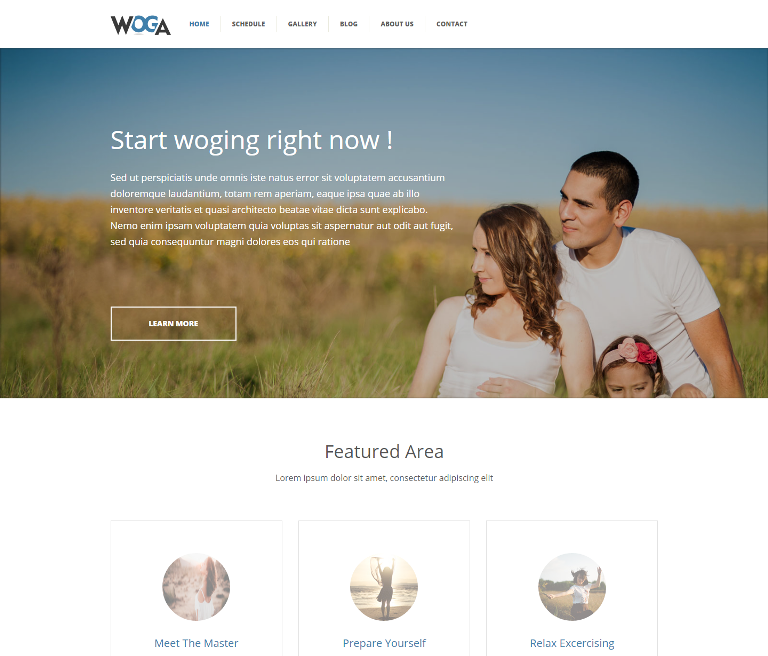 A responsive premium WordPress theme applicable for creating a website for scheduling fitness or yoga classes, promotional website, or a blog about sports. The theme has clean and validated code, unlimited choice of colors, and includes custom widgets for creating a site with perfect appearance and functionality. The Theme Options Panel is available here to provide a site owner with exceptional ability to easily modify the theme without any specific efforts. The theme is compatible with all browsers and devices.
4. Whistle Premium WordPress Theme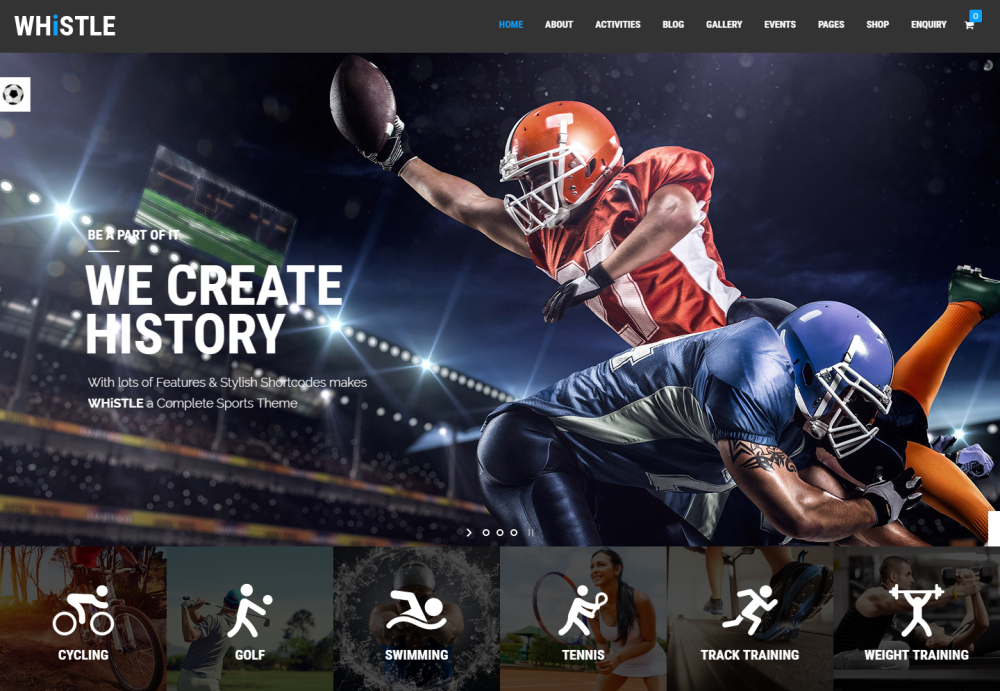 A top-grade responsive WordPress theme most suitable for gyms, fitness centers, and other sports centered businesses. As the theme is positioned as a multipurpose one, it can be applied for yoga and wellness sites and different health clubs. The design comes with the advanced Page Builder and Theme Options Panel offering exceptional flexibility and ease of customization. Useful shortcodes, custom elements, rich skin colors, and other attractive features offer real ingenuity in design. Create your feature-rich website in a few hours.
5. Fit & Fab Premium WordPress Theme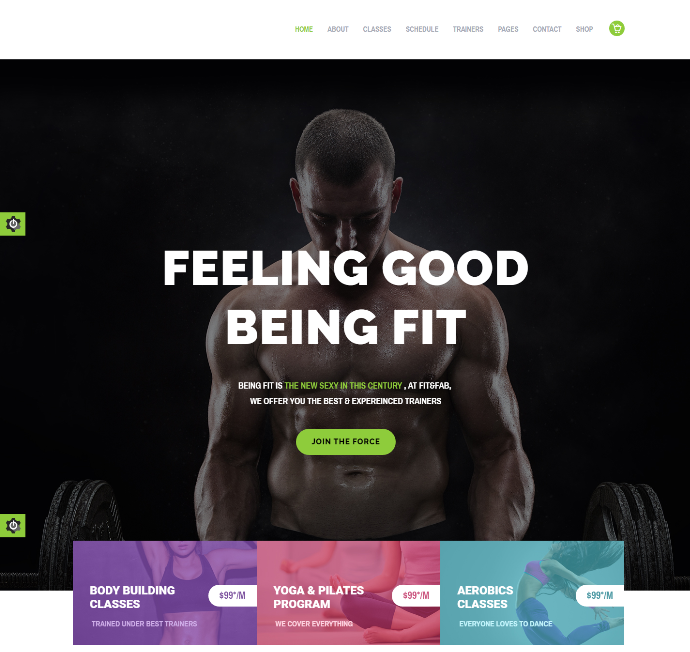 A great gym, aerobic and fitness premium WordPress theme designed with Bootstrap and suitable for any sports centered websites. Professional and freelance trainers as well as businessmen owning the fitness centers can choose this theme to share their activities and ideas in an appealing manner. You can use this theme for a promotional website or for any other type of site referring to active lifestyle. Here you can represent your services, diving activities, aerobic courses, body-building classes, and more. The theme is fully responsive and compatible with any devices.
6. Volare Premium WordPress Theme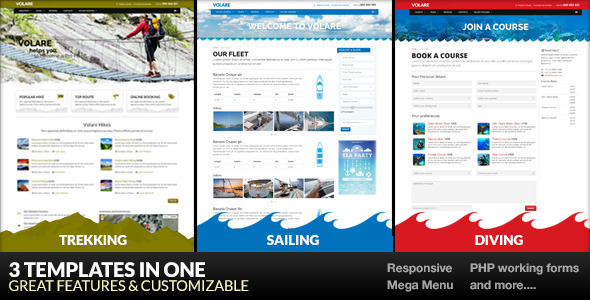 A modern and creative premium WordPress Theme made in a beautiful style and suitable for trekking, sailing, and diving activities related websites. The theme is based on Bootstrap 3 and boasts universal design with robust animation effects, stylish color scheme and user-friendly navigation. The package includes 3 different templates applicable to be used for promoting three different kinds of sports classes. Feel free to choose the appropriate one according to your particular demands. The theme is highly-customizable and has a fully responsive layout.
7. GymBreaker Premium WordPress Theme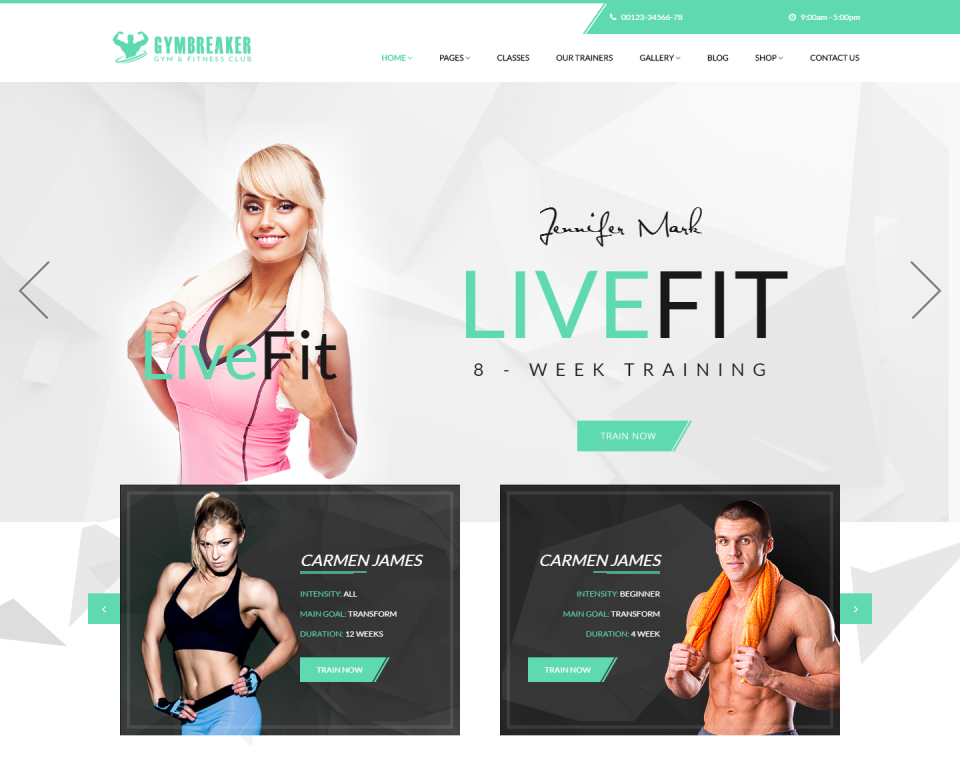 An appealing fitness and gymnasium premium WordPress theme suitable for promoting gyms, fitness centers, and various fitness related websites. The design is well-crafted with attention to detail, and its powerful Theme Options Panel allows to customize the web-pages in a very simple way. The theme is based on Redux framework so its advanced options allow to build a unique functionality of your debut website. A famous Visual Composer page builder is included here for free so you can use it to edit the pages without some specific efforts.
8. Champ Gym Premium WordPress Theme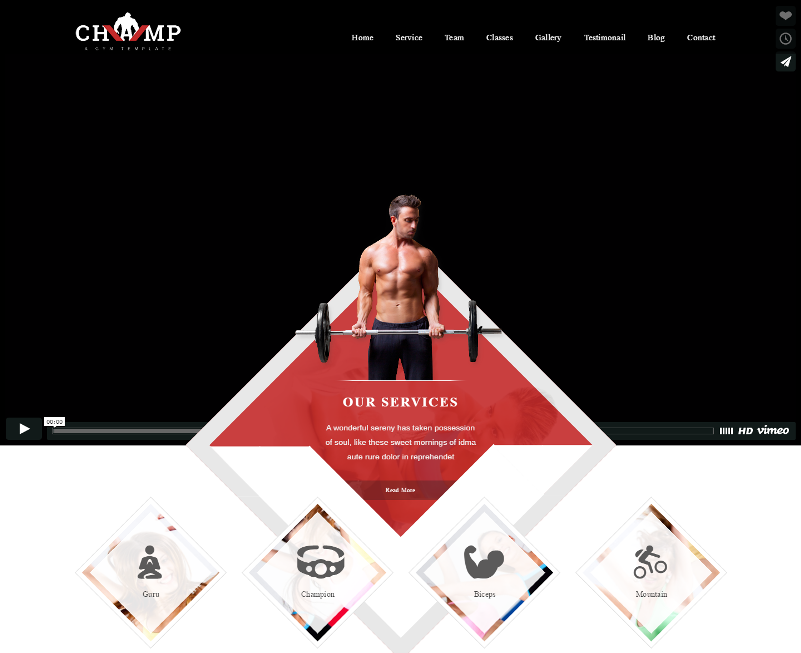 A second-to-none responsive premium WordPress theme applicable for almost any type of sports centered website. The theme has four different types of homepages which include a text carousel with image, a video background, a Revolution Slider and Kenburns effects. You can choose any available type of presentation to make your website impress visitors once they get on the page. Unlimited colors in the Theme Options Panel as well as the integrated Visual Composer allow to create the eye-catching appearance of your sports related promotional website.
9. Meridian Fitness Premium WordPress Theme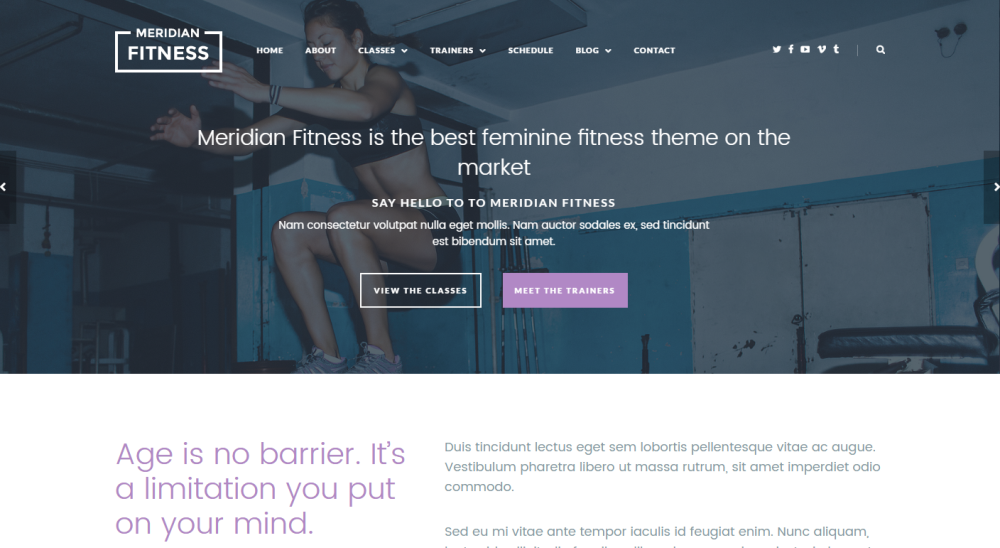 A gorgeous responsive premium WordPress theme specifically designed to fit the professional websites of gyms, yoga studios, and various fitness related websites. The theme has a clean and well-organized code and made for the niche it is not limited by so you can use it for a lot of different other types of business websites. A lot of color scheme options and multiple available fonts make this theme highly-customizable one. A lot of available layouts provide a customer with an opportunity to select any appropriate design exactly for their specific needs. You can choose this theme to create a wide variety of websites referring to almost any field of business.
10. Ironfit Premium WordPress Theme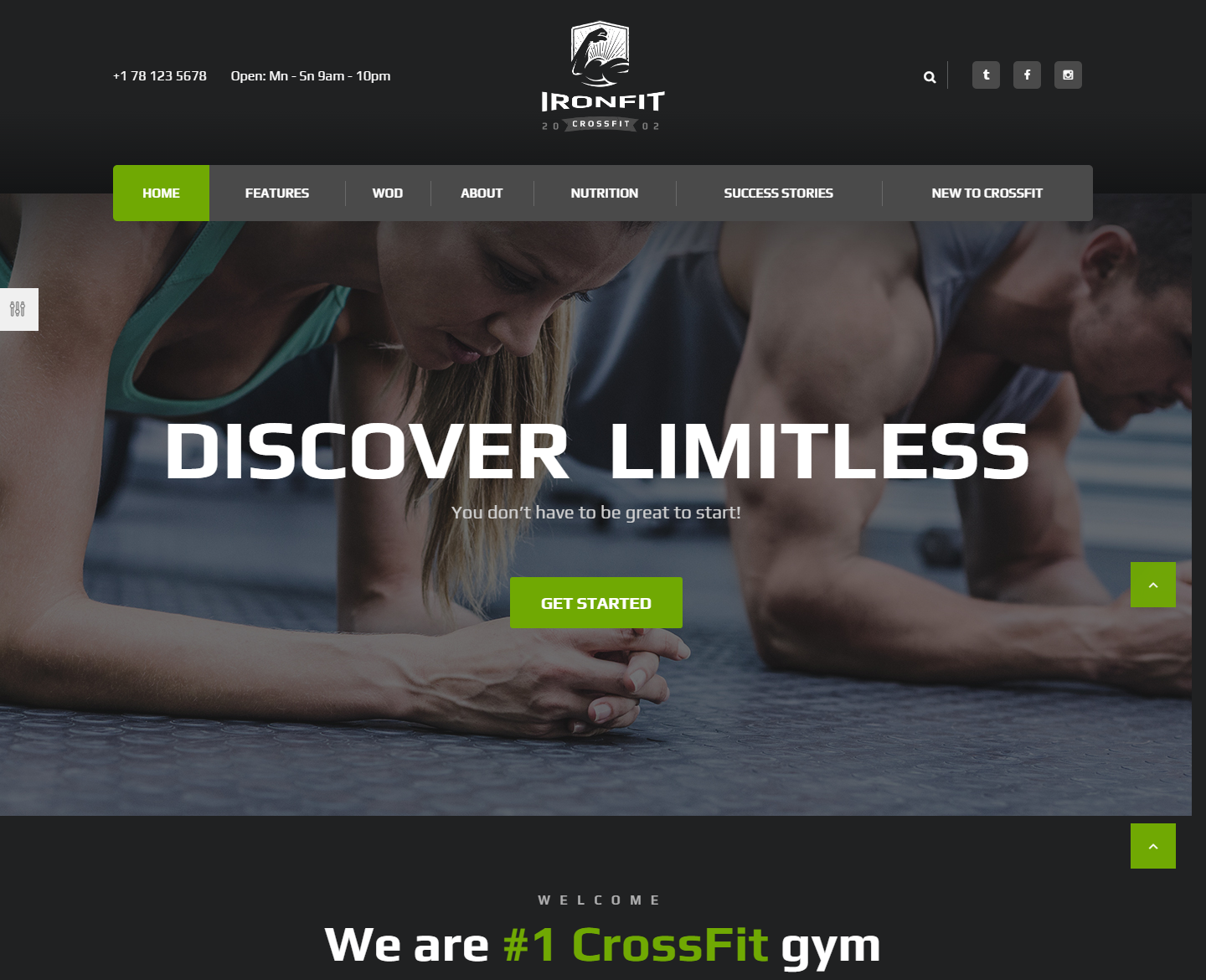 A modern and functional fully responsive premium WordPress theme designed for creating a professional website of gym, CrossFit boxes, fitness clubs, personal trainers, health centers, and other sports centered sites. The design is created to meet the needs of online fitness programs or sports stores. It is focused on showcasing information on events, classes, schedules and timetables and can be a good deal for nutrition or sports activity blog. The theme is fully compatible with Visual Composer so you can use the plugin to customize the theme up to your needs.
Conclusion:
Choose the best WordPress theme to your liking and create or revamp your sports centered website to make it look modern and stylish and engage more and more visitors.