The unrivaled power of music is recognized everywhere, and it is no surprise. Music is in everything we perceive, see and hear 'cause every step, every event and every action is naturally followed by sounds. Music is something that can convey either positive or negative emotions, heal a soul, move a human's spirit and more.
It is good for a musician to have an eye on business and promotion opportunities, so modern composers, bit makers, and other creatives that usually write music for movies, videogames, and TV shows, have to find a great way to represent their creation to the public and catch the attention of target listeners. A full-fledged website is a perfect variant for marketing and promotional needs, and if you've made up your mind to create your debut music related site, we are happy to help you choose a perfect design for it.
The following collection of free and premium HTML and Bootstrap templates is going to be very helpful for your creative needs.
The Best Professionally-Made HTML Templates from GT3 Themes
Take a look at a few perfectly crafted HTML templates we've selected especially for you to meet your ever-evolving needs.
1. Music HTML Template – Polyphonic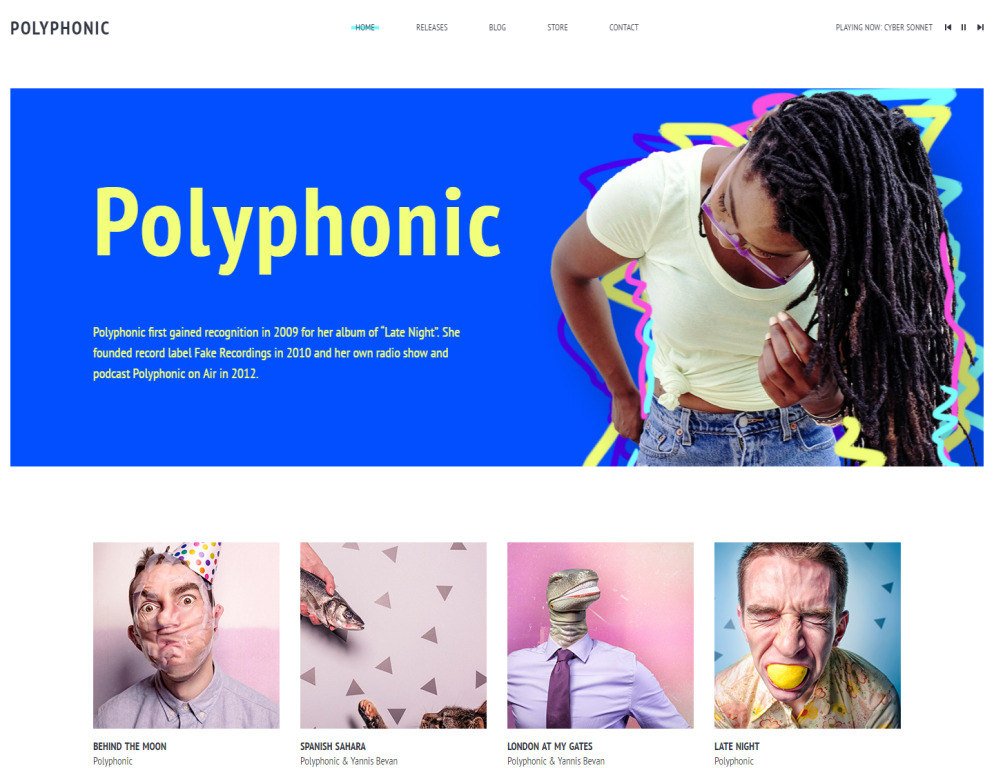 Stylish and minimal static one-page HTML5 and CSS3 template diligently designed for building a promotional website of a musician, music band, singer or a composer. A great variety of stunning features stuffed inside this website template is going to make your web presence as unique as your personality. Audio player added here to allow your visitors enjoy your tracks once they get on the web-page. By the way, you can add your singles to the shop to let your fans flip through your songs and choose the best one to amplify a joyous occasion. The template includes a blog page layout, so you can use it to run your blog and share your creativity with the world.
2. Cassiopeia – Musician Single-Page Template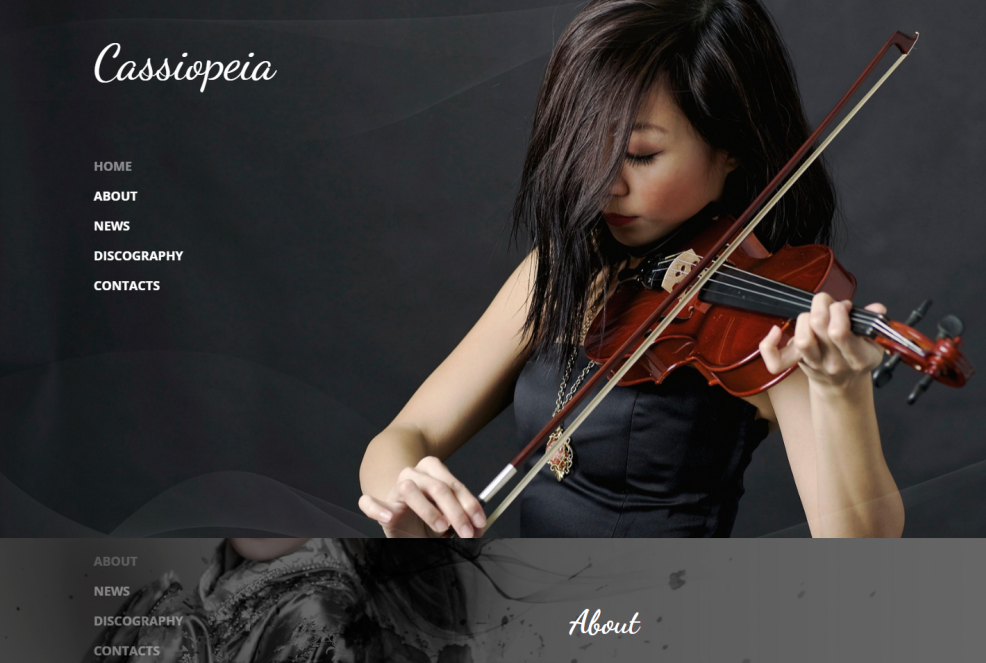 A top-notch HTML website template designed to become the best way to represent your music band or your personal creation as an independent singer. This design is going to become a great one to get closer to your admirers and share your latest news and events. This modern design is created for you to place any necessary promotional stuff in a single page layout. The template is packed with all essential components arranged in the well-defined structure. Huge background images, elegant typography, contrast color scheme, and minimal style are only a few key advantages of this beautiful and user-friendly HTML template created to become a great solution for your debut music centered website.
A Brilliant Bundle of Free Music Related Website Templates
In this category we offer you to browse the hand-picked collection of second-to-none free music templates specifically designed to become your excellent choice to build or revamp your promotional website.
1. Warbler Free Bootstrap Website Template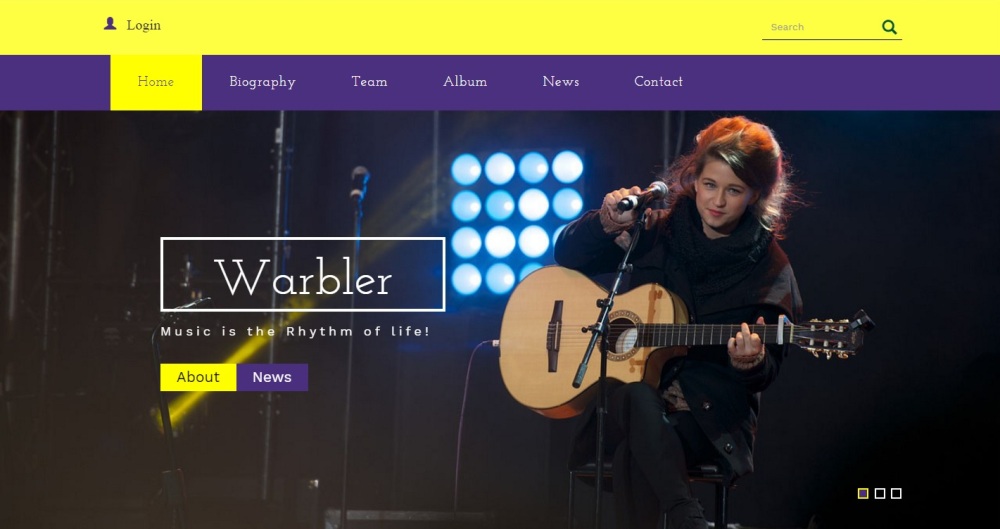 A great free responsive one-page Bootstrap website template designed with HTML5 and CSS3 to become a website for promoting bands, pop-albums, music singles, and other music related stuff. The template boasts vibrant colors, clean alignment, parallax images, hover animations, and other eye-catching design effects that make the template look complete and attractive. Resonate your music business with this free Warbler website template, easily tune it and share the joy with your visitors.
2. Music Band Free Website Template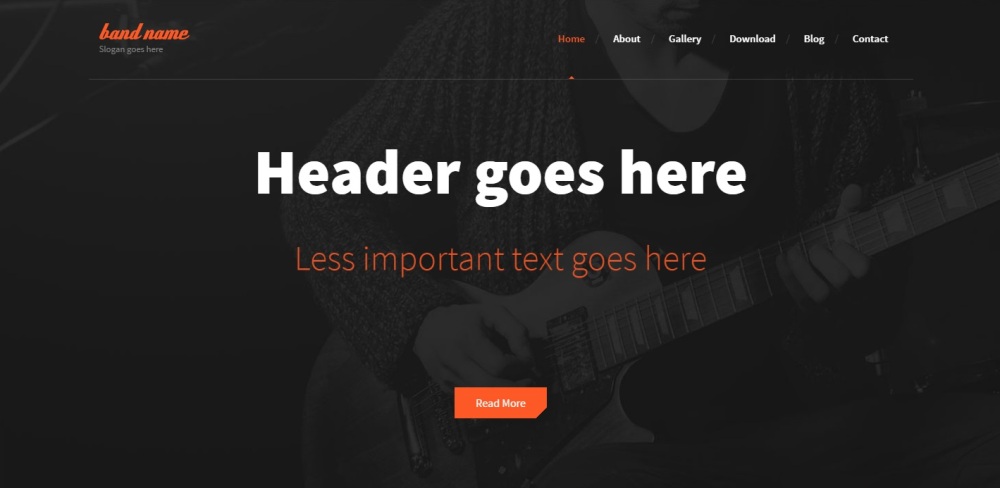 A free responsive HTML music band template carefully designed to become a top-grade promotional website to share the latest news and events concerning your band or your personal musical creation up online. The template is fully customizable to fit the needs of your team and help you get your website running in no time. Use any convenient HTML editor to customize the website as you require.
3. Music Free Bootstrap Template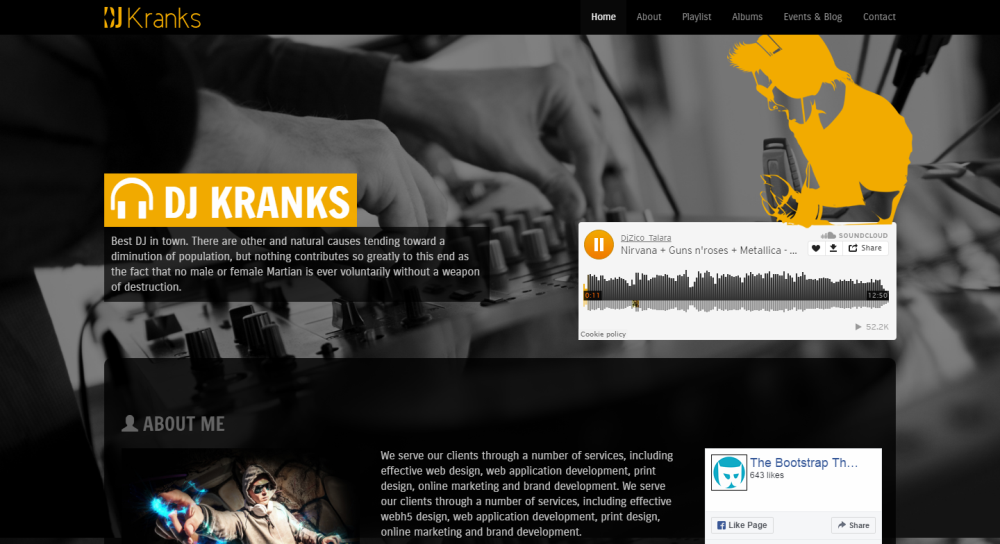 A high quality free responsive one-page music Bootstrap template dedicated to music artist wanting to showcase their records on the Web. The soundcloud is used here to embed the music and a sound account, the event and blog layouts are available to highlight any upcoming events. You can also use the images uploaded here 'cause all of them are copyright-free and brought from the shutterstock. Customize the template and use it for any type of projects.
4. Delite Free HTML5 and Bootstrap template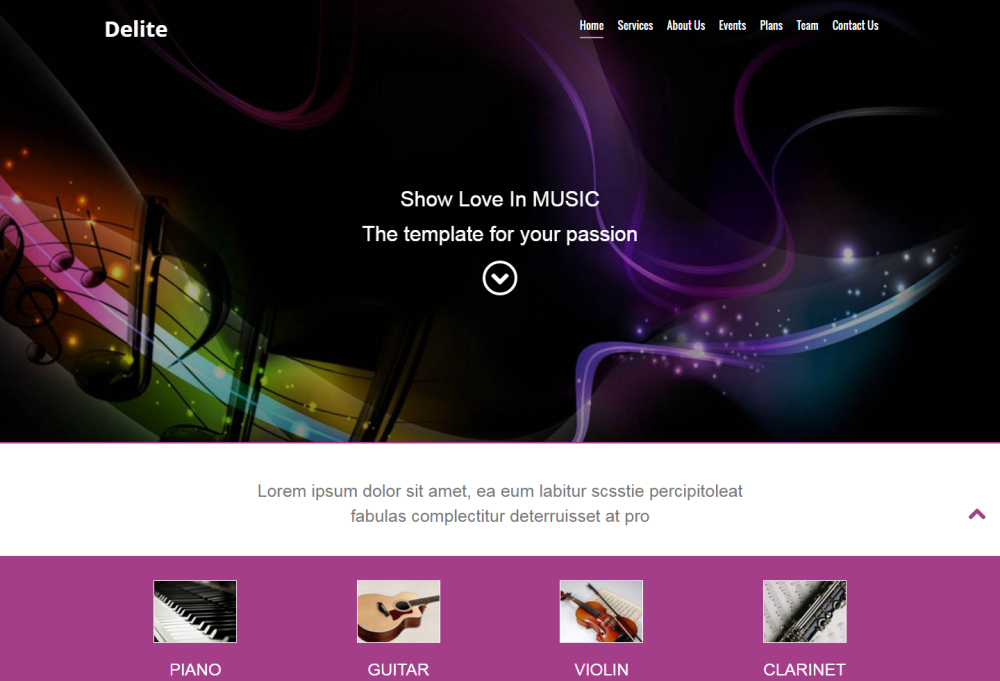 A modern free HTML5 music website template designed to become an official website of music band or a promotional website for a club, a party or an event. The template is a good choice for those who wish to create a professional yet modern looking website. The design is packed with features that make it easier to use the web-pages and customize them up to users' needs. A fully responsive layout make the website compatible with any browser and device.
5. Mosaic Free Bootstrap Template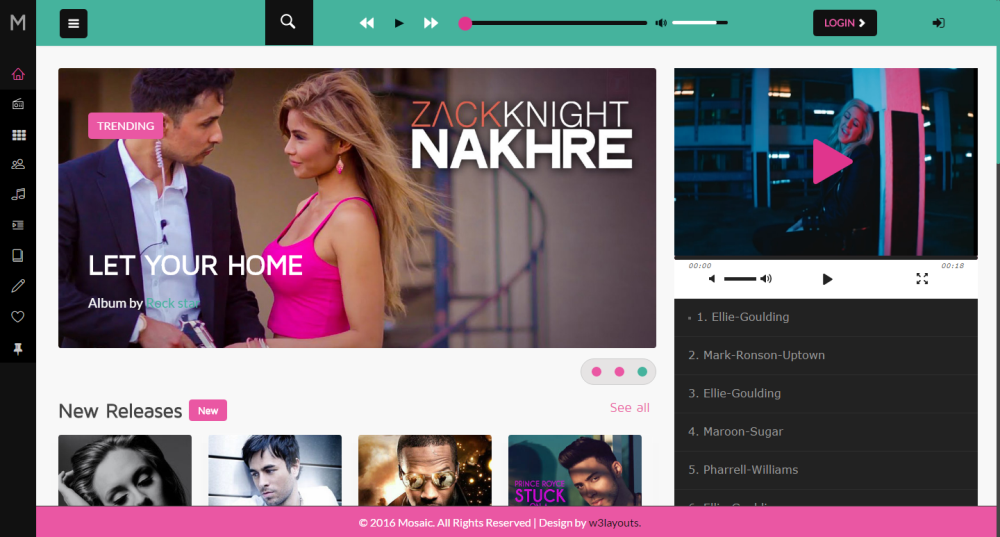 A perfect free music and entertainment Bootstrap template applicable for creating a website of a real show-stopper, or a beginner in the music industry. The template has been created with the help of HTML5 and CSS3 and based on Bootstrap framework so it is fully responsive and highly customizable design which is going to become a perfect solution to build a full-fledged promotional website. The template includes an immense bunch of features, a lot of widgets and useful options helpful to make your site much entertaining for your target customers.
6. Boombox Free Bootstrap Template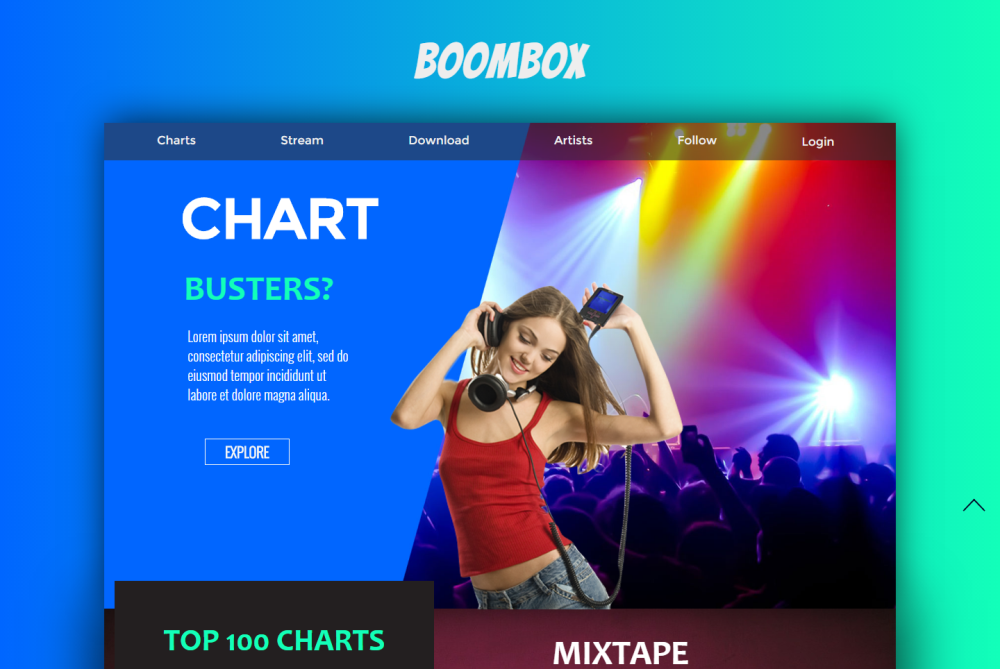 A free and stylish music related responsive website template infused with trendy colors and perfect for creating an entertainment music website to promote your creation. This clean and colorful design is ready to become a music portal suitable for promoting movie songs, private albums, music singles, and other creative works online. The template is built with a flat grid system using HTML5 and CSS3 which make the website look great in any devices. Explore all the features stuffed into this gorgeous template and customize it as per your target users' needs.
7. Music Life Free Bootstrap Template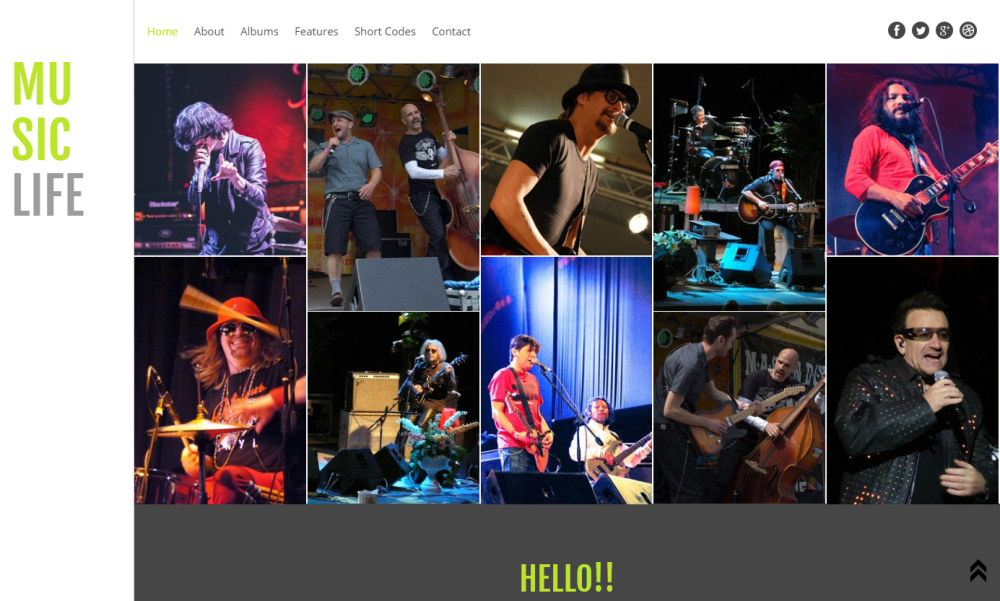 A free music centered Bootstrap template beautifully designed to become an awesome website of any kind of musician. The template has been built with HTML5 and CSS3 as well as a clean flat grid system which makes it look perfect on all devices. A lot of extra shortcodes were included into the design to help you customize the template as per your needs. By the way, the design comes with dozens of components which make it really easy to use. Use any HTML editor to customize your website whenever you wish.
A Gorgeous Collection of Premium HTML Templates for Musicians
The following bundle of templates were designed with premium quality and include numerous features to meet your most exacting requirements.
1. MusicBeat Premium HTML Template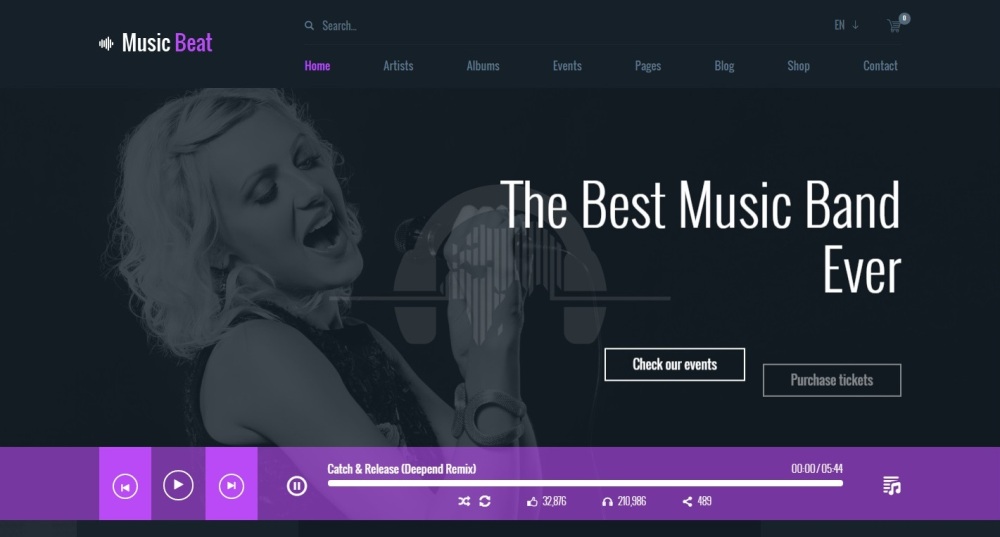 A premium HTML5 and CSS3 website template specifically designed to become an official website of a music band, composer or singer. The template is designed with easily changeable color scheme, different event and gallery styles, various styles of blog page layouts, and many useful features suitable for building up a second-to-none promotional website. The template is created with Bootstrap framework and it has completely responsive layout compatible with any browser, screen resolution and device.
2. Madass Premium Multipurpose HTML Template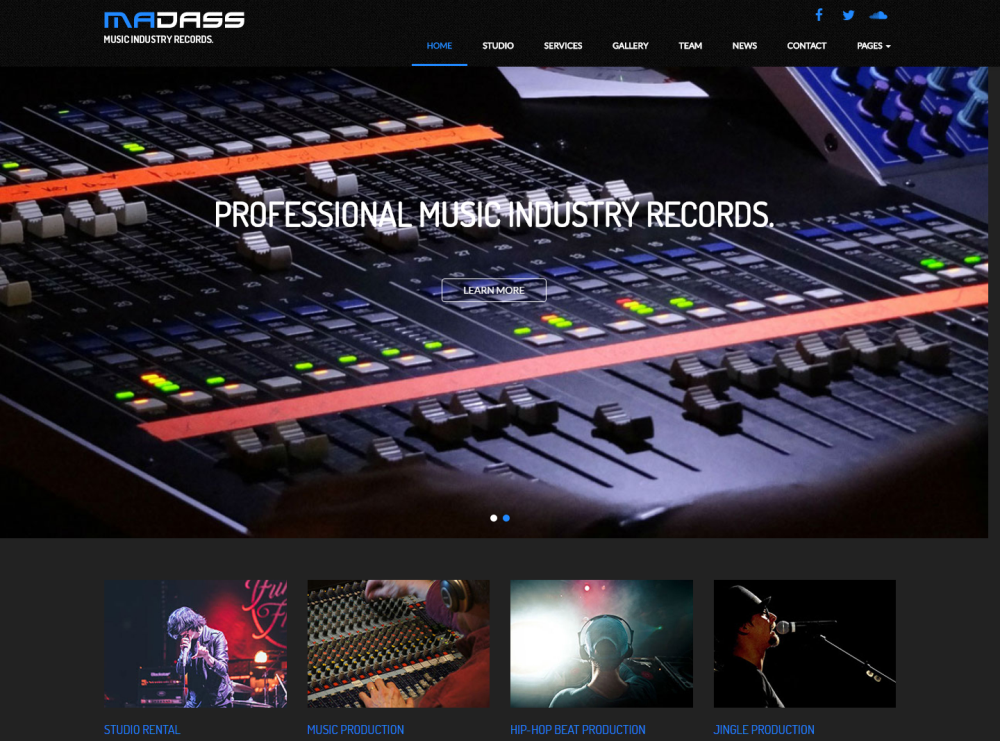 A great premium multipurpose HTML5 and CSS3 template applicable for a website of a band, a DJ, a singer or any other personality belonging to music business. This simple, clean and modern design is created with Bootstrap and is fully responsive to fit all contemporary devices and browsers. The template boasts clean codes and font-awesome social icons. By the way, it is very easy to customize.
3. Talento Premium HTML Template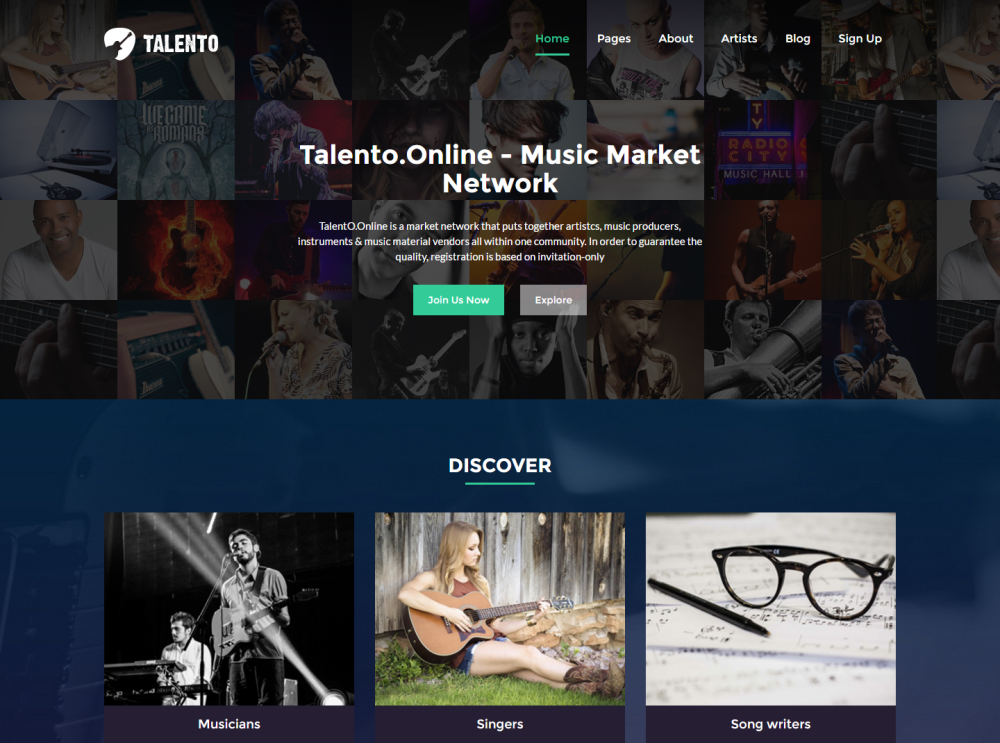 A clean and modern premium HTML template which is perfect for any type of music and creative agencies and musicians wanting to showcase their work. You can easily change the colors, upload any content and customize your website up to your needs. Use any HTML editor, edit the template up to any variation you require and create your perfect promotional website to get more faithful admirers.
4. Duotone Music and Band Website Template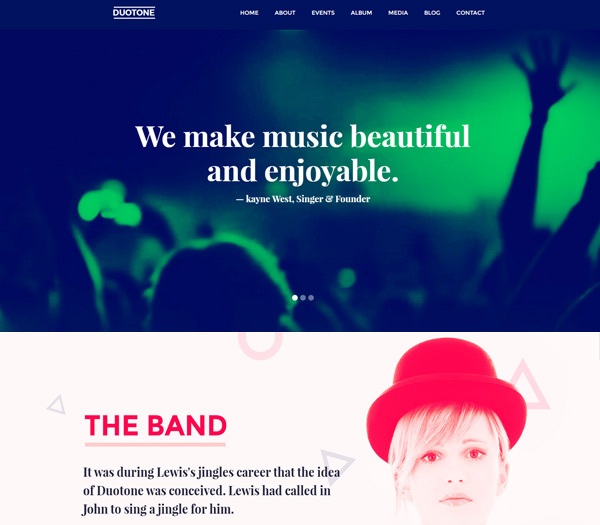 A professionally-designed premium HTML template created for Webflow and suitable for creating a music related website of any type. The template is available in multipage and parallax one-page versions as well as provides a great user experience. It is completely responsive, compatible with any device and looks great on any screen.
5. Dynamica Premium HTML Template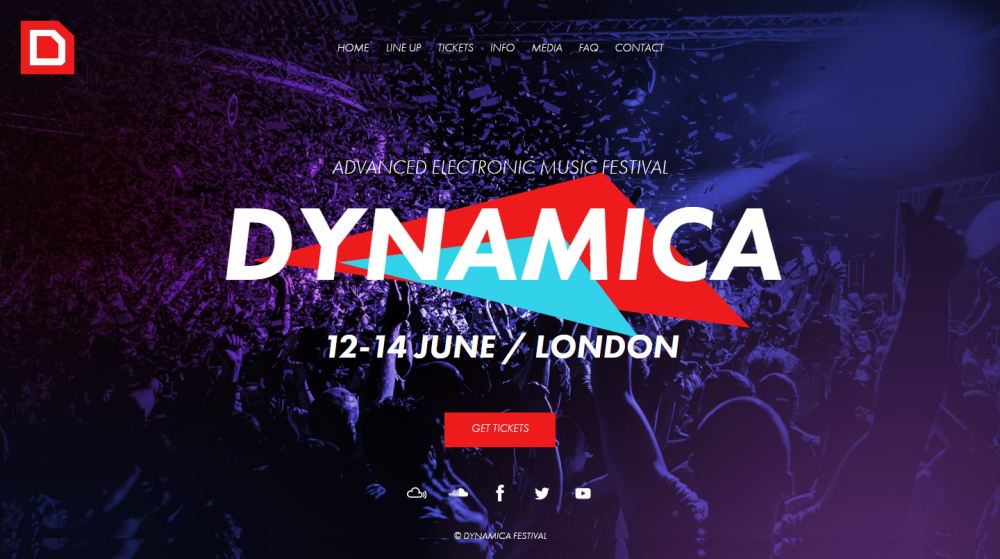 A premium event, festival and party responsive HTML template suitable for any kind of music centered websites. The template is applicable to create a site for promoting the concert, music band, nightclub parties, DJ, festival, and any other events and performers. The design is applicable to promote your next music project like a pro. The templates uses Typekit fonts, changeable colors, and easy-to-edit features as well as creative design.
6. DJ Studio Premium One-Page HTML Template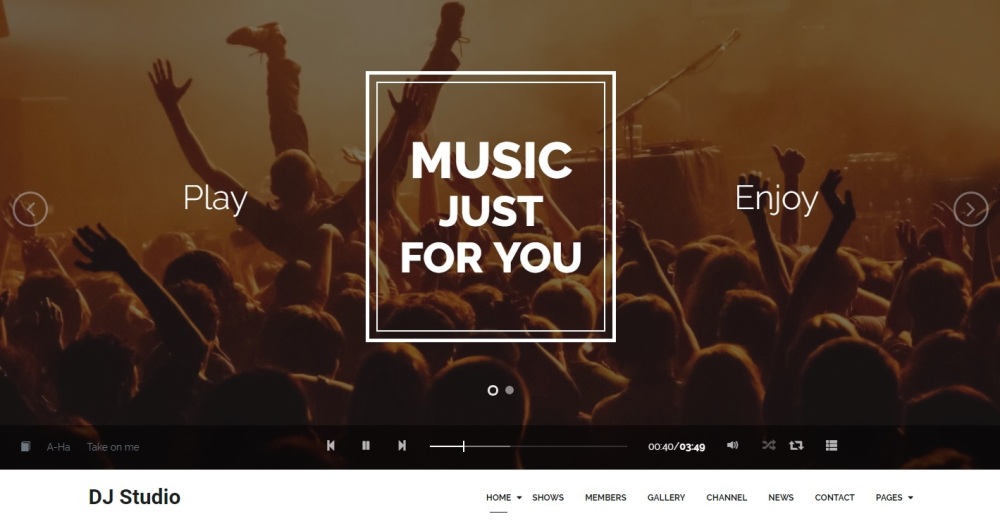 A top-of-the-line premium one-page HTML template suitable for DJs, music bands, musicians, singers, and other music related personalities. Several different versions of design also include the built-in mp3 player to allow you add your playlist and let your visitors hear your tracks right from your page. The template is based on Bootstrap framework and it is based on a dozen of ready to use components. Choose any available HTML editor and customize your website template as you require.
7. DJ Premium HTML Template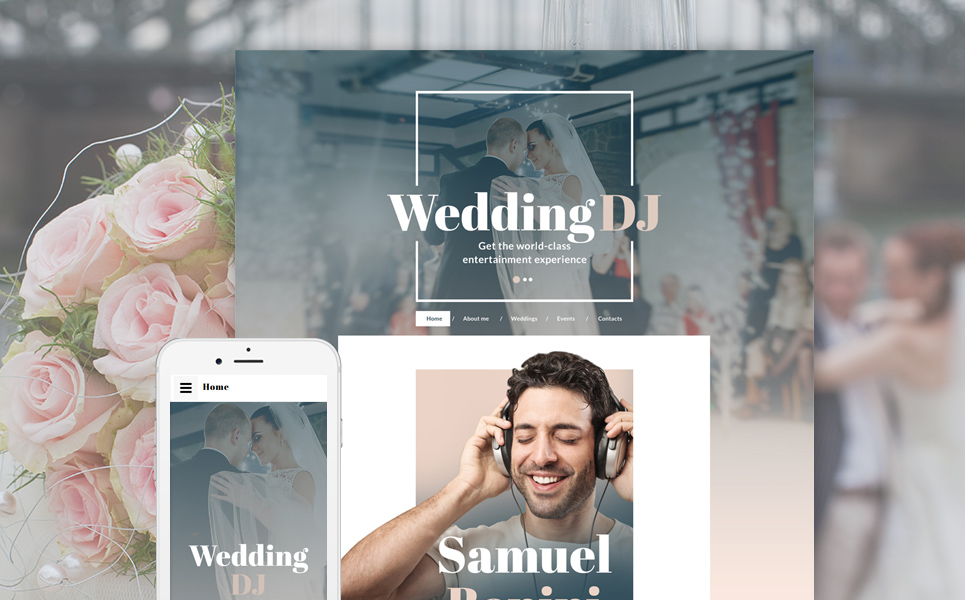 A second-to-none premium HTML template suitable for creating a promotional website of a DJ, singer, bit maker, or any other performer. The design is based on Bootstrap framework and has a lot of useful features including a live chat, contact form, beautiful font icons, stick-to-top menu and amazing slider to showcase your latest works. The template is fully responsive and has a few extra page layouts compatible with any modern device.
8. Ringtones Portal Premium HTML Template
An appealing premium HTML template that would become a fully-featured ringtones portal or any other music related website. It is easy to customize the template to make it simple and modern and attract more interested visitors, especially since ringtones are always popular among people of different ages. Parallax animation, carousel slider, a few well-organized page layouts – these are only a few advantages of this fully responsive design. Check it out.
9. Recording Studio Premium HTML Template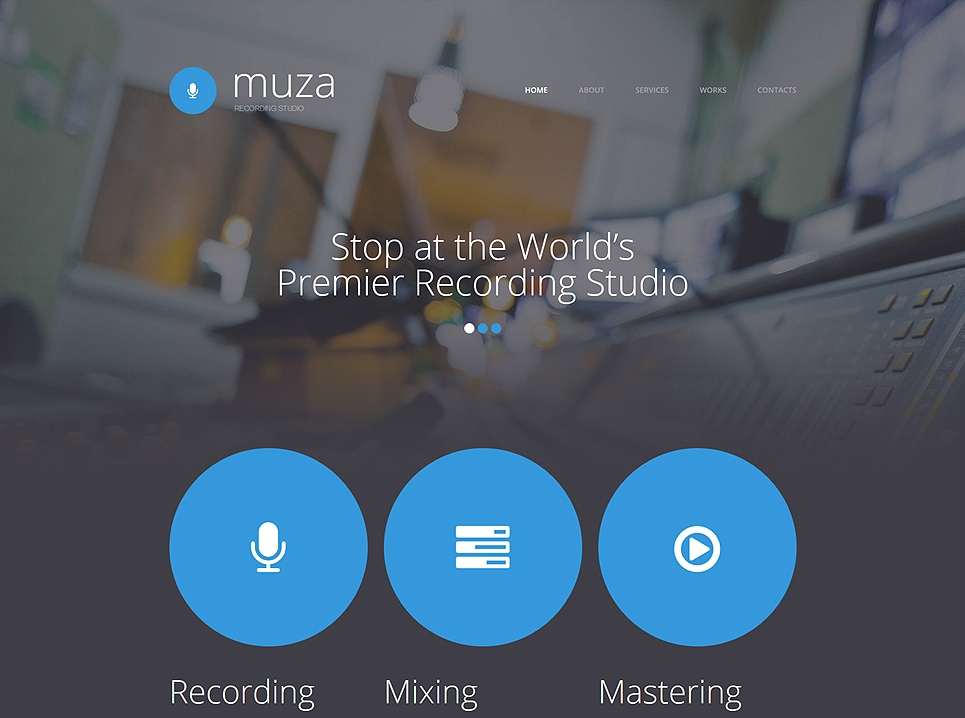 A perfect premium HTML template suitable for a recording studio website or any other type of music portal. The template is based on Bootstrap and includes a lot of impressive features such as TouchTouch and Carousel galleries, Parallax animation effects, several extra page layouts and complete responsiveness. A couple of stock photos, numerous fonts, attractive icons, and many other useful features are available with this design.
10. Radio Station Premium One-Page Bootstrap Template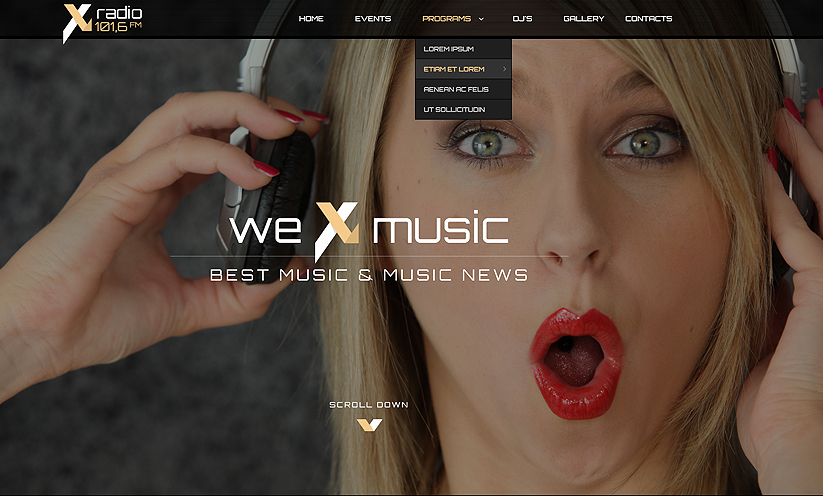 A one-of-a kind premium one-page website template based on Bootstrap framework and available with dozens of components. The template boasts unique design, responsive page layouts and photo gallery, working PHP contact form, and many other features. By the way, the template is complemented by parallax one-page effect, owl carousel and flexslider. The templates is crossbrowser compatible and SEO-optimized.
11. Radio FM Premium Bootstrap Template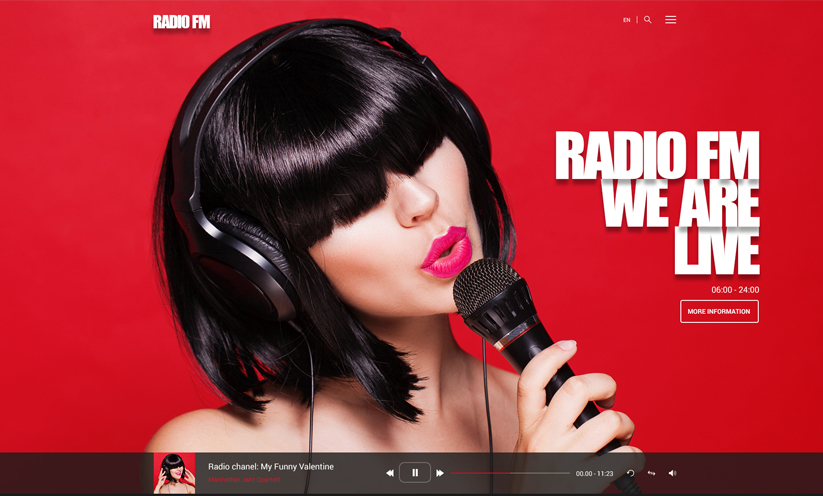 A fully responsive premium website template applicable for creating a website of a sound studios, online radio station, singer, and any other music related facility or personality. The template is based on HTML5 and Bootstrap frameworks and includes a lot of usable features allowing to create an appealing and simple website for your target visitors. By the way, you can easily edit the template with any chosen HTML editor.
12. DJ Music Premium Bootstrap Template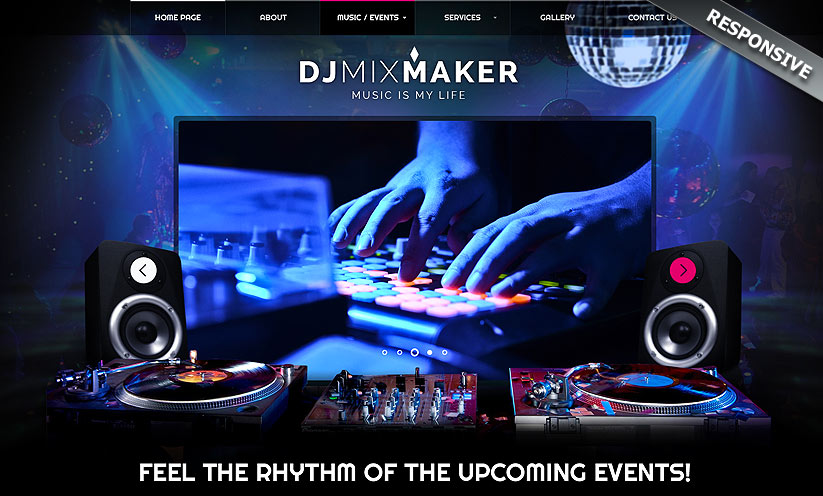 A top-grade responsive premium website template based on Bootstrap framework and suitable for promoting your creative music centered works. You can upload numerous photos and videos to showcase your creativity in the best way possible and build your unique and engaging website for your existing and future admirers. The design is extremely easy to edit and customize.
13. Singer Premium Landing Page HTML Template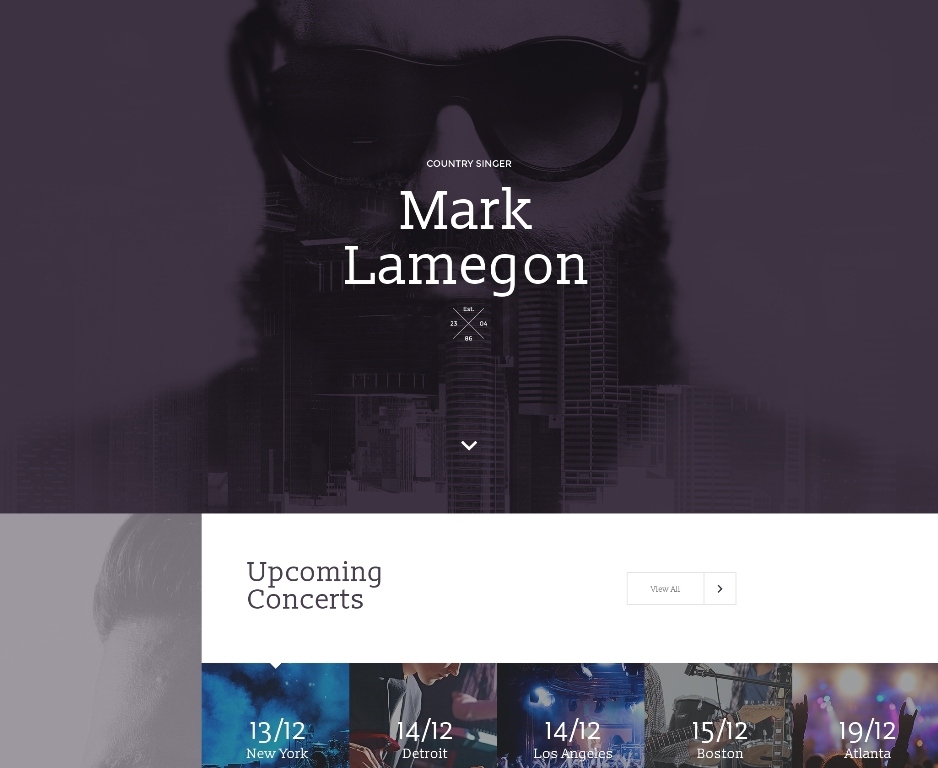 A great premium landing page HTML5 and CSS3 template applicable for creating an absolutely appealing website of a singer or a composer. The template includes audio player and integrated functionality as well as TouchTouch gallery type so you can showcase your music works in the best way possible. The design is fully responsive and crossbrowser compatible which is also one of its key advantages. The template is highly-customizable.
14. Music School Premium Landing Page HTML Template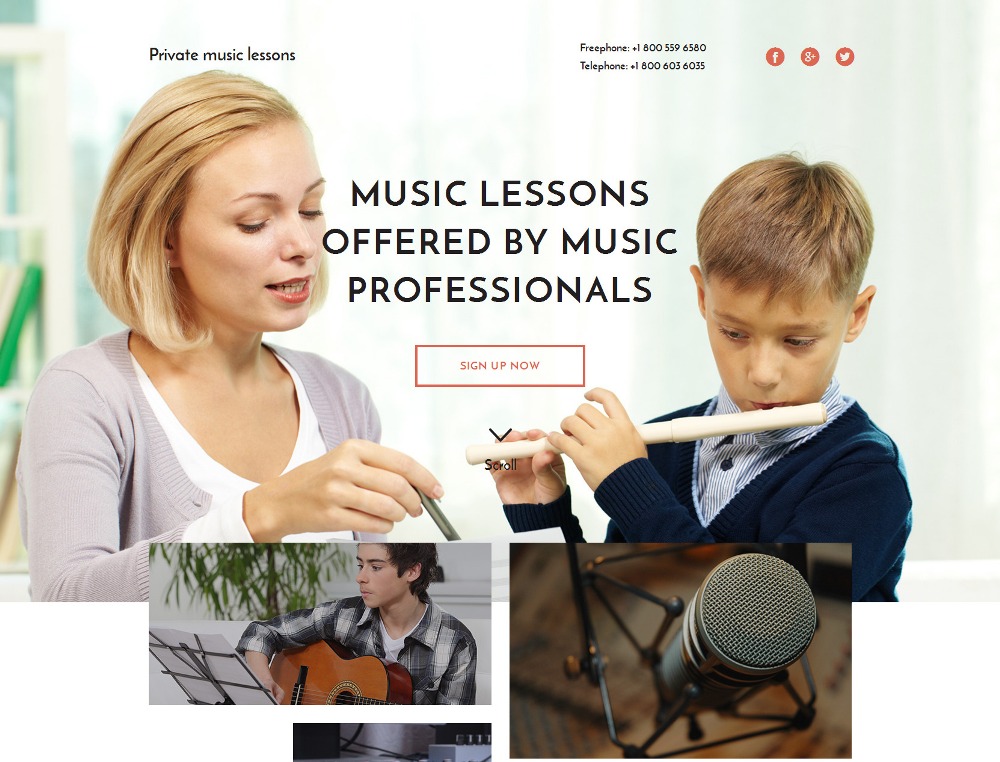 A beautiful premium landing page HTML template designed to become a fully-featured website of a music school or individual tutor. The template is stuffed with useful features and effects helpful for creating a perfect website for your promotional campaign. It includes fully responsive page layouts, boasts beautiful parallax effects, Carousel and TouchTouch galleries allowing to showcase the best photos from music events, and other works. Use any HTML editor and customize the site as you require.
Conclusion
All of these themes are fresh and modern so they meet all contemporary user requirements concerning usability, functionality and appealing design. Choose any HTML and Bootstrap theme and customize it as per your requirements to create you most special and unique presence on the Web.