Infographics is considered to be one of the easiest ways to get readers understand and memorize a huge amount of information in a fun and engaging manner. Every infographics includes a lot of different elements which are tough to collect separately and combine in a single design. That is why all charts, graphs, images, typography, texts, and other elements can be found in a ready-made infographics template which will relieve a designer from the necessity to create the work from scratch.
We always try to keep up with the times and provide you with the newest and most popular solutions for your inspiration. Today we are glad to represent a gorgeous collection of the best free infographic templates which will be helpful for everyone involved in the world of design.
Free Infographic Templates for Your Perfect Information Designs
The following professionally designed PSD templates are going to be very helpful for creating your excellent information designs.
1. Free Technology Infographic Templates

These are free infographic PSD templates designed for displaying the results of technology based research. This simplistic design has a nice circular diagram which is available here to show the stats. Vectors of percentage numbers, circles and a laptop are located in the bottom section. Vectors of iPhone, iPad and Mac Monitor are located in the top area. The organized layers of this PSD file were created with the help of vector graphics that is why the template is easy to edit. By the way, you can customize the color of this template up to your liking.
2. Free Business Infographic Elements Template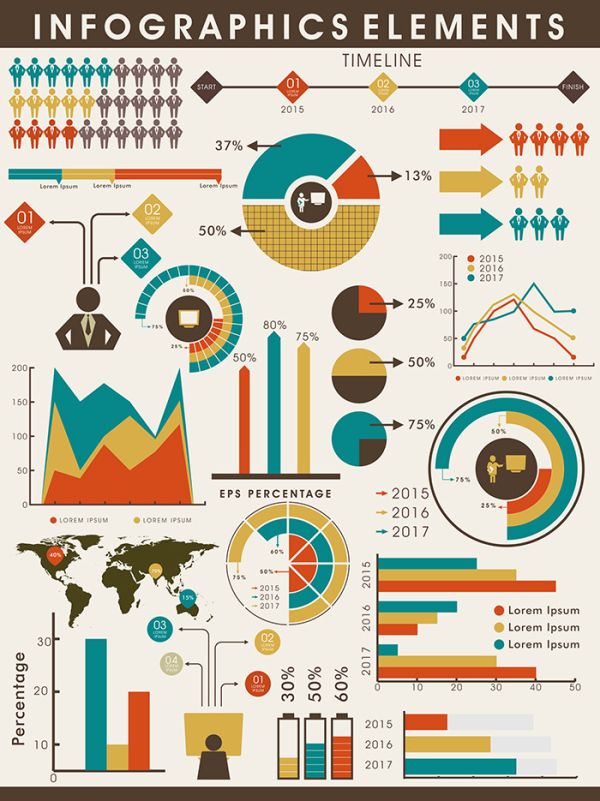 If you don't need the entire infographics for all the data then this infographic elements template is all that you need. This do-it-yourself design allows to customize and edit your own templates choosing just the exact elements you require. The template comes both in fully editable EPS format and jpg format for reference, so it can be edited through Adobe Illustrator or similar graphic editors. Download and use this free infographic elements template for free.
3. Free Infographics PSD Template in Food and Nutrition Theme – 3 Color Options
A free infographic PSD template available for representing food and nutrition related information in graphic format. The template is made as a vector infographics kit and created with a simple design to meet your basic needs for your next food related infographics project. It includes the vector icons of fruits and food including pear, banana, grapes, cherries, etc. so you don't have to look for images yourself. Download this infographic template for free and use it without a limitation.
4. Worst Hurricanes to Hit The United States – Infographic Template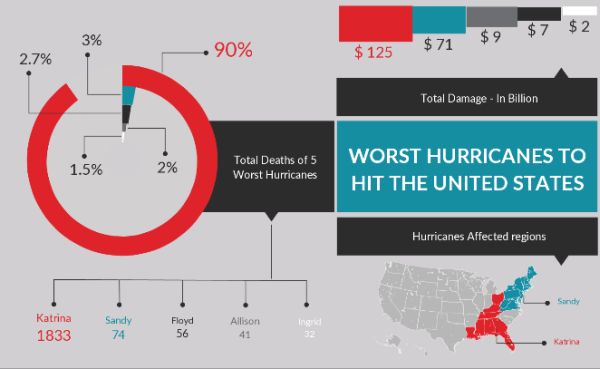 This free infographics is created by professional designers to serve as the example of a perfect information design. Click the "Use as Template" button to edit this design online. You can move its elements and layers, change the text within the info-blocks, choose colors, and make any other changes to create your own unique infographics. After the changes are complete you can publish your design with attribution provided. Be sure to register and login to save your changes made to the template.
5. SWOT Analysis of NIKE – Infographic Template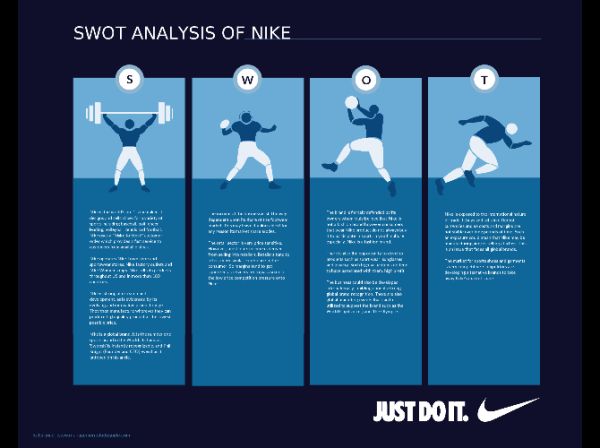 Free infographics which is published to be used as the template for creating your own custom informative illustration. "Use as Template" button allows to open this design template in the graphic editor and change its appearance in online mode. You can move information blocks, replace the layers, choose images and colors from the available collection of templates and create your perfect information design. Try this template for free and publish it after saving all changes.
A Bundle of Professionally Crafted Vector Illustration Templates
These ready-made vectors are available to download for free and customize with graphic editors. Choose any of them to create your own engaging information design.
1. Creative Business Route Information Map Vector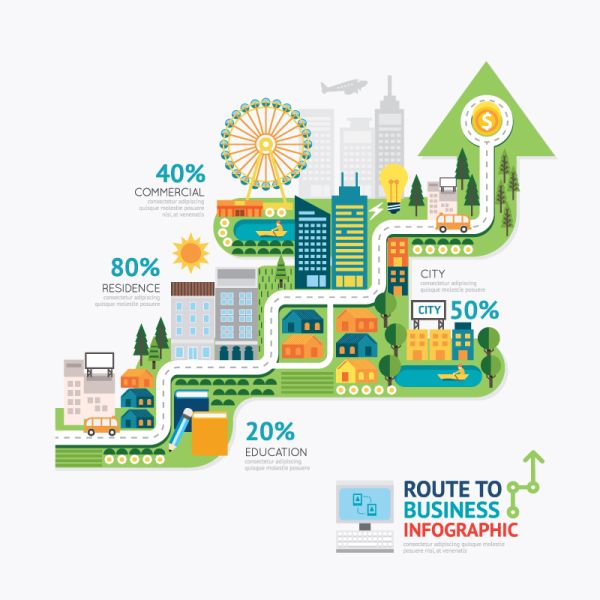 A free information map vector which includes an arrow, percentage numbers, architecture, text information, and icons of the sun, planes and light bulbs. Such vector illustration template can be used for representing the data concerning ecology, construction, architecture projects, and the related fields. All elements of this infographic template are arranged in a coherent manner, so the picture looks really pleasant to the eye. The design refers to the advertising category and is available absolutely for free. Just download it and use it up to your needs.
2. Creative Circle Business Information Maps Vector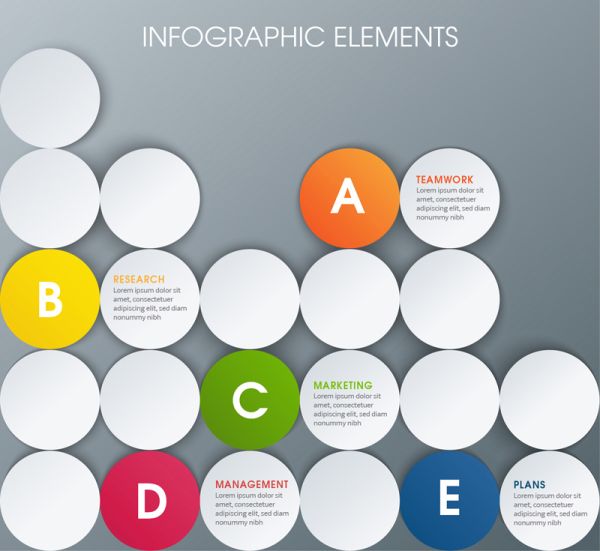 A free information map vector which includes both empty circles and circles filled with text information and graphics. The circles can include the information concerning marketing, research, teamwork, and so on. The template can be used to represent the results of the research, management or planning process. You can also use it for advertising and promotion. The design is available for free and you can download and use it without a limitation.
3. Color Book Learning Infographic Vector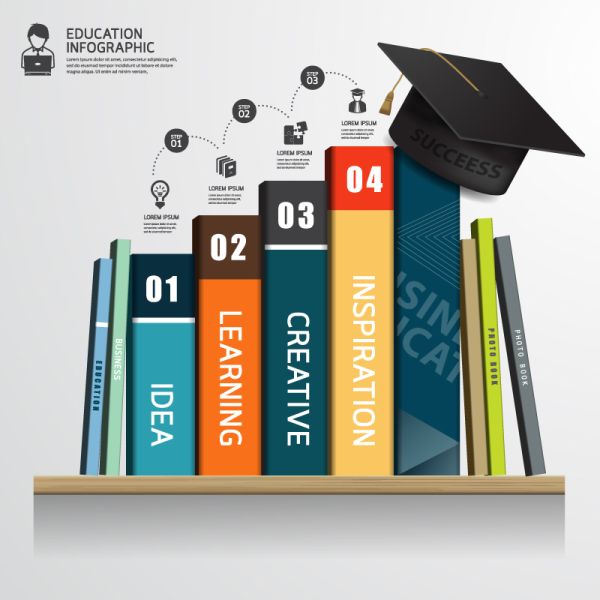 A free infographic vector designed to provide the information concerning the higher education in graphic format. The illustration includes images of PhD Cap, books, a bookshelf, and text information. The colorful elements make it exciting to learn the information from the infographics. The vector is applicable for being used in advertising design and you can customize it to create your own custom vector illustration. Download the template for free.
4. Cartoon Travel Planning Information Map Vector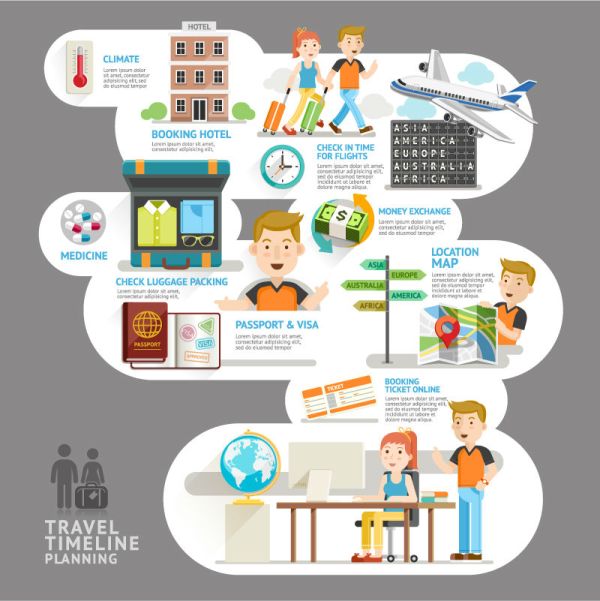 A free information map vector crafted to be used for displaying travel planning related information in engaging graphics. The design includes icons of people, luggage, planes, clocks, the globe, and some other images. The illustration covers images referring to medicine, aviation, and other traveling related fields as well as the text information. This template refers to the advertising design and can be downloaded absolutely for free.
5. Cartoon Character Health Information Vector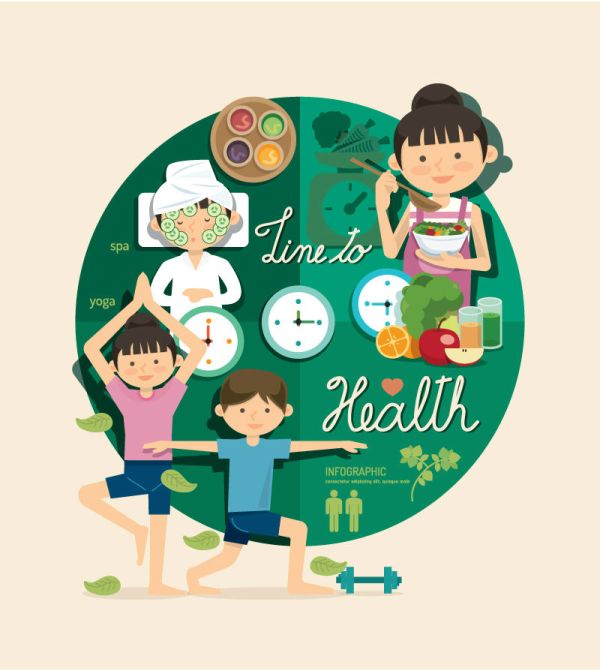 A free information vector which depicts a few cartoon characters and depicts vegetables, fruits, clock, spa procedure, yogic asana, and some other related actions and notions. The illustration is very colorful and engaging so any text information you include will be quite pleasant to view. You can use this template for advertising purpose or you can select just the separate elements of the vector to use for your custom infographics.
6. Creative Pencil Infographic Vector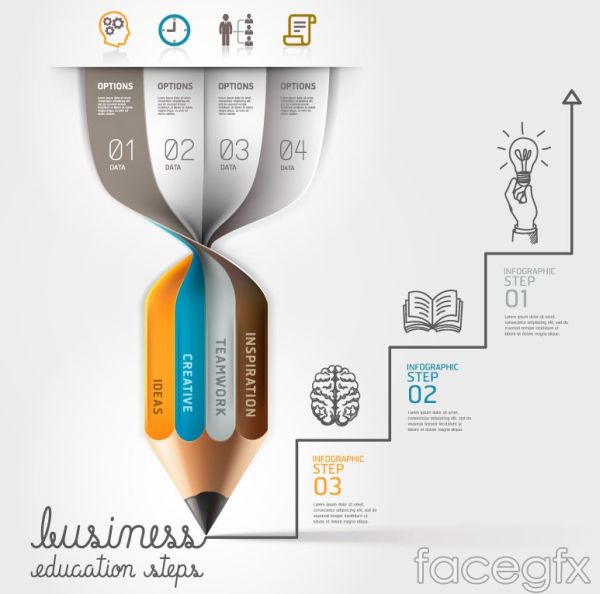 A free infographic vector which includes the spiralled pencil with text information. Four main colors of the pencil may represent four different pieces of information. The icons of lamp, book, brain, and some other ones are also available here. This infographic vector can be used either for advertising, showing the results of the research, sharing the information concerning a creative project, and so on. You can include any custom data instead of the standard one and build your own infographic illustration to represent any data in graphic format. Download the template absolutely for free.
7. Business People with Infographics Design Vector 03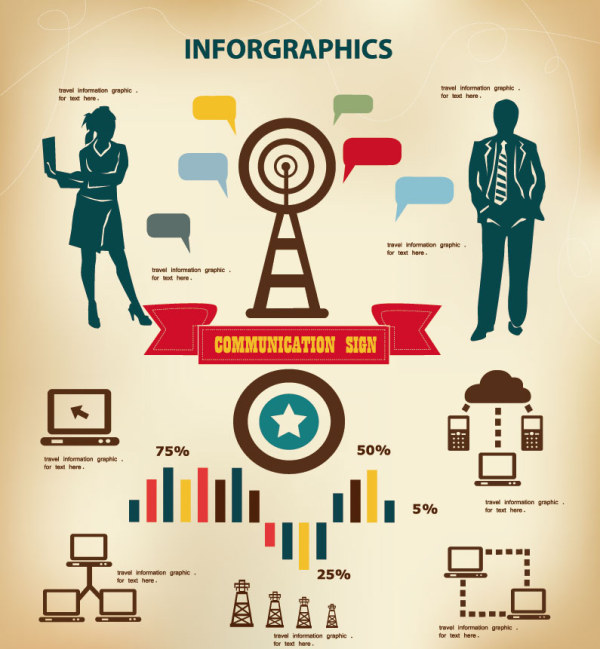 A free infographic design vector available in EPS format and applicable for creating infographics referring to communication. The template includes percentage numbers, shadowgraphs, circles, stars, laptops, clouds, and some other icons. As this is a business vector, it can depict information concerning the target audience of a certain business, research results concerning the definite product, and so on. Download and use this vector for free.
8. Numbered Infographics Elements Vector 27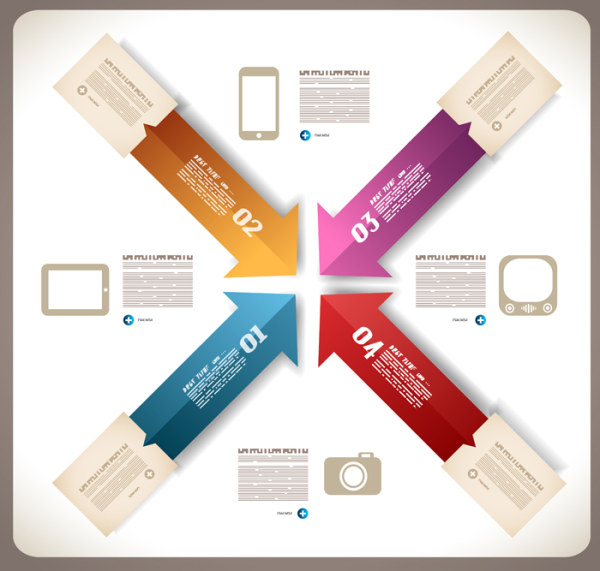 A free infographics elements vector which is applicable for creating the infographics referring to business or the related fields. The design includes colored arrows and small icons of smartphone, tablet, and several other gadgets. You can include any text information into the template and represent any data in an attractive manner. The file is available in EPS format so it can be easily edited with graphic editor like Illustrator. Download the template for free.
9. Vintage Infographics Vector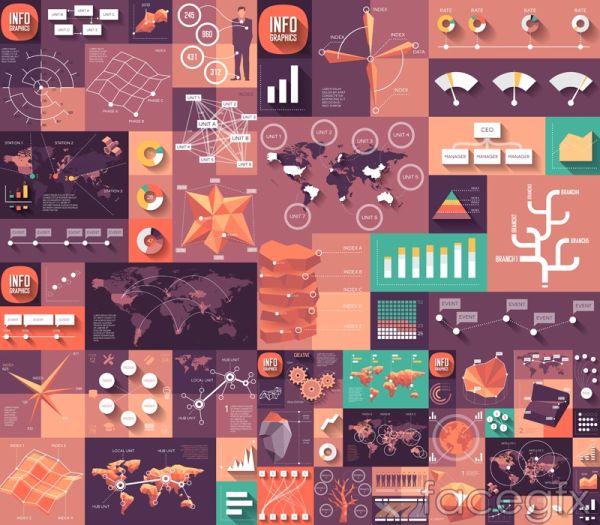 A free infographics vector designed in vintage style and applicable for creating the information design concerning any kind of statistics, solid data, and any other information. The illustration includes graphs, icons of gear-wheels, circles, pyramids, and some other elements. Pink, green and violet colors prevail here and make the illustrations look attractive and bright. You can use this vector template for advertising needs or showing the results of your research. Download this template for free and use it up to your needs.
10. Business Infographic Template Free Vector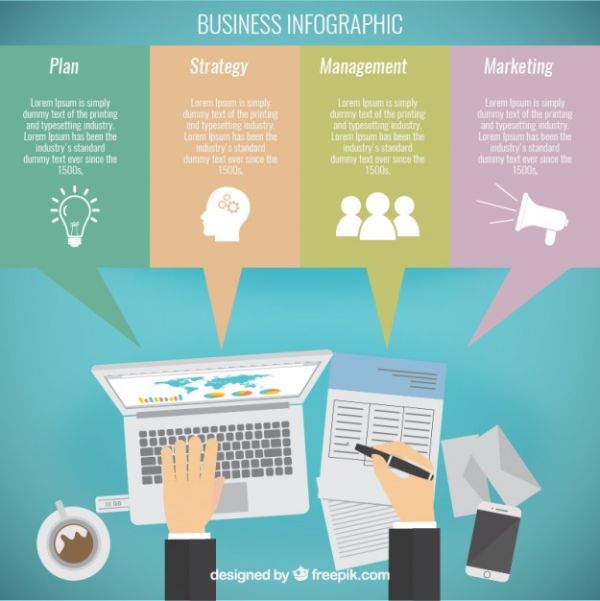 A free infographic template free vector which is applicable for creating an infographics concerning any type of business. The design includes cartoon icons of Macbook and iPhone, colorful information blocks, some other images and standard texts. You can use graphic editors like Inkscape or Adobe Illustrator to edit the elements of this infographic template and replace them with your custom ones. Use this infographic template vector for free to create your own exclusive information design.
Conclusion:
Ready infographic templates are designed to ease the process of creating your own custom information design and make any research results, advertising data, and other information really engaging, easy-to-understand and remember.