"… Designing and Developing for Mobile Just Before It Really Blew Up"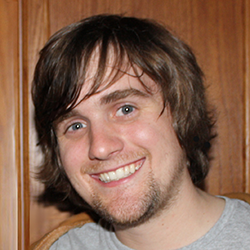 When you forge your own path and become a very skilled expert in your field, it is one of the key things which make you feel happy. Well, you are an expert and you make your job perfect but sometimes it is much essential to share your experience with others and make it a part of your mission.
Brad Frost is the one who managed to become the best expert in his field not only to craft great and modern websites but also share useful knowledge with others to help them improve their skills in design and team working. I got the chance to talk to Brad and learn some curious facts on his best projects including Atomic Design and This Is Responsive. Now I share this interview with all of you, just read and enjoy!
1. Will you please share a bit about your background and your scope of activities?
"I'm a web designer, speaker, consultant, writer, and musician based in Pittsburgh, PA. As a practitioner, I primarily focus on frontend design and development. As a consultant, I help teams work more collaboratively, implement atomic design, embrace responsive design best practices, and more. I'm the author of Atomic Design, and have also helped create several tools and resources for web designers, including This Is Responsive, Pattern Lab, Styleguides.io, WTF Mobile Web, and Mobile Web Best Practices."
2. What influenced your decision to get into design and mobile web in particular?
"I got a job at R/GA in NYC as a "mobile web developer". This was in late 2009/early 2010, so the iPhone had already come out but not a lot of people were focusing on making mobile Web experiences great. I consider myself extremely fortunate to have been exposed to designing and developing for mobile just before it really blew up. My years at R/GA allowed me to explore what it means to create great web experiences that work on a whole slew of devices and environments."
3. What was your career start? Was it a freelance or a full-time job in a big company? Were there any critical challenges you had to overcome at the start?
"After graduating university I got a job designing and developing websites (in addition to doing crazy Quark, print, and tradeshow stuff) for real estate and mortgage companies in Pittsburgh. Unfortunately this was right when the real estate bubble burst. So after a year, I packed my bags and moved to New York City to be with my fiancee (now wife!).
My first job in NYC was at a small fashion e-commerce agency called Pod1. I was the fourth employee in the New York office and was the only developer. Because of the size of the shop, I had to learn how to do a lot of different things and learn how to do them fast.
After that, I went to R/GA to be a mobile web developer, and after 2 and a half years at R/GA New York, I moved back to my home city of Pittsburgh. I worked remotely for R/GA until the beginning of 2013, when I went out on my own. It's been a blur of freelance, consulting, workshops, speaking, writing, and more ever since."
4. Are there any specific customers you were really proud to work with?
"I've had the good fortune of working on some pretty large-scale projects with some big brand names. I've helped developed responsive websites for Time Inc, TechCrunch, Entertainment Weekly, Nike, Tiffany & Co., MasterCard, and others. As a strategist and consultant, I've helped brands like CapitalOne, Fidelity, L'Oreal Paris, and Converse, and more establish sound web strategies."
5. How did you come up with the idea of atomic design? What does this concept mean?
"I wrote about the origins of atomic design in my book. I was thinking about modular design systems and knew that these types of concepts existed in other fields. I kept coming back to my high school chemistry class, where we learned that all the complexity in the universe is comprised of a finite set of atomic elements.
Atomic design is a methodology composed of five distinct stages working together to create deliberate interface design systems. The five stages of atomic design are: atoms, molecules, organisms, templates, and pages."
6. Say please a few words about your This Is Responsive project? Is it helpful for beginners or only professional developers?
"This Is Responsive is an open-source project that rounds up responsive design patterns and resources. It's a great reference tool for veterans and beginners alike. If you're stuck with a problem (like "how do I make responsive breadcrumb navigation?") you can check out the patterns on the site."
7. Can you name a few modern web design trends you like the most? Are there any trends you consider to be useless?
"People are realizing that in order to make stable, future-friendly, scalable, extensible web experiences they're going to need to think more systematically. That means crafting deliberate and thoughtful design systems. That means creating pattern libraries. That means killing the out-dated, siloed, assembly-line waterfall process and actually getting cross-disciplinary teams working together. That means treating development as design. That means treating performance as design. That means taking the time out of the day to establish the big picture, rather than aimlessly crawling along quarter by quarter. If the Web is going to continue to flow into a variety of containers, devices, browsers, and environments, we need solid ground to stand on. Not just for this year but for years to come."
8. Share please a small piece of advice for front-end designers starting their career.
"Work hard. Don't be an asshole. Share what you know."
We say thanks to Brad for such an insightful conversation and extraordinary sense of humor.