We've prepared a collection of beautiful Bootstrap skins that work as UI kits and help to create amazing designs with ease. You can select the best skin either for your website or application.
Cascade – Modern Bootstrap 4 Skin & UI Kit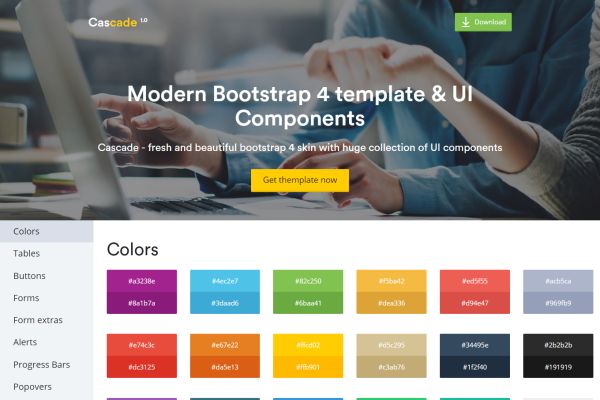 A responsive and multipurpose skin template with huge collection of UI Components. The skin is easy to use, easier to install and customisable using SCSS. Besides fully restyled default Bootstrap functionality, the Cascade includes lots of extra components to help you build modern responsive websites and applications.
BiOS – iOS Style Bootstrap Skin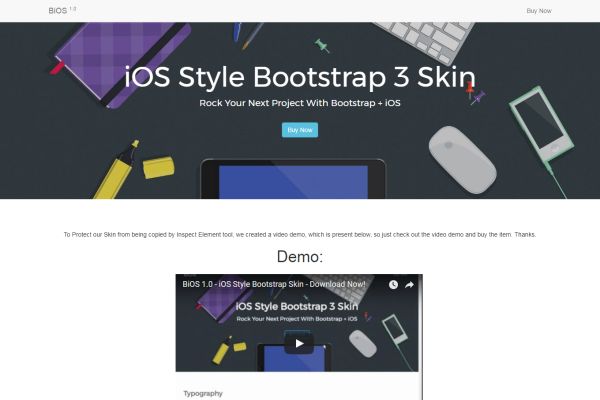 An iOS based and modern Bootstrap 3 skin that restructures Bootstrap and makes it beautiful as well as easy to edit and use. One important thing to notice about BiOS is that it removes the default Bootstrap spacing between different blocks. It will help you give your project an iOS look.
YUMMY! Bootstrap Skin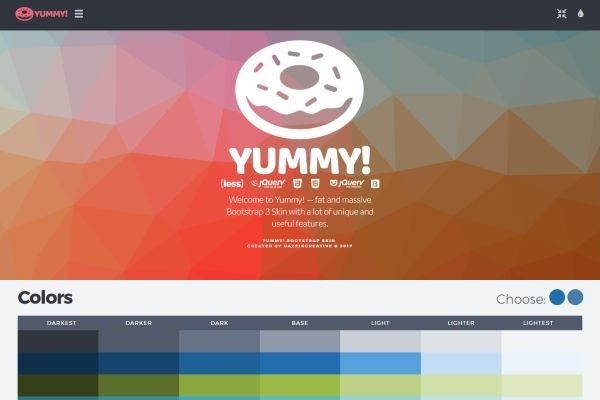 A massive Bootstrap 3 skin with a lot of unique and useful features. Smart and practical use of variables, valid HTML5 code and JS strict mode on, unique features such as contextual modal windows, panels, using of animation — all that together makes Yummy! an excellent choice for starting work on your new project. Widgets are a very good additional doughnut.
Icicle – Fresh UI Kit for Bootstrap 3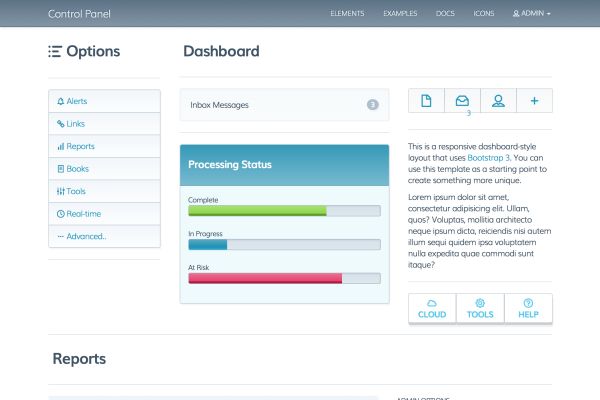 A skin/theme and UI Kit based on the popular Bootstrap framework. It has a cool dimensional design that is perfect for both content-based websites and webapps. It includes all standard Bootstrap components, carefully styled to make a unified and coherent theme, as well as some extras.
Fantastic – Modern Bootstrap 3 Skin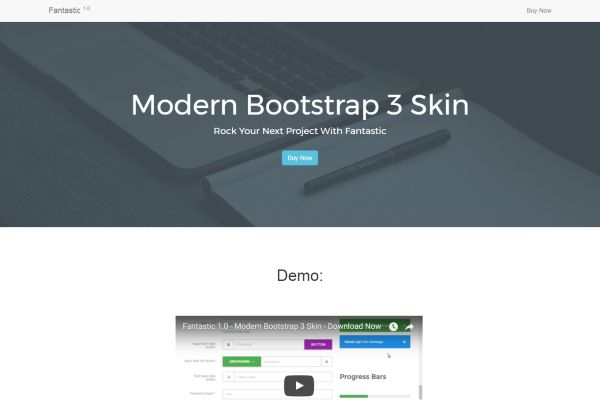 A modern Bootstrap 3 skin that restructures Bootstrap to make it simpler to edit & use. It removes the default bootstrap spacings between different blocks. Every design has its proper spacing that differs from design to design so the only thing you are asked to do when using Fantastic is to set your spacing to you see if it fits in your project main stylesheet.
Delicious – The Glassy Gradient Bootstrap Skin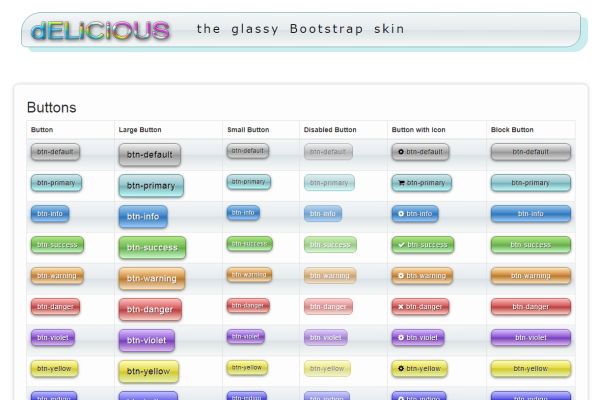 An elegant, lightweight and powerful Bootstrap skin that emulates a glassy look and feel for most of Bootstrap's elements. This theme works excellently on white and darker backgrounds. There are 12 glassy color variations for all elements (including black and white).
Brightery Semastrap – Bootstrap Skin V2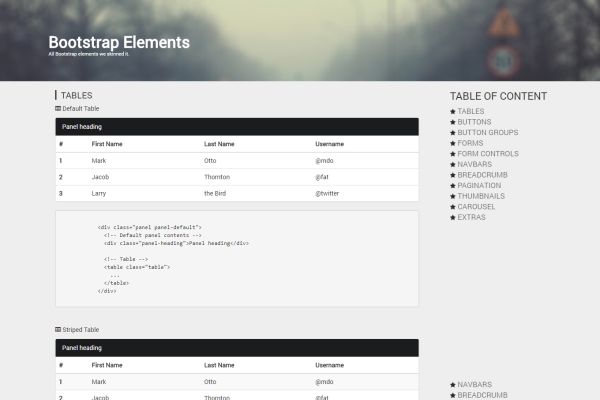 A full bootstrap skin based on Semantic UI as tables, buttons, button groups, forms, form controls, navbars, breadcrump pagination, thumbnails, carousels,and more. Extras include card items, description holder, full mask call to action, social media icons, profile cards, full user, wide user, address user, sign in, full width with icons, checkboxes, blog post, store items, store list, and more.
Light War UI – Bootstrap 3 Skin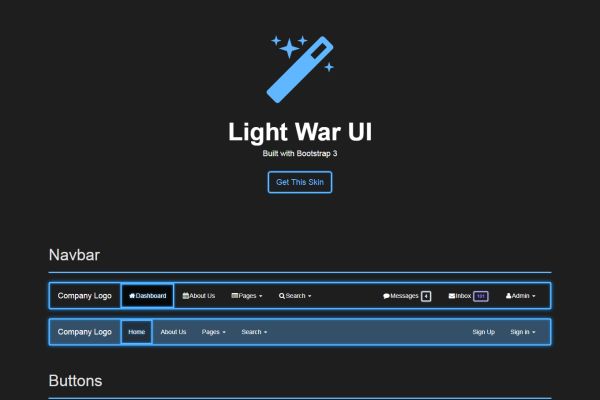 A Bootstrap 3 skin which is a responsive and multipurpose code work – a framework for all design projects with the use of Twitter Bootstrap v3.3.6 framework. It uses CSS3 to adapt the layout to the viewing environment. Every designer should have such type of framework.
Quarelle – Watercolor Paint Bootstrap UI Kit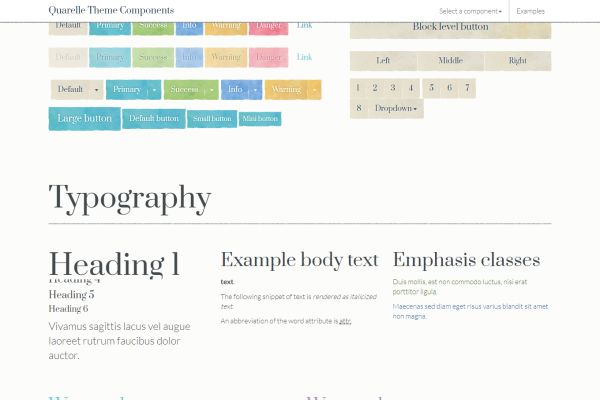 A UI kit based on the popular Bootstrap framework. It has a hand-painted watercolor and sketch look, perfect when you want to give an exclusive handmade look to your page. This kit is a collection of styles to give Bootstrap a unique look, plus a few extra elements that you can use in your web projects. You may use the kit as it is, or you can customise it by changing colors, typography, borders, etc.
Ray – Bootstrap Skin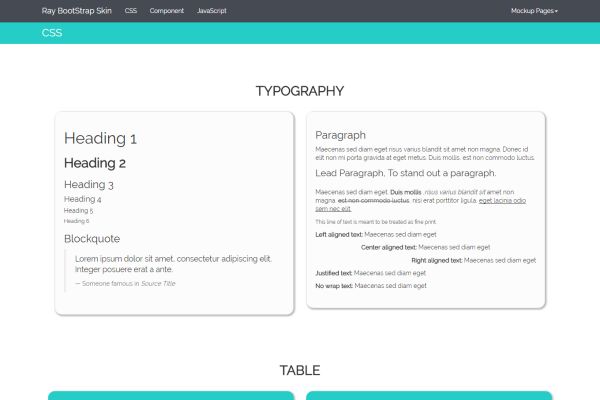 A Bootstrap skin based on HTML5 and CSS3, available with font awesome icons, clean design, responsive layout, Google maps, CSS transitions, Google fonts, included extra pages, and a lot of page layouts. The skin is easy to implement and customize.
Hope you'll be able to choose something that fits your particular needs.