We've collected the best and popular free gallery plugins available for creating either grid, masonry or circles galleries on your websites. Create a stunning photo and video presentation on your photography, blog or portfolio websites without efforts and with exceptional simplicity.
GT3 Photo & Video Gallery
A powerful WordPress plugin allowing to extend the functionality of the default WordPress gallery. You can easily customize the look and feel of the photo or video gallery using the custom GT3 option panel. Create a new look for your galleries with ease.
Free Grid Gallery Plugins
NextGEN Gallery – WordPress Gallery Plugin

The industry's standard WordPress gallery plugin since 2007 that continues to receive over 1.5 million new downloads per year. It's great for general use, but powerful enough for the most demanding photographers, visual artists, and imaging professionals.
Gallery Final Tiles Grid

A gallery plugin with lightbox and hover effects. It supports Pinterest (masonry) photo gallery, complex grid photo gallery. This is a completely new way to build galleries because now you can think of the images like they were the tiles of a puzzle with different sizes.
Grid Photo Gallery WordPress Plugin by Supsystic

A plugin with a great number of layouts that will help you to create quality respectable portfolios and image galleries. Unlimited photo gallery options allow to choose different designs and styles, which make your photo grid gallery attractive for users.
Responsive Grid Gallery with Custom Links

A simple to use plugin to showcase products, services, features, art, crafts and other items that need to be linked to other pages. An easy and elegant way to add navigation option to any website.
Photonic Gallery for Flickr, Picasa, SmugMug, 500px, Zenfolio and Instagram

A plugin that lets you use the WordPress gallery shortcode and super-charge it with a lot of added functionality. It adds support for several new parameters to enhance the content and look-and-feel of your galleries. It supports Flickr photos, photosets, galleries and collections, along with Picasa / Google photos, and more.
Free Masonry Gallery Plugins
Photoswipe Masonry Gallery

An image gallery plugin for WordPress built using PhotoSwipe Masonry which takes advantage of the built in gallery features of WordPress. Simply use the WordPress admin panel to create a gallery and insert it into the page. You may need to adjust the size of the thumbnails to suit your theme in the settings.
Photo Gallery by WD – Responsive Photo Gallery for WordPress

A fully responsive WordPress gallery plugin with advanced functionality. Create 100% responsive free WordPress photo gallery in minutes. The gallery is easy to customize and supports various views.
Gallery by Envira – Responsive Photo Gallery for WordPress

A drag & drop photo gallery plugin that's both easy and powerful. Envira Gallery allows you to create beautiful responsive photo and video gallery for your WordPress site in minutes, not hours!
Simple Masonry Gallery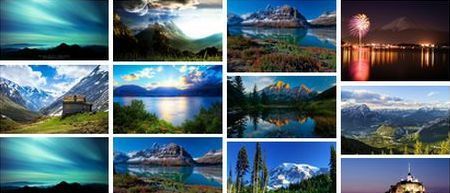 A plugin that allows to add the effect of masonry to an image. You can do it with images inserted into WordPress posts, custom posts and pages, WordPress gallery, by embedding the shortcode into text field, and by embedding the shortcode into template. The plugin works with boxers and swipers.
Infinite Masonry Gallery

A plugin that displays your images in a beautiful masonry style, responsively across all browsers and devices. For efficiency, images are loaded on demand, guaranteeing super fast site loading speeds. And even with the fast loading speeds, the impressive blur effect will bridge the time until the full-res image is loaded.
Free Circles Gallery Plugins
Circles Gallery

3 plugins in one and they include an Amazing gallery, a Multi-column layout and a "Team members" plugin. Easily create galleries with the WordPress media panel, use a handy shortcode to place the gallery where you like, choose the place of the text: inside or outside the circle, customize the text size, use a lightbox, mouse hover effect, set the number of columns, and more.
Circle Image Slider With Lightbox

A beautiful responsive circle thumbnail image slider with responsive lightbox. Admin can insert any number of images into the slide, add, edit and delete slider images, set image description to lightbox, and set caption for rounded image. Caption is shown below the image. Before you add a slider to WordPress blog you can preview a slider, set height, width of slider images, set speed, number of visible images, and more.
Instagram Gallery

A creative gallery plugin which is very flexible and compatible with all devices like iPad, iPhone smart phone etc. The plugin comes with responsive design, can be shown in a widget, has the functionality to manage unique setting in each gallery, has got multiple shortcodes. You can either hide or show title, use loading logo preview button, and much more.
Gallery – Photo Gallery – Image Gallery

A gallery plugin created with passion and love to WordPress. This tool has multiple layouts and flexible interface design. A gallery user interface supports touch screen mobile devices. The plugin is tested on different platforms and browsers. It fits for experts but even a newbie for WordPress won't get lost.
Responsive Portfolio Gallery

A plugin based on Bootstrap framework. Use it to add unlimited images on your blog site. This plugin is mobile compatible and supports any devices. Responsive Portfolio provides gallery with masonry effect and lightbox preview. Using [WRP] shortcode, you can publish image or photo gallery on any page or post in your WordPress sites.
Conclusion:
We hope this collection of plugins is helpful for you if you're about to create your online portfolio or any visually attractive website.