BuddyPress is the social networking plugin for WordPress that enables you to build your own social community, forum or portal and get people communicate with each other. While any good WordPress theme should work with this social network plugin, choosing a purpose built template not only saves you lots of time and effort but also ensures that each feature of the plugin will match the rest of your website. So the following themes are made exactly for you best online community.
Eonet – Responsive Communities & Networks WordPress Theme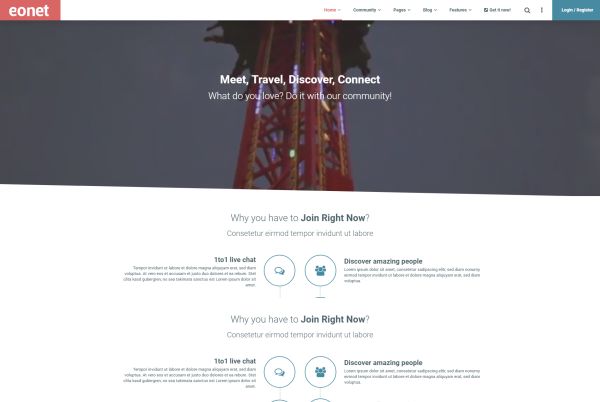 A fast and interaction-based WordPress self-hosted web application theme for Communities and Networks of any size and color! It aims to boost interactivity between your members through a complete web application composed of the Eonet theme and the Eonet components. Fully customizable and scalable to suit any of your project without any coding.
Besocial – BuddyPress Social Network & Community WordPress Theme
A WordPress theme doesn't just supports BuddyPress. It is a real BuddyPress Community & Social Network theme. BuddyPress & bbPress pages are designed with care. The theme seamlessly integrates with all BuddyPress features like extended profiles, friend connections, private messaging, activity streams, notifications, user groups etc.
Flocks – Business, Social Networking, and Community WordPress Theme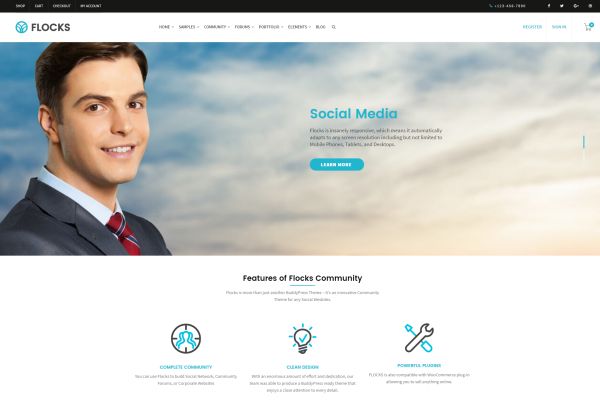 A social networking ready WordPress theme capable of handling any niche or purpose. The theme is insanely responsive, which means it automatically adapts to any screen resolution including but not limited to Mobile Phones, Tablets, and Desktops. This WordPress theme is for anyone including Web Developers and Site Owners of all skill levels who want to leverage WordPress to power their websites.
The One – Social Multipurpose WordPress Theme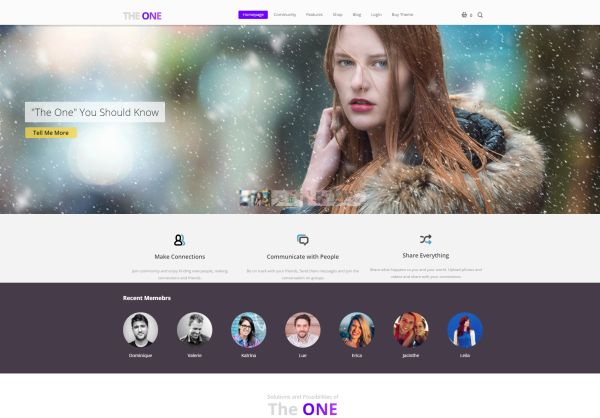 A multipurpose WordPress theme with functionality and usability available. The theme is Responsive, Mobile-First, Retina Ready, Community, Social and fully customizable. Unique design, focus on content and integrated features let this WordPress theme to be a great solution for every website you want to build.
NRGNetwork – Responsive Social Network WordPress Theme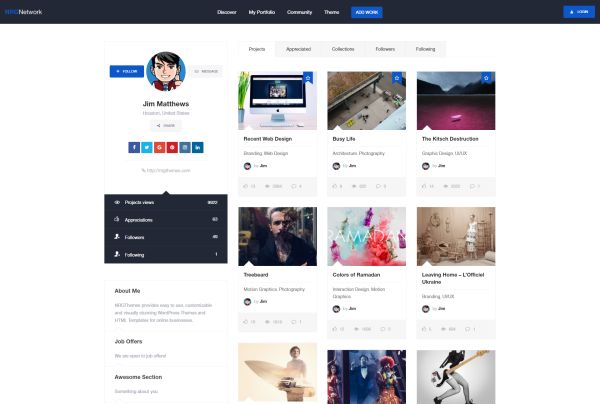 A responsive and modern social network WordPress theme allowing you to create your very own social network website in minutes. The theme has hundreds of customizable options, one-click install, demo data (with images), WPML Support, Visual Composer, Slider Revolution, WooCommerce (Design Shop or Store) and much more to make it the best social network theme.
Anybuddy – Multi-Purpose BuddyPress, bbPress, Community News Theme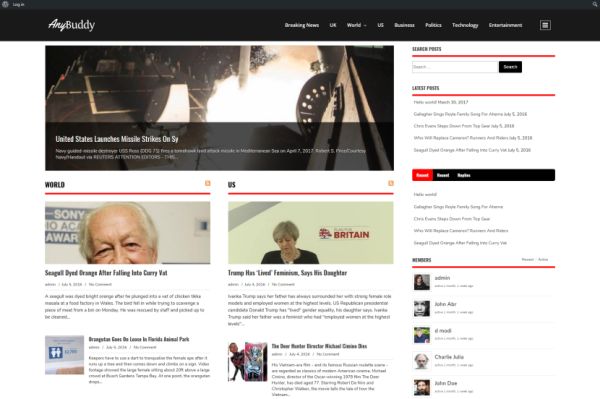 Keep your members or users together with the most comprehensive and flexible news and community theme for WordPress. Unique, Simple UI, eye-catching design which doesn't look the same as a thousand other themes – it's all about Anybuddy. It works with the latest version of BuddyPress and bbPress, compatible with WooCommerce, comes with a lot of inner pages – forums, groups, user panels, and much more features.
Monarch – Innovative WordPress Community Theme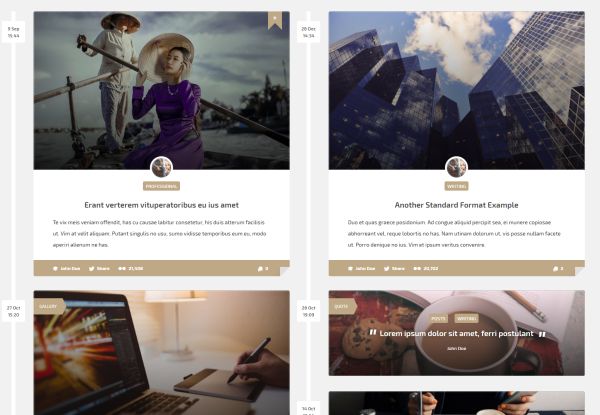 A clean, professional and modern next generation WordPress & BuddyPress theme that is best suitable for online community, social networks, team blogs, social sites, educational networks for school, common interest networks or fan sites with member profiles, activity streams, user groups, messaging, and more. Designed with modern trends and techniques in mind, Monarch has an amazing powerful social design.
BuddyApp – Mobile First Community WordPress Theme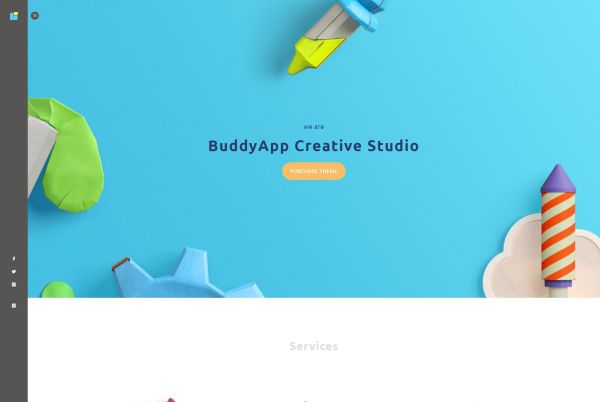 A nice WordPress theme best suited for any kind of Private or Public community, Intranet or Extranet websites. With a Creative design and built with Mobile first approach it is a theme that allows you build a website that stands out from the crowd. The theme comes integrated with Live Customizer, drag-and-drop page builder, WooCommerce integration, and much more features.
Socialize: Multi-Purpose BuddyPress Theme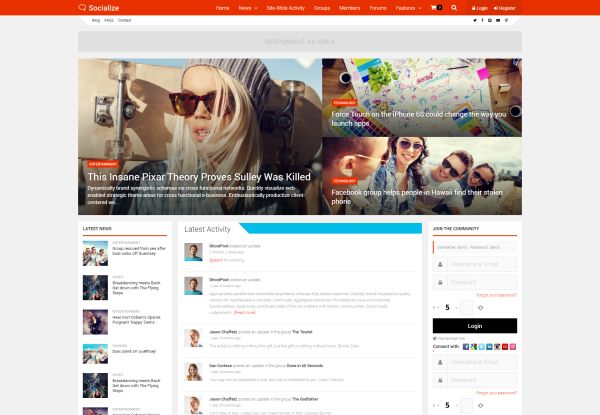 A multi-purpose BuddyPress WP theme that is a perfect choice if you want to create a community or social network. So what is BuddyPress? Basically it's a plugin that lets you create any kind of social network using WordPress, with member profiles, activity streams, user groups, private messaging and much more. Socialize has been specifically designed to make the most out of BuddyPress and has also totally redesigned bbPress so it looks like a traditional forum.
Thrive – Intranet & Community WordPress Theme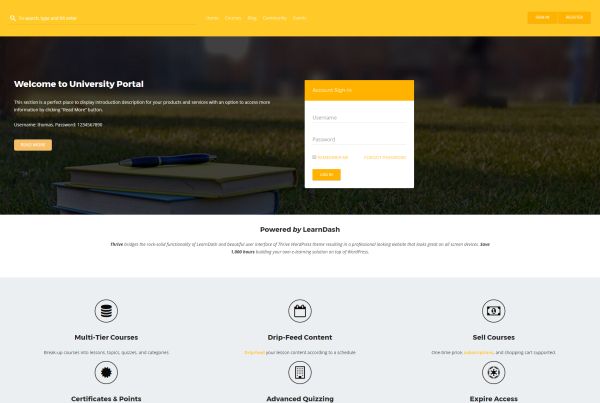 A WP theme that has been designed as the ultimate foundation for your collaborative online community, bringing together social networking, messaging, forums, events, project and task management, file sharing, eCommerce and even eLearning. This innovative theme can be tailored to your needs so that your members can easily share messages, files, events, tickets and forms, edit and collaborate on documents, and manage files and projects. Thrive also offers a private site option, with a secure login for members.
UnitedCommunity – BuddyPress Theme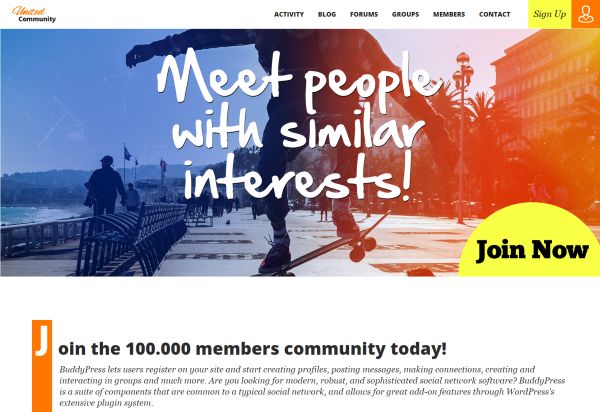 A premium WordPress theme compatible with the latest version of BuddyPress plugin. The theme has got an alternative frontpage for intranet, make access for registered members only. The theme is integrated with rtMedia (members can upload photos, music, videos). It comes with pre-made inner pages, supports WooCommerce online shopping plugin, custom widgets, and much more features.
Kudos BuddyPress Theme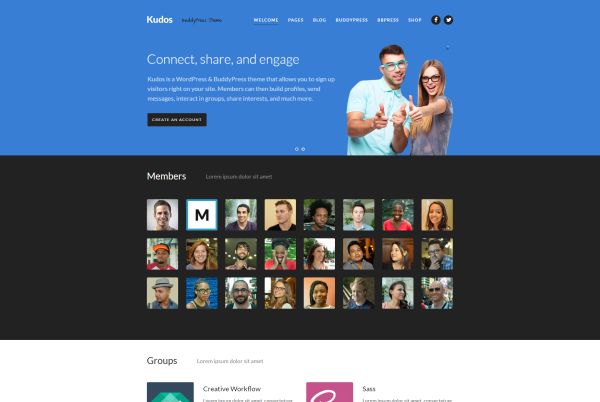 A handcrafted BuddyPress and bbPress theme for WordPress. Kick your online community into high gear with this professional beautifully responsive WordPress theme made with premium quality in mind. The theme comes with LayerSlider for creating your awesome online presentations, custom post formats, responsive and retina ready design, BuddyPress compatibility, custom page templates, bbPress integrated, and more features.
SocialChef – Social Recipe WordPress Theme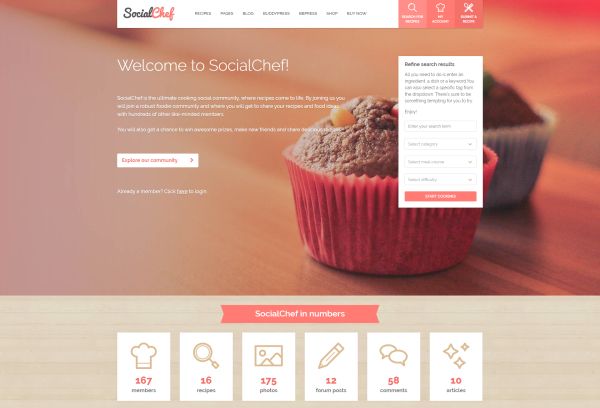 A beautiful, clean and responsive WordPress theme that comes with advanced search and front-end submissions as well as community features such as forums, groups, member profiles and activity feeds. Want to feature chefs and recipes? You got it! This theme will definitely help you build a robust and lively food social community quickly. It comes with responsive layout, clean and modern design, and much more advantages.
Gone – BuddyPress & WordPress Theme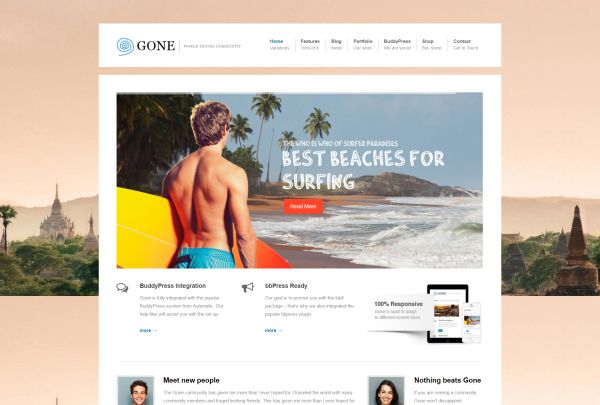 An all-in-one WordPress theme which comes with Visual Composer plugin and Slider Revolution plugin for free! It supports mega menus and handles WooCommerce as well as bbPress. It is very easy to customize, and its comprehensive documentation offers step by step guides to make it run smoothly. Just try it out!
CommunityJunction – BuddyPress Theme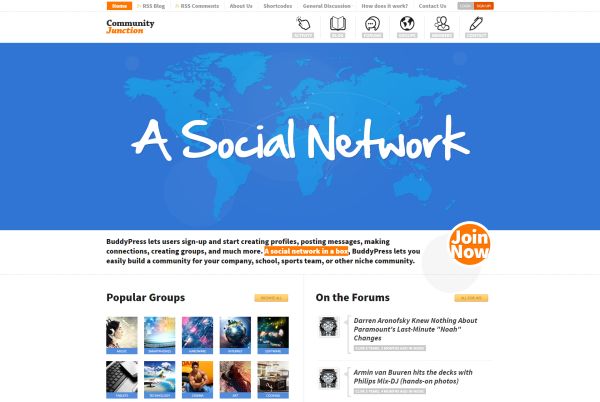 A WP theme integrated with BuddyPress & bbPress plugins which let users register on your site and start creating profiles, posting messages, making connections, creating and interacting in groups and much more. A social network out-of-the-box, build a social network for your company, school, sports team or niche community.
Conclusion:
Hope you'll be able to choose the best WP theme for your own social network.