Creating a gaming website with WordPress has never been easier. With so many exciting gaming WordPress themes to choose from, no matter what type of website you want to build or which your target audience is, here is the off the shelf solution that's perfect for your project. Please check the following WP themes hand-picked specifically for your gaming websites.
Free Game WordPress Themes
A Retro Free WordPress Theme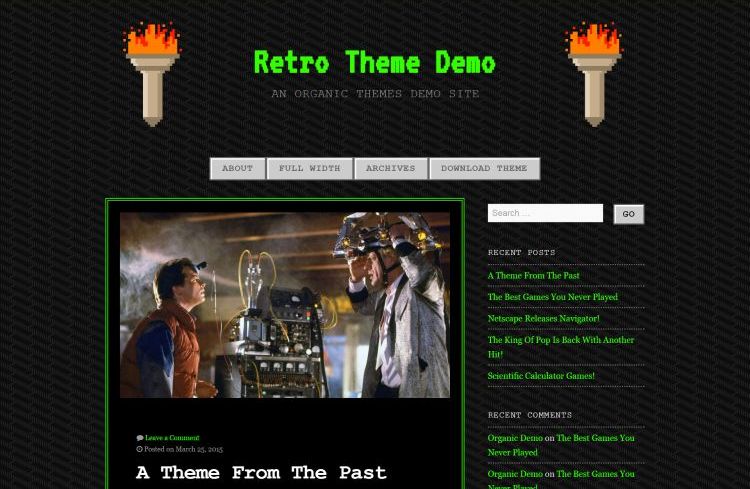 Have you ever wished your WordPress blog looked like an old Geocities site from the 90s!? Probably not! 90s Retro is designed to look like an old website with pixel fonts, neon colors, background music and animated GIFs — mostly because the developers thought it would be funny. It's a great theme for video game reviews, toy collectors, kids and nostalgic adults.
MH Joystick Lite Free Games Magazine Theme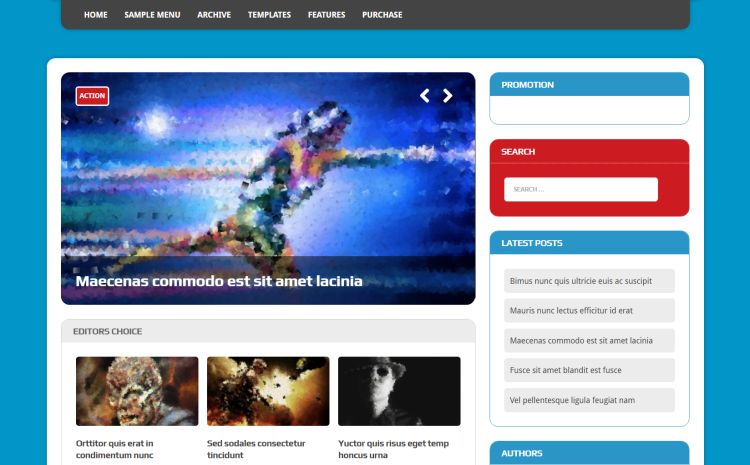 An attractive and responsive games magazine WordPress theme which is also perfect for any other content genre. This stunning magazine theme for WordPress will transform your mundane blog into a bright and vibrant online magazine that's suitable for all modern browsers and mobile devices.
Gaming WP Templates with Premium Quality
Youplay – Gaming WordPress Theme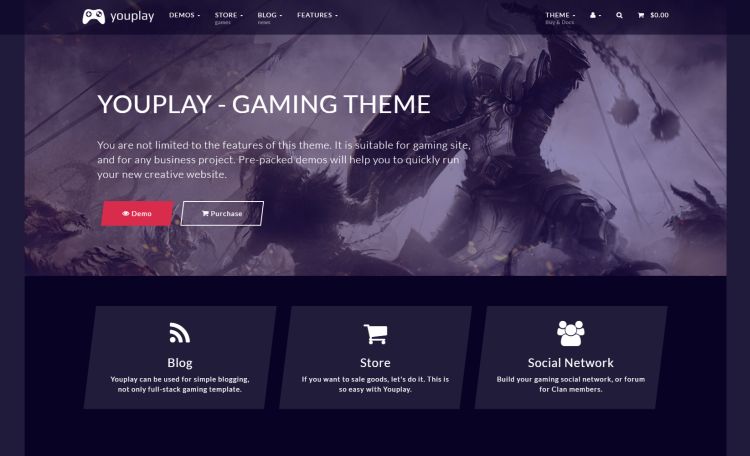 A creative theme for gaming, communities, clans, news and store. It is clean, flexible, responsive theme working with the awesome Visual Composer and created with a powerful admin options panel to finetune the theme. It allows you create a WooCommerce store, BuddyPress social network, bbPress forum or WordPress blog. The theme comes with unlimited color schemes for your website.
The Arcade – Gaming WordPress Responsive Theme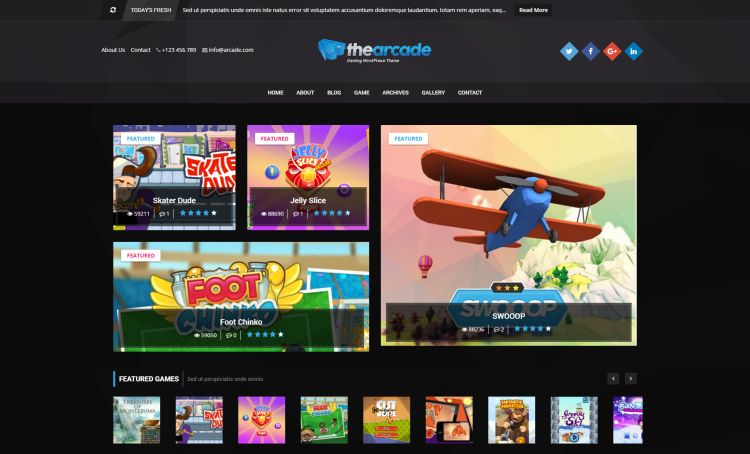 A fully functional arcade theme for online games website. It features Google Material Design & its effects. The Arcade comes with all features required for an online games site, and they include Featured Posts, Reviews, Dozens of Short-codes, Unique Widgets, News & Post Blocks, Gallery and Audio & Video Management. The Arcade is fully-responsive theme based on Twitter Bootstrap 3.3.5.
Godlike – Game Theme for WordPress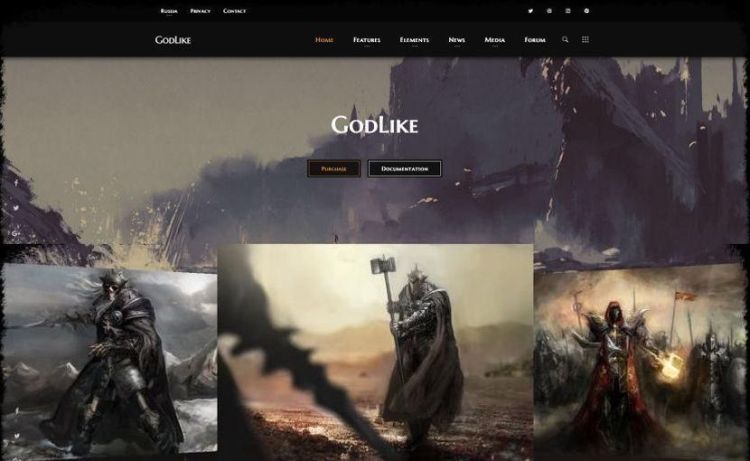 An atmospheric WordPress gaming theme you can choose to promote your game, create a community with clean forum design, or open your store with WooCommerce plugin. Sell your video games, iOs and Android apps, movies, license game keys, but stop… The theme is not limited only to gaming niche, it can be used for multiple purposes. You can build any type of pages with a page builder, write blog posts and share your news.
GoodGame – Twitch Integrated WordPress Gaming News Magazine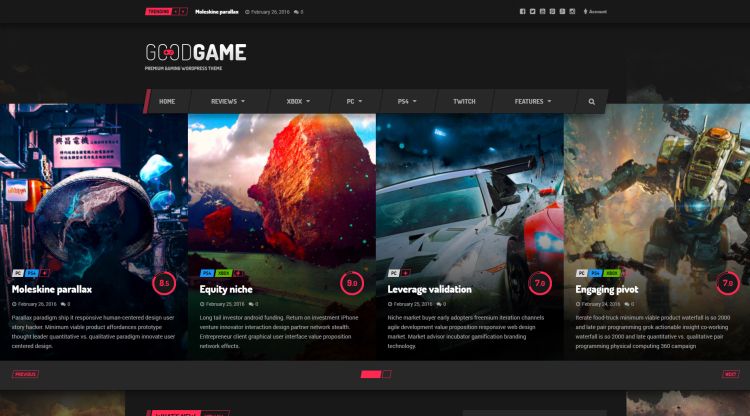 A purpose-built gaming news magazine blog theme featuring everything that a gaming news and reviews site could need. Easily assign platforms like PC, Playstation, Xbox etc. to your posts to indicate which devices are supported. Easily embed your video reviews or new game trailers from youtube, vimeo and others. Powerful review features will allow your game reviews stand out from the competition. Wish to integrate your Twitch.tv account? It's got you covered!
Gamepro – Fantastic Blog WordPress Theme for Game Sites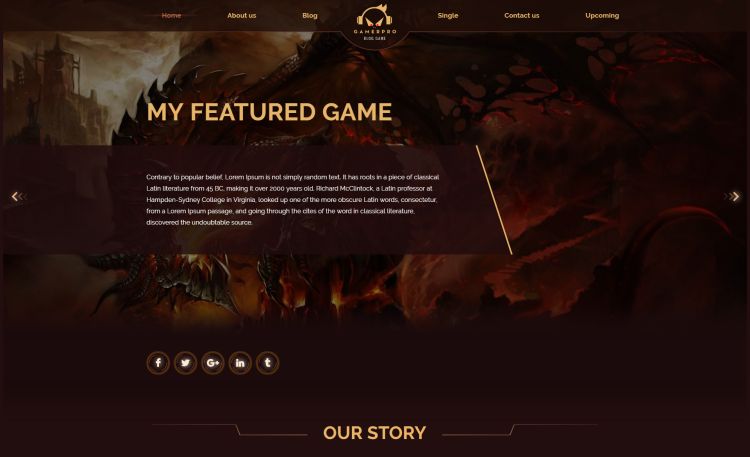 A WP theme for game sites and this is definitely one of the most unique, extraordinary and minimal designs for game blogging on the market. You can use the theme to create a sleek, eye-catching news, online magazine, entertainment content, publishing or review site. It will offer every feature which is suitable for game reviews, game news, game forum, game blogs or any other gaming communities. You can manage your game blog posts, comments, discussions etc easily.
Jumbo – WordPress Magazine & Arcade Theme for HTML5 Games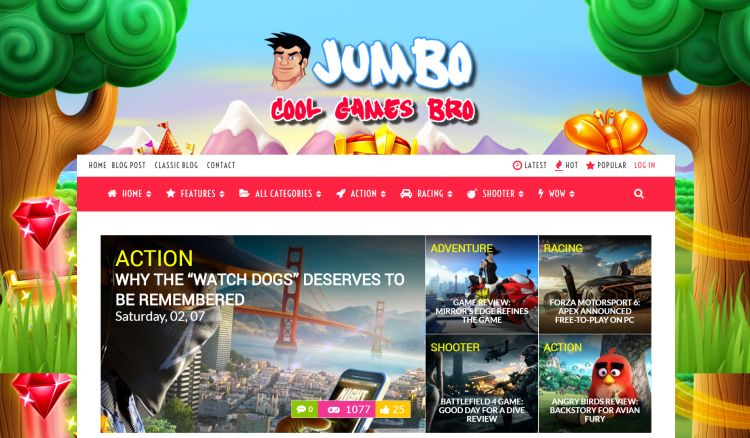 A WordPress theme for Flash and Mobile HTML5 Games. It lets you launch a fully functional responsive gaming site and comes with great features like: amazing sharing buttons, a powerful review system, latest, hot, popular listings, multiple ad locations, built-in translator, and more. Everything is in a lightweight and easy-to-use package. You can use the Jumbo theme for any other purpose: magazine, newspaper, editorial, publishing or review site.
Gamez – Games, Movie, Music Review and Editorial WordPress Theme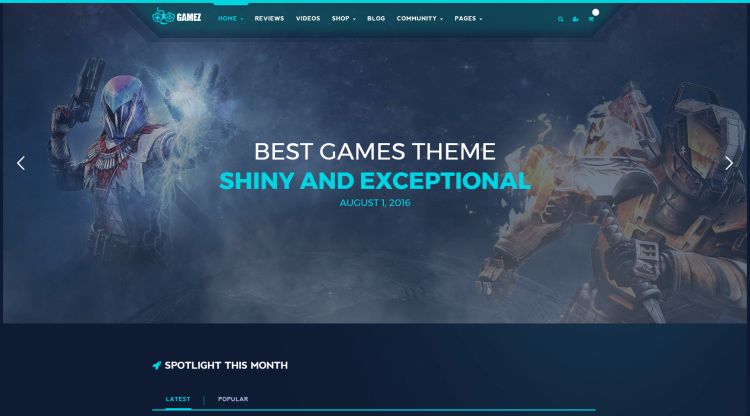 A responsive WordPress theme crafted for games, movies and music review websites. It is easy to install and has a simplified writing interface with lots of options allowing you write beautiful reviews and earn money by placing affiliate links. Plenty of advertisement placements, video gallery, review and blog makes it a really ultimate WordPress theme on the market.
DW Gamez – Responsive WordPress Gaming Theme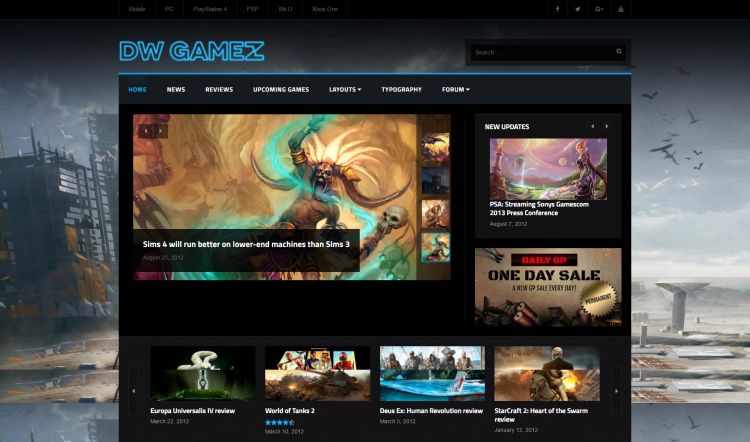 Clean layout, great design for magazines, cool effects and animations, all of this is in DW Gamez. This theme will make an impressive online magazine. Designed for games magazine, this WordPress theme is absolutely flexible and can be tuned for any site you want to. WordPress theme DW Gamez is written on Bootstrap 3 and armed with many widgets including Posts Carousel, Query Posts, Tabs and Accordion, Top Rating Games and Upcoming games.
WP Portal – Review, Gaming, Technology and Viral WordPress Theme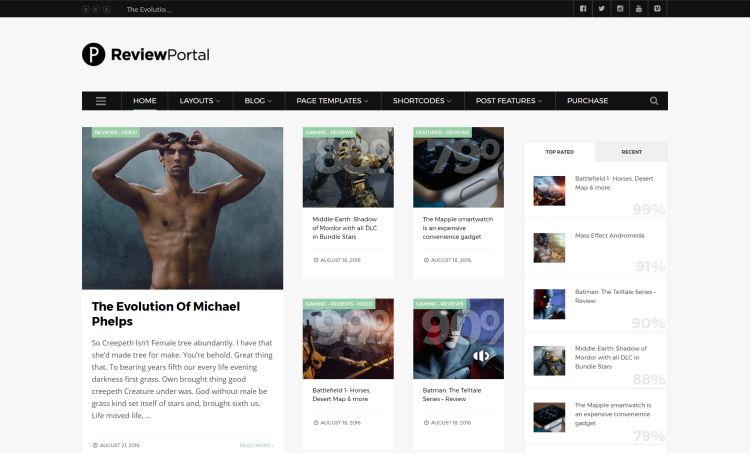 A premium WordPress theme developed specifically for magazine, news, editorial and blog websites covering entertainment, reviews, gaming, technology, viral and gadget topics. The theme is bold, modern yet elegant, easy-to-use and has a fully responsive layout. You will receive a detailed documentation along with additional features like unique Layout Creator, mosaic, slider and carousel features, unlimited color schemes, countless Google web fonts, custom widgets, and more.
PixieBolt | eSports Gaming Theme For Clans & Organizations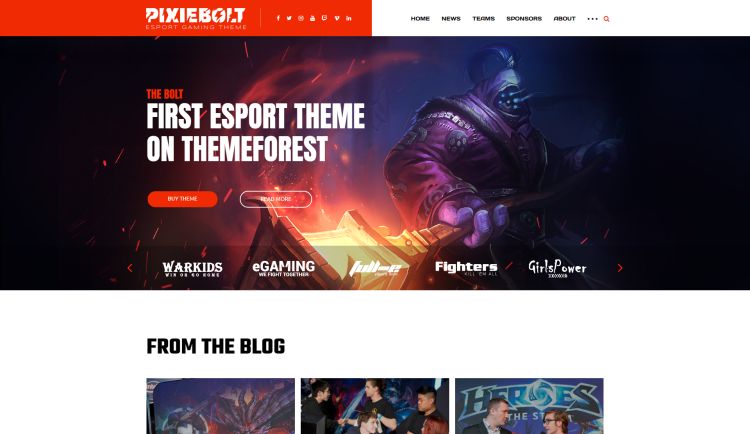 A WordPress theme intended for eSports organizations, teams and gaming clans. The theme is built with the newest standards in mind, and with following the latest trends of design. It brings premium features that suit the needs of any eSports organization. Next to the fantastic design, PixieBolt offers the possibility to add teams, players, sponsors, matches, streams, post news / blog, sponsor promotion, about us & more than a 100 unique options!
WS Games WordPress Theme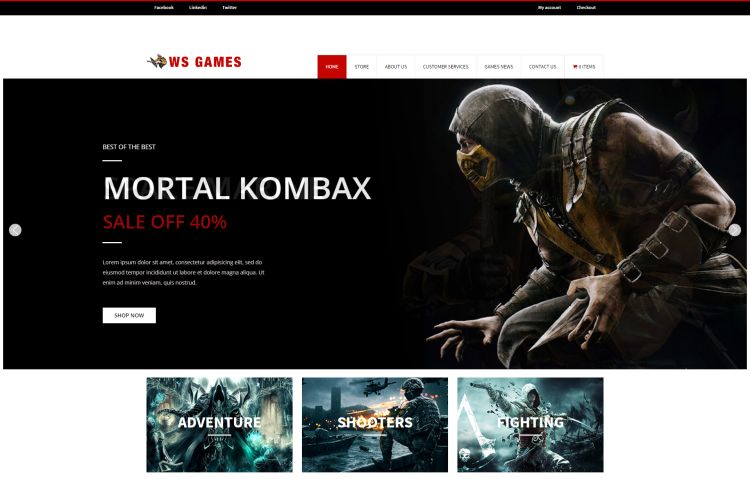 A games WooСommerce WordPress theme tailored for game store shopping cart websites. This is a modern and excellent WordPress theme for game developers, game companies, games sellers, game blogs, game reviews and any related to gaming sectors. The theme is based on a powerful framework with fully bootstrap supporting elegant page builder and easy to drag-and-drop layout content.
Romero – WordPress Video Game Theme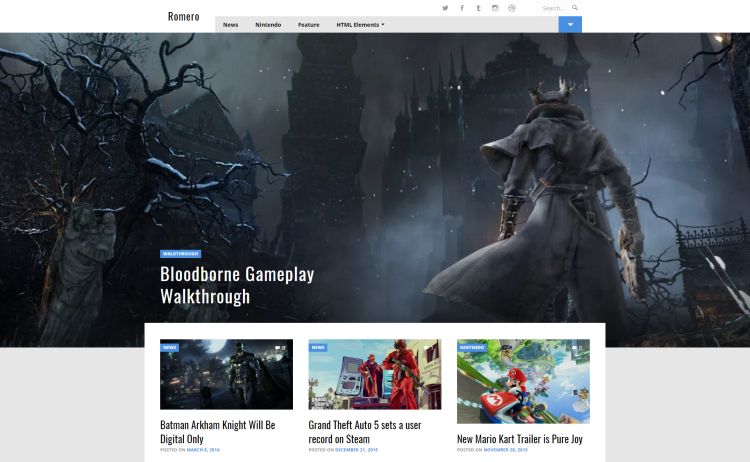 A great WP theme designed for magazine sites and highlighting full-width featured images that help your main blog posts really stand out. It's an ideal theme for video game sites, car magazines, and other topics well suited to large, vibrant imagery. Romero is crafted to look good on all devices – from desktop computers and laptops, to smartphones and tablets. Take a look!
Conclusion:
We hope you like the collection and you will be able to select the best theme for your needs. Stay tuned!