If we speak about a Law Services website we know it has to include some very essential facts on a lawyer's experience and practice, on their achievements and their customers' testimonials. When a potential client enters a website he wants to know what assistance he can get and how much would it cost for him to get a legal help – these are the key things they need to find out.
Your Legal Business Card on the Web
Make your key information accessible and let your visitors know what you are, what services you provide, what the team you've got is like, and what guarantees you can give when dealing with a customer. This means your potential business website should include such sections as:
About Us;
Practice;
Our team;
Licenses;
Services;
Testimonials.
You can add or remove sections as per your own requirements, and considering the needs of target audience you suppose to work with, but these are the key ones you should think of having to create a worthy self-presentation.
Your Business Website Advantages
Design and structure of your website play a significant role in your online reputation and image. The way people see it, the simplicity of usage, intuitive navigation and informative attractive content – these are the main tips to follow. Let's see what things matter in 2017:
Simplicity that supports your goal
Responsive layout
Browser compatibility
Plugins Supported
Multiple languages ready design
Page builders integrated
Support options availability
SEO Friendliness
To summarize all the mentioned above points, we can say your website should be as simple, flexible and optimized as possible to meet the most of current requirements and customer expectations.
Wize Law – A WP Theme to Suit Your Needs
Lawyer & Attorney Business WordPress Theme – WizeLaw is a very exclusive and comprehensive template which best suits to perfectly introduce your services, qualification and team to the customers. Offer your extensive array of legal services in a professional manner, this is more than simple! Take a look: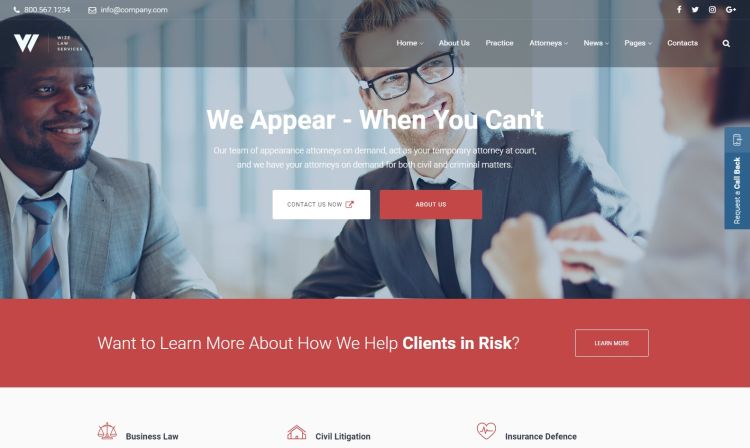 The theme comes with 4 Homepages to allow you craft a stylish business card or a corporate website either if you are a legal adviser, an attorney, a counselor or a team of lawyers. The minimal and trendy design of the theme is good enough both to impress your visitors and convince them they can trust you. Choose a homepage either with a beautiful slider or attractive call-to-action buttons to catch the attention of your target users.
A bunch of perfectly made page layouts is available for the theme to let you present your content in the best way possible.
Introduce Your Team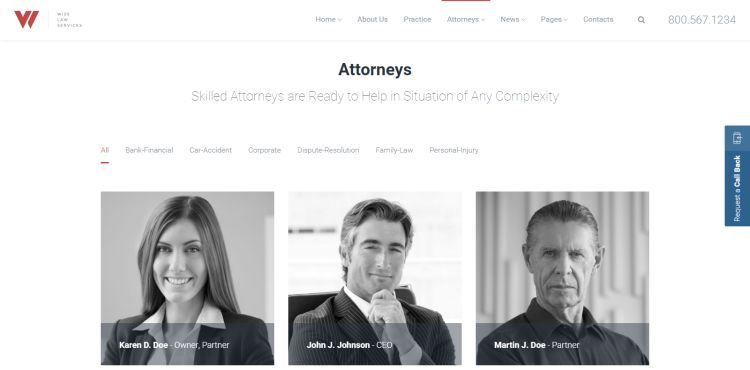 Feel free to brilliantly introduce your team of skilled experts either on the List or Single Attorneys page, and unveil the advantages of your lawyer's office on the About page. Help your potential customers find out the most about the folks they would may be like to collaborate with.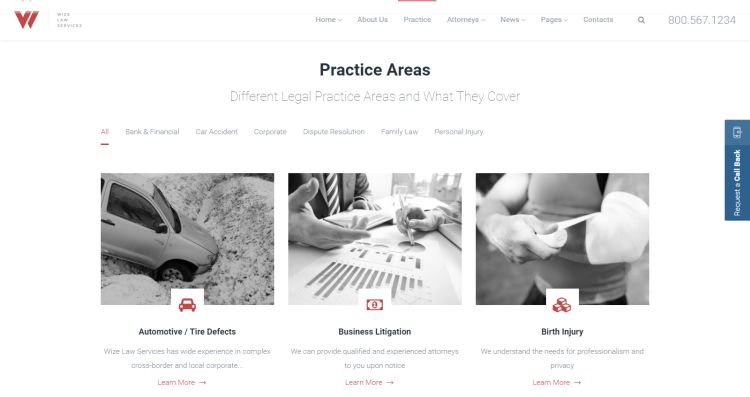 Run a Blog to Make Your Site Alive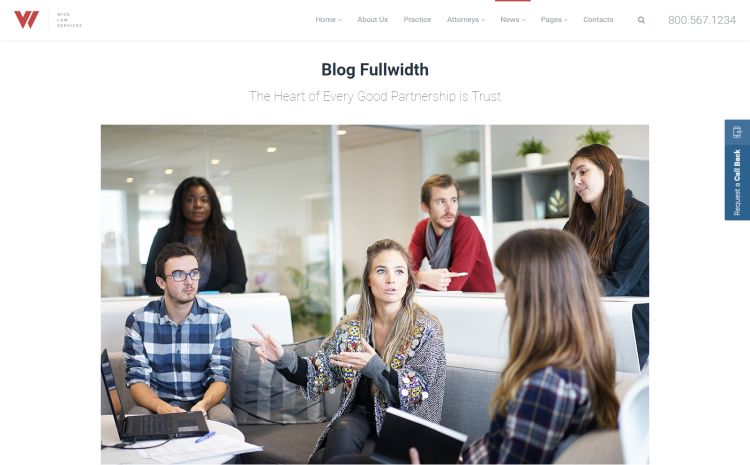 Blog page is something that makes every website alive. Fill a blog section out with content and publish news or share the achievements of your team either on the Fullwidth blog page or a page with Left or Right sidebar. You can choose a Masonry look or create a Masonry blog page either with Left or Right sidebar too.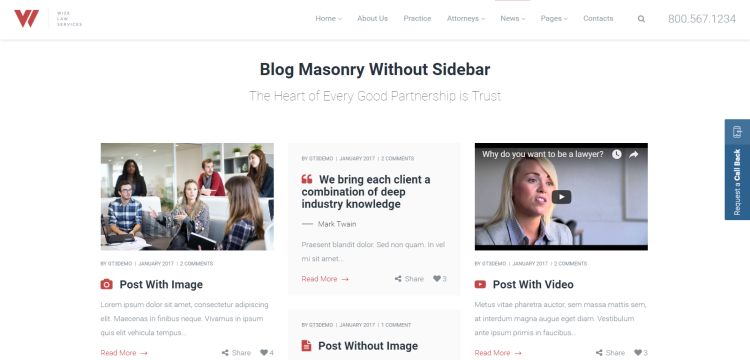 To make your informative content look appealing and clear to perceive choose from a few available blog post types.
More Features
The template includes a multitude of useful shortcodes to allow for easier website creation. It comes with toggles, counters, premade icon boxes, accordions and CTA buttons. You can also use the specialty page templates to announce of your website under construction, 404 error page, and more.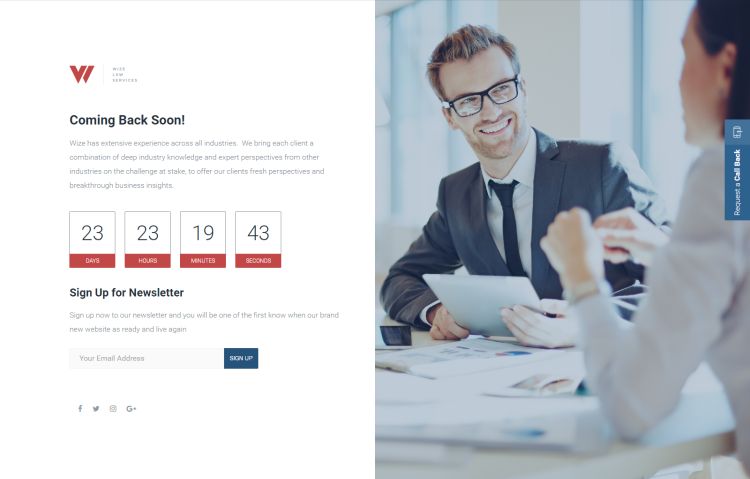 Stylish and trendy appearance, a rich bundle of features and an extremely easy customization are some of the theme's most appreciated and obvious advantages.
You can also watch the following video to see how to set up a theme and work with it further: