Whether you are a photographer, illustrator, designer, artist or any other creative, you obviously know that a full-fledged and engaging portfolio website is a must. Why? Website is the best way to tell the world you are "the one" in your field, attract your audience, win the hearts of admirers and find your best customers ever.
The first things you should think about before creating your website are as follows:
1. CMS platform;
2. Domain name;
3. Hosting provider;
4. Appearance and structure of your website (design);
5. The amount of pages;
6. A term you want your website to be ready on.
WordPress – A Platform to Trust
We would recommend to work with WordPress as a platform for your photo-website. This is one of the most reliable content management systems available absolutely for free. Moreover, it is extremely intuitive and easy-to-use one, so you don't need any coding knowledge to work with its user-friendly dashboard interface.
Your Domain and Hosting
If we speak about domain and hosting, all of this is pretty easy to achieve. If you've got a moniker you use for promoting your projects on websites like Behance or Dribbble, you can use it as your domain name. Just make sure your domain is brief and easy to remember.
If you've got any doubts about what hosting provider to choose, you can read this article which will probably serve as a prompt for you.
Your Best Photo-Site Design Ever
Design is one of the most essential things concerning your future photography website. There are two ways to select it:
1. Address a web-studio or a freelancer and ask them to create a website from scratch (design + development).
2. Select a highly-customizable and feature-rich theme for WordPress and create a website in 5 minutes.
Why we recommend choosing the 2nd variant?
1. You get a readymade design with extensive functionality and beautiful look!
A premium photography theme usually includes a number of pre-configured page layouts you can edit up to your needs and make them look and work for your profit and expectations. Such themes come with a number of custom shortcodes, widgets, some specialty pages, awesome typography, responsive design, and much more useful features.
2. You save costs!
A regular premium WordPress theme for photographers will cost you less than $60, (while collaboration with a freelance designer and developer will cost you more than $1000.)
3. You save time!
You are able to install a theme with one click and customize it within 5 minutes, (while if you work with a freelancer or a web-studio, it can take you months to wait until you get the ready website).
4. You get free support and a step-by-step guide!
If you buy the premium theme, you will be able to easily work with it thanks to the comprehensive documentation available in the package. If you come across any problem while working with your theme you can address the friendly support theme to ask a question and get assistance.
5. No coding skills required!
Any time you wish to add a piece of content or change the appearance of your web-page, you can manage the theme options and upload any content without writing a single line of code. As most themes come with the integrated page builder plugin, you can just drag and drop the elements to build your website as you want it to.
JohnBlack – A Gorgeous Solution for a Photographer's Portfolio
JohnBlack is a Fullscreen Photography WordPress Theme which has gained a good deal of popularity at Envato – a reputable marketplace community on the Web. It was bought by 541+ customers and most of them appreciated the theme as a perfect solution for their photography websites.
This WP template is a genuine solution for those who want to present their personality and creation in the attractive, stunning and professional manner. Let's see:
1. JohnBlack is a multipage theme providing an opportunity to create a portfolio website both for digital agency, creative agency, independent photographer or any other creative individual or a team.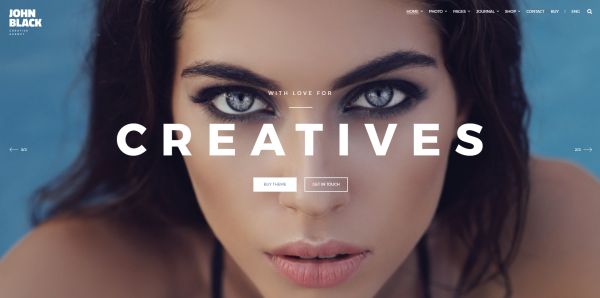 2. An eye-striking fullscreen slider allows to showcase your high resolution photos in the most engaging manner. Just upload your unique photos into the gallery and show them off!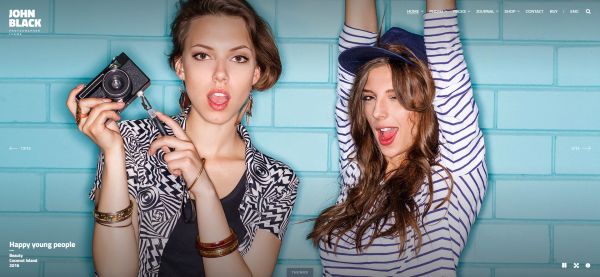 3. Except for the three variants of creative homepage layouts, you can select from a variety of galleries to display your works in the most eye-catching way. Choose Kenburns slider to fasten your visitors' eyes on your photography collection. This type of slider slowly zooms your images and visitors are able to better see the details. Slow and subtle motion allows elements look gracefully and slight so users will explore the object more attentively and stay on a page for longer.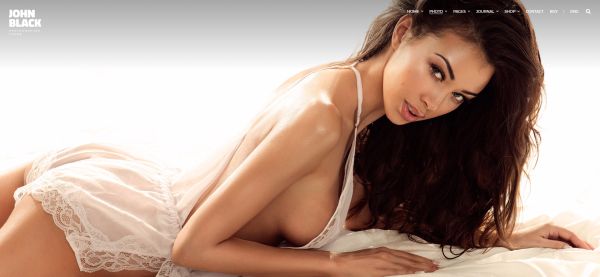 You can also choose a Flow Gallery to showcase your photographs in a carousel style making all of them visible. A visitor can choose any single photo from all the rest in the bunch and explore it better.
You can display your photos in a Shift slider, demonstrate them in the Ribbon gallery or select one of two Grid gallery variants to represent your creative works on point.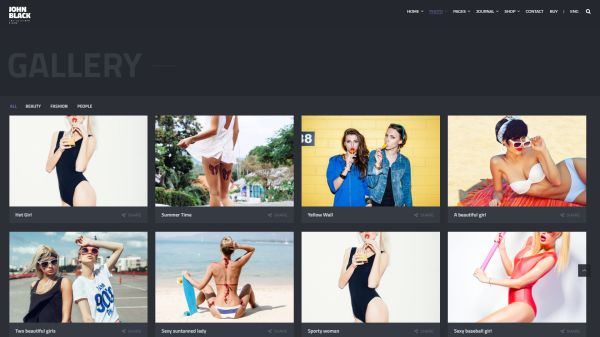 4. About, Services and Contacts page layouts allow to introduce your personality and creative career to your visitors and future customers.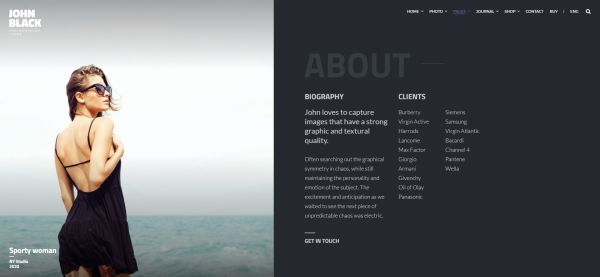 JohnBlack is a feature-rich WordPress theme allowing you to share the details on your personality in the most exciting and laconic manner.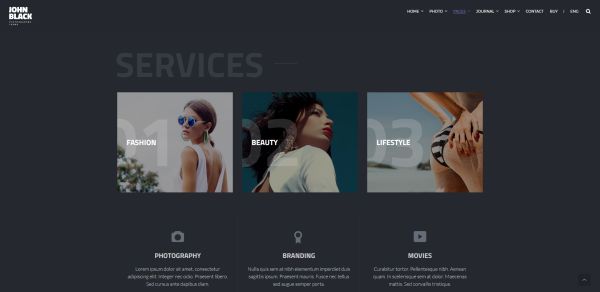 5. Both Light or Dark skins are available for the theme. JohnBlack is crafted to meet the varied tastes website owners. Decide whether you want to see it light or dark and build your outstanding online presence.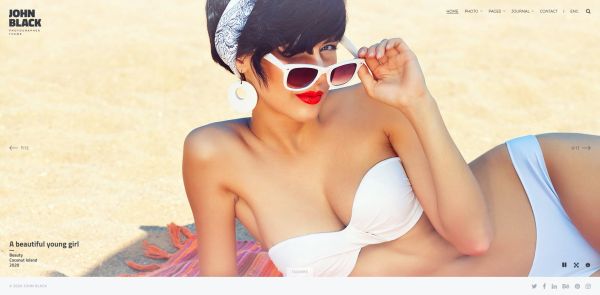 6. There are no efforts required when it comes to creating your perfect portfolio. Make it stunning enough to engage your target clients and get them trust you are a devoted professional. Make your portfolio look brilliant choosing either 1 Column Grid, Fullscreen Style, Grid with page Title, or one of two available Grid types of displaying the content and have fun.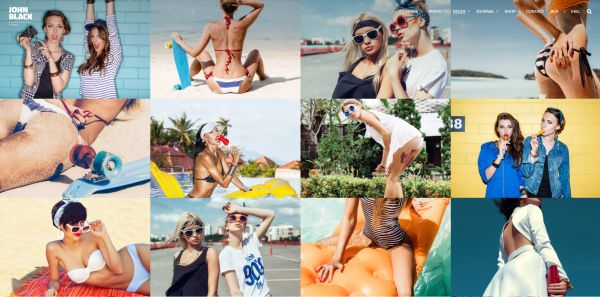 You can also choose one of the available portfolio post types if you select a Fullwidth one or prefer it either with Right or Left sidebar.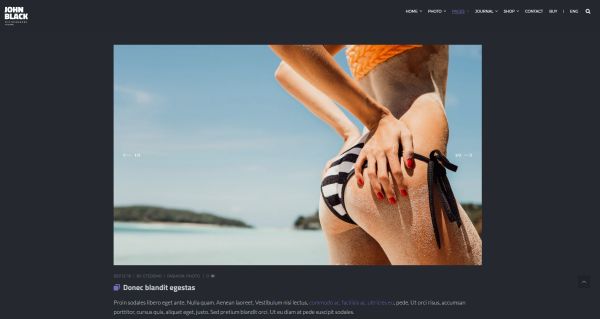 7. Run your blog with JohnBlack, it's easy! Start your blog and share your best stories, thoughts, creative ideas, and a piece of your soul with your visitors and clients. JohnBlack allows to pick out either Fullwidth Blog style or create a blog page either with Left or Right sidebar.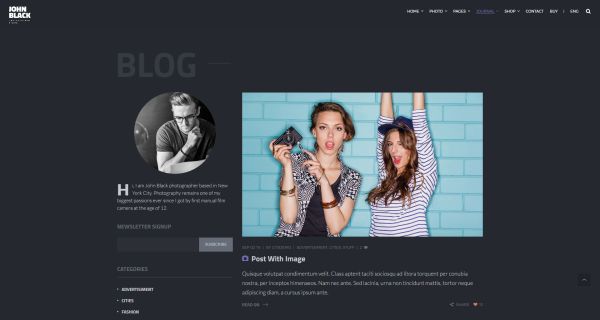 You can also choose from a Fullwidth or Gallery post types or create a post either with Right or Left sidebar.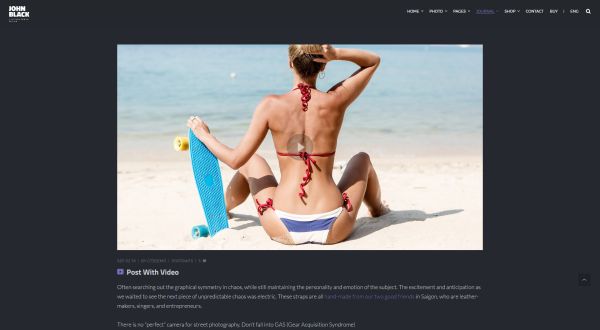 8. JohnBlack is now available with shop page layouts! All Products page layout as well as Single Product page layout are included. As the theme is WooCommerce ready, you can create your store on the Web and sell your products with ease.

9. JohnBlack includes plenty of additional useful features including some custom modules, a Coming Soon Page layout, a 404 page layout, a Striped page layout, beautiful typography, and much more.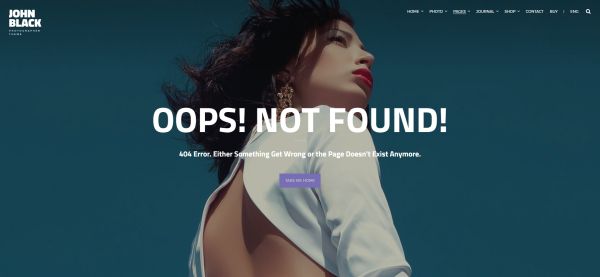 Please see the examples of websites created with JohnBlack Photography Fullscreen WordPress Theme.