We are happy to announce the release of a brand new and exclusive Directory WordPress Theme – ListingEasy. This is an absolutely convenient way to find a hotel to stay in a foreign country or city, search for sights to see and visit or find a restaurant to spend a good time and taste exotic cuisine.
ListingEasy is the remarkable theme you can use to create a website where every visitor will find anything they want within a few minutes just using the convenient search functionality which is sure to provide them with instant results.
Main Pages
Our new directory and listing WordPress theme comes with two homepage layouts to choose from. So you can either opt for a page with a static image background or a video background if you require.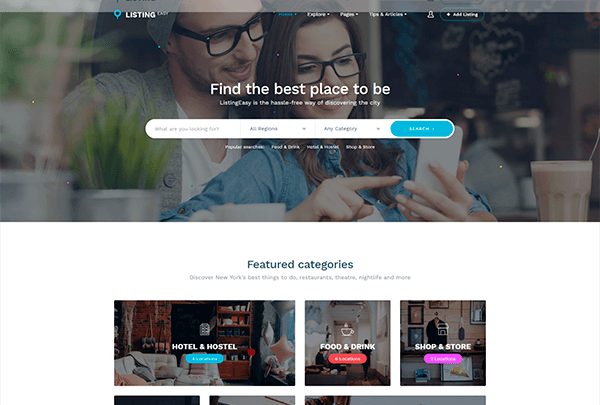 The main page includes an intuitive and simple to use search form where a user can select a category and a region and then find a necessary place by the keyword or phrase. They just choose the parameters and click the search button to get the instant result and find what they want.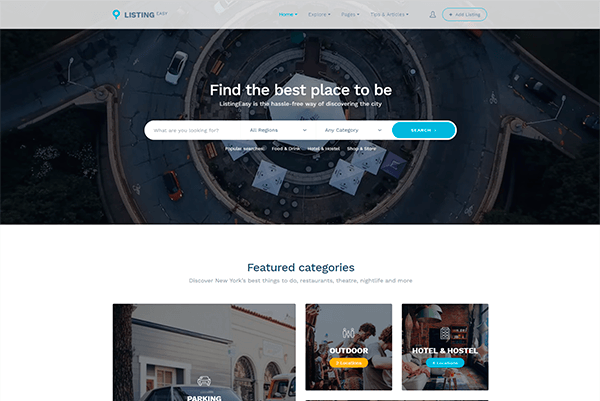 If you'd like to share some brief information of your website with your visitors, use the About Page layout to inform them who you are and what you do. The key thing is to convince them you are worth to collaborate with and trust.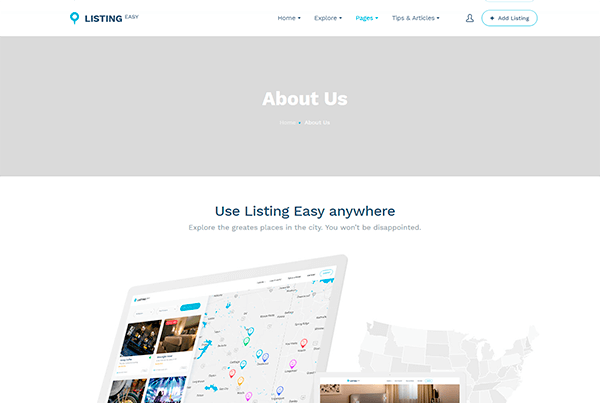 The About page template includes a progress bar, featured categories, CTA buttons, icon boxes, and all the elements required for successful communication with a user.
How It Works
Your target users will include two types of folks such as those who want to look for a place (travelers, people looking for entertainment, etc.) and those who want to submit a place and make it visible and searchable for their potential clients (business owners who have their own hotels, pubs, restaurants, etc.).
So your task is to explain your future visitors how easy it is to submit a place and find it through the search form on your website. You can explain how effective it is to promote business in such catalog of places, why it is a good way to help their customers find them, or you can share the stories of success and encourage other visitors join your website and start promoting their business too.
The How It Works page layout is made especially for such purposes.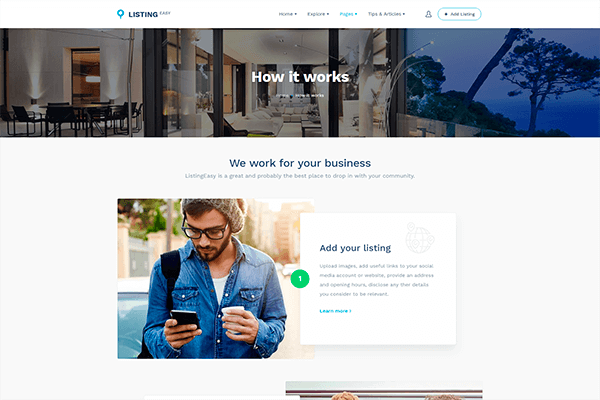 Listings Types
All places available on the website can be easily found on the Listings page. Users can filter listings by tags choosing the required category and region. The theme includes the listing page layout with map, listing without map, and single listing ones.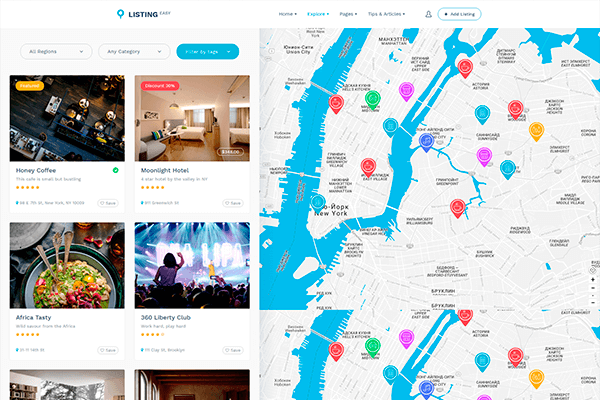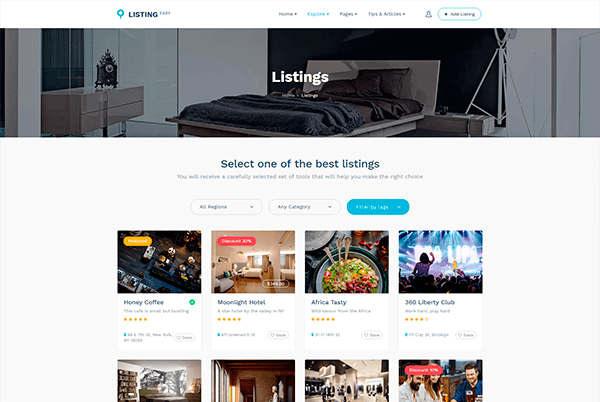 The single listing will include the information of a definite place (submitted by a business owner) with photos, description, working hours, reservation dates available, etc.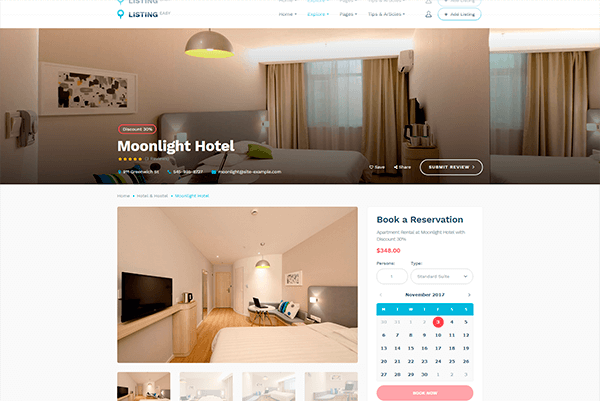 The Post a Listing page layout can include payment plans to sign up for and information on how to add a listing. A customer can manage their listings through a convenient dashboard 'cause the theme supposes the sign in functionality.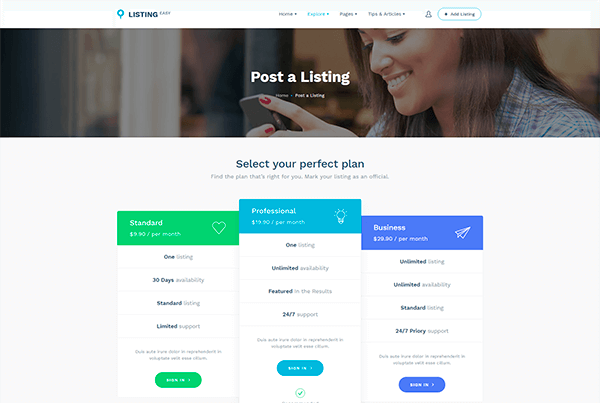 Blog Pages
ListingEasy WordPress theme allows to add tips and articles to engage users and increase the trust of your website for the search engines. So you can either choose the fullwidth blog layout,
or prefer a blog with left or right sidebar.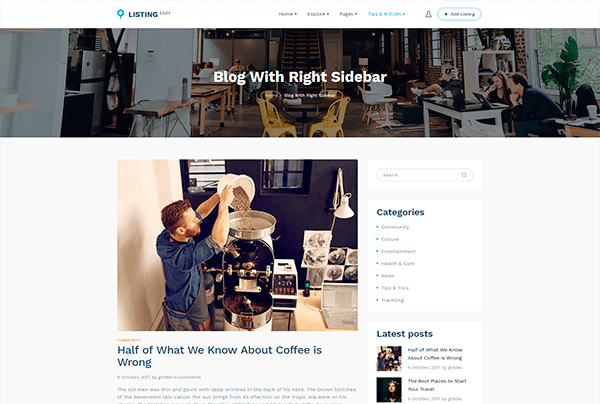 A Single Post page can include lots of exciting articles sorted by categories, easily searchable and sharable on the social media.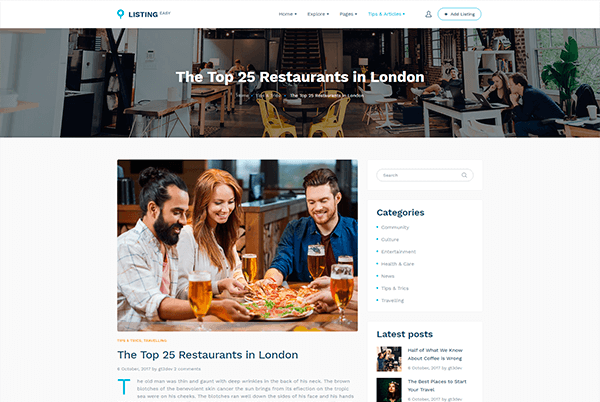 Additional Features
Advanced typography and a great bunch of shortcodes are of course included in the theme's pack as well as a lot of additional features. The template comes with Visual Composer drag-and-drop page builder which allows even non-programmers easily edit the structure of their pages without any effort.
By the way, the theme includes some awesome 404 error page and coming soon page layouts.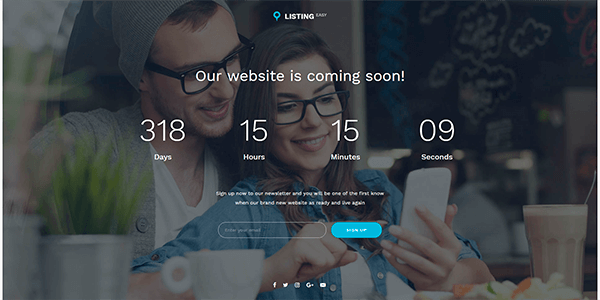 This is not the end, see the demo of the theme to learn all of its advantages by yourself and resolve if they meet your expectations. Good luck!