We are happy to provide you with the amazing and fresh collection of design assets available in bundles are created to help you save your time and money when crafting another piece of art. Check them out and enjoy.
Logo Bundles
4 Advanced Logo Templates Bundle 3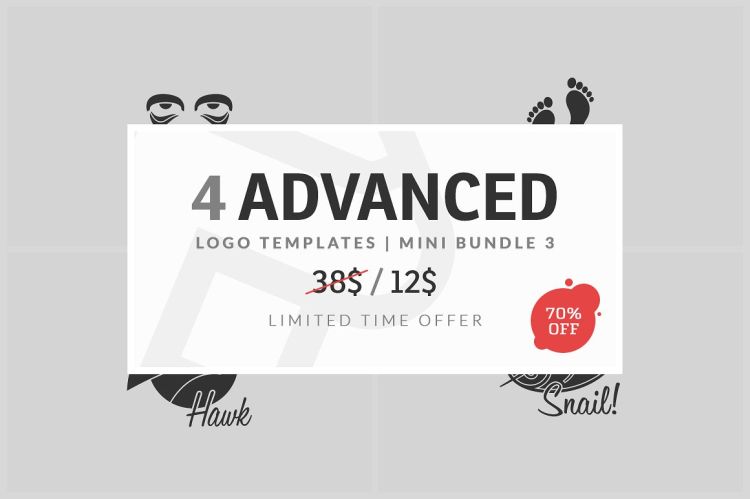 A premium mini bundle consisting of Lazy Logo Template, Footsteps Logo Template, Hawk Logo Template, and Snail Logo Template. All templates are gully scalable, color-changeable, highly organized and handcrafted.
30 Premade Logos – Minimal Edition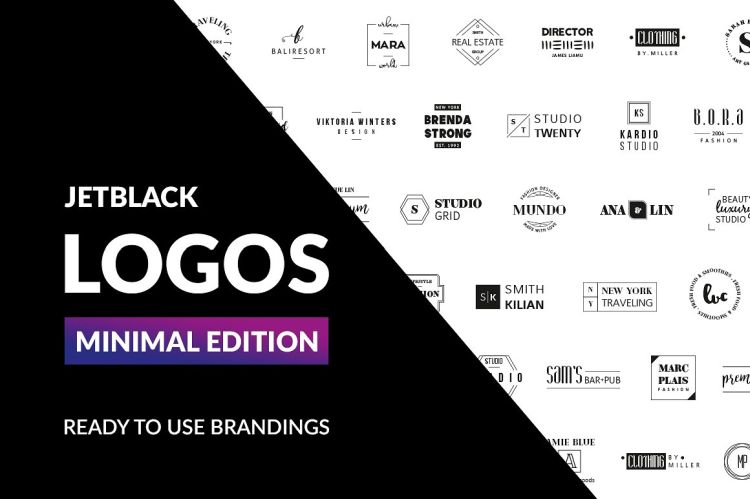 30 ready to use logos available in beautiful jetblank. You can use them to start making your own brand fast and easily. The kit includes directly 4 styles of each logo design (logo compact + logo wide + wordmark + icon).
Vintage Logos Template Bundle V1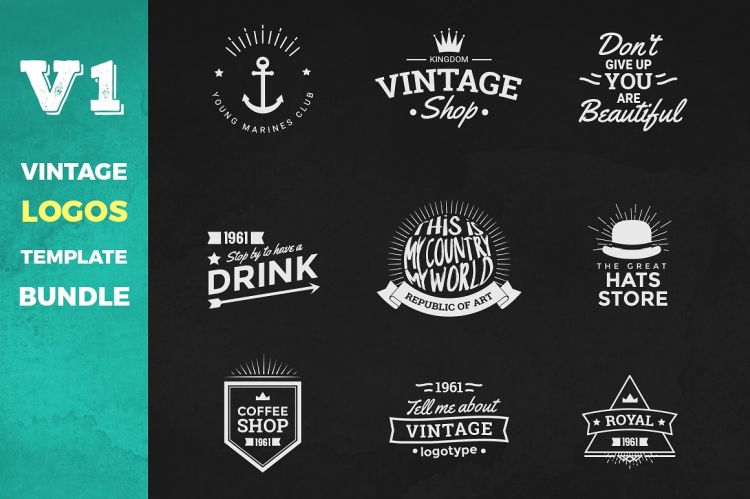 A stunning collection of 9 different logo layouts allowing to quickly and easily create professional logos and badges for whatever you're working on. All fonts are FREE and fully editable and download links are included in an .rtf file.
Bundles of Actions
Bright & Airy Newborn Editing Bundle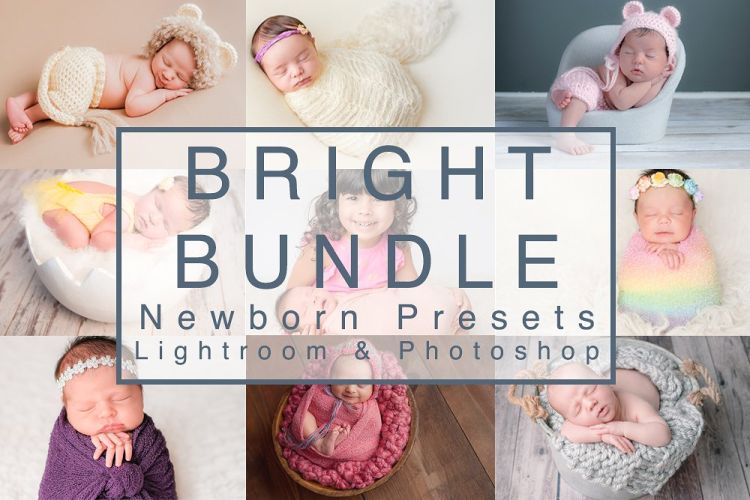 40 modern newborn lightroom presets and 40 newborn Photoshop camera raw filter bundle. Achieving bright & airy skin tones, soft textures, and colors will be easy with this bundle. These presets are made to smooth skin, add a tonal layer to the skin tone, and achieve that dreamy dewy looking skin.
Film Wedding Photoshop Curves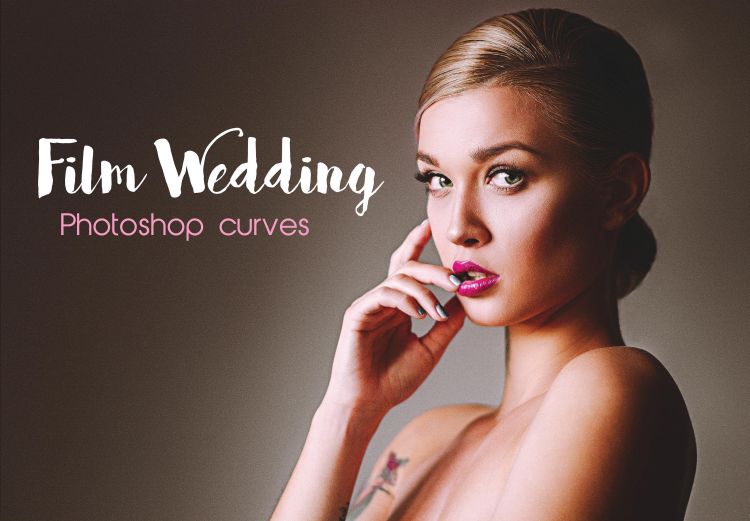 An elegant and modern film emulation collection created by Katy Sendza curves. This collection is perfect for wedding, glamour, travel photography, fashion & everything in between. Presets include 30 Premium Photoshop Curves and 30 ones made for professional photographers.
Fine Art Wedding Big Bundle LR & PS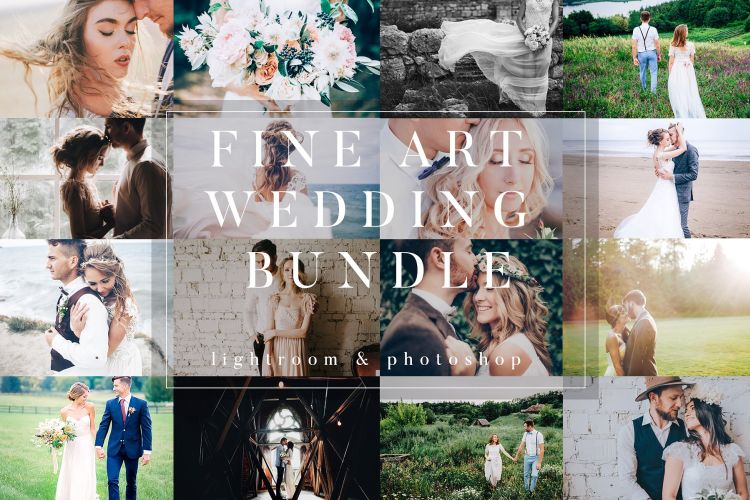 This entire bundle of 20 of our Wedding Presets & Photoshop ACRs includes 60 lightroom presets, 60 Photoshop ACR filters, and a 15 Preset Tool Kit for Lightroom. A total of 135 Items.
Bundles of Illustrations
Set of Sea Creatures Illustrations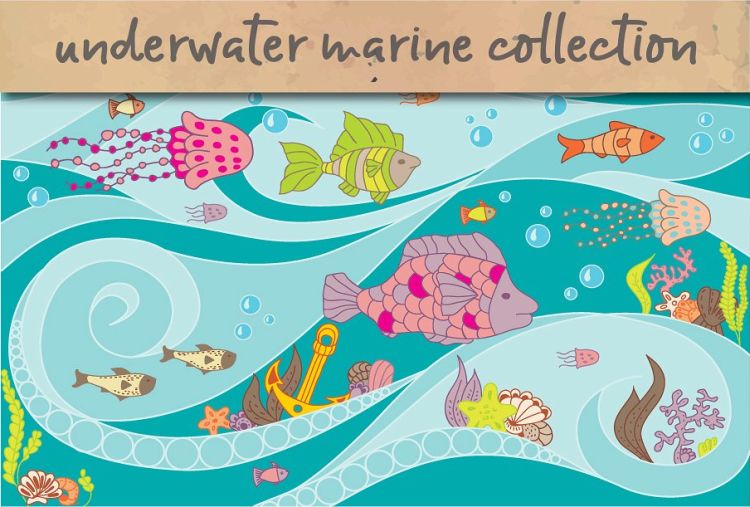 A premium bundle containing a set of beautiful bright illustration with fantastic fish, black outlines on transparent background and seamless patterns. AI and EPS vector files of each kind on preview are available as well as JPG and PNG on transparent background of each kind. High res 300 dpi.
Easter Bundle 67 Watercolor Elements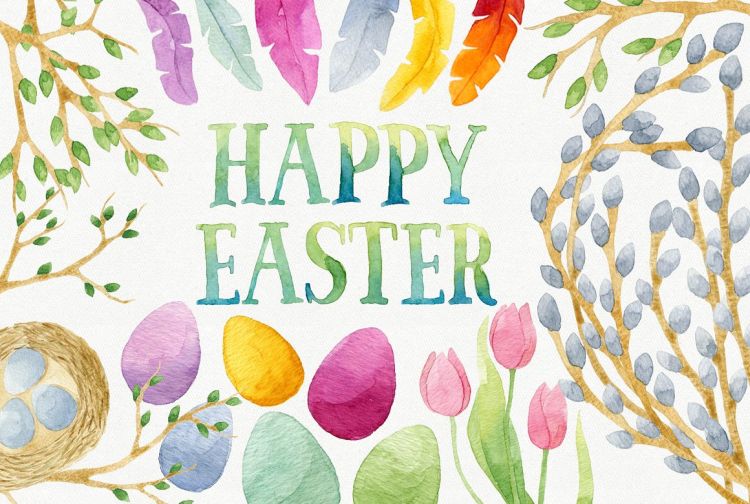 A huge collection of 67 Easter elements, hand-painted with watercolor. They will be handy for making your own design projects, elegant invitations, Easter greeting cards, your own patterns, stationery, scrapbooking elements, and more.
Wild Animals Illustration Set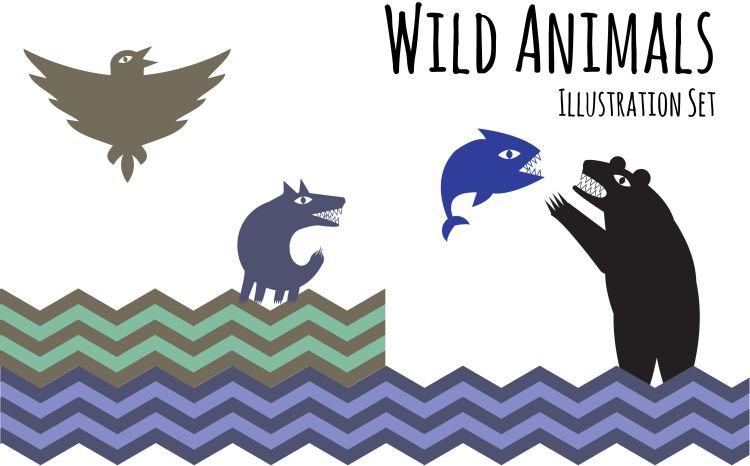 A set of 6 wild animal flat, vector illustrations. A bundle includes Bear, Wolf, Lion, Bird, Fish, Snake, and Pattern Vector files which can be edited. Color changes in one click. File formats include AI CC, CS6, CS5, EPS CC, CS6, CS5, PDF.
Backgrounds Bundles
Mega Collection of Wave Abstract Backgrounds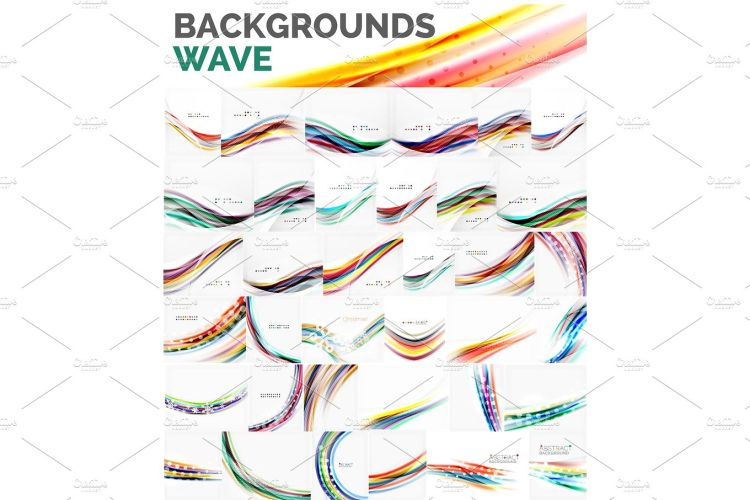 A big collection of wave abstract backgrounds with copy space. These are vector illustrations suitable for business tech design templates, web design, presentations.
10 x Interior Backgrounds 02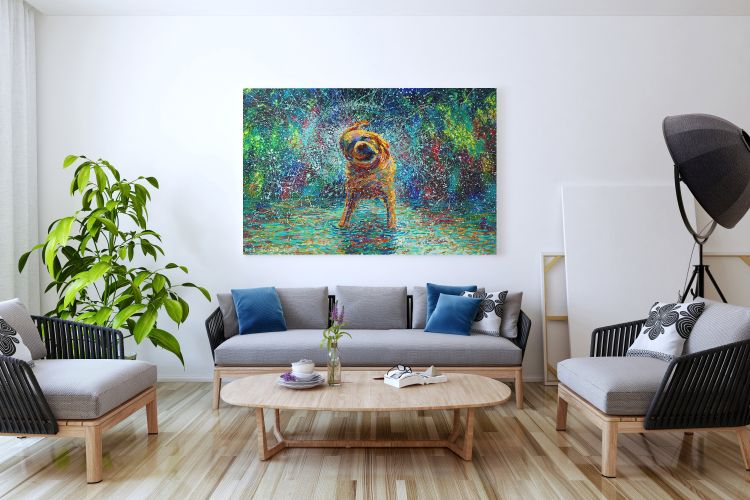 You may use this background images to display your artwork, design or photos. Simplicity is in service to display your design or creation. This Bundle contains 10 jpg and 10 PSD files. All PSD files have Smart Object for easy replacement.
180 Elemental Textures & Rose Gold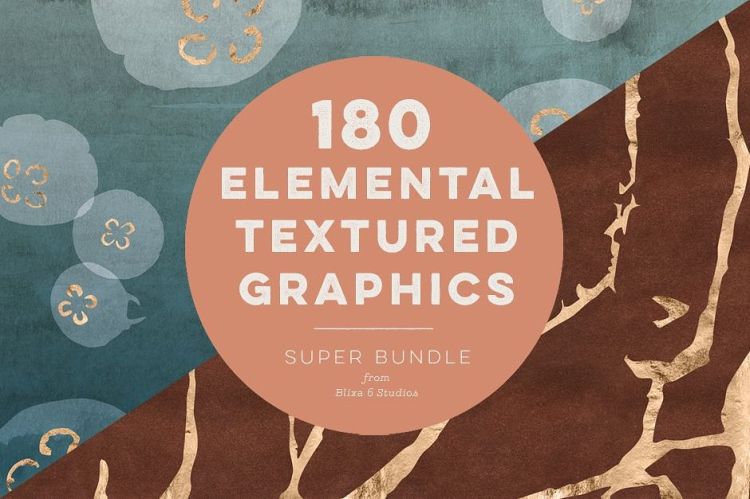 Dive into the depths of the forest and the sea with these sensually marbled golds, earthy weathered textures and moody watercolor graphics. You'll get a massive 180 subtly textured digital patterns and weathered backgrounds in 1 giant super bundle collection.
Product Mockups Bundles
Easter Photos Bundle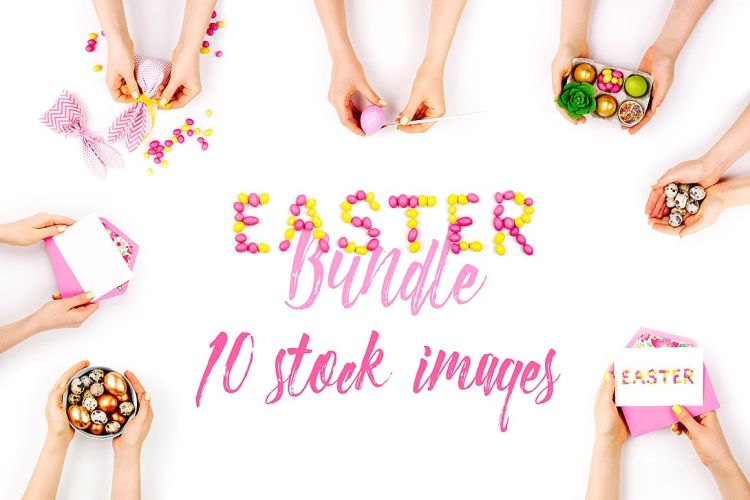 A collection of 10 Stock Easter photos. Female hand decorating Easter eggs, wraps treats, etc. are depicted on a white background. Great photos for social media, Instagram, card/invitation mockup, presentation, website background, shop owners, magazines.
Neutral Styled Stock Bundle AR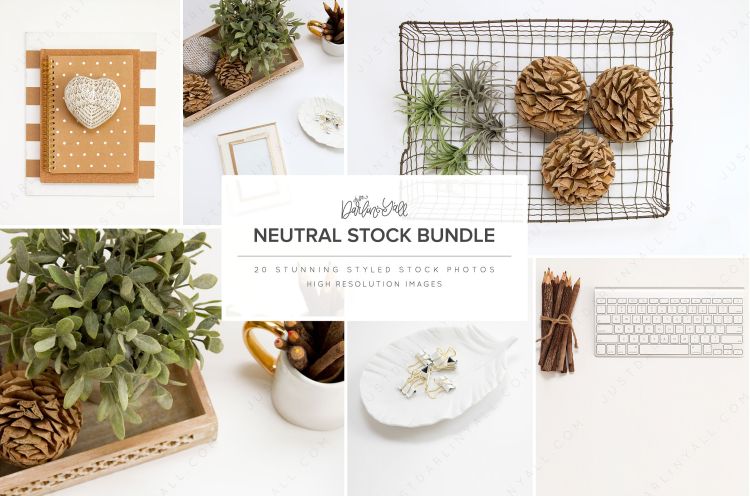 The neutral stock brand bundle has 20 images you'll love for your brand. These styled stock branding photos are the perfect touch of styled and feminine themed visuals for your brand. Images are available in JPEG format with 300 dpi and high resolutions.
Amazing T-Shirt Mock-Up Bundle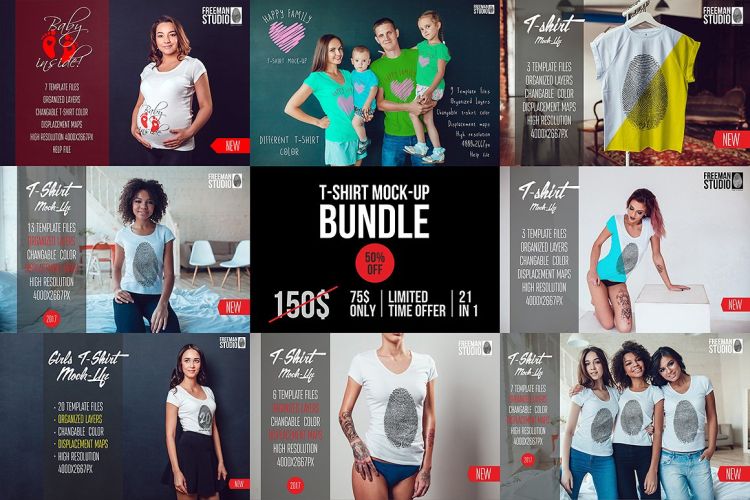 A great bundle which includes 21 T-shirt mockups. These mockups based on professional photos. Use our mockups to present your brand in a variety of fields! Very easy to use with smart objects, just place your artwork. Done!
Photo Bundles
Blueberry Stock Photo Bundle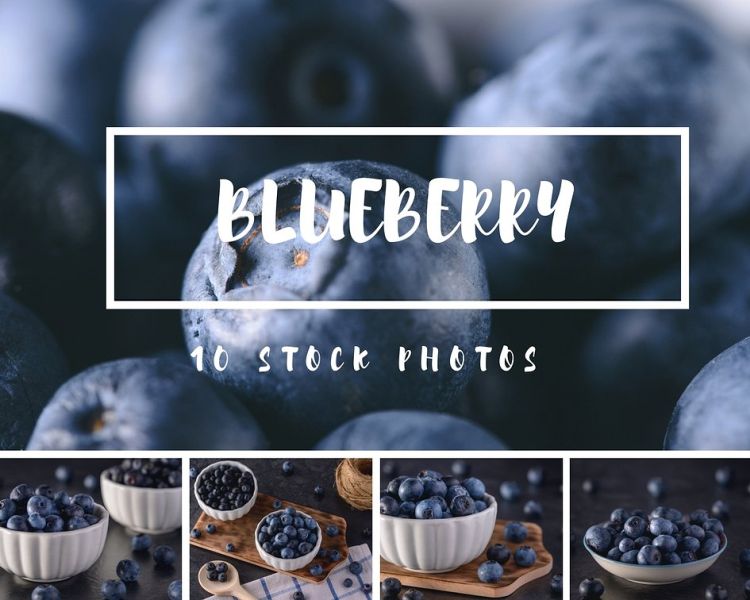 A collection including 10 high resolution stock photos. The bundle contains a .rar archive with 10 JPEG format photos. Their dimensions are 7360×4912 pixels.
Sahara Desert in Morocco, Bundle (12 Photos)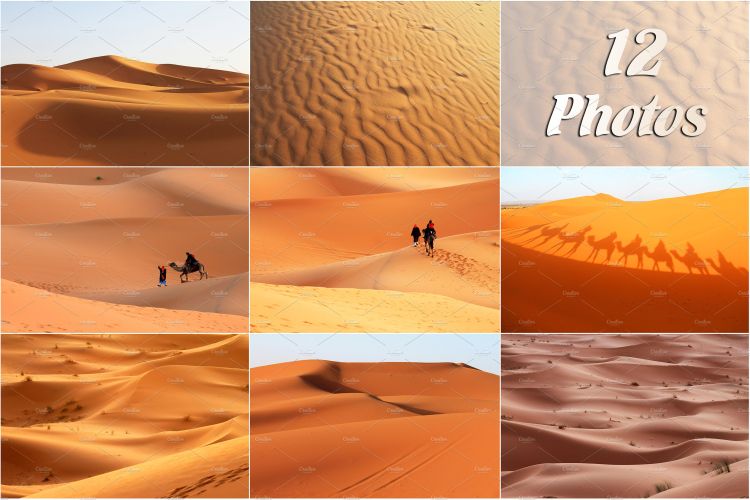 A premium bundle consisting of 12 desert photos made with high quality in mind. All of them are available in high resolution and JPG format.
Mug Mockup Photo Bundle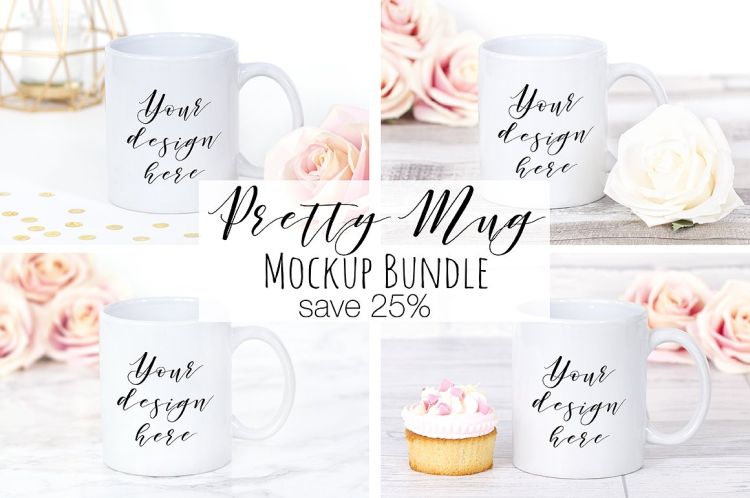 A bundle of pretty styled white mug mockup photographs, with a mixture of props, including flowers, cake and confetti. This file includes smart objects which keep the curve of the mug when you add your design to ensure it looks realistic. You will receive 4 x mug mockup photographs.
Conclusion:
Create your gorgeous designs with simplicity 'cause it's easy thanks to the readymade design solutions. This collection is no exception.