The quality of any brand, product or service would be unnoticeable without perfect presentation, and web products are no exception. Aesthetics and style play the main role when it comes to design, 'cause the visual effects impact how people perceive a product.
Mockups represent the appearance and basic functionality of a product and we can say it is a high-profile visual design draft. Mockups are considered to be the integral parts of UX design process and they are mostly static. If you review the mockup, you can find out the visual details of the product including colors, typography, and the related features.
We have collected the best free and premium stationery, logo, business card, iPhone, iMac and other PSD mockup templates as well as the mockups for branding, magazines and brochures.
The Best Free Logo Mockups
It is obvious that a logo mockup is an easy way to represent a logo design to the customer. A mockup can give a customer an idea on how a designed logo will look on various kinds of mediums. Watch the collection of free Logo PSD Mock-Ups which are extremely easy-to-use.
1. Sign Wall Logo Mockup PSD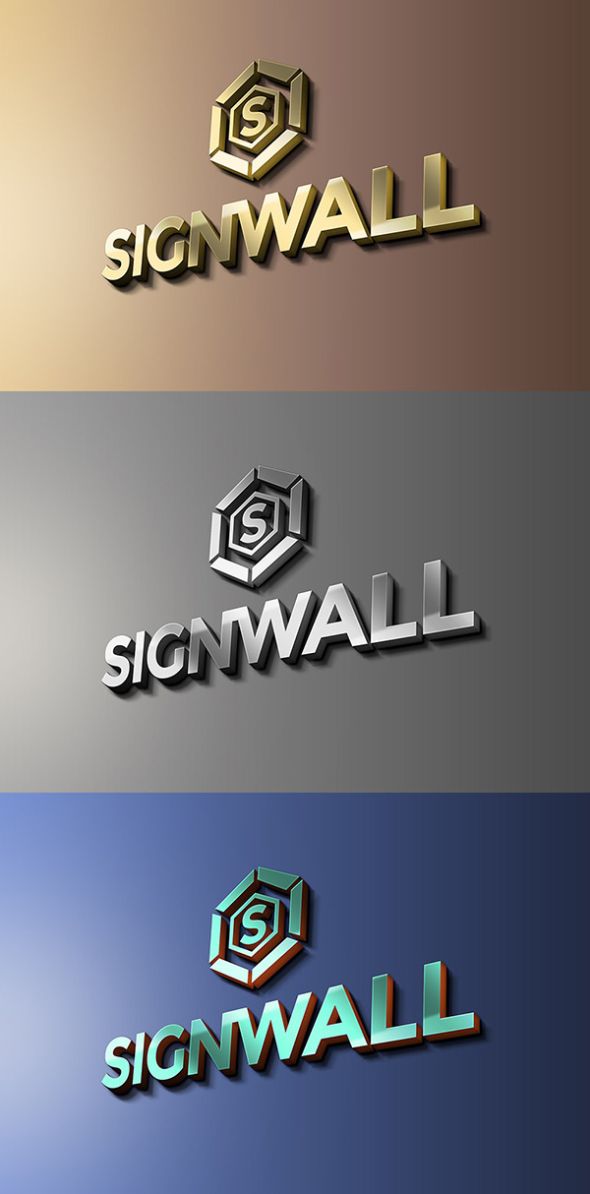 A free logo mockup which is used to showcase a logo or a sign mounted on a wall. This mockup PSD is realistic enough to give you all the depth and shining of the logo to imagine how it will look in reality. In addition, you are free to change the color of the logo or add your own logo instead.
2. Cardboard Cutout Logo Mockup

An original free logo mockup with realistic look and clean details. Use this PSD file to represent your branding project to your customers. Use Photoshop to change the PSD mockup and add your own logo instead if required.
3. 5 Free Logo Mockup Collection

An amazing collection of free PSD logo mockups designed to showcase your branding to the clients. The collection includes embroidered, metalized, engraved, and some other logo variants which are completely changeable.
4. Close-Up Logo Mockups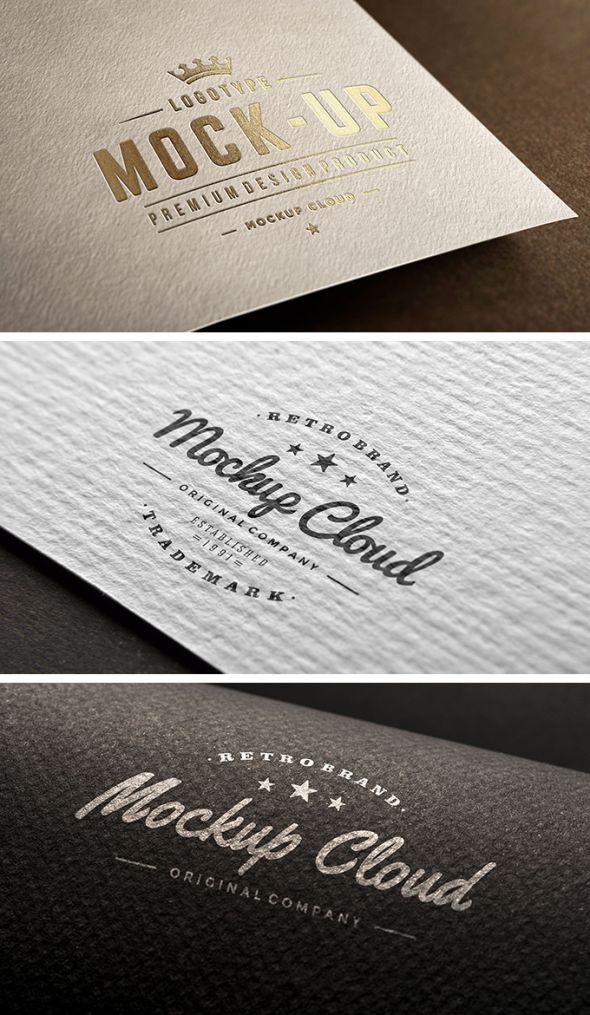 A set of 3 free easy-to-work-with logo mockups that can be the best way to showcase your artwork to the interested people. An ultra-realistic close-up result is obtained thanks to the combination of special macro lens and a high quality craft paper.
5. Vintage Label PSD Mockups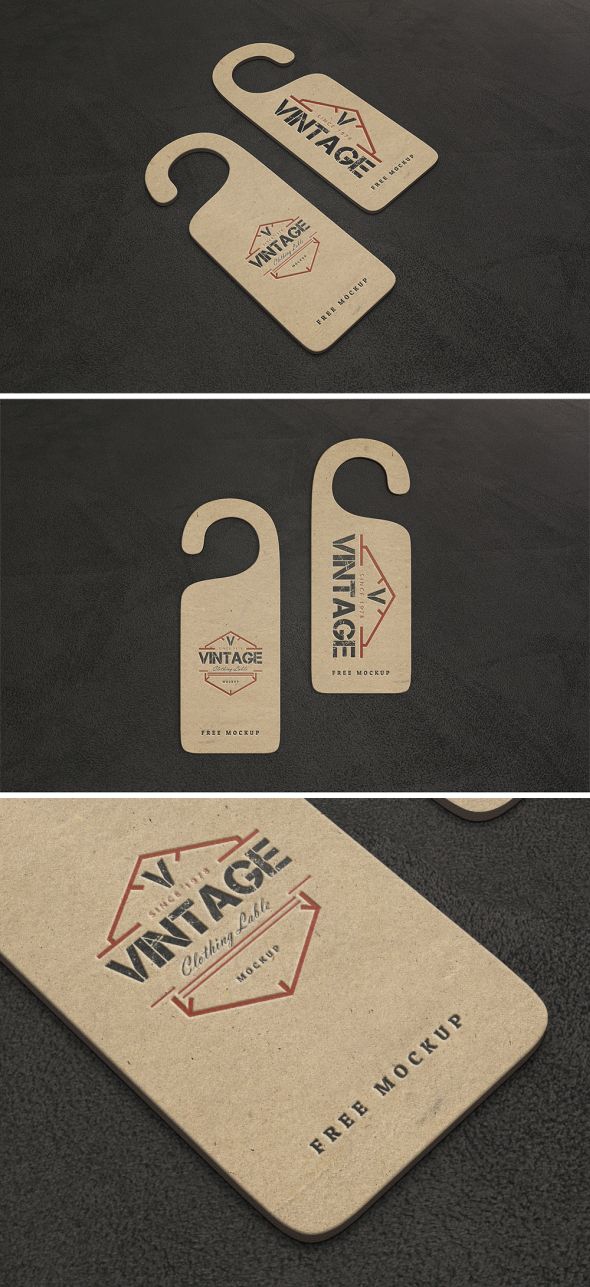 A nice free logo mockup available in two PSD files. This is a great way to represent your branding to the clients. Use this advanced PSD to manipulate elements like shadows, textures, and others and create your own unique labels.
Free Top-Notch Magazine and Brochure Mockups
Magazine and brochure mockups are created to perfectly represent a certain print or graphic design in the most realistic way. Such mockups are often used in portfolios and selected by designers to present their raw designs in real world objects and environments. Review the bundle of free magazine mockups which meet all the needs of a contemporary creative.
1. Magazine PSD Mockups #2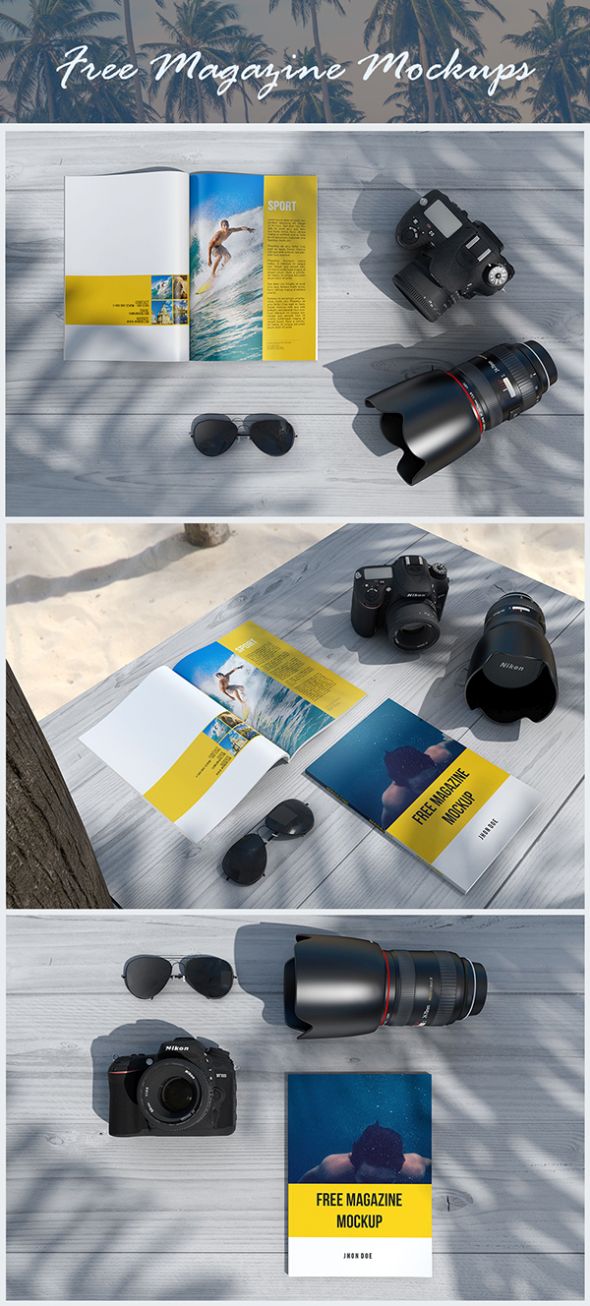 Free photorealistic PSD mockups applicable for representing your photography magazine designs. As well as other related mockups, this one allows to use smart layers to change the file up to your needs and place your own design instead.
2. Newspaper Reading Mockup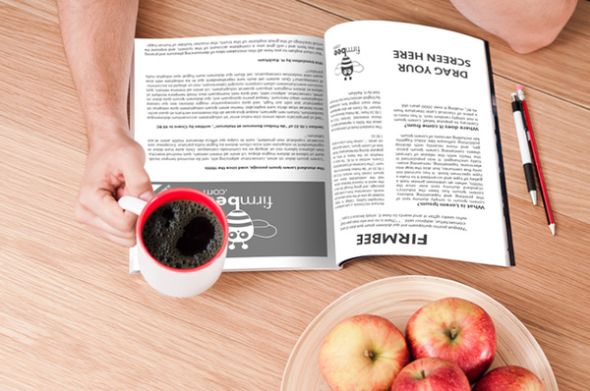 A free and realistic magazine mockup which depicts a man drinking tea and probably eating an apple. The file is completely free to distribute, copy and modify either for personal or commercial usage. Choose it to perform your work in a really professional way.
3. A4 Brochure / Magazine Mock Up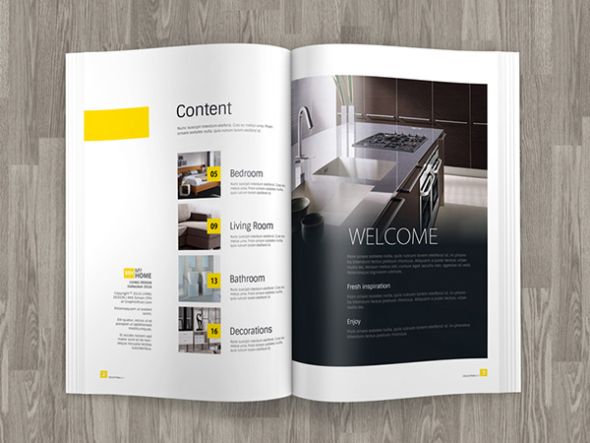 A bundle of 14 free brochure PSD files consisting of layers and extremely easy to edit. You can modify the separated items of the mockup as well as edit shadows and background movable items with the smart object. Crop these files or use 2 additional background textures to make them look as you require.
4. A5 Horizontal Brochure MockUp
A set of 3 free photorealistic A5 brochure mockups applicable for representing your print design in the best level possible. As all the files are fully layered and well organized, you can change their lighting, color and background up to your customer's tastes and expectations.
5. Free Brochure Mock-Up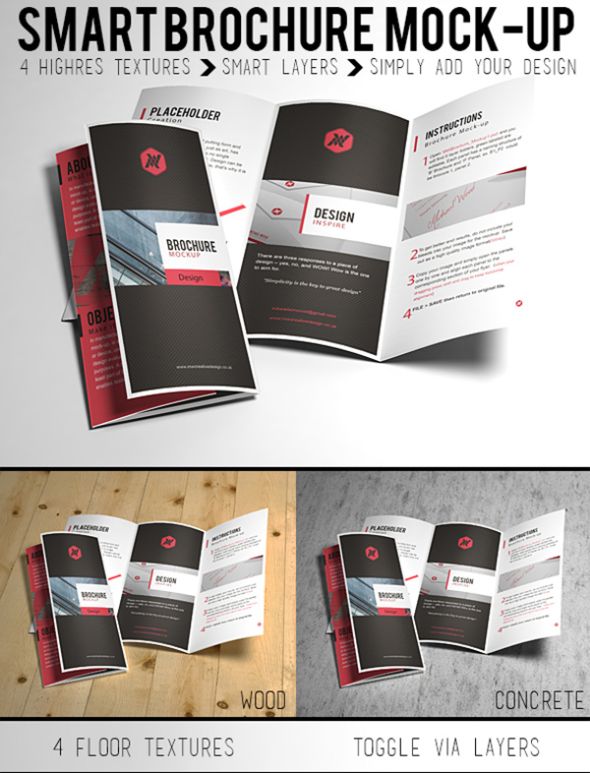 A free easy-to-edit brochure mockup which is exactly the good variant to showcase your design work in the best way possible. The PSD file is applicable for editing through the smart layers in Photoshop and change its colors and background as much as you require.
Free Second-to-None iPhone Mockups
Free PSD iPhone 6 mockup templates are created to showcase your designs to customers and Apple lovers. This hand-picked list of high-quality PSD mockups is sure to help you express your creativity in the best possible way. All mockups are represented in bright colors and look realistic enough to impress your clients.
1. FREE iPhone 6 PSD Mockups

A free photorealistic mockup of iPhone 6 represented in two colors. Ultra-high resolution and well-organized layers make it look really posh and professional. This mockup is highly customizable layered PSD which is absolutely easy to use with iPhone size smart objects.
2. iPhone MockUp Free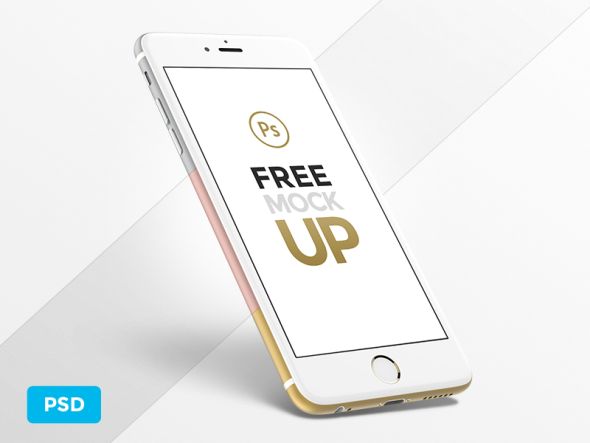 A free iPhone 6 mockup available in three colors to choose from. You can select either rose gold, golden or silver color and create your unique design to showcase it to your customers. The mockup is available for free personal usage.
3. iPhone 6 & iPad Air 2 Photo MockUps

A free neat collection of four high-quality iPhone 6 mockups which suit the best to represent your unique web page or mobile page design. All the mockups are based on Apple devices and include smart objects which help to minimize your work.
4. iPhone 6 Mockup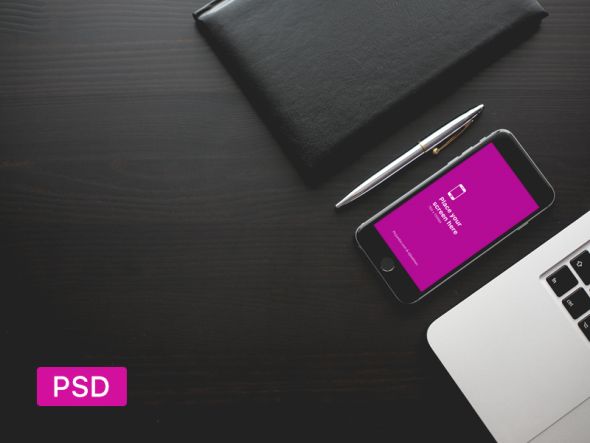 A free photorealistic iPhone 6 PSD mockup which uses the smart objects and allows to easily edit your design. Just drag-and-drop your design to change the initial layer and complete it as you require. Choose the mockup to showcase your creative works to your target clients.
5. iPhone 6 Plus – Free Mockup

A free sharp and smooth realistic iPhone 6 mockup with smart layers included. The mockup is available in high resolution and has three colors to choose from. Select either space grey, silver or golden color to make your designs look exactly to the taste of your customers.
Free High-Quality iMac Mockup Templates
Free iMac PSD templates are designed for you to use them in your projects including website and mobile application designs. Feel free to choose the best ones of the following collection and showcase your designs to your customers. All iMac mockup templates are available in layered PSD format so you can customize them as much as you desire.
1. Free Mockup MacBook – PSD – V2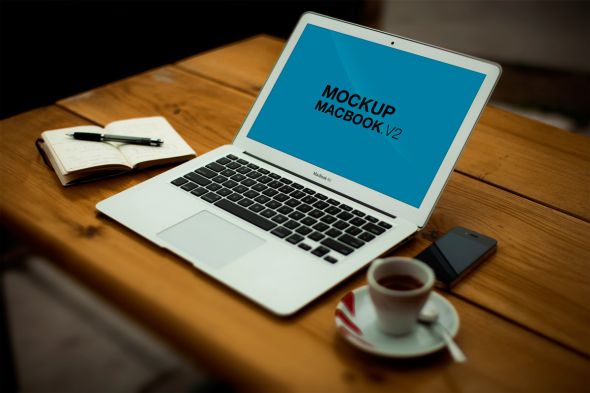 A free photorealistic Macbook mockup depicting the Apple's laptop together with iPhone, a cup of coffee, a notepad and a pen. This mockup template is the great choice for a creative to represent their website designs to potential customers.
2. Macbook Air – Fully Scalable PSD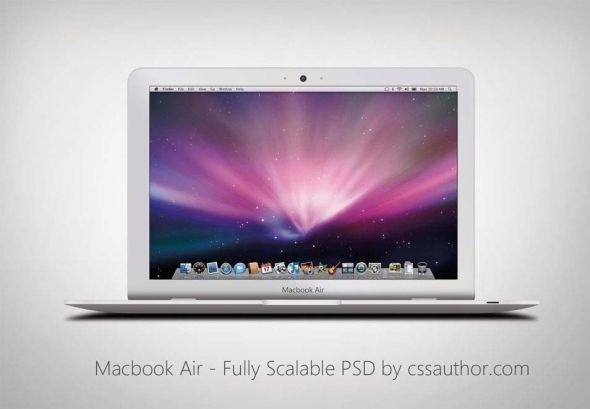 A free scalable Macbook Air mockup crafted as a PSD file and available for representing your ready designs to the target audience. You can change the size of the mockup and make it look perfect for your customers.
3. Macbook Pro And Coffee Cup Mockup
A free realistic Macbook mockup template which is available in high resolution as well as depicts the Apple's laptop with a cup of coffee. You can add your web or application design on a Macbook Pro Display or place your logo on a coffee cup.
4. Free Macbook Pro Photorealistic Mockup Set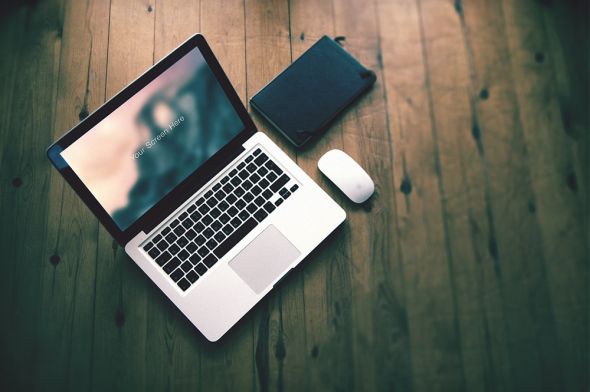 A free and brand new set of Macbook Pro photorealistic mockup which consists of 4 PSD files. As the mockups come with smart objects and filters, it is really easy to modify them with Photoshop. Feel free to use and share this file for personal needs.
5. FREE Apple MacBook Pro PSD layers MOCKUP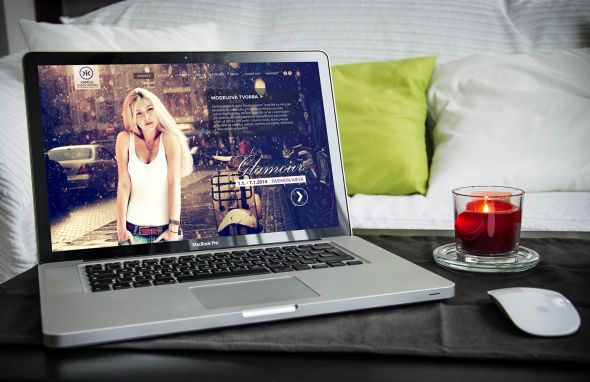 A free high-res and realistic Macbook Pro PSD mockup which depicts the Apple's laptop together with a mouse, a candle, and a few pillows in the background. You can place your own design on the display of the laptop and showcase them to your customers.
Free Upmarket Business Card PSD Mockups
Mockup is a great way to represent your business card designs in style instead of showing flat front and back page of the card. Mockup templates add more depth and better look to your business card designs and make them more realistic. All PSD templates from the following collection use the smart objects to allow you adjust lighting, colors, change backgrounds and insert your own designs without an effort.
1. Free PSD Mockup – Business Card Vol 2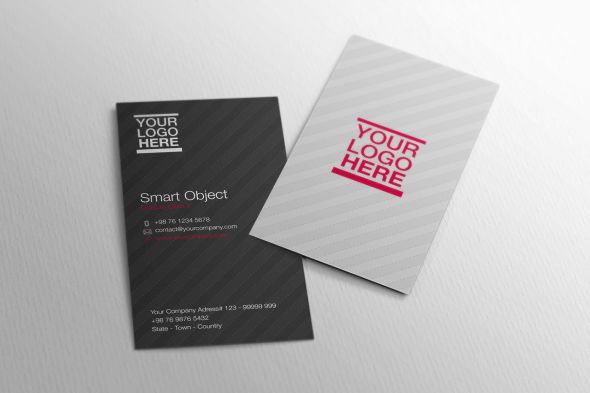 A free editable PSD business card mockup which can be a great choice to represent your best design projects. It is absolutely free to download and use, no license is required. Just a double-click on a smart object to replace it with your design and make it look perfect to showcase to your customers.
2. Business Card Mockup In Binder Clip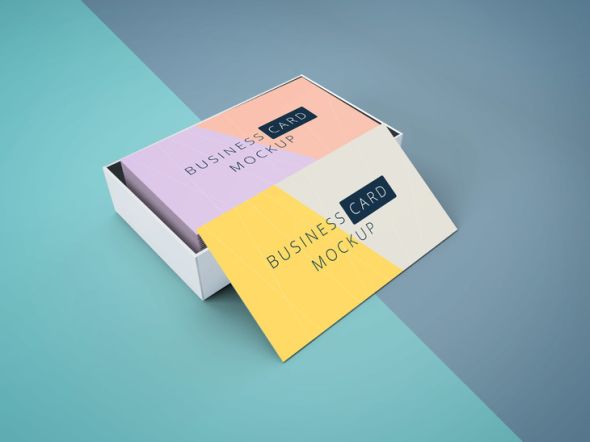 A free colorful mockup business card mockup applicable for creating a neat presentation of your unique designs. Any element including background, box, and cards is easily changeable so you can easily and quickly add your projects using the smart layers.
3. FREE Business Card Template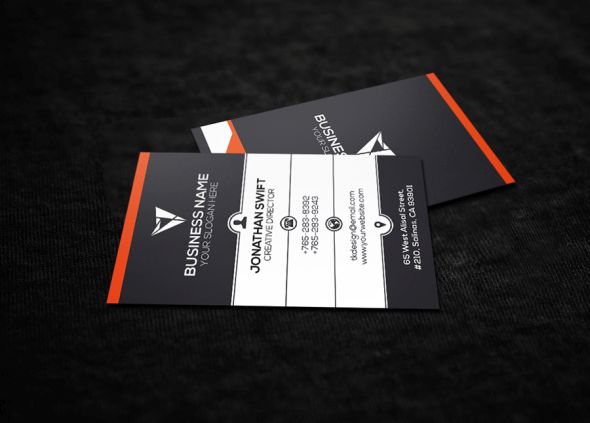 A free modern business card mockup with clean and stylish design complemented with colorful stripe at the top and bottom. The mockup comes in blue, red and orange colors but you can add any other color and change the mockup's look with a few clicks.
4. FREE Modern Creative Freedom Business Card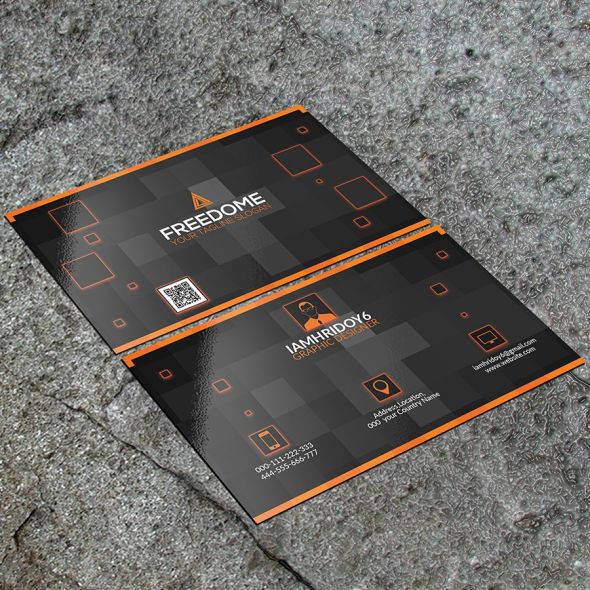 A free and creative PSD business card mockup template with absolutely photorealistic design. It is very helpful to make your designs look as perfect as they look in real life. Modify it as much as you wish and showcase your designs to your customers.
5. 7+ Clean Business Card FREE MOCKUP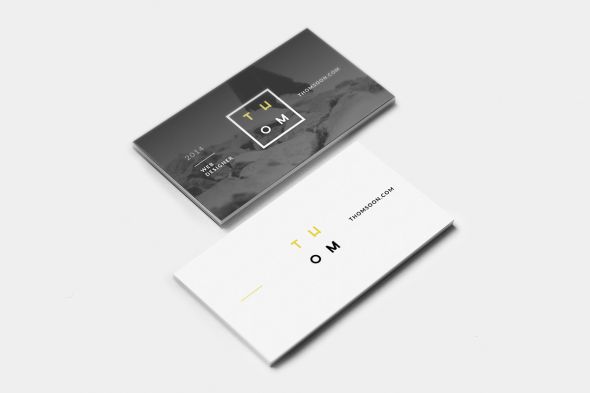 A free bundle of clean PSD business card mockups applicable for representing your designs in a professional manner. The dark and light skins of the cards can become the basis for your own impressive designs which you will show to your existing or potential customers.
Premium Branding and Identity Mockups for your Perfect Presentation
Most companies require a certain brand identity system which helps building a brand and provides a unique vision. Branding system usually includes stationery, business and identity card, desk diary, book, CD cover, USB driver, devices like phone and tablet, and more. The following collection of mockups is created for designers to showcase their unified and attractive brand identity system to the customers.
1. Branding Showcase Generator + Photos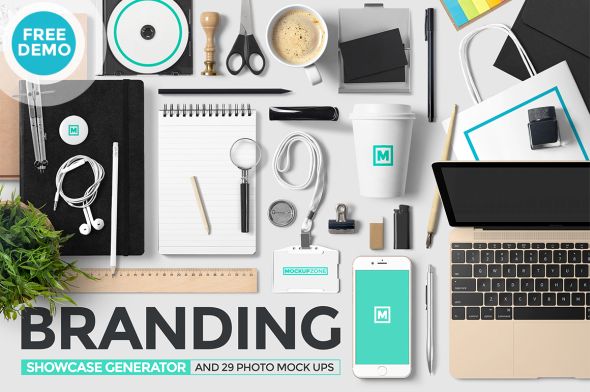 A premium and comprehensive corporate and branding mock up file which is sure to be helpful for creating awesome presentations for your customers and portfolios. If you choose this product you get a mock up generator with a lot of branding elements and 29 branding mock up photographs.
2. Restaurant / Food – Branding Mock-Up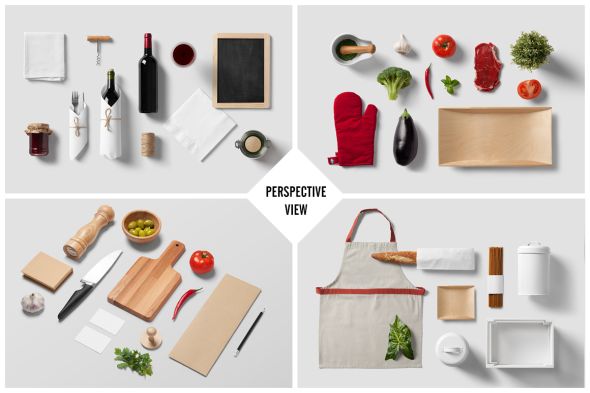 A premium professional restaurant and food branding mockup which is based on professional photos and designed to make your projects visually attractive for your clients. Objects and shadows here are fully separated to allow you change them up to your needs and create your original custom scene.
3. Coffee Branding & Packaging Mockups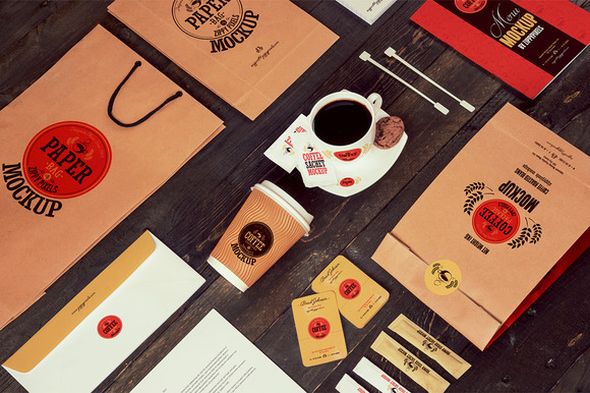 A premium and stunning collection of coffee branding and packaging mockups featuring 13 customizable templates and allowing you represent your creative designs in a variety of ways. The mockups include multiple unique compositions which you can easily replace with your own designs.
4. 5 Notebook Mockups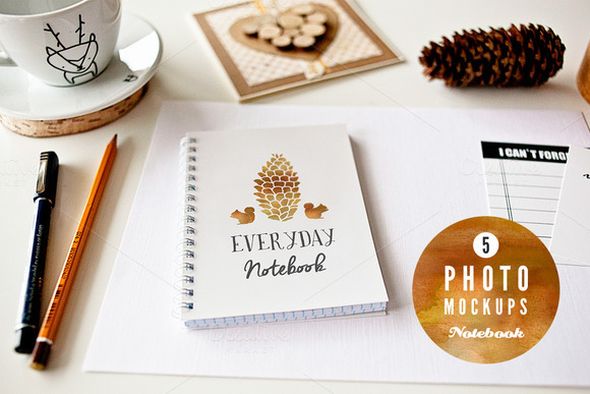 A bundle of 5 premium branding mockups absolutely suitable to showcase your logo, font, quote, illustration, badge, lettering, typography and apparel designs to your target clients. You can use these mockup templates as a background, header or presentation for your products.
5. Barber & Cosmetics Branding Mock-Up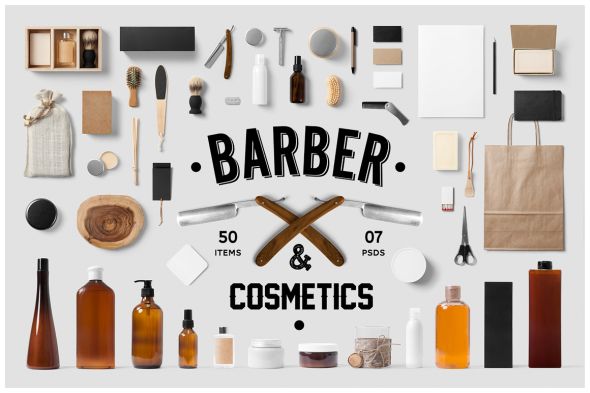 A perfectly-looking premium barber and cosmetics branding mockup based on professional photos and available in high resolution to ensure the best possible quality. Objects and shadows are fully separated allowing you to place your design on them within a few clicks.
Premium Stationery PSD Mockups for Your Creative Ideas
Stationery mockups are mostly used for branding and applicable to showcase a design, products or device to a client. Stationery mockups usually include photorealistic pencils and pens, erasers, letterheads, notebooks, envelopes, paper clips, smartphones, tablets, and more. The following collection of PSD mockups is sure to come in handy.
1. Iso. Stationery Mock Up Generator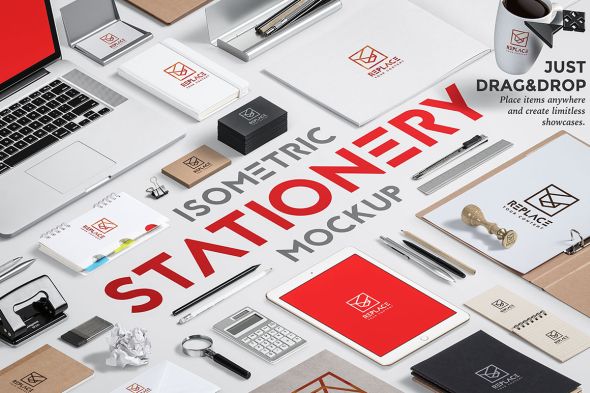 A brand new premium Isometric stationery and branding mock up generator is applicable for perfect presentation of your artworks to the interested folks. Select any stationery items and just drag-and-drop them into your own scene. Get unlimited mockup scenes for your branding works.
2. Corporate Stationery Mock-Up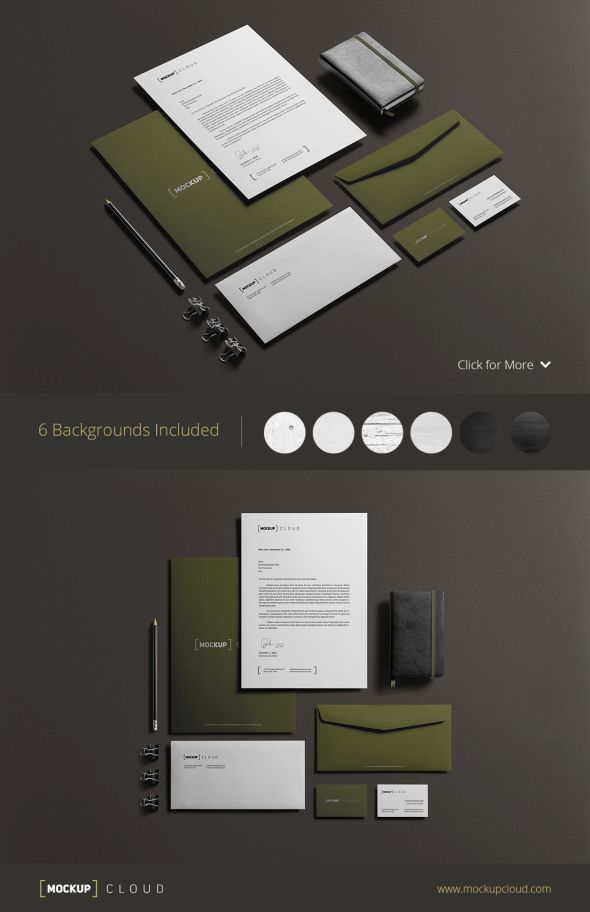 A premium quality corporate stationery mockup package which is sure to give your brand a competitive edge. You can use this mockup to wow your customers with stylish stationery. You can easily change colors, backgrounds and shadows and place your designs just double-clicking the smart objects.
3. Corporate Stationery / Mock-Up
A large premium stationery mockup based on professional photographs and available in high resolution to ensure the most perfect possible quality. Open a PSD file and place your design on the objects. Change the objects and shadows and create a custom scene easily.
4. Stationery Mock Up – Kraft paper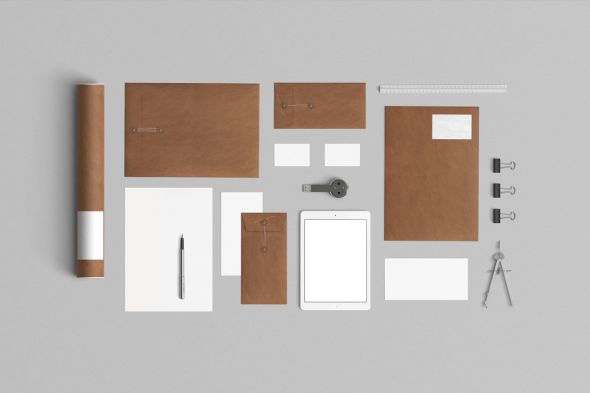 An original premium stationery mockup with customizable kraft paper which allows to edit its color. The file is available in high resolution, and its design and background texture are edited via smart object. Ten special effects are ready to be used in this PSD file.
5. Workspace Flat Lay Stationery Mockup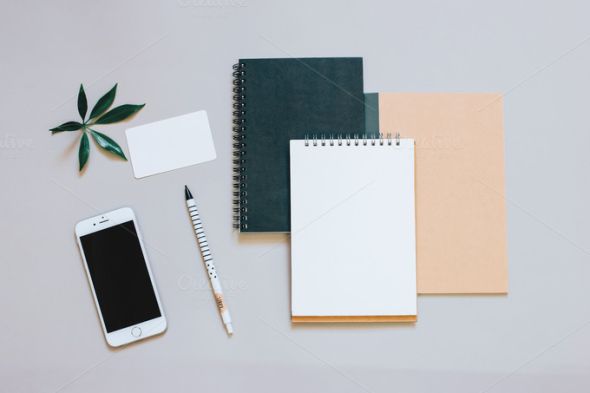 A premium flat layered stationery mockup with smartphone and fully customizable objects. The mockup depicting the workplace is applicable for demonstrating your ready designs to interested clients. Choose the mockup to create your realistic designs.
A Few Premium Product Mockups for Your Inspiration
Artists, illustrators, interior designers, and many other creatives often represent their ideas and projects using top-of-the-line mockups which are extremely easy to customize. High resolution photorealistic mockup templates help the designer save their time and efforts on making a product sample in realistic and natural environment and allow them use the ready templates to show off their own designs. All the following mockups are available in Photoshop PSD format.
1. Art Equipments Scene Generator V4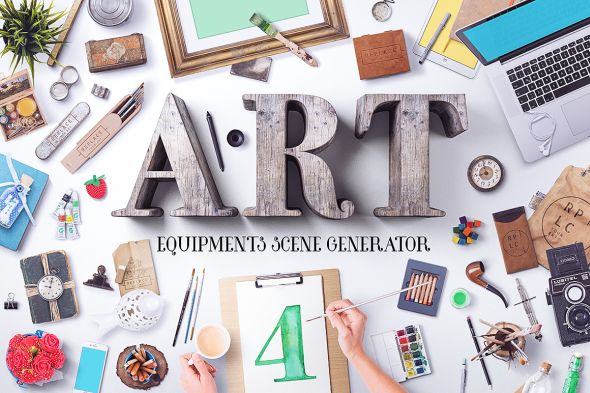 A premium art equipments scene generator full of vibrant images and product mockups is excellent for the artist to show off their projects. This awesome presentation pack is going to help you represent your works in a visually stunning way.
2. I am Creator / Topview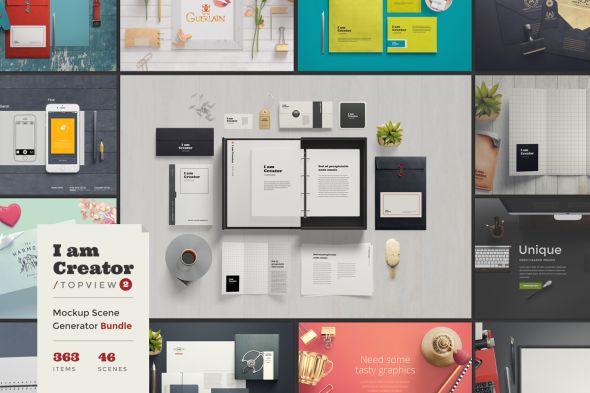 A premium and good-looking product mockup with small items and scene generator which allows to create high resolution scenes and showcase them to your customers. The bundle consists of 46 mockup templates in total.
3. Mockup Scene Creator – Desk edition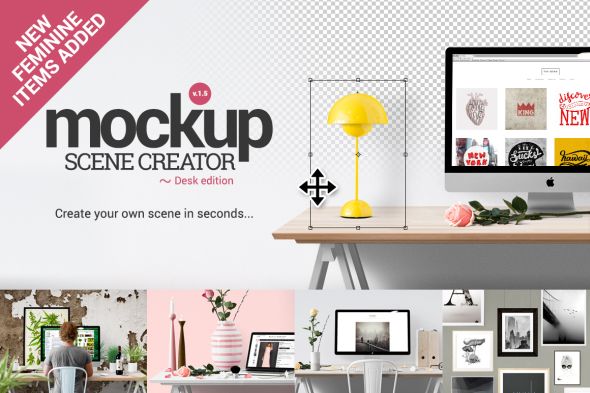 An eye-catching premium scene generator available for creating product mockups, header images, poster frame and etsy presentations, website previews, and so on. This is a great way for creative people to show off their artworks.
4. Ladypreneur Mockup Toolkit

A professionally crafted premium mockup toolkit for bloggers, freelancers and creative hustlers. This is the best way to save time on making quality imagery and then focus on creating a top-notch content for your readers.
5. Easter Stock Image PACK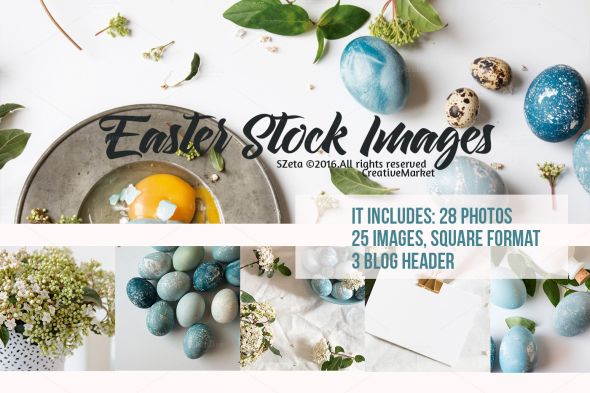 A nice premium stock image pack which contains 3 images for a blog header and 25 images in square format. This packages is going to be applicable for using in blogs, creating product mockups, holiday postcards, and so on.
Conclusion
All of the mentioned above mockups are based on professional photos to ensure the matchless quality and absolutely realistic look of all templates for your impressive artworks.
Choose the best mockups to your liking and feel free to share your thoughts on the collection introduced above in the comments section below.