WordPress is one of the best user-friendly platforms for creating any types of websites. You can choose WordPress either for making the top-notch blog, professional corporate website, or interesting news website. A comprehensive array of plugins is available today and developed on a regular basis to extend the functionality of the platform and make your website look and work as you require.
If you prefer WordPress for your news website, don't doubt that you've made the right choice. You can use the specific plugins to enrich your out-of-the-box solution with additional stuffing to create a great multi-author publishing platform. Except for Search Engine Optimization plugins necessary for any type of website, there are other useful extensions for your news site on WordPress.
Today we're going to share with you the best free plugins which are going to improve both front-end and back-end functionality of your website.
Free WordPress Author Bio Plugins
The first three plugins refer to how users interact with your website. Of course, the functionality for the admin user is also added.
1. Fancier Author Box Free WordPress Plugin

A free front-end plugin by ThematoSoup is going to help you make any new page a landing page for leads and contacts. Install this plugin, manage its display settings to choose where it appears on your website, manage its color settings to make it look as you require and make sure you connect with your audience on all levels. Make your visitors interested in your author's bio and engage them on social networks.
2. Sexy Author Bio Free WordPress Plugin

A free WordPress author bio plugin which is developed to extend the front-end functionality. The plugin supports both single and multiple authors and offers a multitude of options allowing to customize the box posting the author's bio. The plugin makes the author bio box look sexy rather than dull so it is a great advantage. The box is responsive and includes five beautiful social icon sets supporting the most popular social networks.
3. Co-Authors Plus Free WordPress Plugin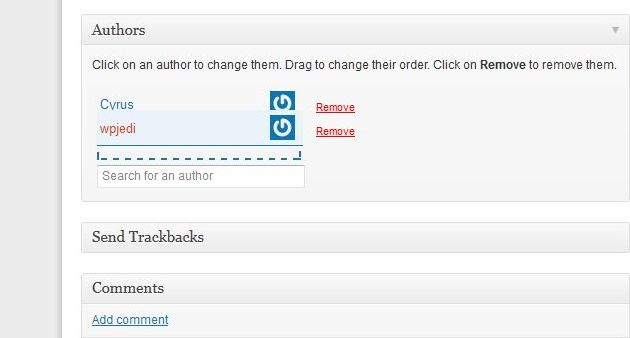 A free WordPress front-end plugin which allows to assign multiple bylines to any page, post or custom post type through a search-as-you-type input box. The posts of co-authors appear on their archive page and in their feed. Admin user can add author as a byline without creating WordPress user accounts. It is easy just to add a guest author profile for the certain writer and assign a byline as you usually do.
Free WordPress Scrolling News Plugins
The following plugins are necessary to easily scroll the publications on your news website.
1. Ditty News Ticker Free WordPress Plugin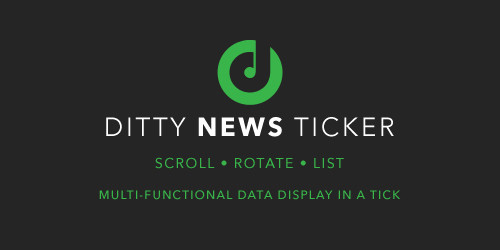 A free multi-functional data display front-end plugin for a news site on WordPress. The plugin allows to easily add custom news tickers to your web pages either via shortcodes or direct functions as well as through a custom Ditty News Ticker Widget. The plugins is available in Scroll, Rotate and List Modes and has some paid extra extensions applicable for installation. You can choose extra types and modes of the plugin to add more functions.
2. Vertical News Scroller Free WordPress Plugin

A free front-end plugin designed to display a vertical scrolling news for your blog on WordPress. Admin user can manage any amount of news as well as edit and delete news. The plugin is simple and easy to use so you can install it and manage its options even if you don't have any special skills. The plugin allows either to display text with the news or display the news title only. Custom link can be also added to the news by the admin.
3. Popular Posts Free WordPress Plugin

A free and highly customizable WordPress front-end widget which allows to display the most popular posts on your blog. The main features of the widget include time range, custom post-type support, multisite support, WPML support, and some others. The plugin also supports the shortcodes to showcase the most popular posts on the page, template tags to embed the popular entries on your theme, and allows to view statistics on your popular posts.
Free WordPress Plugins for Visitor Polls
Polls and survey can be very efficient in terms of increasing user engagement on your WordPress website. They will also help you know your users better to find out what type of content to offer.
1. POWr Poll Free WordPress Plugin

A free cloud-based WordPress front-end plugin which you can edit in your live webpage. If you need to access the entire plugin library you will have to create a POWr account. After installation and activation, you will have to drop this widget at any place in your theme or add it to a page or a post together with the POWr icon in the WP editor. Features of the plugin include custom thank you messages, automatic email notifications, custom fonts, backgrounds, colors, and more.
2. YOP Poll Free WordPress Plugin

A free WordPress front-end plugin which allows to easily integrate a survey in your blog or any other website. You can manage the polls from within your WordPress dashboard and be sure that no detail will be left unaccounted for. You can create polls to include both single and multiple answers, work with wide variety of options and settings to sort your poll information. You can decide whether you want to view the total amount of votes or the total amount of voters, what details to display, what should be kept private, and so on.
3. CPM All in One Poll Plugin – Free and Premium Versions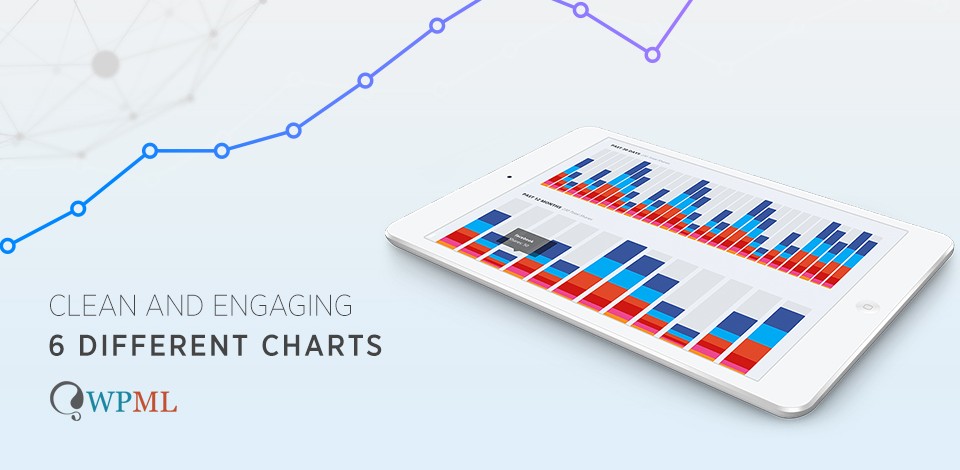 A free version of this WordPress front-end plugin allows to create polls in 7 different chart types and includes a progress bar. The plugin is fully translatable and supports widgets and shortcodes. You can create multiple polls in a single page and show the results of the poll in a simple way. You can also buy a year of premium support for $19 and get much more features including a radar, a line, a doughnut as well as WPML ready shortcodes and widgets.
Free WordPress Plugins to Display the Related Posts
It is quite essential to always display the related posts after every new publication on your news website. This is important both for navigation and better conversion because users stay on your website for longer.
1. Yuzo Related Posts Free WordPress Plugin

A free productive and fast front-end plugin intended to show related posts or articles on the post page. The plugin includes a lot of customization options, and its newest version features a special widget to display the best post of your news website on WordPress. Yuzo is really intuitive and easy-to-use one, so you can choose it to post your related stories with various features of text and image size.
2. Yet Another Related Posts Free WordPress Plugin (YARPP)

Another free front-end plugin which displays posts, pages and custom post types related to a certain entry. The plugin is much essential to introduce your readers to the related content on your website and make them stay on your web page for longer. Today it is possible to mix YARPP Basic and YARPP Pro to get the best features of both plugins and make them work best for you.
3. Inline Related Posts Free WordPress Plugin

A good free WordPress front-end plugin which brings a new experience to your target visitors and helps you catch the most of your readers' attention. The plugin allows to put related post boxes inside the content, and put multiple boxes in all your posts. Moreover, it helps to automatically detect line breaks and select more than 20 combinations of style including different themes, colors, hover, and so on.
Free WordPress Plugins for Social Sharing
This series of plugins is developed to help you share your pages and posts as well as unveil the number of social shares for each publication.
1. Cresta Social Share Counter Free WordPress Plugin

A free WordPress front-end plugin designed to easily share your articles and show the social count. You can choose up to 9 button styles, fade animation, show the floating social buttons and choose whether to show the social buttons before or after the post or page content. Select the place you want to display the social buttons and use the shortcode [cresta-social-share] to make them be displayed right where you need.
2. Stylish Social Share Free WordPress Plugin

A nice free WordPress front-end plugin which adds a gorgeous social share bar to your WordPress website. Choose the plugin to switch between twelve elegant designs including 3D. The plugin is absolutely easy to install and configure and it is fully responsive. It supports most social networks and allows to show buttons either before or after content or both. Use the special shortcode to place the Stylish Social Share inside the post pages and easily configure where to show it.
3. Open Social Share Free WordPress Plugin

A free WordPress front-end applicable to enable Social Sharing on your WordPress website and start driving upscale referrals to it. The plugin includes options to add social sharing widget on the homepage, posts, content or feeds pages. You can choose from many designs of social sharing themes and manage everything from your WP admin. It is simple, secure and reliable plugin which is extremely easy to install and configure without any programming skills.
Free WordPress Plugins for the Site Speed
Website speed is especially significant when it comes to creating a news website. Here are some helpful plugins to improve the speed of your WordPress site.
1. Free Speed Booster Pack for WordPress
A free back-end pack for WordPress which allows to make your loading speed better and get a higher score on the speed testing services. The plugin eliminates external render-blocking CSS and optimizes CSS delivery. It changes image compression level, minifies all CSS styles, defers parsing of javascript files and removes query strings from static resources. Except for all the features you can see the page loading time displayed in the plugin options page.
2. W3 Total Cache Free WordPress Plugin

A free WordPress back-end framework designed to improve user experience and page speed. The plugin increases server performance by reducing the download times and improving transparent content delivery network integration. W3 is compatible with shared hosting and virtual dedicated (private) servers and clusters. Other features of the plugin include caching of minified and compressed pages and posts as well as caching of objects in memory or on disk.
3. WP Super Simple Speed Free WordPress Plugin

A free WordPress back-end plugin which is powerful enough to dramatically increase the page load speed and give you much better performance score on the speed testing services. The plugin is lightweight and doesn't clutter the performance. It doesn't have any unnecessary code or configs so it gives you really simple performance optimization without any hassle. Download and install it for free and configure it without any effort.
Free Editorial Calendar and Workflow Plugins for WordPress
As your news website grows, you will need to add more writers and editorial staff. The following plugins will help you manage your content and workflow.
1. Edit Flow Free WordPress PLugin

A free WordPress back-end plugin which is irreplaceable when it comes to managing the workflow on your publishing platform. The plugin contains the built-in content calendar which shows six weeks of content and allows the admin to see where each article currently sits in the workflow. You can also assign custom status to each piece of content to see if the post is in progress, needs editing or is ready to publish. Install the plugin and find out its other useful features.
2. Oasis Workflow Free WordPress Plugin

A powerful free WordPress back-end plugin designed to automate editorial workflow process using a simple and intuitive graphical interface. This feature-rich plugin provides assignment, review and publish task templates related to content management. The features of the plugin include visual workflow work designer allowing to configure the workflow with the help of drag-and-drop designing interface. You can also assign custom statuses to the content, use role-based routing definitions and process history to retrace the steps of users.
3. Eight Day Week Print Workflow Free WordPress Plugin

A free WordPress back-end plugin which provides a set of tools to manage your workflow right from the dashboard. The plugin offers an interface to group, label and manage the workflow status of every post in the print issue. Using this plugin you can add and order sections and articles inside the sections, assign article statuses specific to your print workflow, and perform a lot of other related actions. You can also limit access to print roles and view a print issue in ready only mode.
Conclusion
All of these plugins are really irreplaceable when it comes to creating a top-notch news website and improve the initial functionality of such out-of-the-box solution as WordPress is. The feature-rich plugins are sure to provide your publishing platform with exceptional usability.