A new business week has started and it is the very time to share the best freebies and premium products that are surely going to help you in your creation process. We have collected the best design bundles including clipart sets, mockups, UI patterns, blog social kits, texture packs, and more. We hope this awesome collection will inspire you for launching your brilliant design projects.
Freebies for Creative Designers
Take a look at these amazing free design bundles we've picked out for your inspiration.
1. Futureproof Web UI Design Free Bundle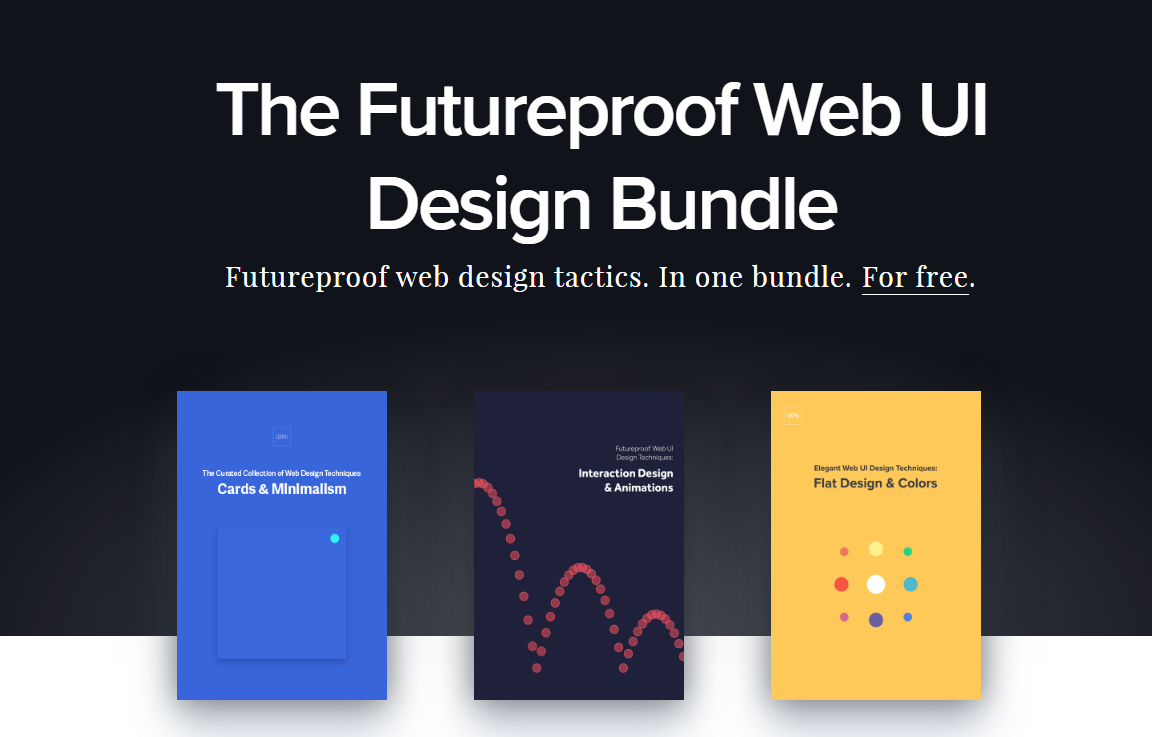 A great free web UI design bundle collecting three e-books on new UI trends that aren't going out of style any time soon. It includes 200 pages of cutting edge techniques to learn as well as lots of practices to apply to make your website both function and stand the test of time. Over 130 hand-picked examples from sites like Squarespace, Airbnb, Eventbrite, and others are available here. The collection covers the 6 latest web UI trends that will help a designer stay current.
2. Blog and Social Media Free Image Kit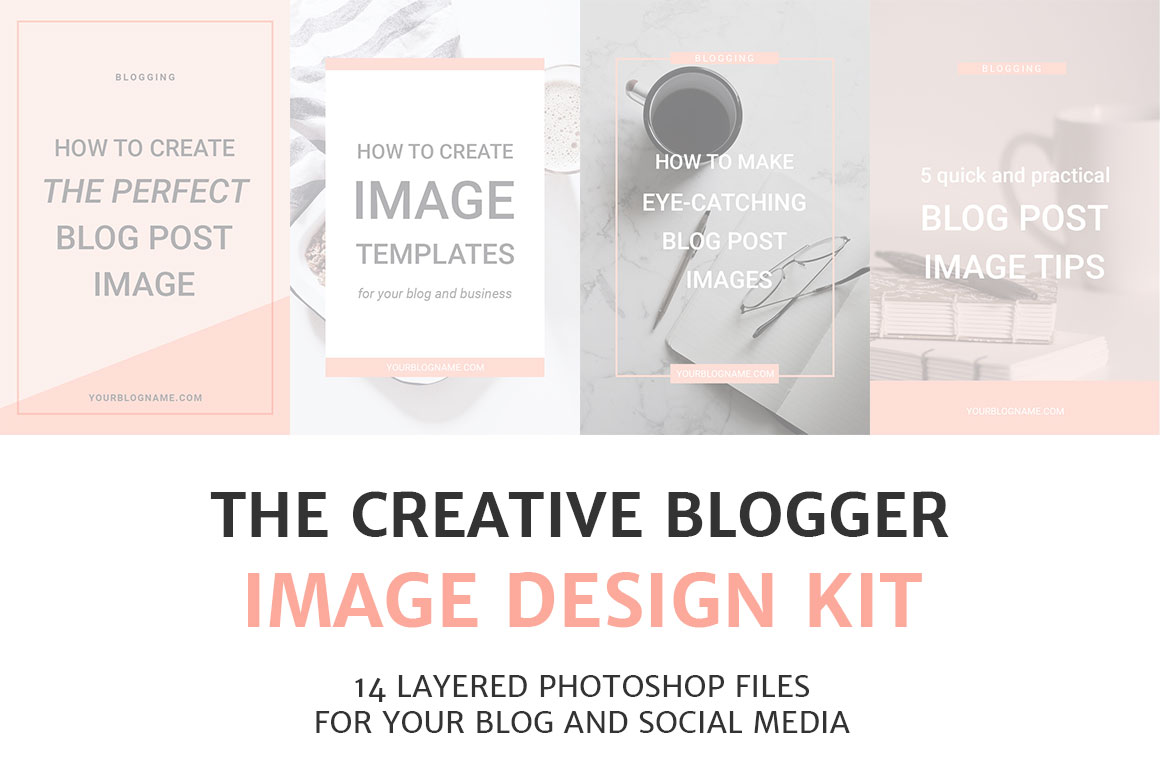 A free matching image templates bundle that will help you achieve a cohesive and professional look of your social media or blog. The bundle includes the most eye-catching images that will attract people to your blog and even convince them to return again and again. All image templates are completely editable so you can change them up to your needs and use as many times as you need. You can change colors and fonts as well as resize text and graphic elements to match your branding.
3. Tropical Bouquets Free Clipart Set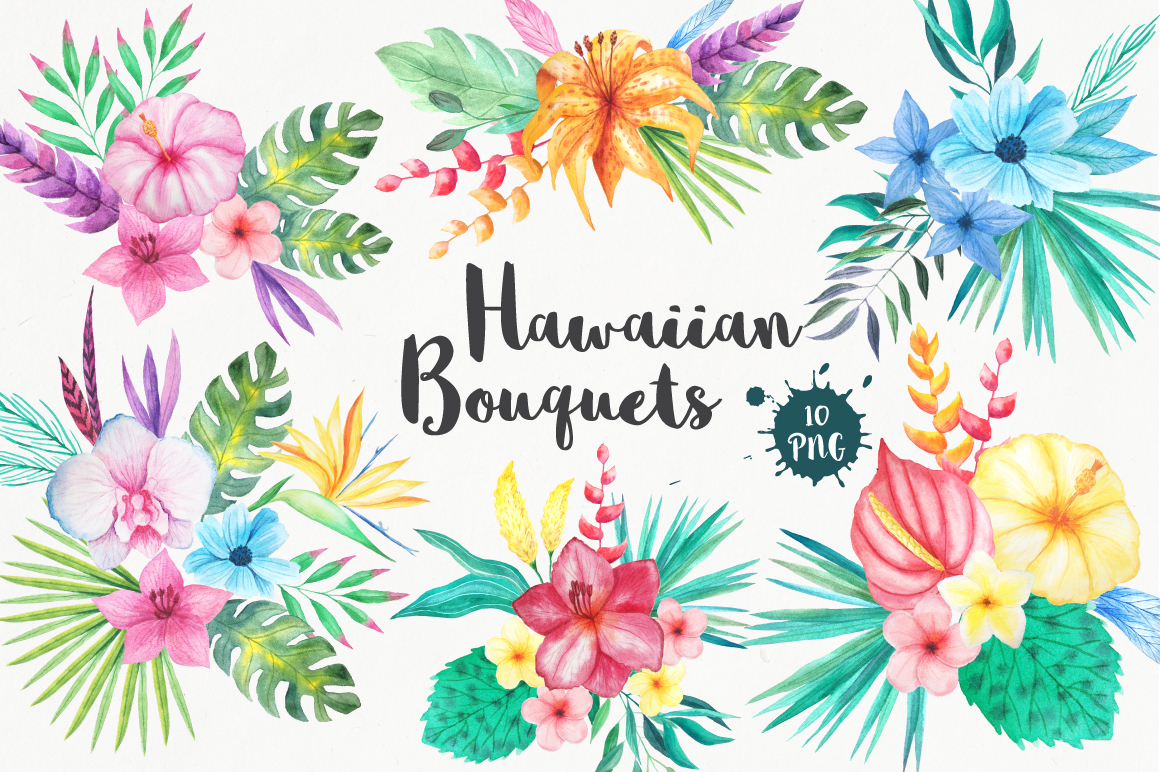 A nice free collection of watercolor tropical bouquets including 10 ready-to-use floral compositions and 2 Hawaiian frames. All elements are available in 300dpi high-res PNG file formats with transparent backgrounds. This amazing hand-drawn design collection can help you create a unique and tender do-it-yourself designs in tropical jungle style. The bundle is excellent for party and wedding invitations, stationery, blog design, logos, packaging, greeting cards, posters, banners, party tags, and more.
4. Textures of London Free Bundle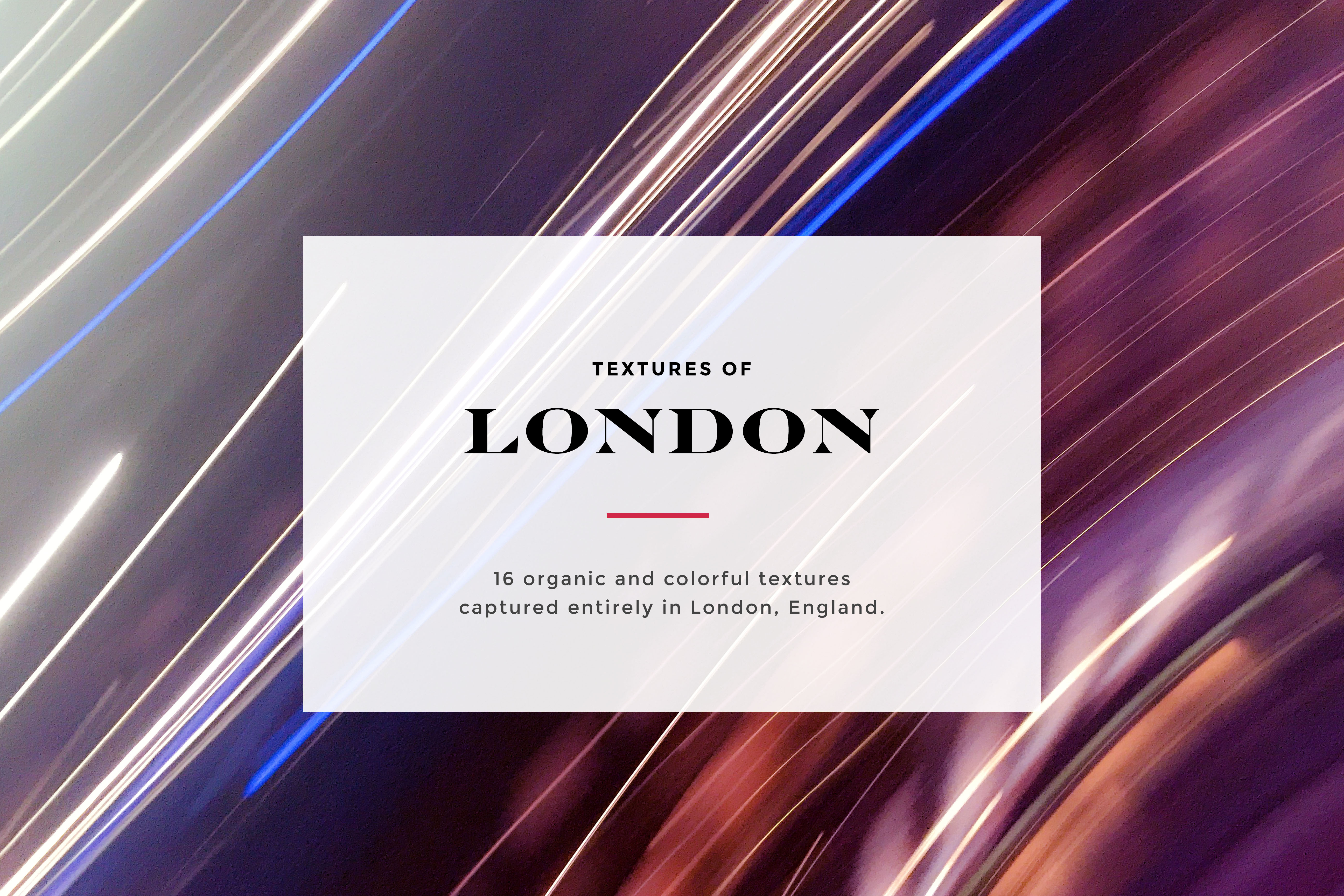 An awesome free bundle of textures including 16 high-resolution PNG images as well as a layered Photoshop file with each texture image on its own layer. This is a perfect solution to create a physical illusion and create any type of visual elements. Files are available in high-res 300dpi files as well as PSD and PNG formats. All files can be used under the terms of Standard license which means that all textures may be used to create end products for sale where lifetime sales doesn't exceed 500 units.
5. Type Lovers Free Dream Bundle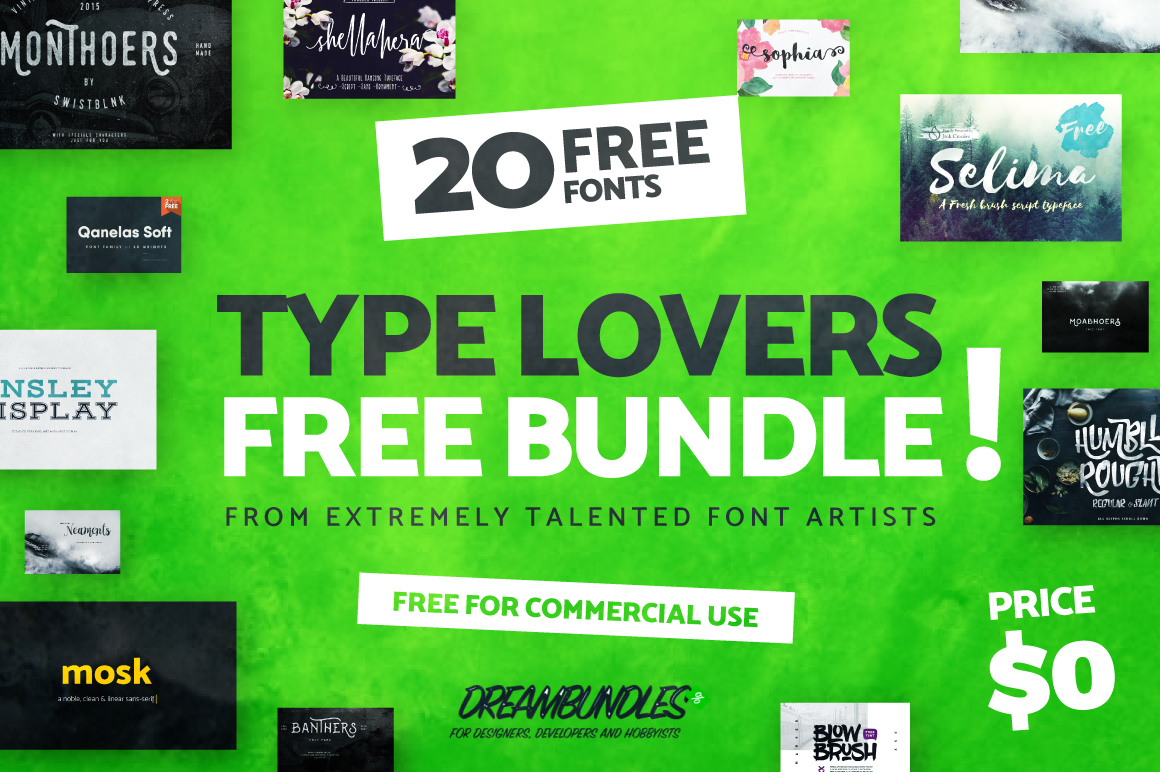 A stunning free bundle consisting of 20 beautiful graphic fonts for striking typography. Check out the fonts and don't worry about licensing after you download them. The bundle is free for commercial usage and contains only the best free fonts available in .otf and .ttf formats. Fonts are painted by extremely talented font artists and will surely be helpful for creating a magnificent typography for your various design projects.
6. 100+ Royalty Free PSD Product Branding Mock-Up Templates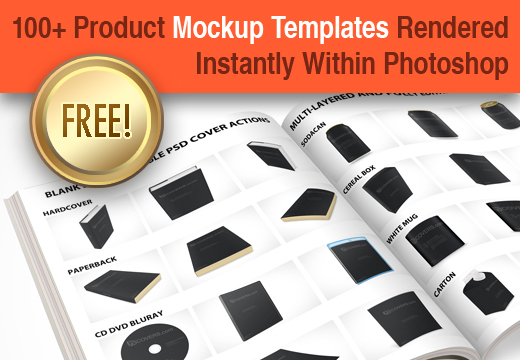 A freebie product mockup bundle which will help you save your time for creating product mockups to showcase a branding design. More than 100 popular Photoshop Actions taken from PSD Covers are available here to generate mockups for a great variety of products including hardcover ebooks, bags, magazines, flyers, envelopes, brochures, business cards, CD jewel cases, and more. The actions come with a Royalty-Free license so you can use them for presentations, banners, websites, backgrounds, and more.
7. 400+ Free Design Resources With Commercial Use License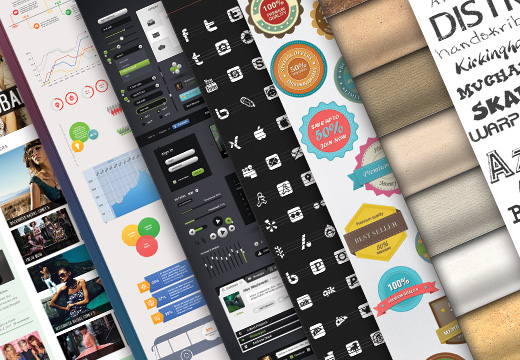 A tremendous free bundle of precious design resources that are going to save your time for creating your own ones and let you take more design projects instead. Make your name in design community by creating lots of unique projects based on readymade mockups, vectors, brushes, and more. Premium grunge brushes, tileable paper textures, subtle patterns, beautiful fonts, classic Photoshop badges, sets of buttons, lots of vectors, fonts, mockups, and other resources are available with this bundle.
8. Free Facebook Timeline Covers for Photoshop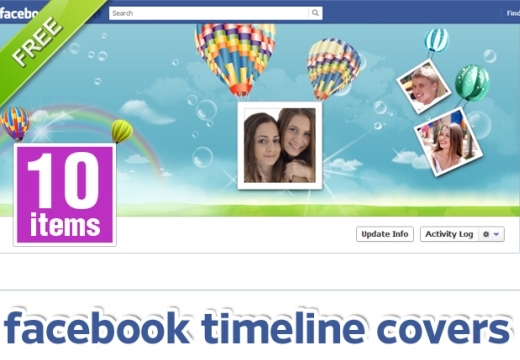 A great freebie consisting of 10 fully customizable Facebook timelines for Photoshop. They are specifically designed for those who want a beautiful cover photo but are short of time. You can also choose this bundle to create a couple of covers for a company's Facebook profile. Download them for free and use them for your perfect Facebook covers.
9. Design Asset Free Bundle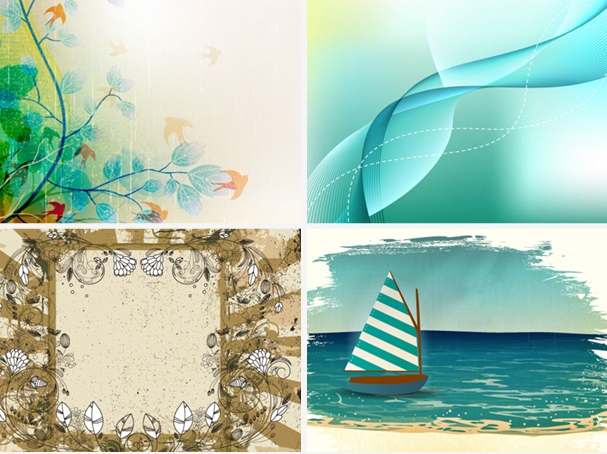 Here is a 1000$ worth free design assets bundle which is sure to give a fresh look to your next design project. You can choose it for websites, posters, brochures, and any other designs. The bundle includes plenty of illustrations, floral vector packs, Photoshop brush packs, fonts, text styles, and more. Files are available in AI, EPS, ABR, ATN and PSD formats.
10. Map Builder Free Toolkit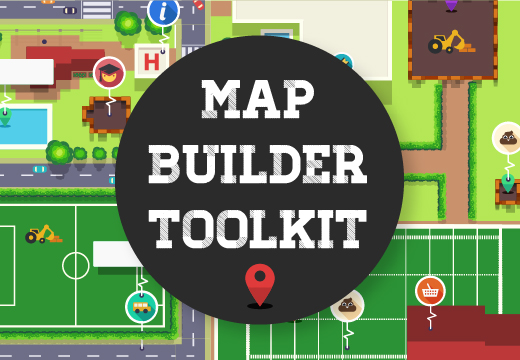 An amazing free map builder toolkit delivering a brand new and fantastic way to work with all the resources in one place. As the bundle has been reworked it has a significant increase in performance so you can easily work with your projects without being afraid that your computer handles that much strain unless you specifically want to. The kit includes the pre-built appearance of houses, roads, cars, and so on. Colors, shadows, and other elements are automatically applied. Icons, road marks, and other doodads are also pre-configured.
Premium Design Bundles for Your Inspiring Projects
And now we offer you to browse through the best premium design bundles we've gathered for your top-notch designs.
1. Sacred Geometry Premium Vector Bundle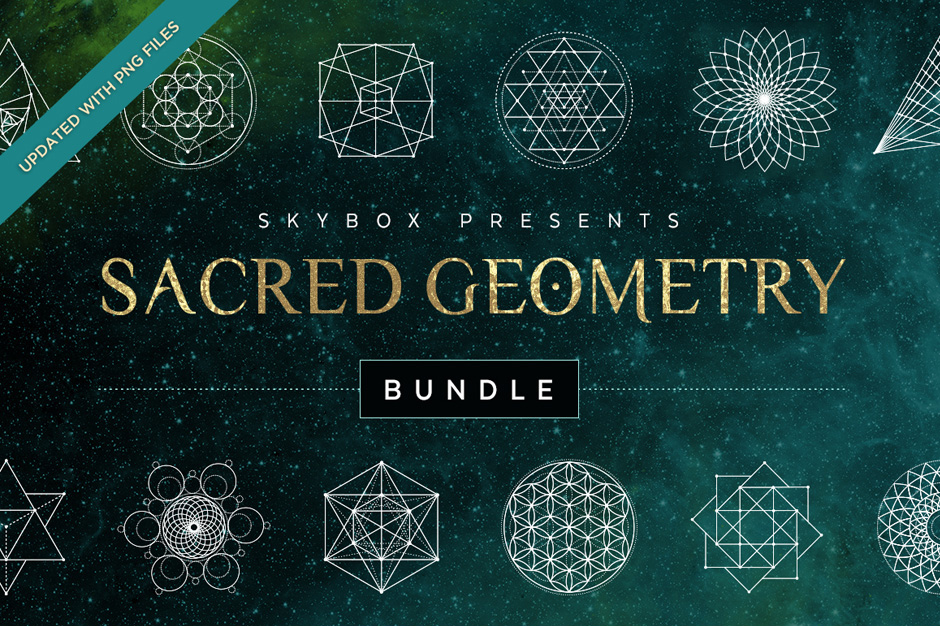 A great premium vector set which will make your work stand out from the crowd. The bundle comes with 27 completely unique hand-crafted design elements. All available illustrations are vector-based and easy-to-modify ones so you can edit them even if you have basic Illustrator knowledge. Vector graphics can be scaled to any size, both black and white versions of vectors are included.
2. Tasty Textures Premium Pack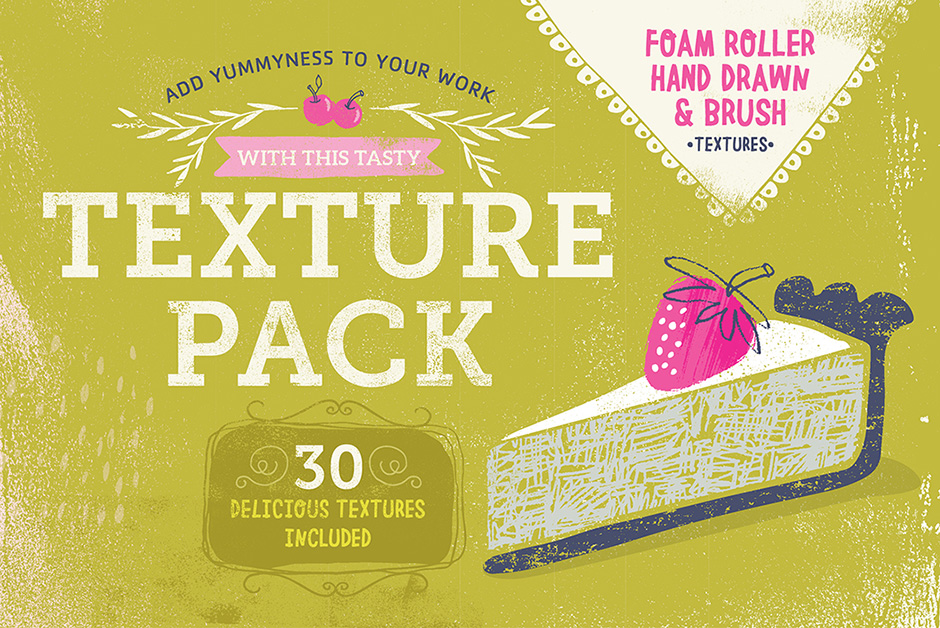 A nice premium pack of textures which will add sumptuous grunginess to your design projects. The foam roller textures are perfect for background complexity, and the hand-painted seamless patterns are excellent for shapes of any kind. The hand-drawn patterns are also available to make quick backdrops for an authentic look. The pack includes both vector and high-res PNG files as well as foam roller TIFF files.
3. Standard Issue Vector Premium Texture Pack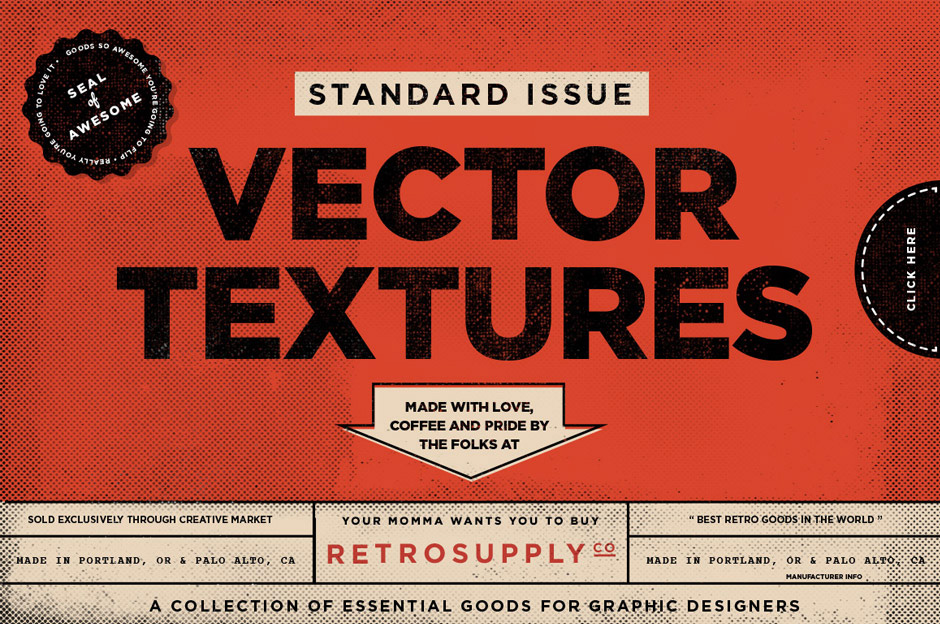 This is a truly massive premium collection of vector textures ideal for providing your work with an authentic distressed or subtle textures. A standard pack includes ready-to-use ink textures, subtly flawed halftone textures, halftone shapes, vector ink background images, beautiful engraved image vectors, sample pack of paper textures, engravings, shapes, and more. You will also get the Vector Texture Handbook which is a guide that will allow you get the most out of any vector textures you'll ever use.
4. The July Premium Bundle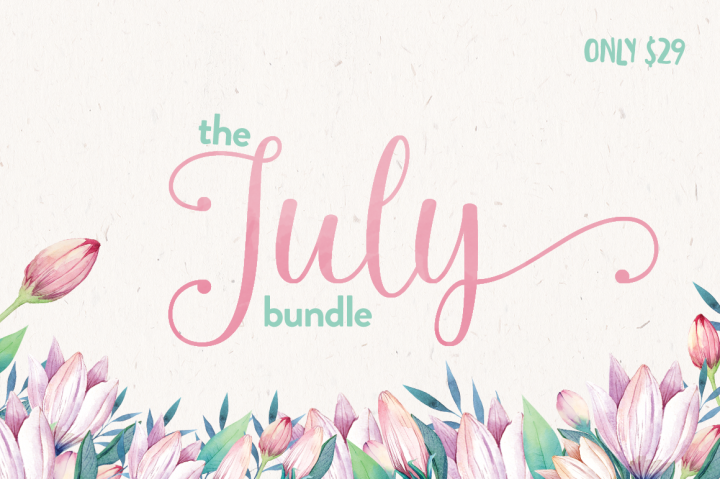 An amazing premium design bundle including 26 fonts and 22 graphic packs. All elements come with the TheHungryJPEG's (author's) Complete License covering all customers for a wide variety of commercial and personal activities. The collection is available until the end of this month so be hurry to get it for only $29. This beautiful collection is sure to come in handy for your next inspiring design project.
5. The Creative Designer's Premium Toolkit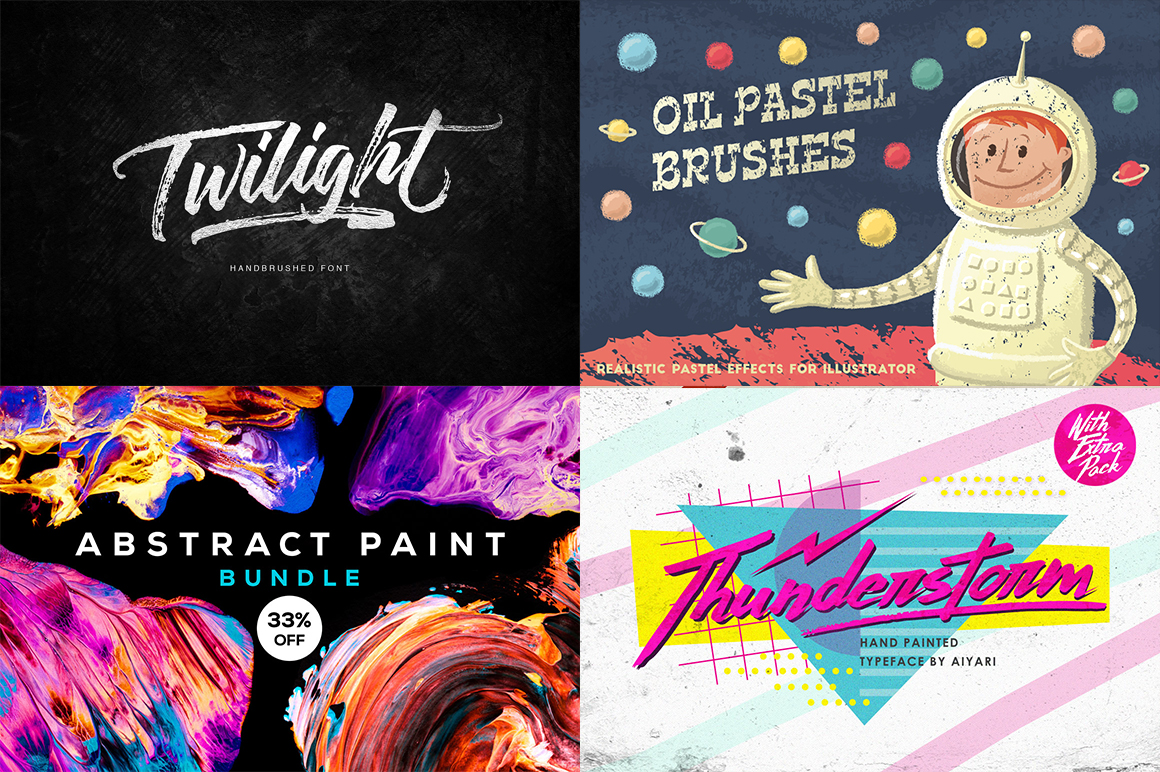 Another great premium bundle containing ultimate quality design resources to boost up your design to the next level. The bundle includes 25 perfect fonts and 1273 graphics which will be very helpful for your projects. It has never been that easier to create fancy and artistic stuff than it is now. No matter whether you want to create an artistic piece using brushes and actions or you need quality fonts and graphics for your designs, this bundle has got you covered.
6. Great Web Design Premium Bundle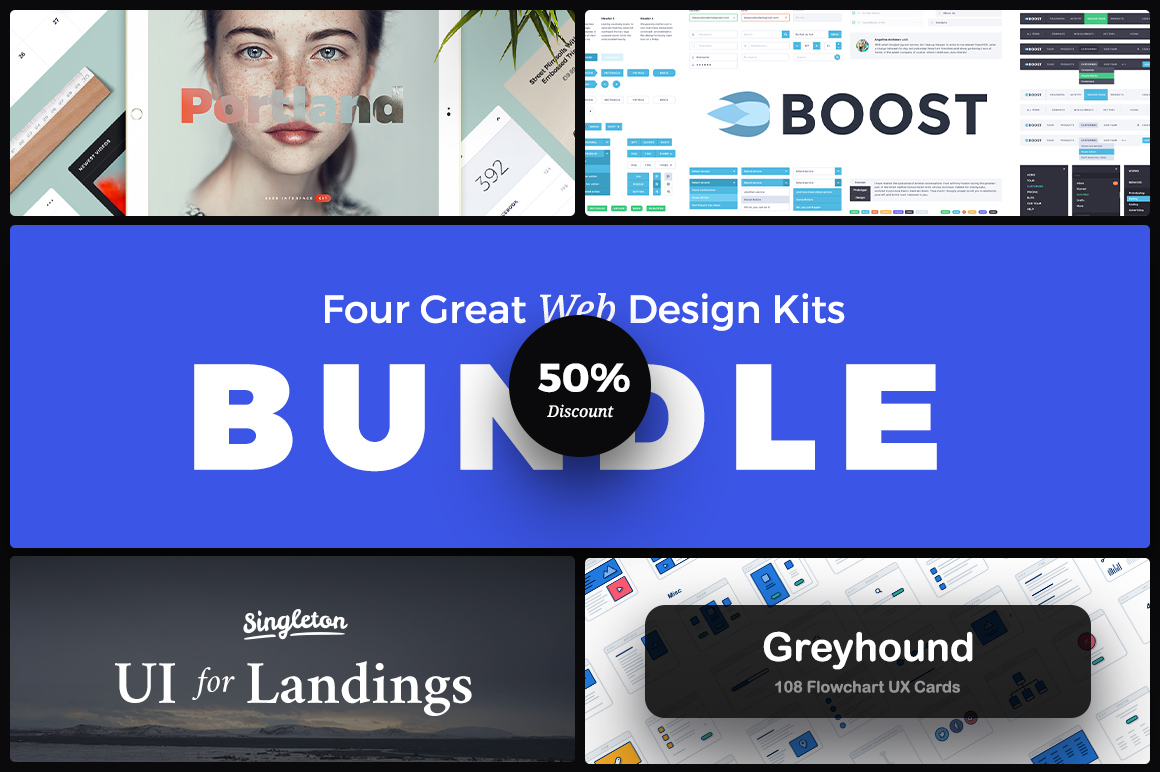 A magnificent premium web design bundle consisting of 4 perfect UI tools that is Portland, Boost UI Kit, Singleton and Greyhound. Portland includes some base design elements, Boost UI Kit includes content, buttons, general and navigation elements, Singleton consists of 120 elegant cards, and Greyhound has 108 flowcharts included. All elements are designed for Photoshop and Sketch.
7. Minimal Keynote Template Premium Bundle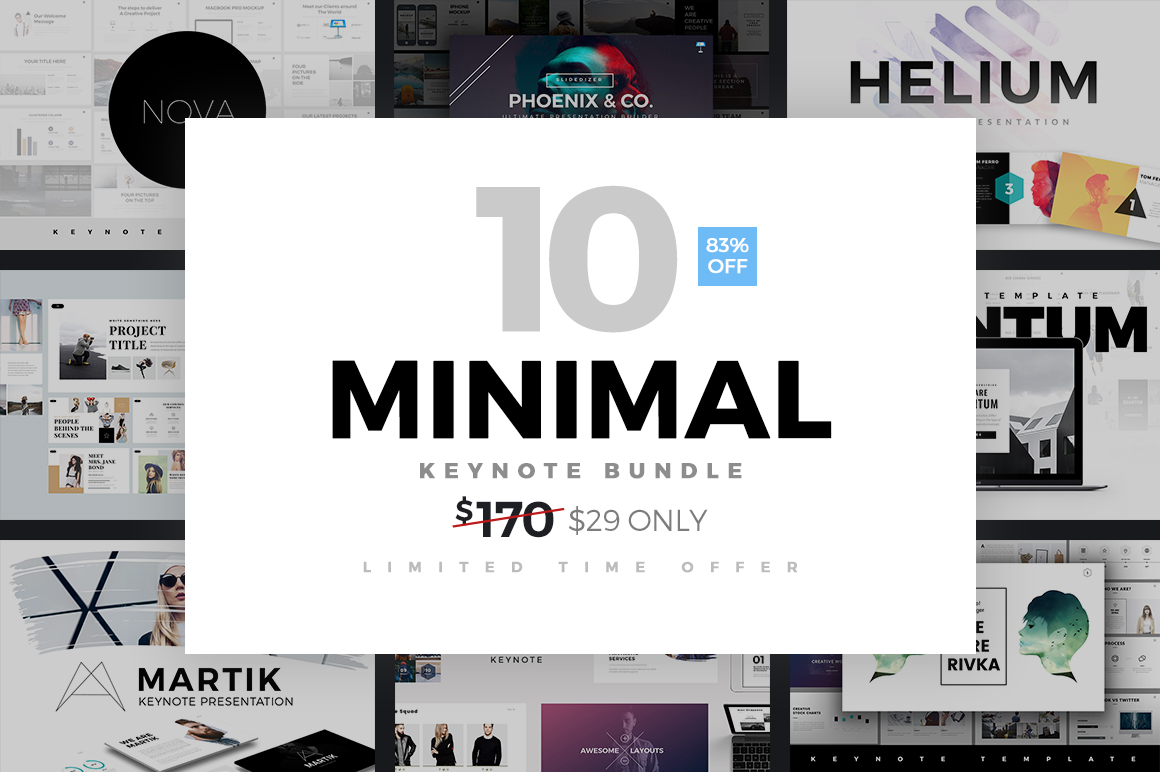 A gorgeous premium design bundle including 10 minimal keynote templates presentations for Apple Keynote Software. The bundle is created for Mac users and suitable for personal portfolio, creative agency, designer portfolio, illustrator portfolio, photographer portfolio, and more. The templates are easy-to-customize so you can replace images and texts until the template suits your needs.
8. Brochure Premium Bundle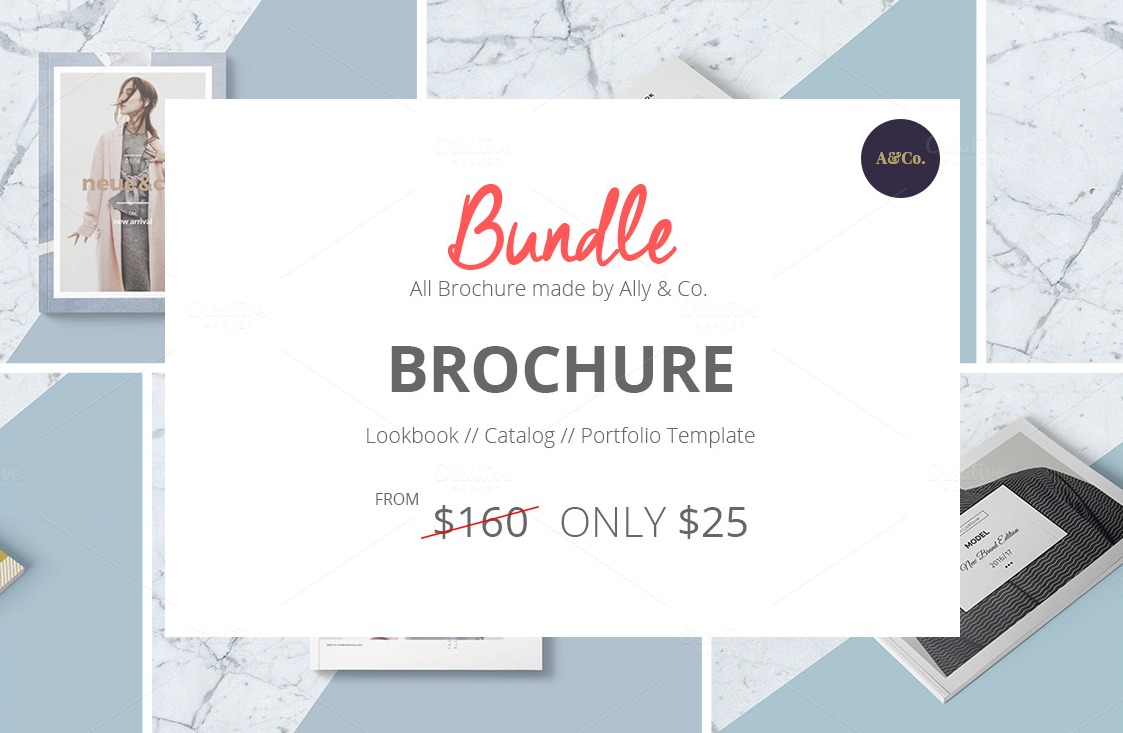 A minimalist premium design bundle with various layouts you can mix and match. You can choose any size of brochure templates both to publish them with A4 or US letter for printing or use them for any online publications. The template are created for Adobe InDesign, so if you aren't an expert, use tutorials included in PDF file which comes with the bundle.
9. Conscious Vector Premium Bundle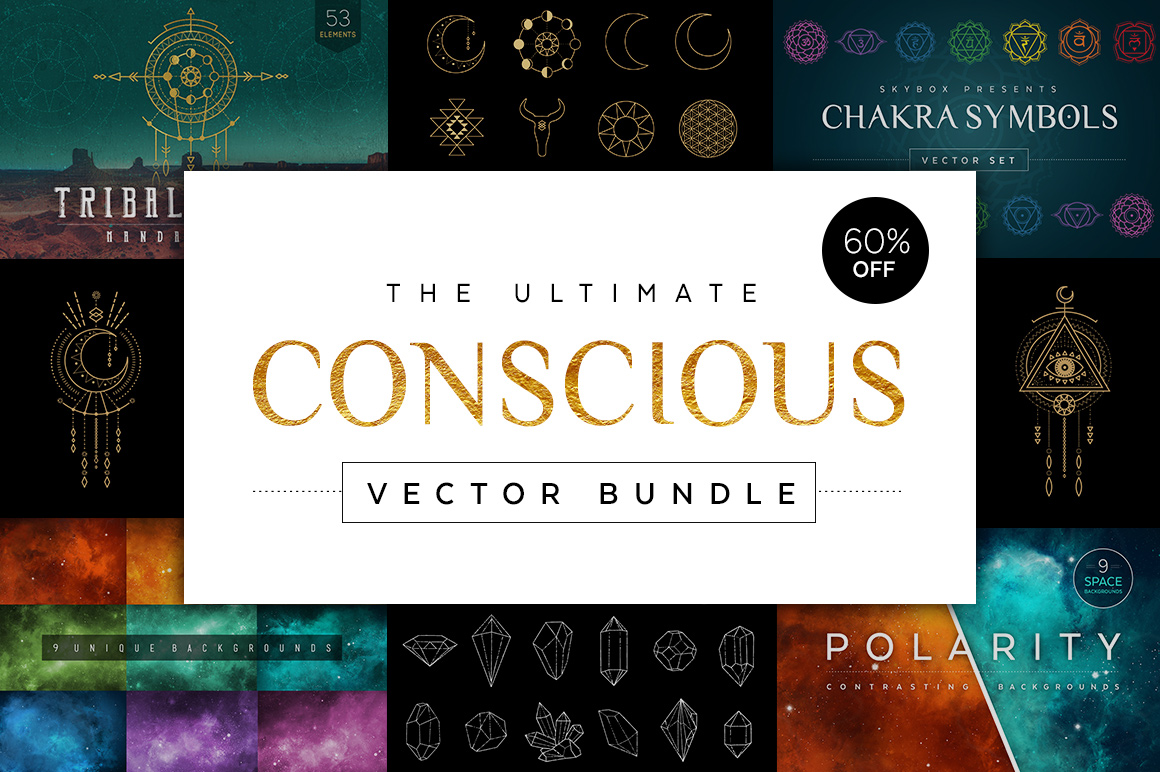 A perfect premium design bundle created to spread consciousness through design works and artistic expressions. The bundle includes Chakra symbols, tribal Mandala set, crystal vector illustrations, and Polarity – chakra-inspired universe backgrounds. If you have any questions please reach out the author to ask them.
10. Premium Font Bundle – Shop Bundle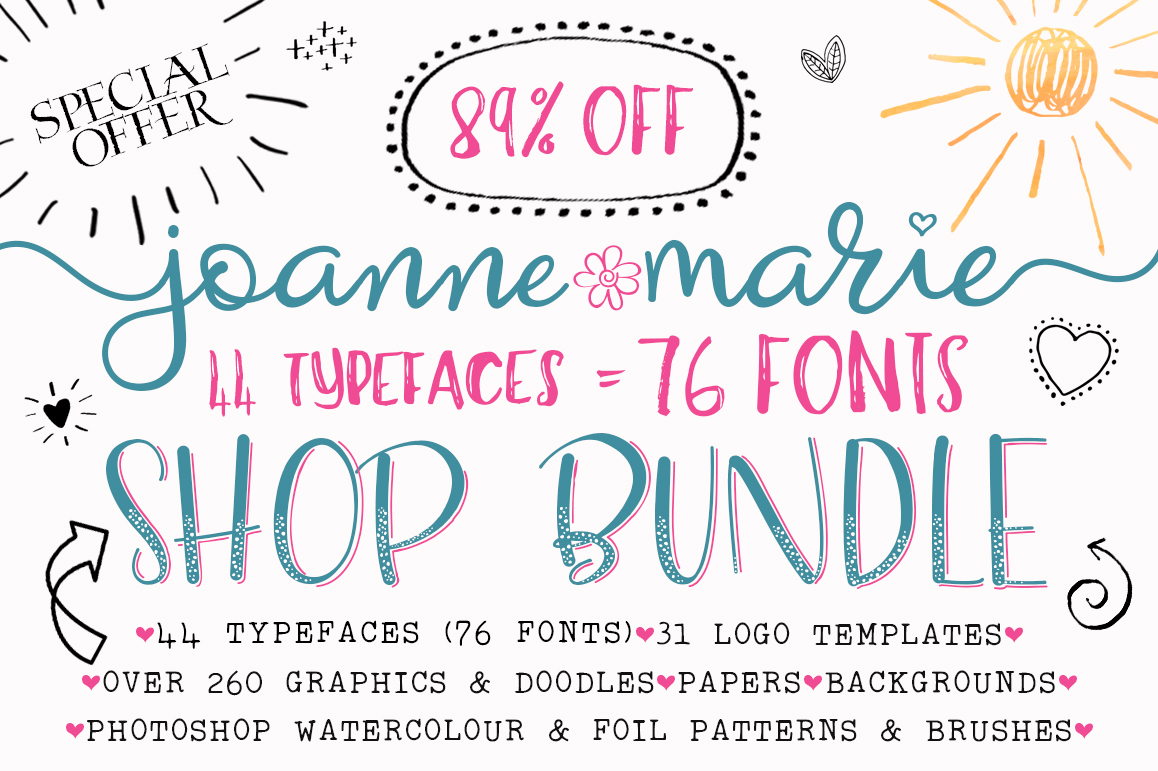 An interesting premium design bundle including typefaces and fonts, logo templates, graphics and doodles, papers and backgrounds, Photoshop watercolor and foil patterns, brushes, backgrounds and splotches, and marketing sets (Photoshop templates). Dropbox links included inside the Designers Kit and Funky Font Bundle Folder as well as Hide Away Folder allow to access the Photoshop Extras. You can use these products commercially.
Conclusion:
We hope these design bundles will assist you in creating fabulous design projects and get the most out of your creativity and talent.