Any creative web designer has a lot to do when it comes to building up a professional and engaging website. When it comes to design elements like icons or vectors, it is really useless to get busy with creating your own unique ones. A lot of modern freebies are available today for free so you can pick them up and use them for your design.
Icons are considered to be a basic requirement for any web project, and good icons are going to create a strong connection between a website and a user. The following free-to-grab collection of beautiful icon sets are crafted by professional web artists and sure to help designers in their work. Download and use them for free, but remember that reselling is prohibited.
1. Squid Ink Free Vector Mini Icons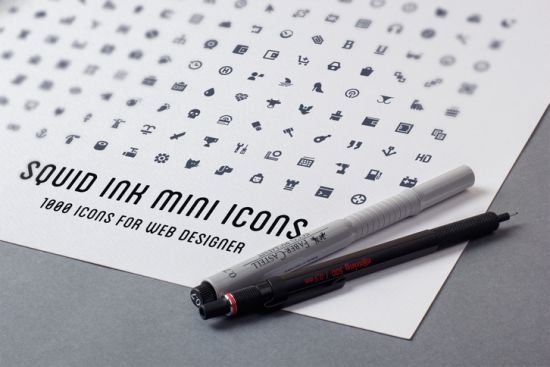 Minimalist design always stays on-demand and clean minimal icons always look stylish. This icon set consists of scalable monochromatic icons useful for various design needs. Here you can find icons and vectors for actions, control and navigation, editing and design, files and folders, and so on. Use this set in a user interface, mobile apps, package labels, and more.
2. High-Quality Free PSD Icons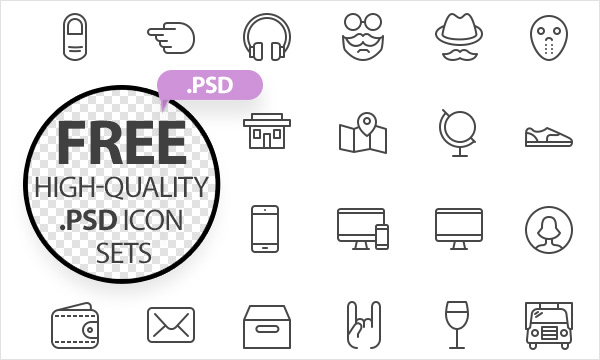 Today it is not that easy to find a really quality icon set for your design needs. If you intend to create an eye-catching design of course you need a perfect icon set to turn your creative ideas and imagination into reality. This free and good-looking icon set includes gorgeous selective PSD icons which are sure to be useful for your next design project.
3. Feather Free Icon Set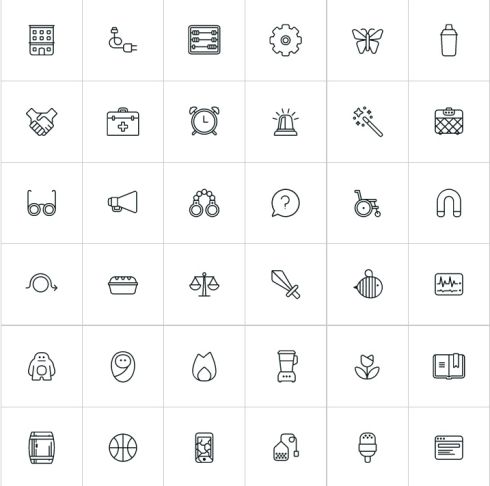 A series of 340 lightweight and pixel perfect vector icons which are absolutely free to download. Icons are applicable for using in monochromatic designs and would be perfect either for applications or websites. Choose any icon in the collection to review its description, find out its purpose, see it in original versions or in pixels. Download any icon for free and use it for your project just providing attribution.
4. Getting Around Free Icon Set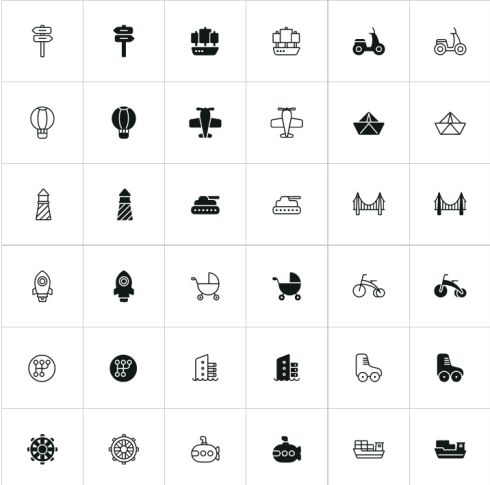 36 gorgeous icons from Feather and Stone collection by Shannon E Thomas. The set is represented as a series of images referencing driving, swimming, flying, and related actions. Such icons can be used on blogs about traveling, online booking services, online games, and more. These icons depict actions so use them to call to a certain action on a web page or in the application.
5. School Days Free Icon Set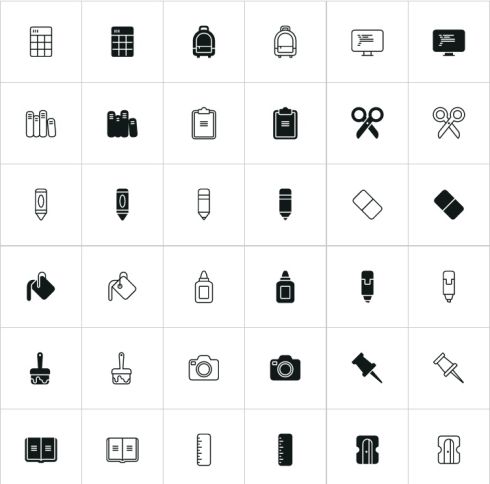 Another icon Set from Feather and Stone Series. The set includes 42 black and sharp icons which depict such actions as to code, to copy, to pin, to photograph, and more. Such images can be used for user interfaces, menu buttons, call-to-action buttons in online services, and any other designs. Icons are provided in SVG format and available as licensed cc-by, so download them for free and use them with attribution.
6. Sharp Corners Free Icon Set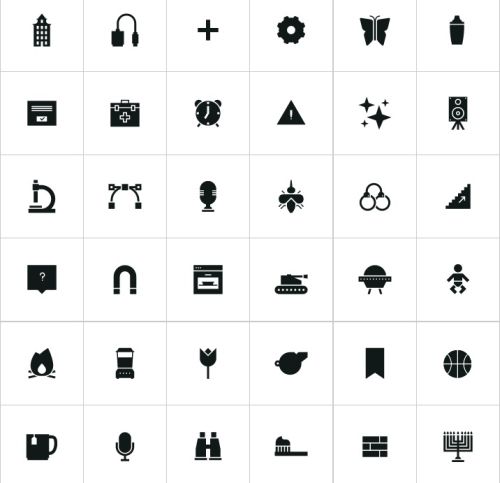 A set of 259 poster design icons is included in this collection. Icons are available in a single black color and applicable for monochromatic or any other minimalist design. Every image calls to a certain action such as to agitate, to add, to browse, to copy, to cut, to drop, to fill, and more. Hover over every item to see its intended purpose and find out if you need it for your design.
7. Duotone Free Icon Set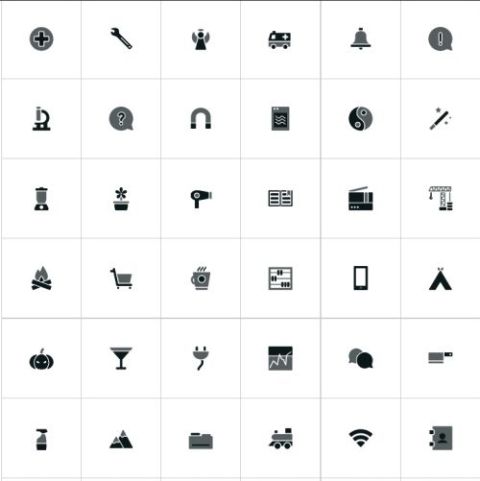 A set of 188 pixel-perfect icons for your various design needs. They can be used either for business or entertaining websites and crafted to call to action and interaction in applications or on websites. Before you download the set, you can check them out on a preview page; every icon can be used for call-to-action and menu buttons. You can download and use this set for free.
8. Barista and Coffee Lovers Icon Set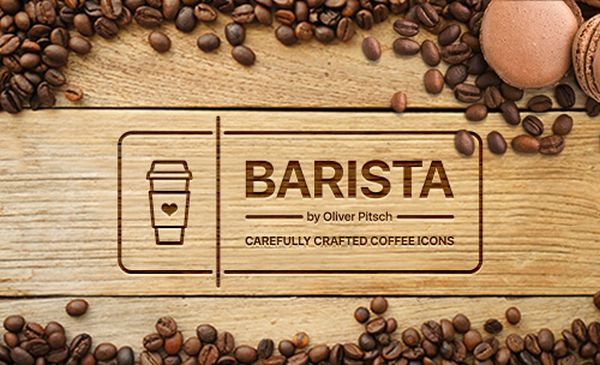 A set of carefully crafted vector icons is dedicated to all baristas and coffee lovers. They are drawn on a specific 256px grid adapted from iOS icon grid. Icons are available in PNG, EPS and SVG formats, so you can modify the size, color, and shape of them if necessary. Everyone can download this icon set for free and use it either for personal or commercial needs, no attribution is required.
9. CC-BY Free Icon Set
A well-designed set of colorful icons available in several series. Every icon depicts an action and can be used in online games, applications or websites. This set is going to create easy and understandable interaction between a user and the Web. If you log in through Twitter or Facebook, you can add this icon set to your collection or you can get it for free on a Producthunt.
10. Free Astronomy and Space Icons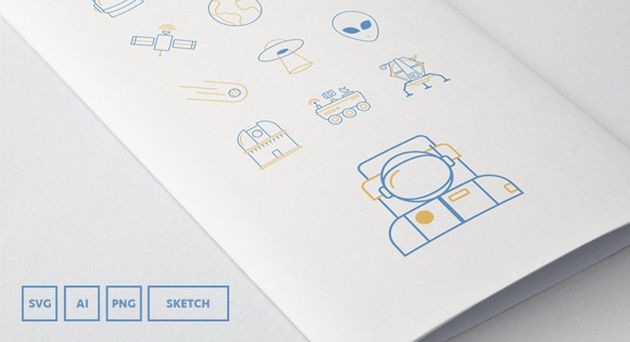 A set of beautifully designed space icons which consists of astronomy related images in a delicate two-colored line style. You can easily adjust a line style to any preferable color and size. As the icons are offered in Sketch, SVG, PNG, and several other formats, you can choose any graphic editor to change their colors, resize or customize them as much as you require.
11. Office and Business Free Icon Pack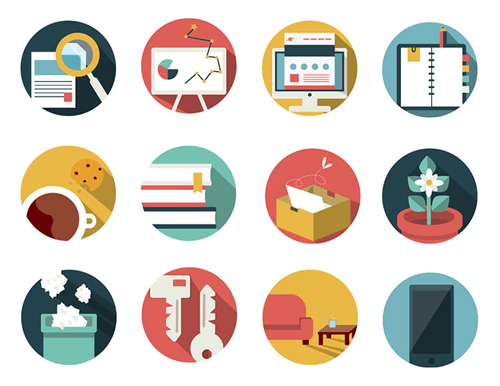 A great icon set applicable both for commercial and personal projects. This set is sure to come in handy when it comes to designing applications, websites or themes. This icon set is also free to be used for software, online services, and anywhere it is applicable. The set is available in two volumes: the first one includes 32 icons, and the second one has 60 icons to choose from. All icons are provided in Al, EPS, PSD, PDF and SVG formats.
12. Microsoft Office Free Icons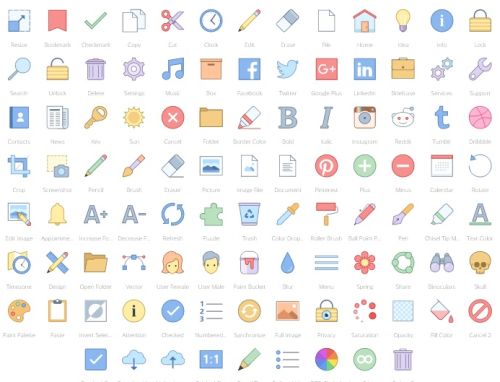 This set of free-to-grab office icons is a part of a large collection consisting of more than 18 thousand items provided by Icons8. All icons are designed to match Windows, Android, iOS and Flat color styles. Icons illustrate both actions and notions so they can be used either for software interface, websites or applications. This emotional and colorful icon set is sure to help you create an amazing design, so grab them for free and use them anywhere you wish.
13. Design Freebies Collection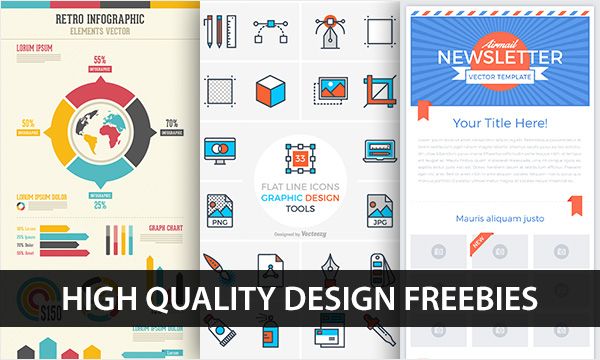 This pack of files includes not only free line tool icons but also contains infographics elements and a newsletter template. Flat Line Graphic Design Tools Icon set is one of the three amazing offerings that are created to dress up a design and make your next project a real masterpiece of modern design. This is a classy and timeless offering which is going to match any type of web project. Icons are available in SVG, PNG, AL, EPS, and PSD formats.
14. 365cons: A Daily Icon Diary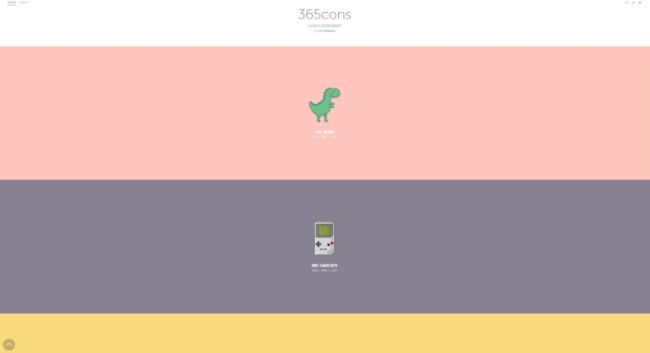 This is a side project from a visual designer Amy Devereux. A new icon is posted here every day and stays available for free in PNG and SVG formats. Creating every single icon allows the designer explore new styles and practice new design techniques. Everyone interested in that project can try fresh icons every day, and use them in their designs. Images are colorful and bright.
15. Fandom Free Icon Set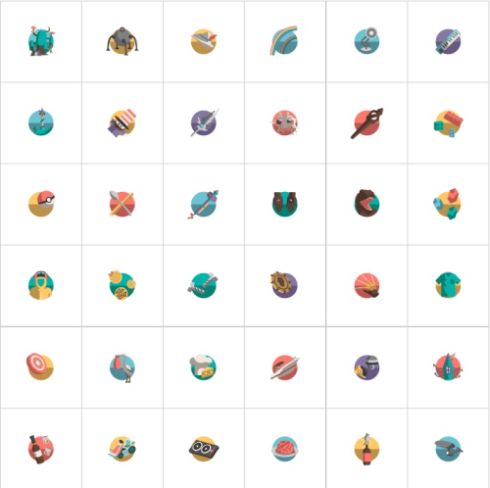 A pixel perfect icons referencing famous movies, popular shows and well-known mems are included in this set. A collection consists of 150 images being absolutely free for personal and commercial usage. Open every item on its preview page to see the icon in original version and in pixels, review its description and download it for free. You can use these icons ether for applications, software, websites or online services.
16. Circle Social Media Icons: Free Version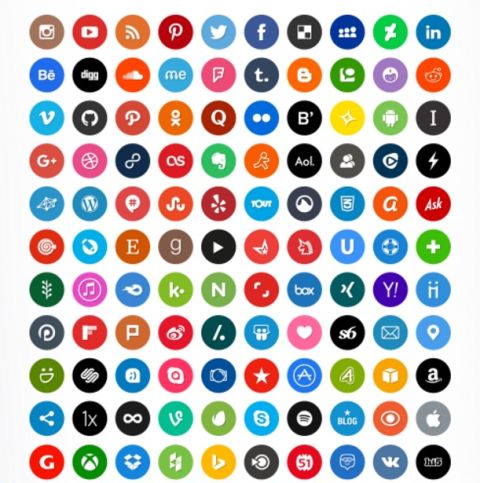 A set of 250 round social media icons which were made with the thought of both light and dark backgrounds. These images are sure to bring vitality to a blog, social network or any other entertaining website. They will not only make a web page look attractive for visitors but can serve as call-to-action buttons and hold onto the daily traffic. Choose the free version to download and use it either for personal or commercial needs.
17. Months of the Year Free Icon Set
A free set of 12 images available in PNG, EPS, PDF and SVG formats and applicable for using on blogging sites. The icons are crafted in cartoon style and represent the months of the year including their holidays and significant events. You can change the color, size and shape of the icons and use them without any attribution. Individual pictograms or any reselling is not allowed.
18. Free Healthcare Icon Set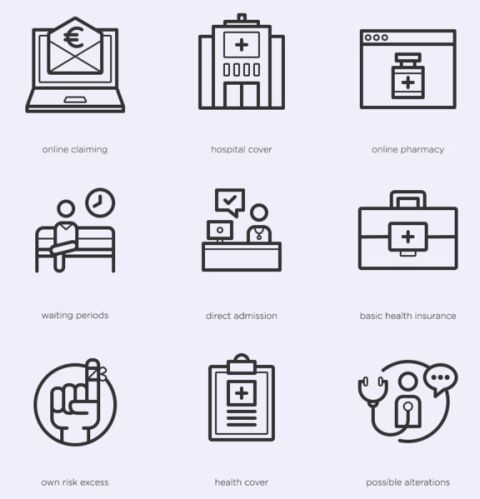 A free healthcare icon set which is the greatest choice for medical related and healthcare insurance websites. The set consists of 12 pixel perfect icons available in PSD and Al formats ready for customization. The items depict such notions as hospital cover, waiting periods, basic health insurance, possible alterations, and more. Download the icon set for free and use it either for your personal or commercial needs.
19. Cities Free Icon Set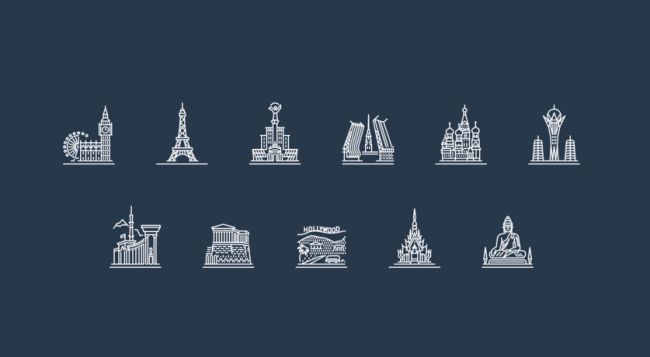 A set of free linear icons applicable for using in the international website. The set includes 11 large cities and capitals as well as 8 countries. Every city is visually represented here as the picture of well-known sightseeing attractions such as some buildings, monuments, and other objects. Icons are free to download and use for any kinds of design. Just provide reference to the author's page on Behance.
20. Bank and Money Free Icons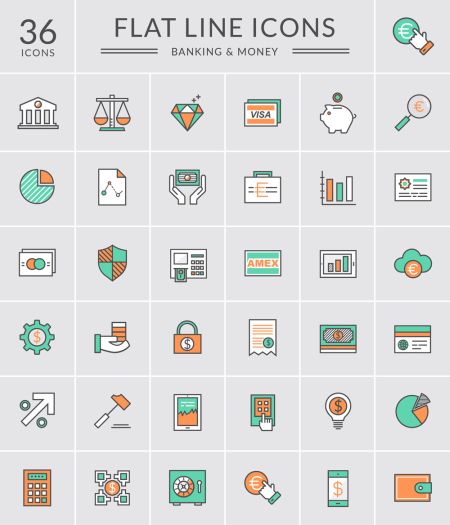 A nice set of 36 free bank and money icons for commercial related applications and websites. They come in PSD, PNG, SVG, Al and EPS formats and vector shapes so they are very easy to edit and resize. Use these icons either in the sidebars, footer or header of the website and make your web pages look more attractive for users. Download the icon set for free.
Conclusion
Review the collections and choose any of them that suit your online project the best. Feel free to share your thoughts and questions in the comments.