When it comes to building a website for a real estate agency one should think about two main aspects – design and functionality. Website design is a visual business card on the Internet market, which helps to attract potential customers and boost your business on the web.
In terms of real estate area, key elements here are arrangement of the information on the page and color scheme. Combination of white, black, grey or brown hues are recommended, rather than extremely bright colors such as rich orange, green or yellow. The later can distract people from the main information on your site and make them simply close it. What concerns "correct" location of the informative blocks, photos of the apartments/houses you would like to offer. The Home page of the real estate website should disclose special deals and the best proposals. People should not wander numerous pages, but see the most important information right on the first page after opening your site. Also, menu section should be divided into logical blocks, for instance, "Selling", "Rentals" etc. The functional aspect of a real estate website should be paid as much attention as its look. Using various types of sliders (carousel, accordion), image galleries with different view modes, allowing your customers to see each item in detail will essentially contribute to your business growth. Advanced search options including sorting items by price, location etc. simplify searching process for visitors, thus saving their time and increase chances they buy an apartment on your site. Thanks to a wide variety of ready-made web templates available today on the web, real estate brokers can easily choose a suitable design for their business.
Below we would like to present a collection of top 15 CMS website templates for real estate agencies released in 2014. These templates incorporate a clean-cut design, custom pages layouts, various functional features such as sliders, photo galleries, search bars with advanced options, wishlists etc. allowing you to build an up-to-date professional website for your business without efforts and successfully promote it online.
Land Broker Turnkey Website 2.0
Elegant theme incorporating panoramic backgrouns slider, animated drop-down menu will be a perfect choice for a rental agnecy. Layouts of the pages allow to easily display featured items right on the Home page. Thus, drawing visitor's attention to the most significant information at once.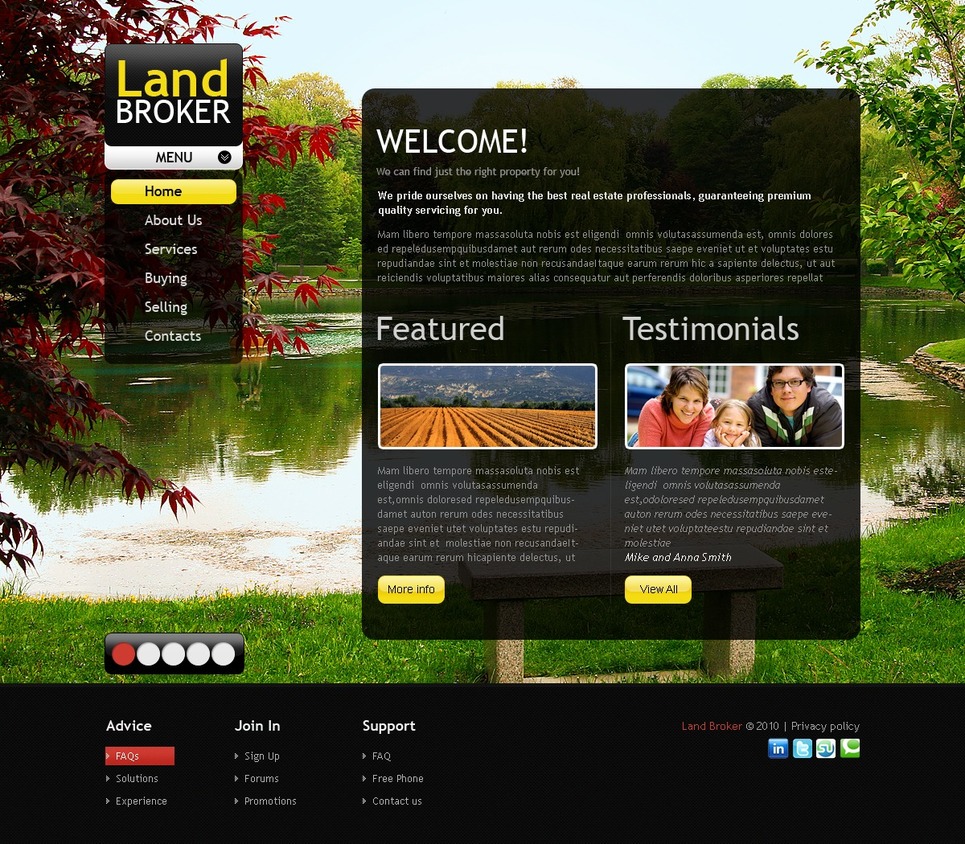 Real Estate Turnkey Website 2.0
Take advantage of the carousel slider in the header section of the template which lets you expediently showcase your top sellers or house rentals. Detailed information on the items smoothly slides up when hitting "More info" button.
Real Estate Agency Turnkey Website 2.0
This website template for land brokers agency features a large header image slider for showing the bestsellers of your company. The template also has custom built blocks for disclosing your latest offers and best proposals, as well as an easily customizable search box.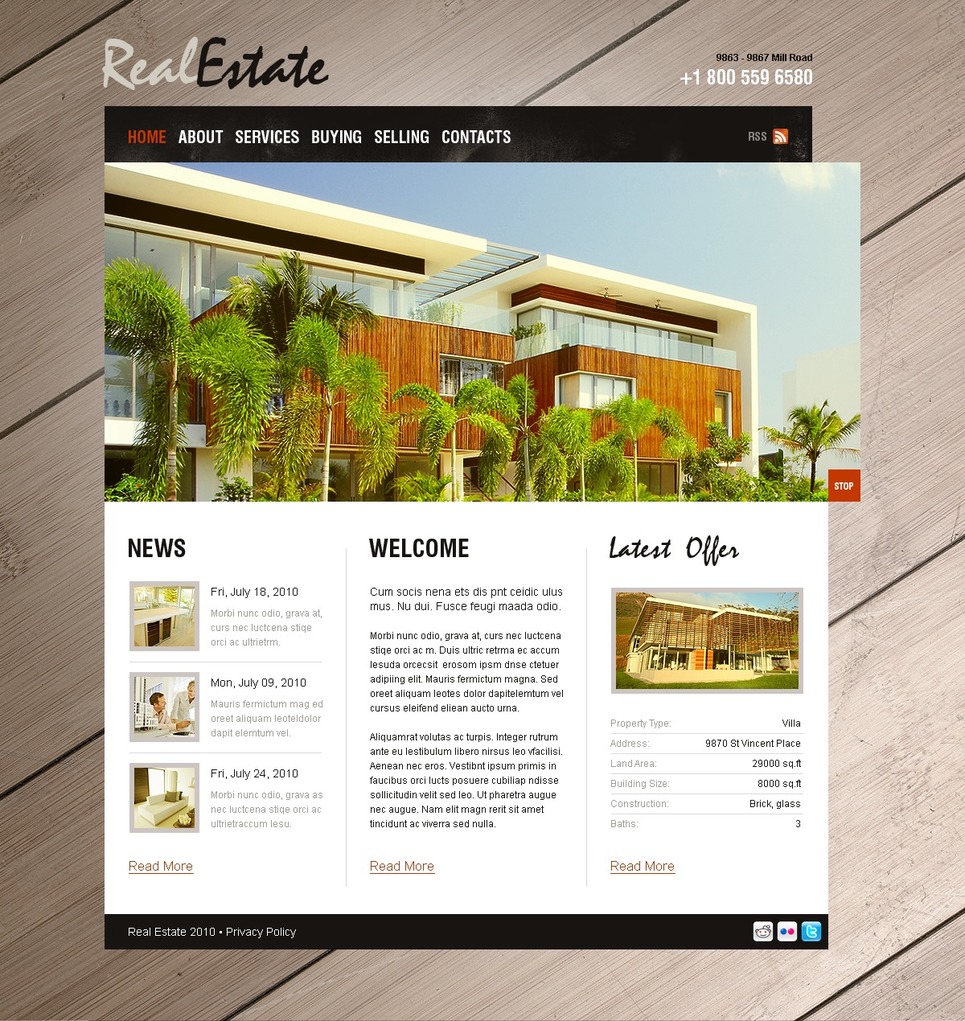 Mortgage WordPress Theme
This feature-rich WordPress theme will be a good choice for a mortgage company. The web design combines a categorized photo gallery and ready-to-use blog widget with advanced commenting and social sharing options.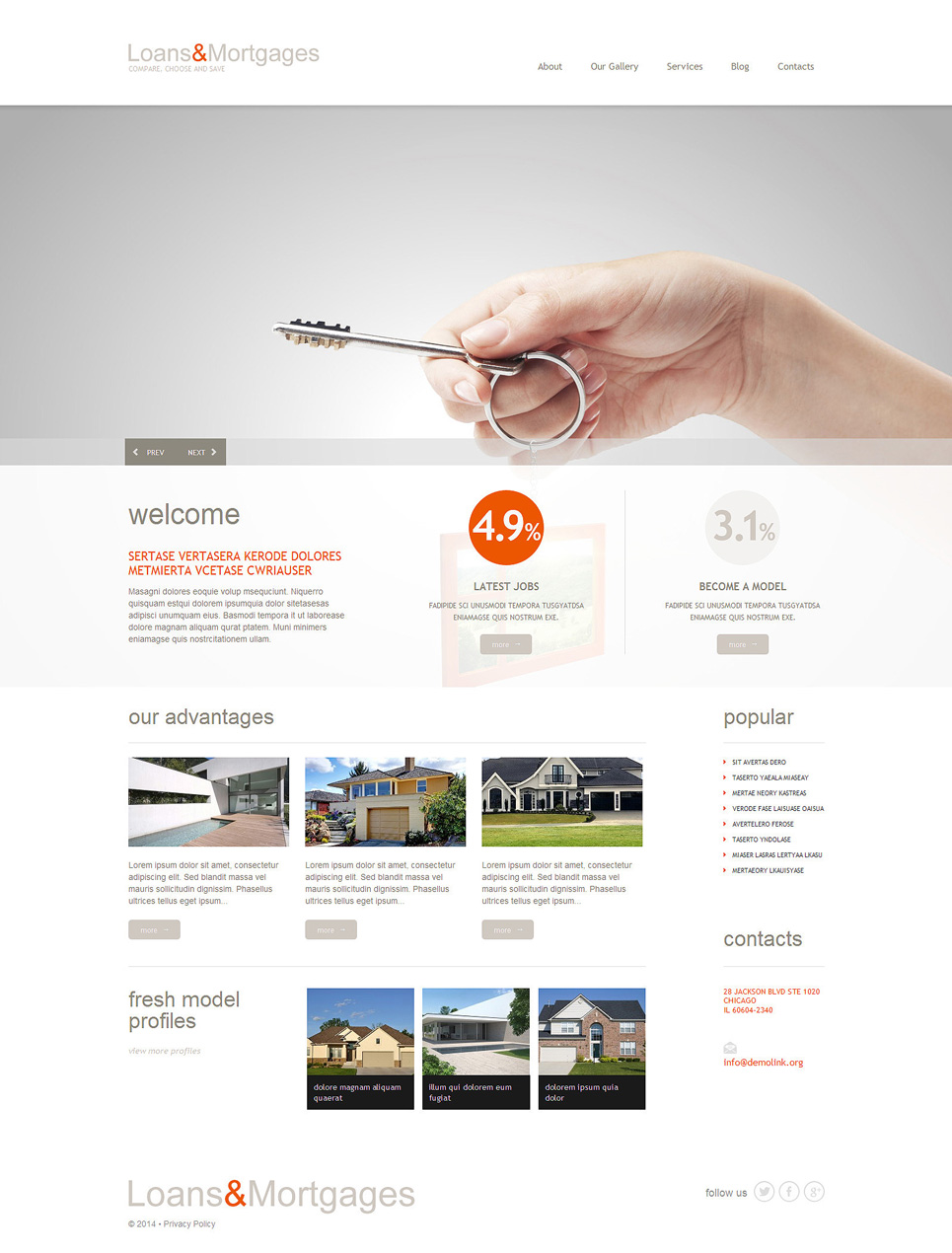 Rent Buy Property WordPress Theme
Already optimized for mobile devices with parallax effect, this template allows you to arrange as much information on one page as required. Back-to-top button lets visitors easily navigate the content boxes within 1 page. Animated news section, custom built photo gallery of featured offers and other options beneficially supplement this sophisticated design.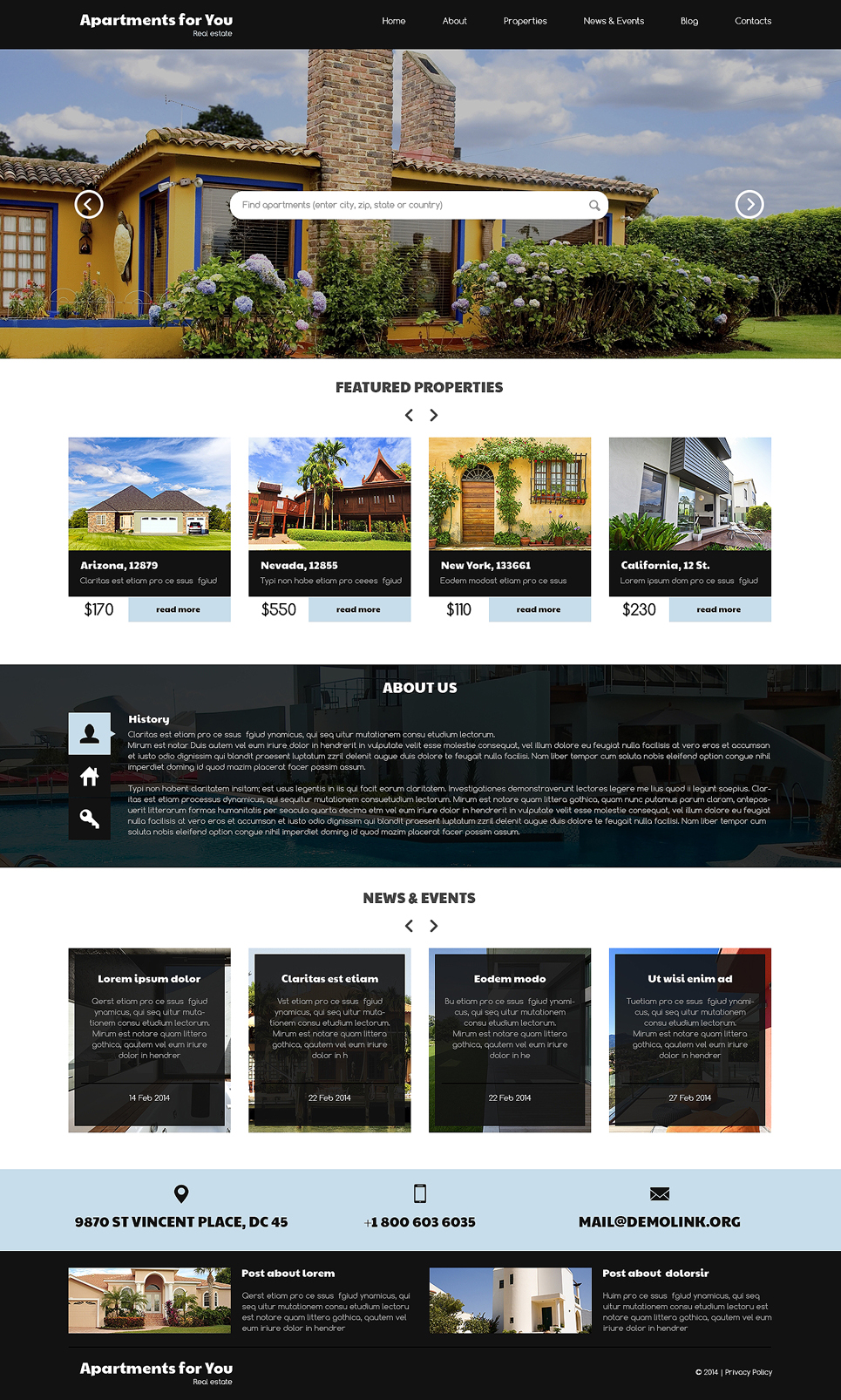 Apartments for Rent WordPress Theme
Build a smashing website for your rental business with this stylish design. The template has a lazy effect built in, which improves site loading speed and server bandwidth. Animated menu buttons, gallery widget with enlarge option and other various functional features incorporated in the template help you to create a stunning site for real estate agency.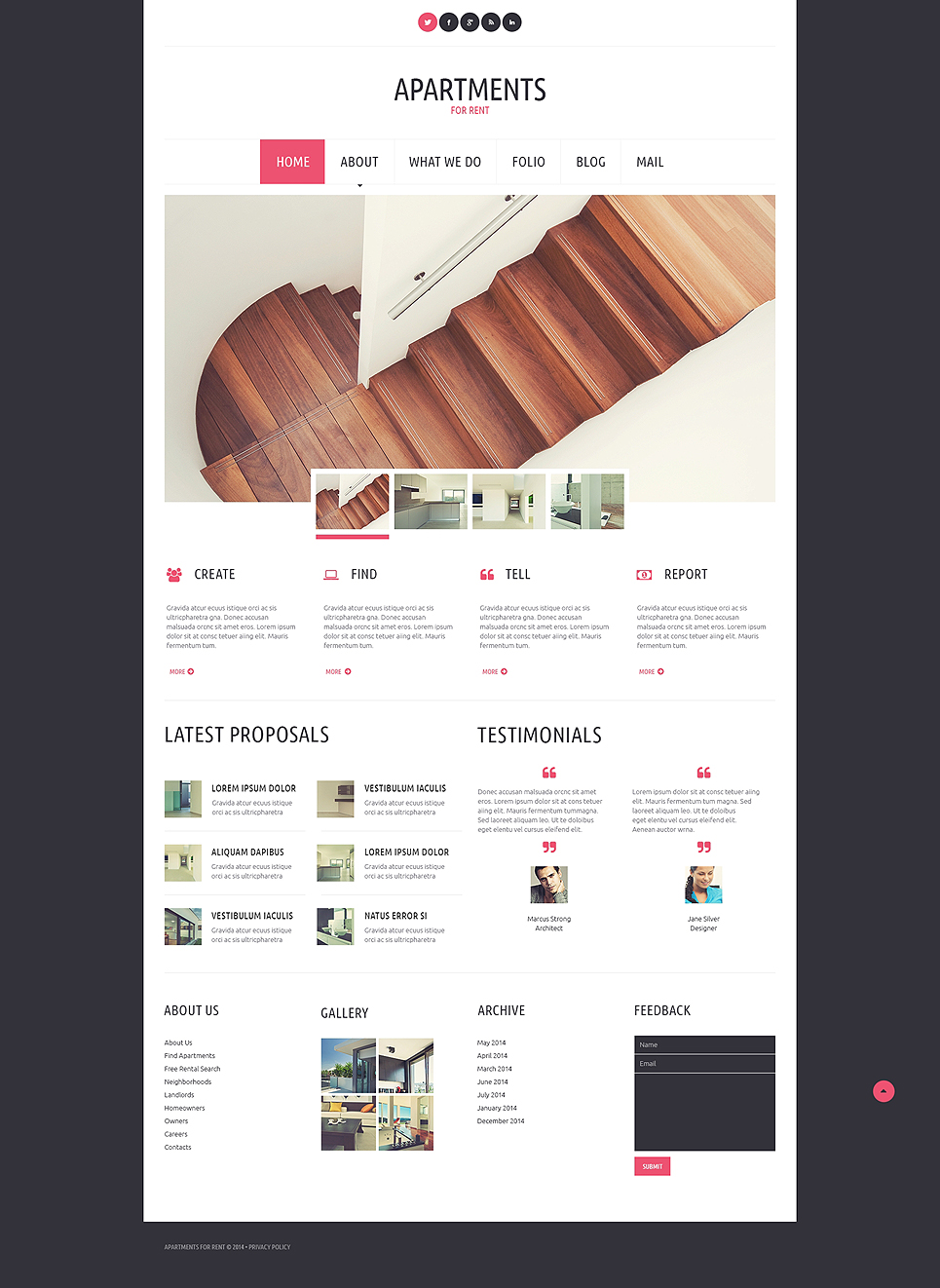 Home Bureau Joomla Template
Joomla template for real estate business incorporates a crisp design and cutting-edge functional features, such as animated portfolio with filters, animated blocks with read more sections and panoramic image slider.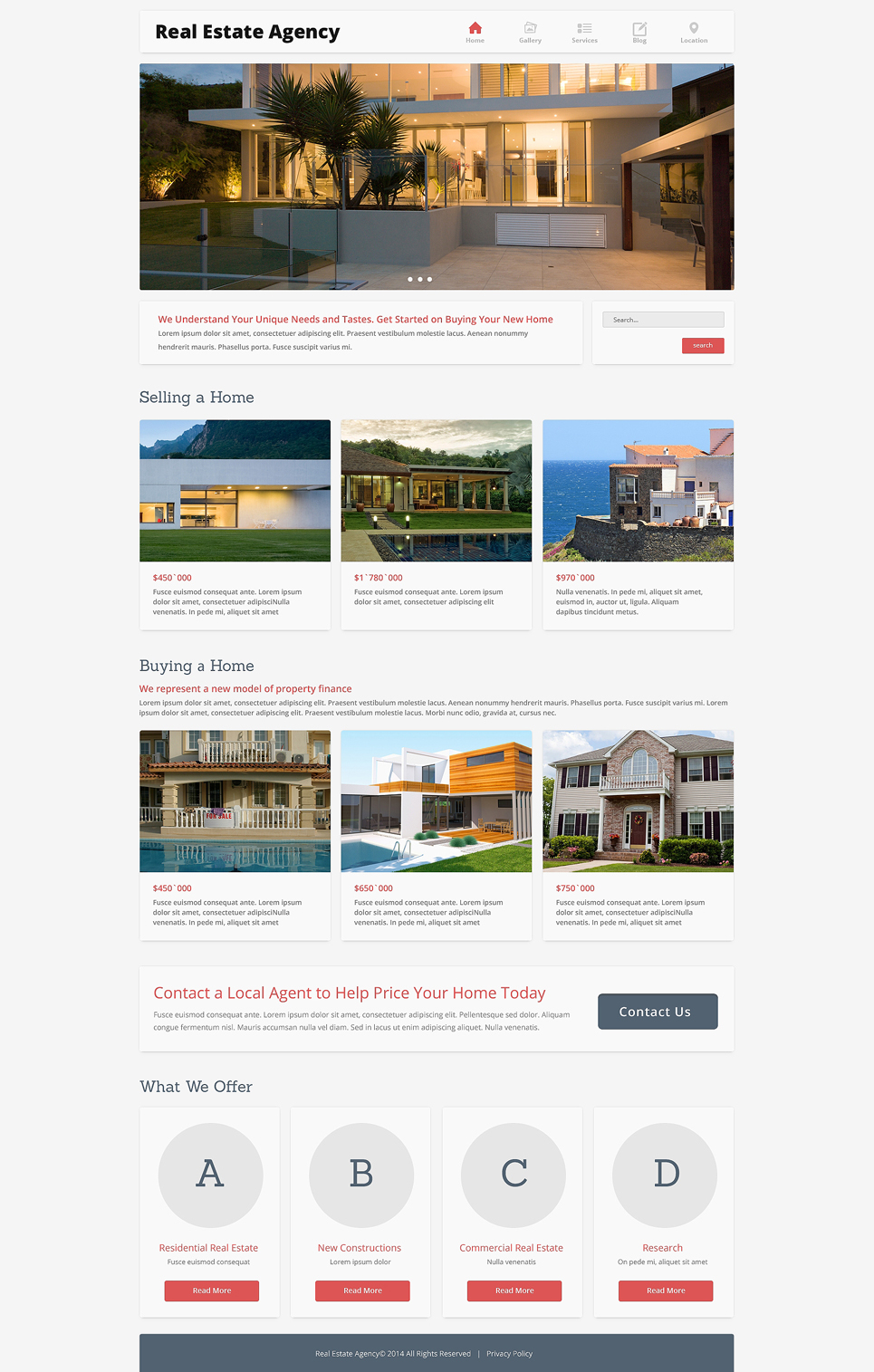 Real Estate Agency Responsive Joomla Template
Take advantage of this elegant and sharp design. The template includes a large slider on the Home page, multi-functional image gallery with a slideshow image view mode. The template is fully editable and already adopted for viewing on smartphone, Iphone, tablet and other mobile devices.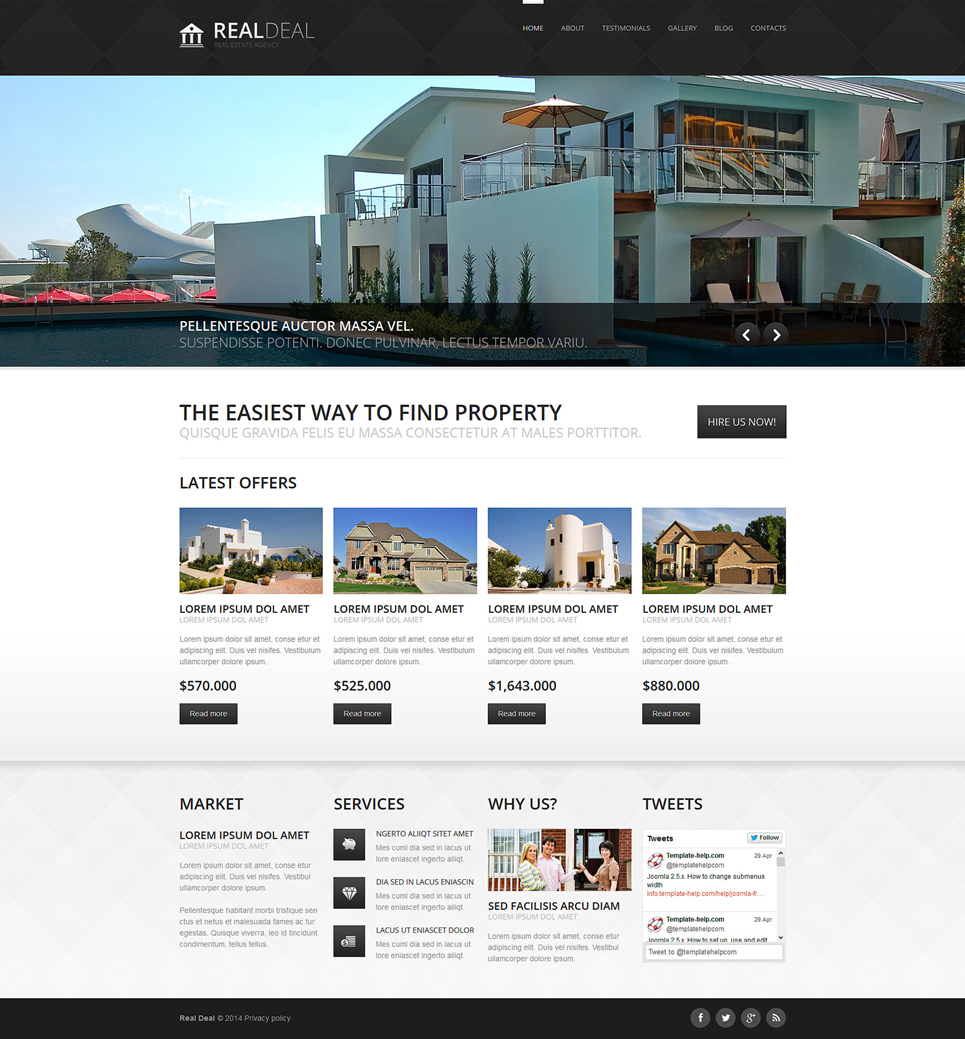 Apartments for Rent Joomla Template
If you would like to create a professional website for promoting your apartment rental/selling services then this website template will be a perfect choice. The template already includes various types of contact forms (newsletter subscription, user registration and log in forms). Other advanced functional options (search bar, sortable image gallery, slider etc) are also integrated into the template.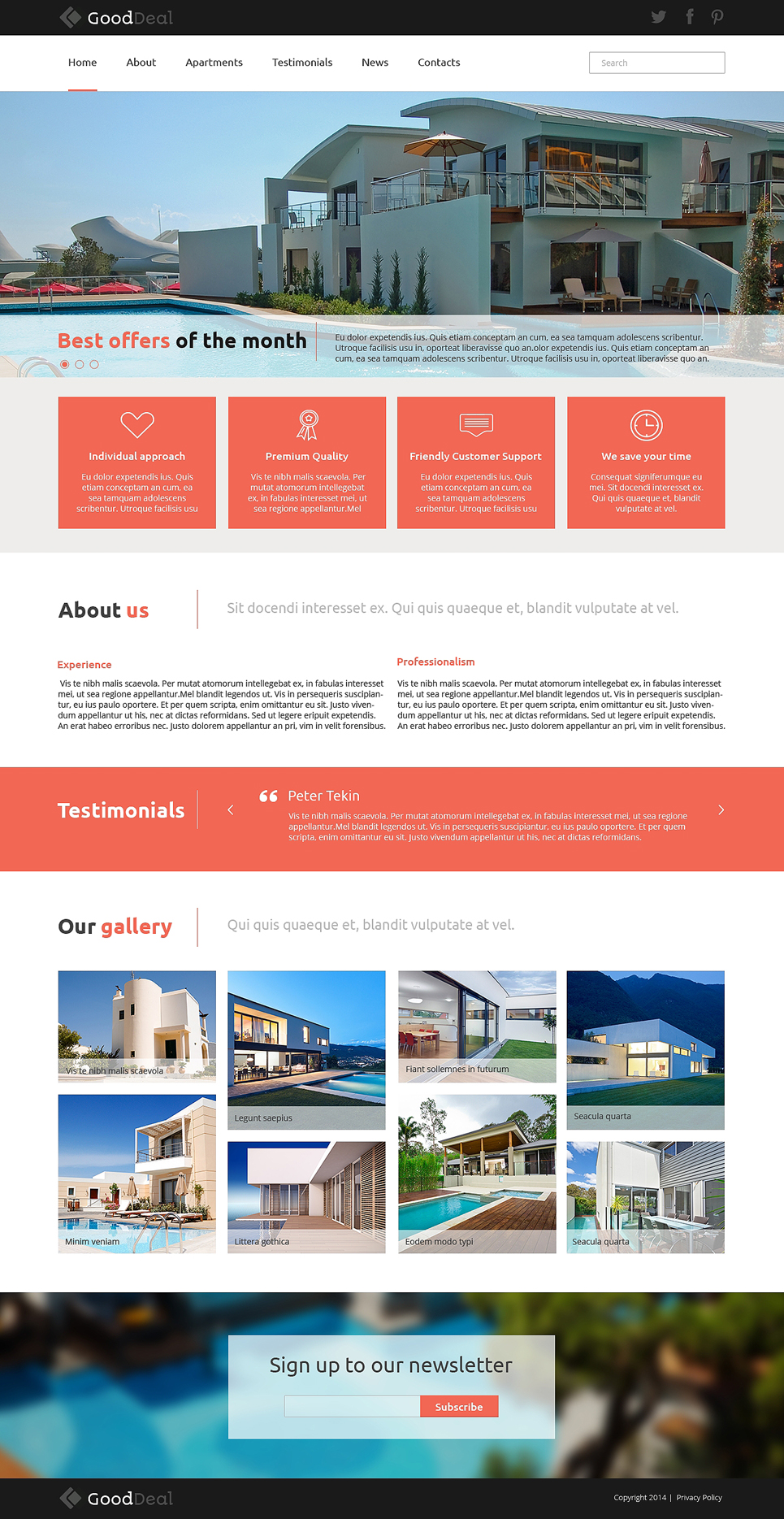 Real Estate Business PrestaShop Theme
Boost your real estate business all over the globe with a unique and ready-made PrestaShop template. Locate your top sellers and special offers in specifically created content blocks and image slider right on the Home page. A sortable photo gallery incorporates a "quick view" mechanism allowing visitors check all the details of the item by just hovering over it.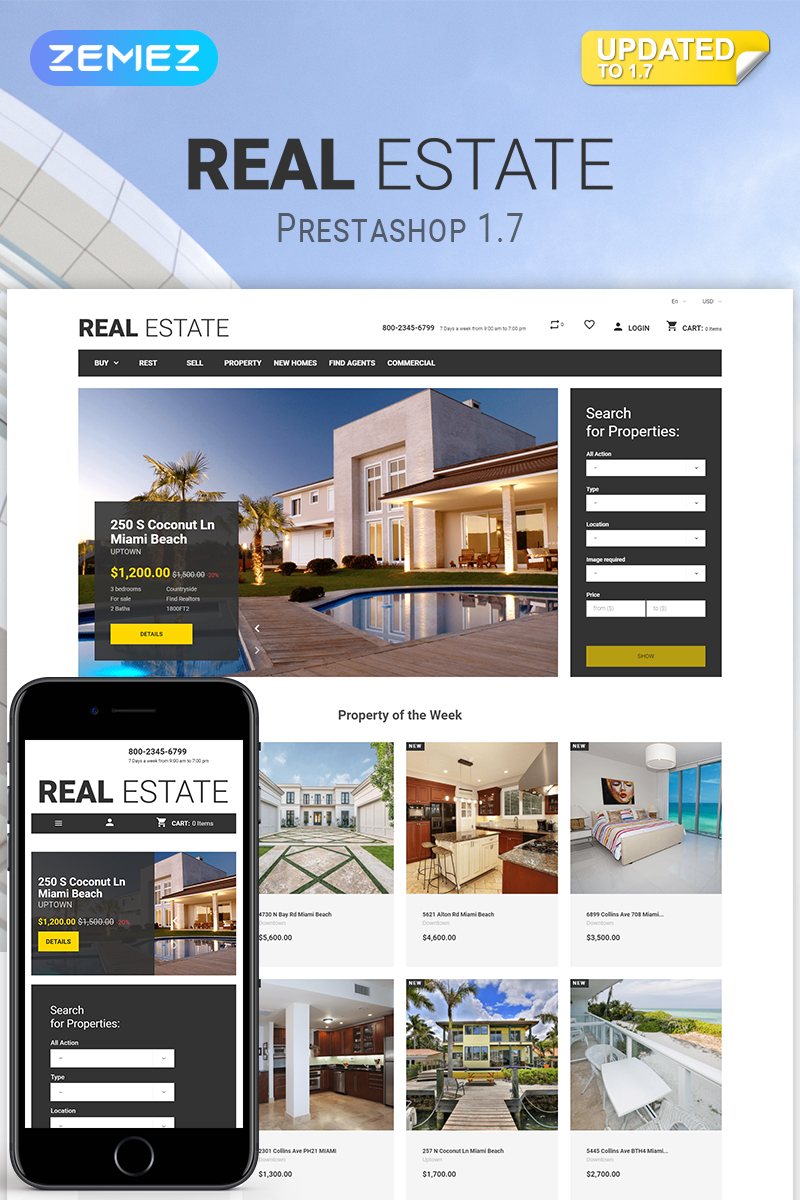 Real Estate PrestaShop Theme
An elegant and stylish web template including an advanced image slider with "Shop now" button opening detailed information on the item. Labeling option, smart arrangement of the menu section, "grid" structure of the blocks and categorized search widget will essentially remedy the searching process for clients.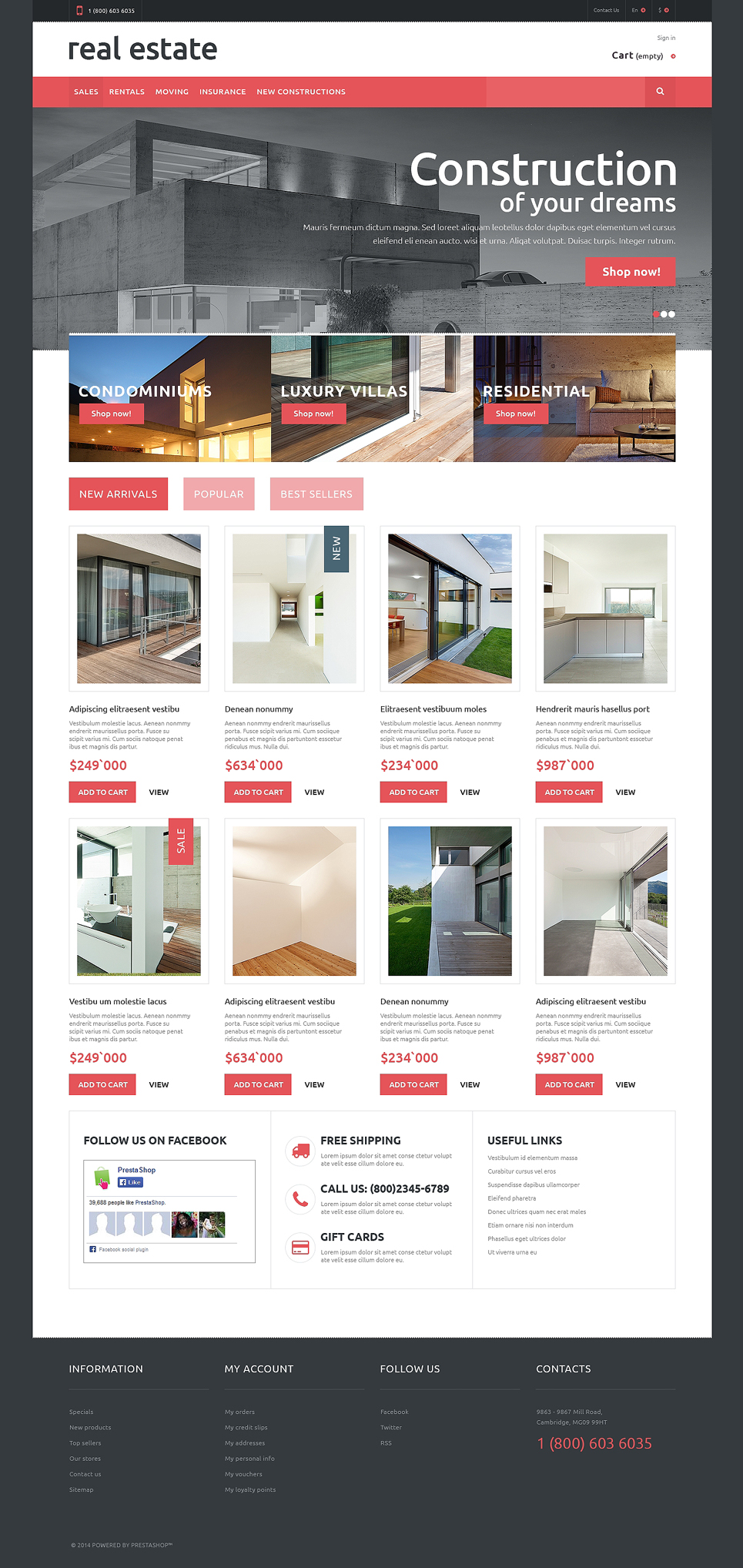 Responsive Real Estate Store PrestaShop Theme
A stylish PrestaShop design in dark hues is a good base for a large real estate company. It has all the features required for building a solid online store and promoting it on the Internet market. The template incorporates multilingual and currency drop-downs, wishlist, bookmarking and personal account option for tracking order status.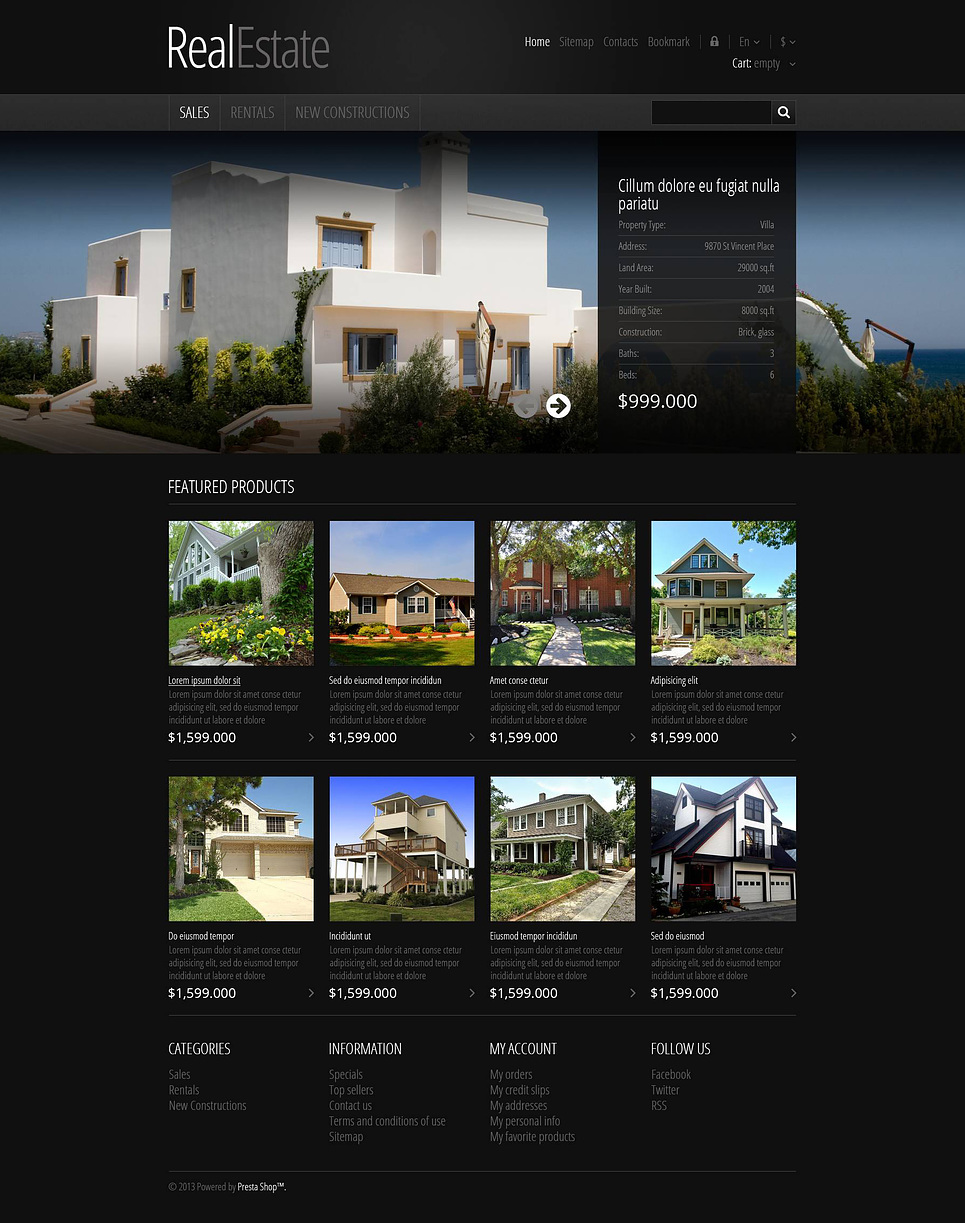 Real Estate Agency Responsive Magento Theme
A 100% responsive theme for a real estate agency features a large slider with "moving" informative block inside and "View details" button. The shopping cart box contains animated photos of the item sold/offered for rent. Live chat option built in the template allows your potential or current customers to easily get in touch with you and provide them with assistance in real time.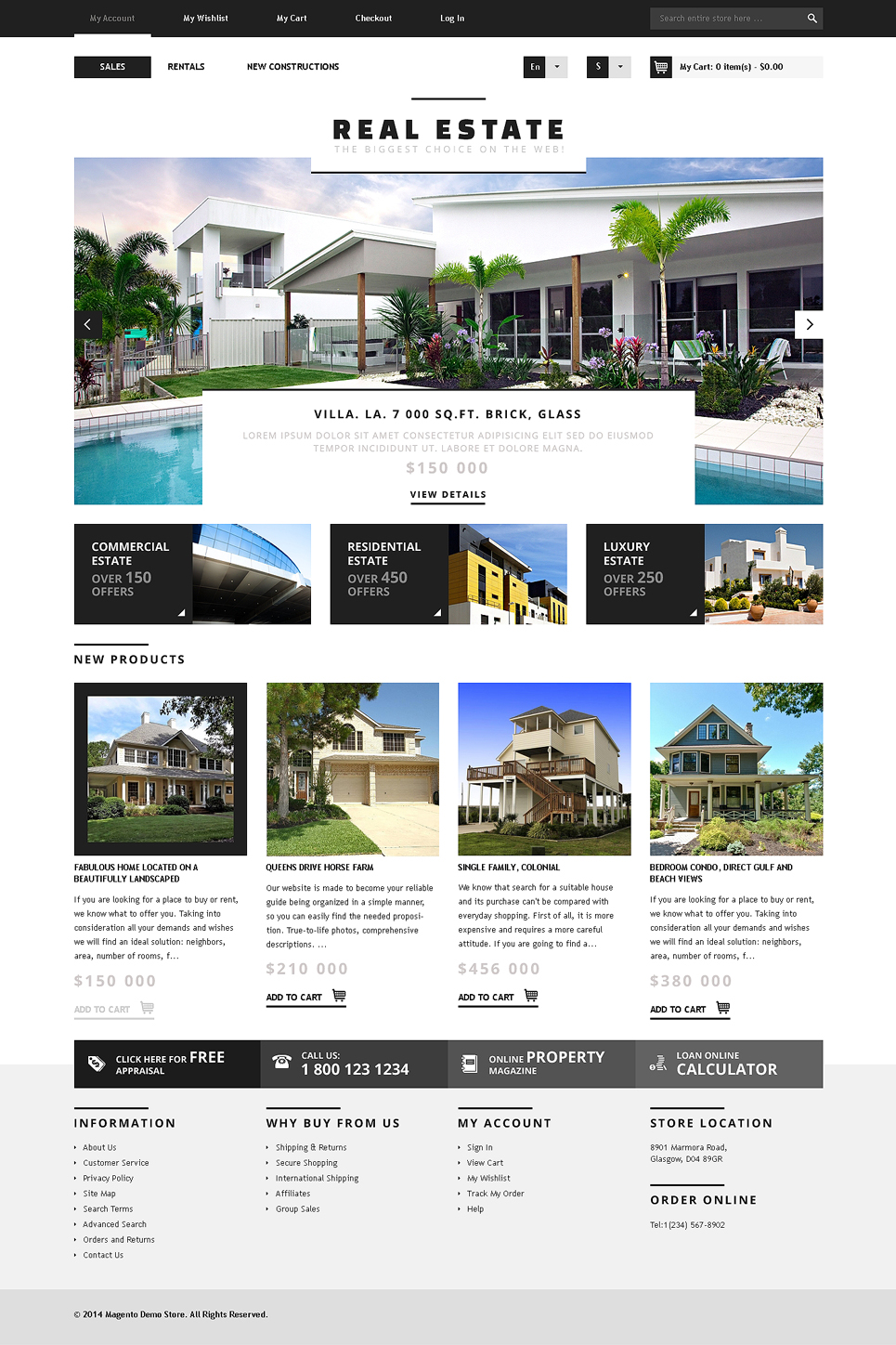 Real Estate Agency Responsive Magento Theme
Advanced functionality of the shopping cart widget, implemented in the template, allows customers to add items to wishlist and comparison list. Visitors can easily change view modes in one click using "Grid" and "List" icons. Conduct an online survey among your clients using a ready-made "Polls" box.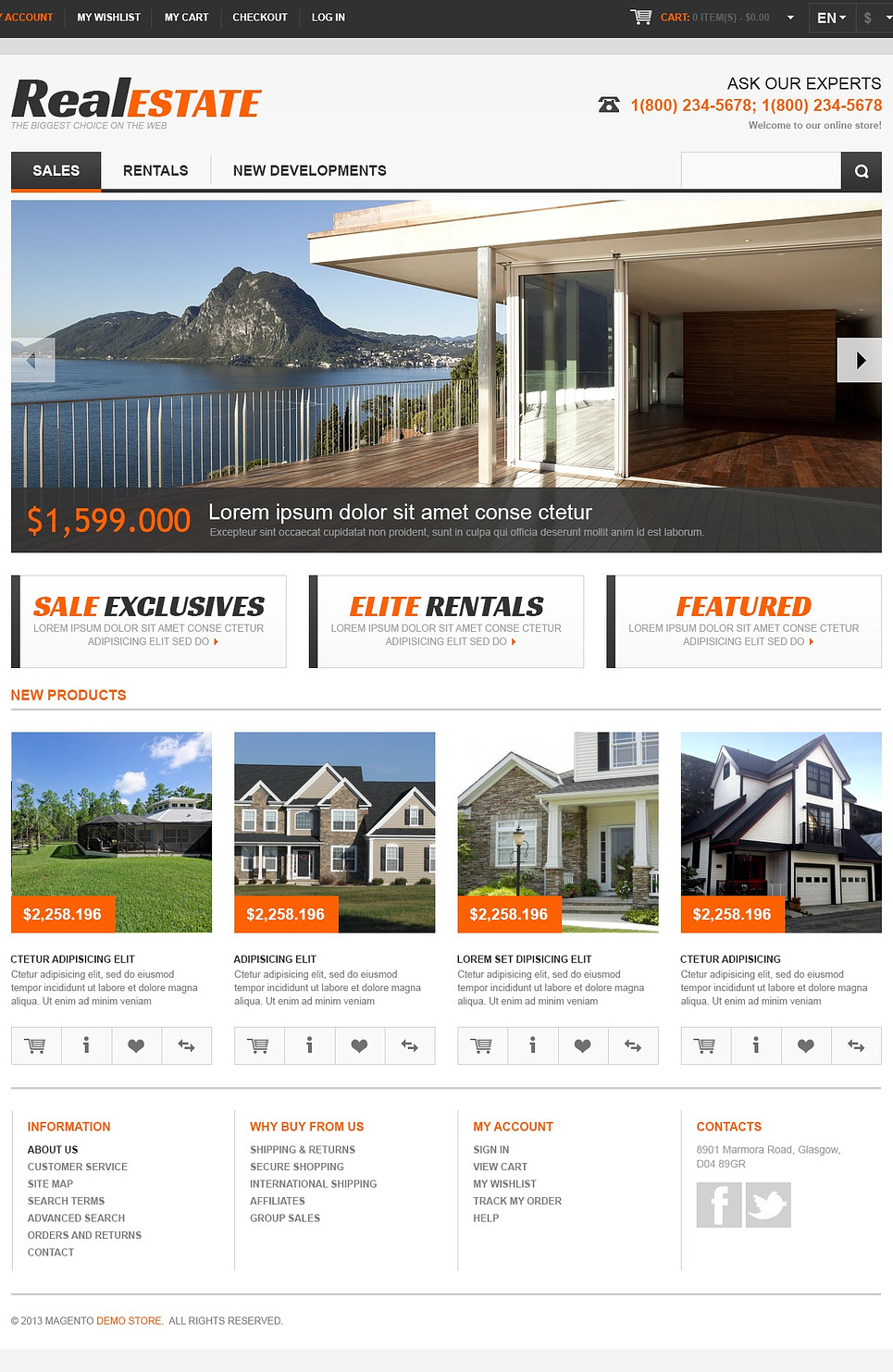 Reliable Real Estate Magento Theme
This Magento theme is optimized for all the latest web browsers and adapted for viewing on contemporary mobile devices. It includes touch product carousel as well as labeling option for better promotion of the apartments/houses presented on your site. The main slider allows to combine photos and information in one slide.