Every once in a while you might have run into a 404 error page while surfing the web, and every time you find such page you are probably a bit frustrated about it. These pages appear due to various reasons including typos, spelling mistakes or other unexpected things being out of your control.
Today we can speak of generic and custom error pages that we often see. Generic 404s are mostly simple and even boring and their aim is to announce that you've came across the "dead end" and then show you the right direction.
Custom pages, in their turn, can look very differently, and you are free to create a very original error page to make your visitors smile or even laugh. This will help you to get in good with your existing and potential customers and get them trust you more. Custom 404 error pages are designed to reduce customer frustration, help branding and linking to other parts of your website and sometimes even lead to better conversions.
We've collected a few inspiring examples which illustrate peculiar and funny error pages that will cheer you up.
1. Modcloth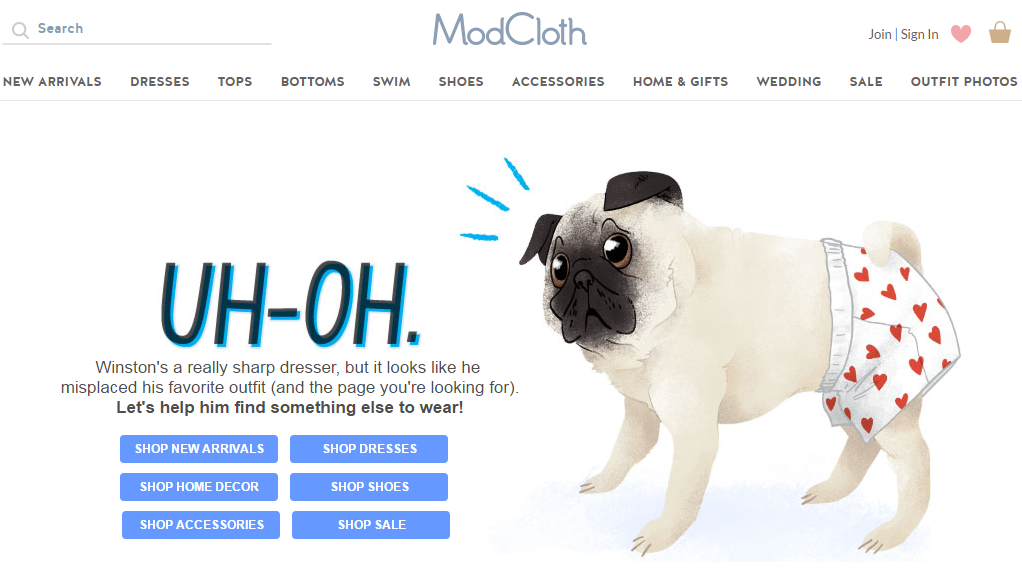 A website of women's vintage clothing and décor has got a funny 404 page featuring an "improperly dressed" pug gazing at the error message. The navigation menu and a search field are available here to lead you to other web-pages.
2. Mike Kus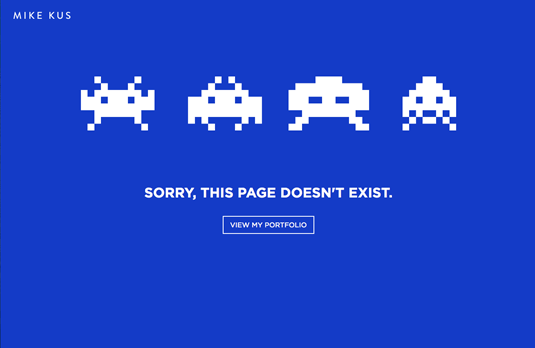 A website of a UK-based designer presents its error page with the animated classic Space Invaders dancing together once you get on a page. The calming black background and funny faces are sure to make you smile.
3. iPlanWebsites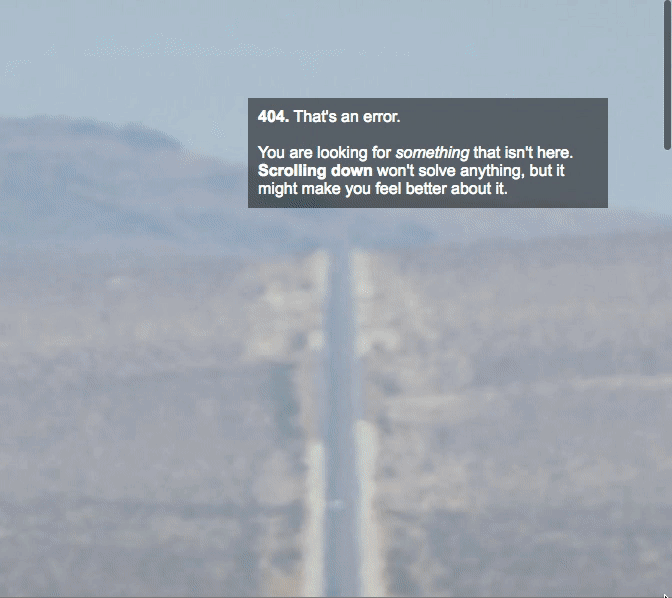 A great animated error page of a website maker which adds curiosity and intrigues users once they get on it. This page can make the rounds among friends of the visitors and help in word-of-mouth marketing of a brand.
4. Imgur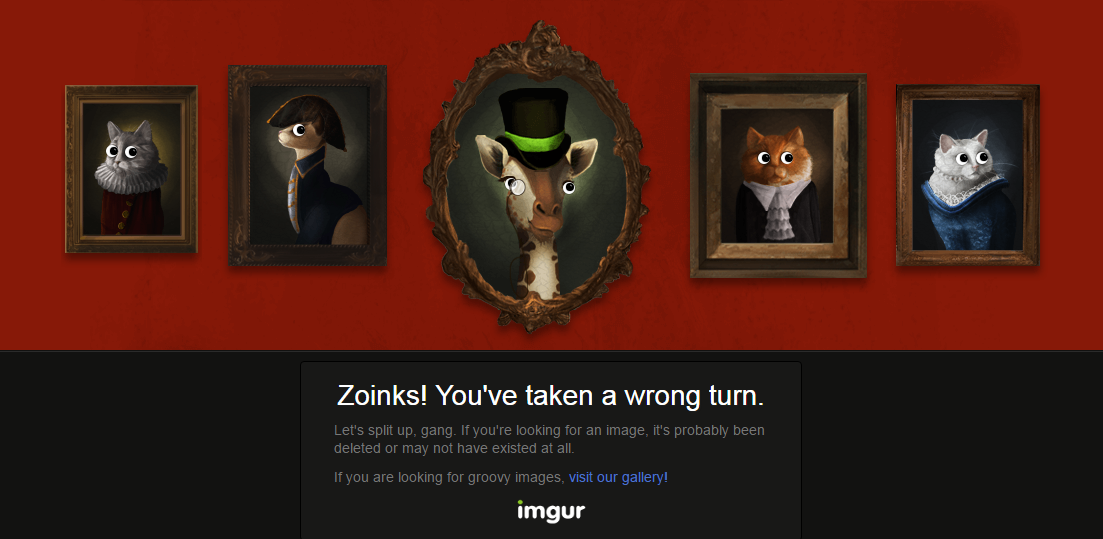 A funny 404 page belonging to the images-sharing platform and depicting amusing animal portraits dressed in clothes from a few hundred years ago. Their eyes follow your cursor as you move it around the web-page.
5. Shelfworthy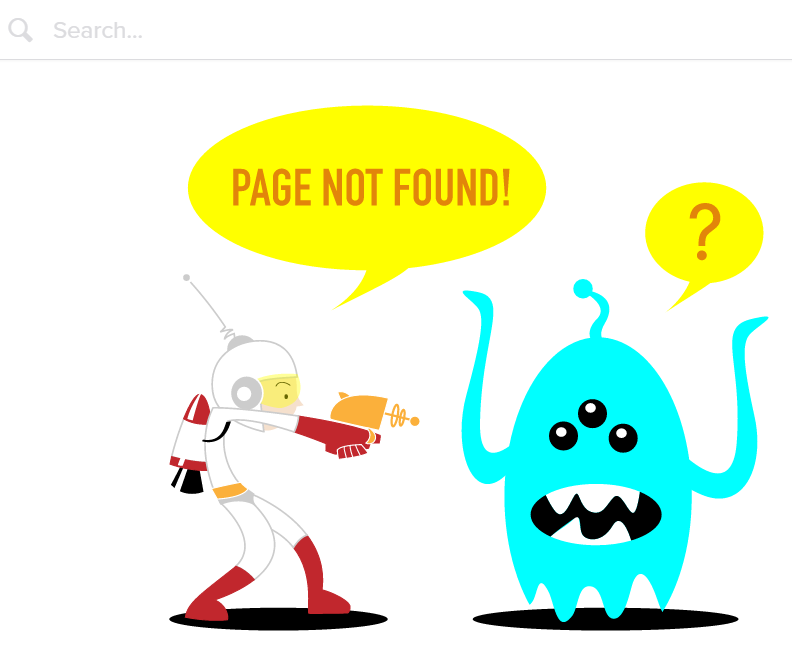 A blue three-eyed monster is shot by the robot on the error page of the mobile library application. The CTA button takes to the homepage and a search field allows to find any other pages of the site.
6. Homestar Runner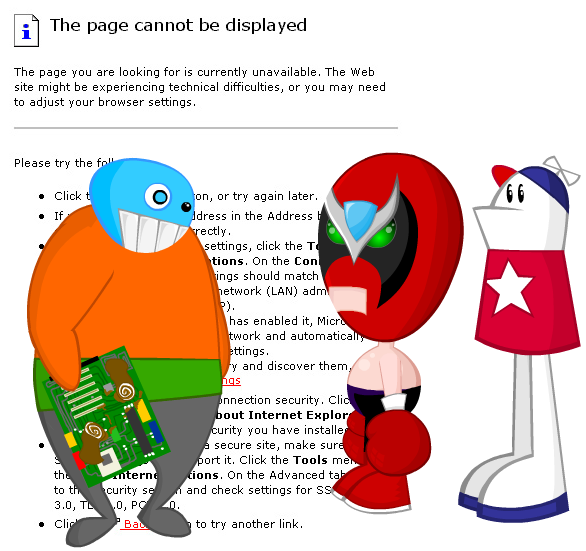 Strong Bad, Homestar Runner and Bubs – are three fictional animated characters that explain a user that everything is ok and nothing is ruined when they get on that page. The lesson learned: don't ever cram a Swiss cake roll into your disk drive.
7. CSS Ninjas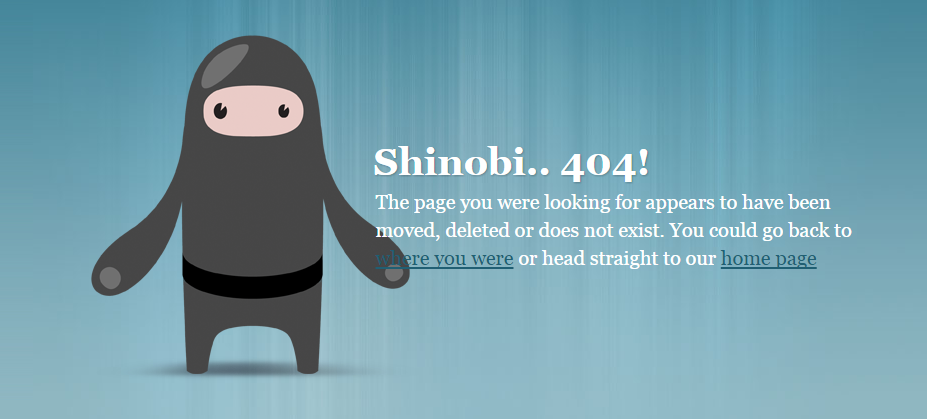 A funny Shinobi is confused on the XHTML/CSS coding service error page. This nice simple illustration reflects the website's general approach to design.
8. The Truth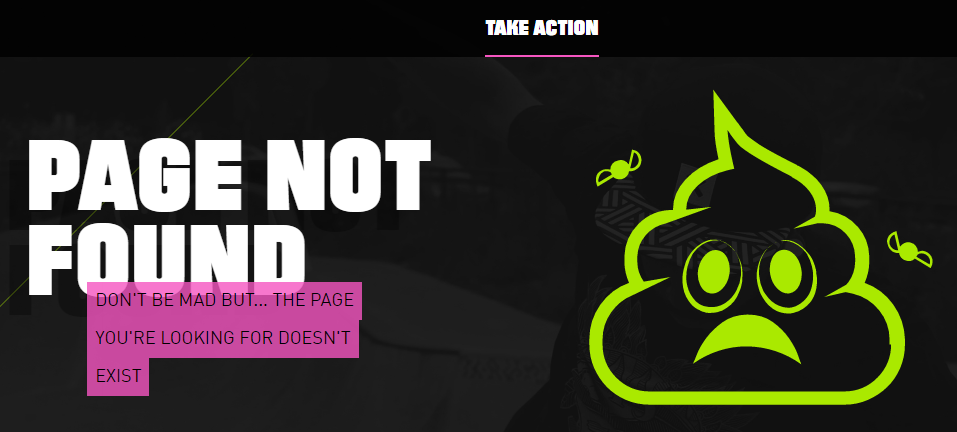 A website helping smokers to quit has got an error page featuring a green poop smile which looks funny and provocative.
9. Acme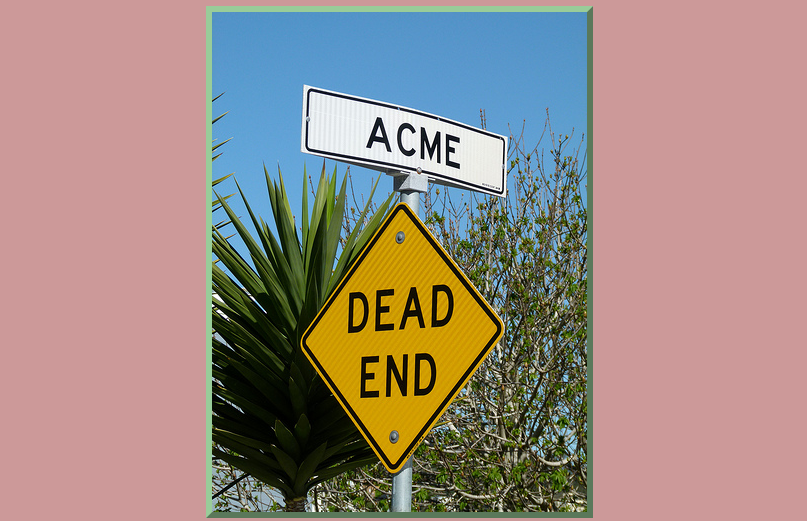 An error page of Acme Laboratories features a Dead End road sign looking like you came across it on the highway.
10. CartoonNetwork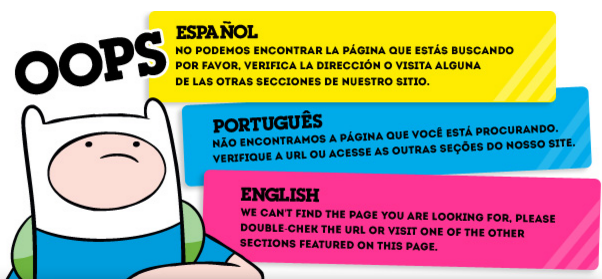 A simple but original 404 page of Cartoon Network features an illustration of a cartoon character that stares at the error messages written in three languages.
11. Ferdaze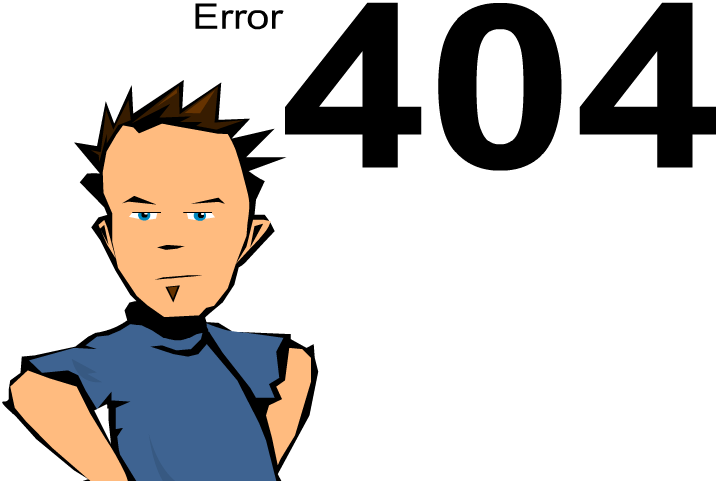 A new website which isn't yet filled with content but features an original error page with a hand-drawn animated boy sending a visitor away to other pages.
12. Fluther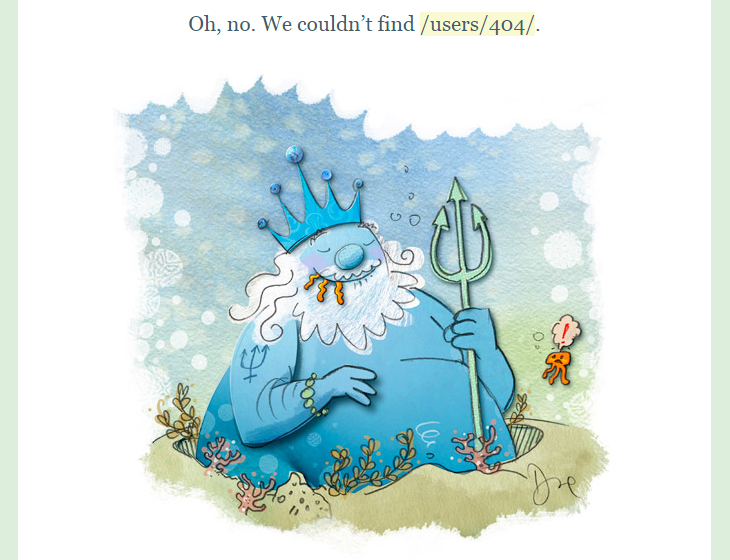 A great portal which helps to find answers, learn what you know and find questions for interested users. Its 404 page features a fat Poseidon that is surely sated.
13. Jotsai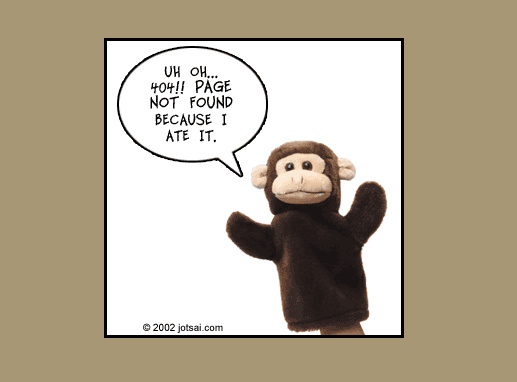 A funny error page of a website which is under construction so far. A monkey puppet ate a page that is why it doesn't exist here.
14. RetardZone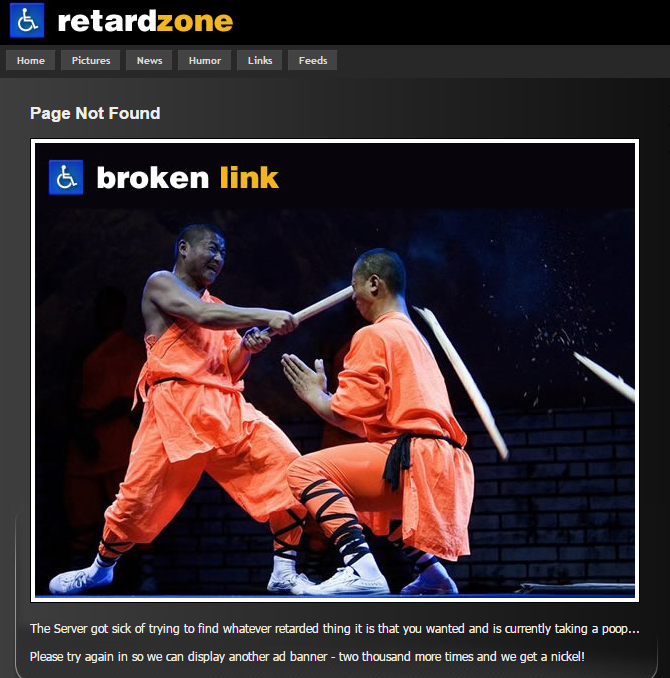 A very original 404 page featuring kung fu fighters and a funny error message. The page includes the navigation menu and a search field to get to other pages.
15. Jtbullitt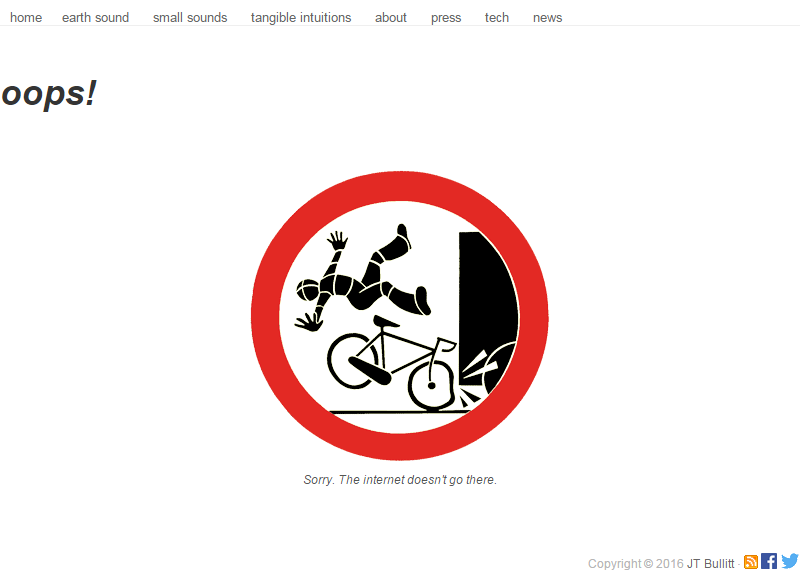 A rounded road sign depicting a rider falling off the bike looks really peculiar and interesting. This error page of a sound art related website includes the navigation menu to get to other pages.
16. Lookitsme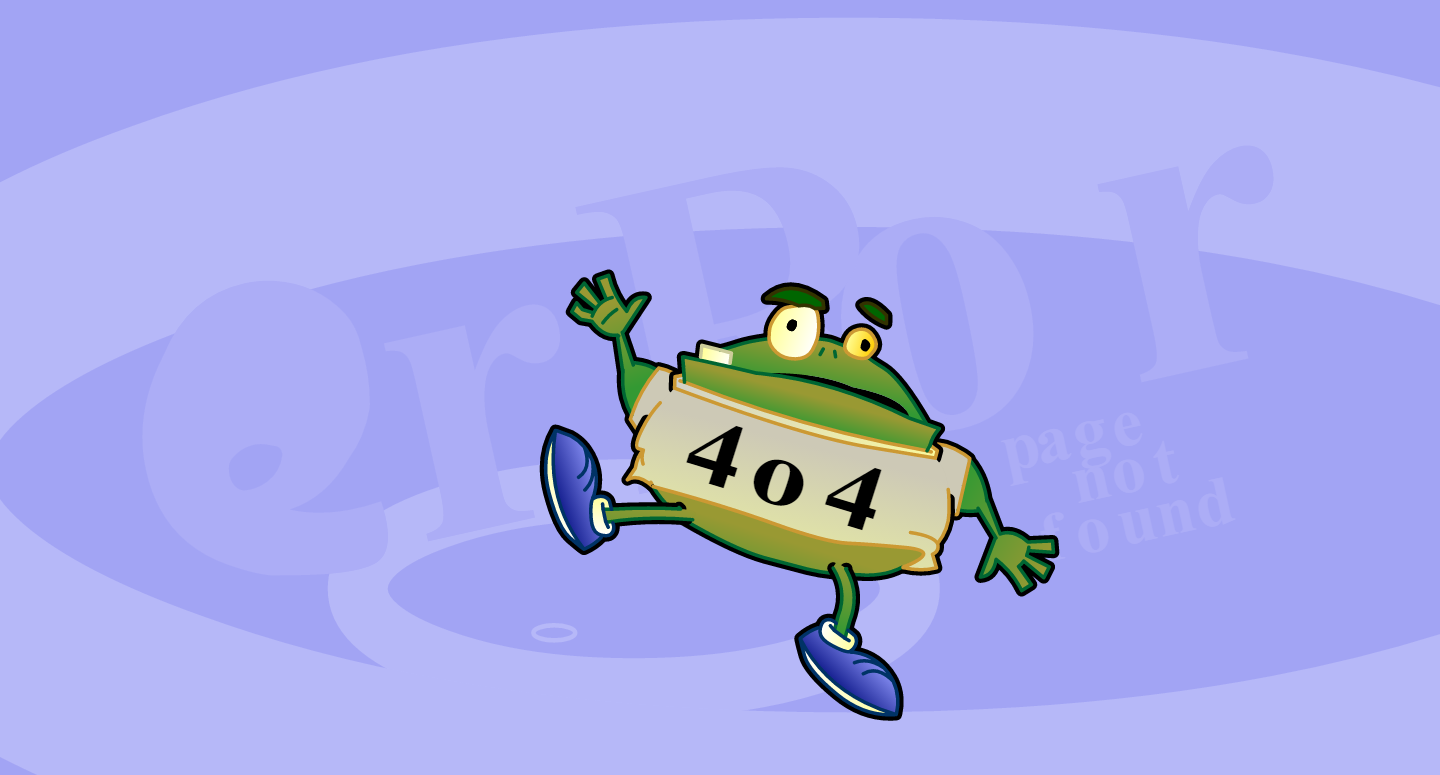 An error page of a British social media featuring a stylishly dressed frog falling off the sky right to the abyss. The "flight" is complemented by the sound.
17. Mikeace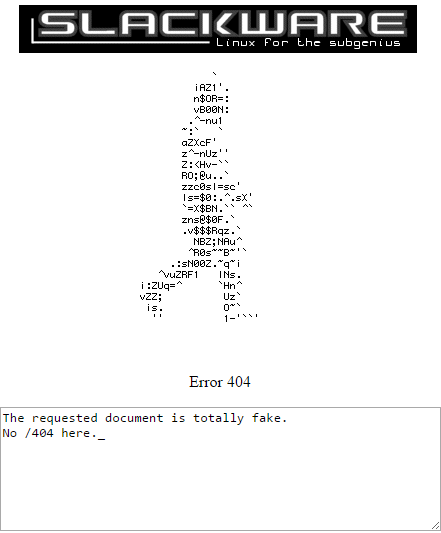 A website called Slackware features the original error page with a code-made animated man on the go. You can read an explanation in the field below and contact the site author by e-mail which is also mentioned here.
18. Newyorker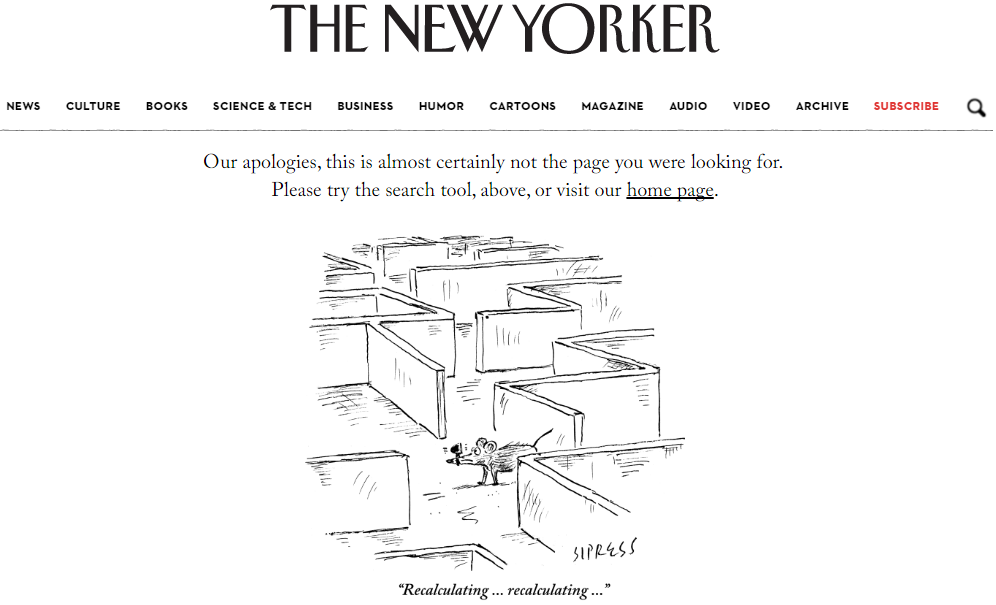 A great online magazine features an unusual 404 error page with a mouse lost in the labyrinth. Navigation menu and a search field are also available.
19. Southpark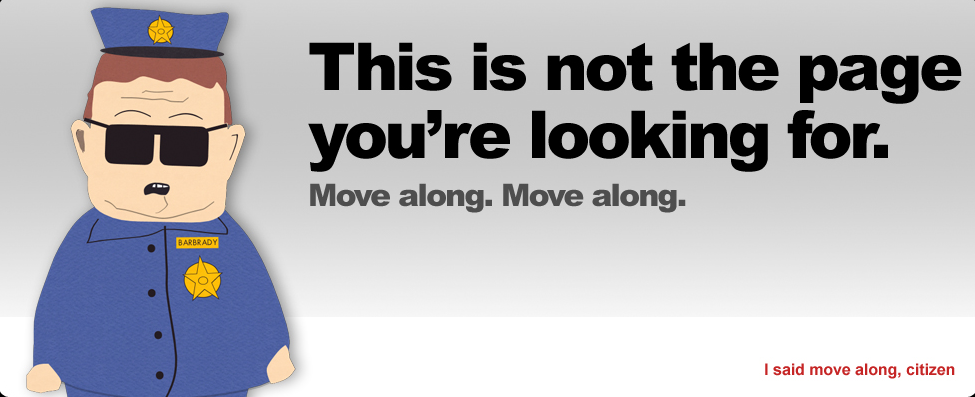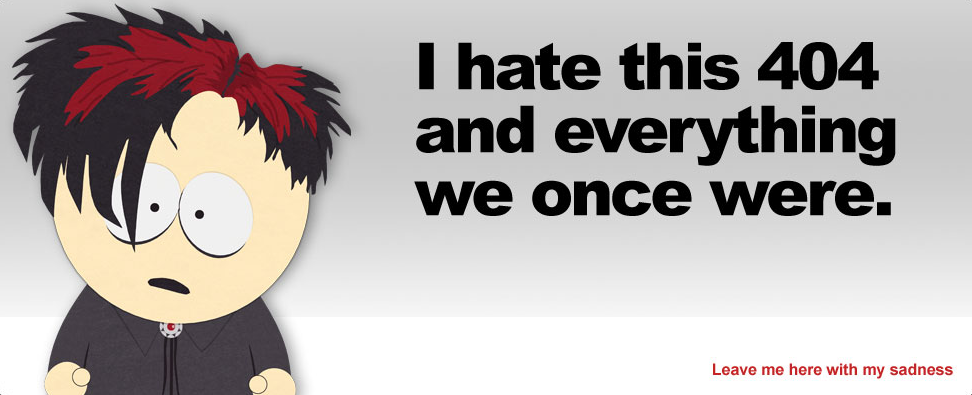 American adult animated sitcom related website features a few original 404 pages with cartoon characters and funny error messages. Every time you get on this page you see a new illustration and message.
20. Mashable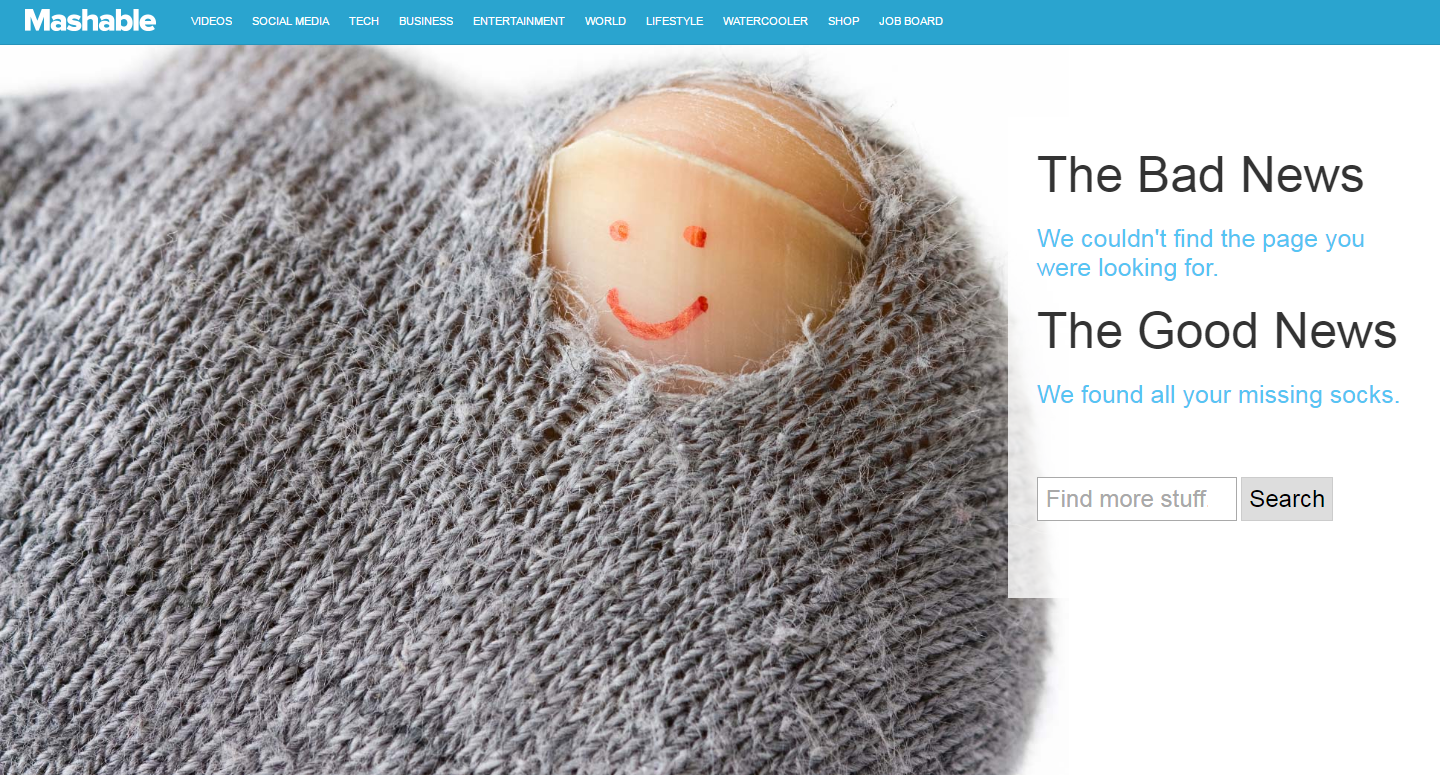 A torn sock with a smiling finger is depicted on the 404 error page of Mashable – a very popular digital media website. The navigation menu is available here to help you find the right page very easily.
Conclusion:
We hope you like these original 404 error page designs and they will inspire you for creating something really special for your website too.