The following collection of email newsletter templates is devoted to the upcoming Christmas 2017. We've complemented the bundle with the freshest free and premium templates you can use to congratulate your subscribers, wish them happy holidays or announce of your special holiday offers. See the bunch of templates from our team, and please check out other free and premium email newsletters especially crafted for warm and festive greetings. 
Email Newsletter Templates from GT3 Themes
The first Christmas set includes 5 newsletter designs. Each template has its own unique layout, original style and pleasant color scheme. We've designed them for different kinds of businesses and various personal needs, so you can choose the one that will fit you the best. This set of email newsletter templates is available both in HTML and PSD formats, so you can use them in any version you prefer.
Awesome Christmas Holiday Premium Email Newsletter Template
An email template created with pleasant color combination, available for informing your customers about the latest news of your company. It includes social buttons you can link with your official profiles in social media.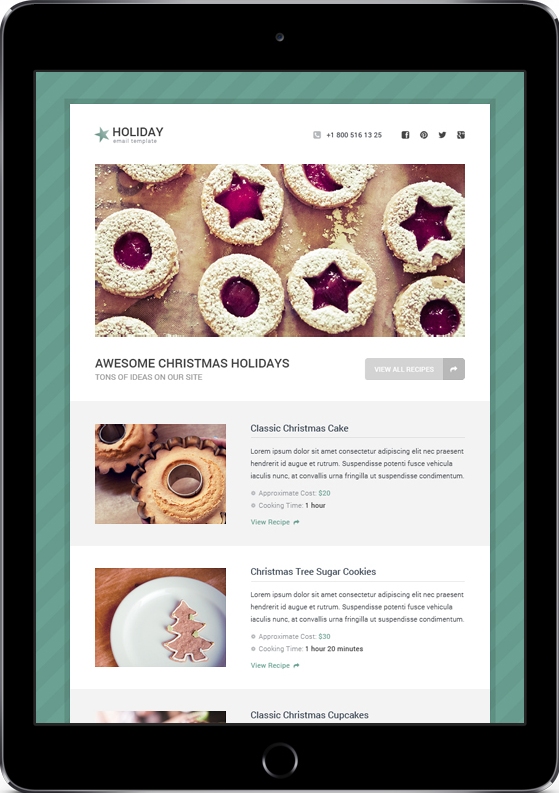 Happy Christmas and New Year Premium Email Newsletter Template
This newsletter template can serve as the promotion of your holiday discounts for definite products from your inventory. You can also use it to announce about gifts and bonuses that your customers can get after making a purchase.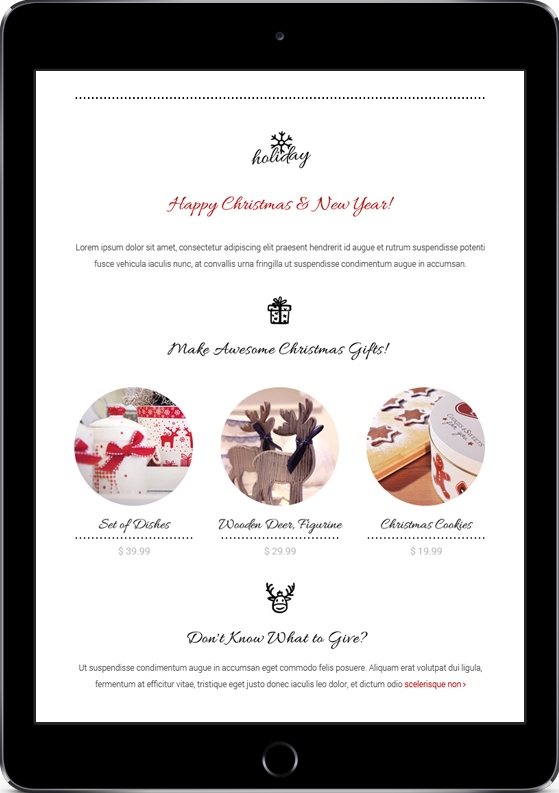 Happy Holidays Premium Email Template
Use this template to promote your niche-specific products you've provided especially for Christmas, or take this template to congratulate your target users and subscribers and offer them some profitable deals.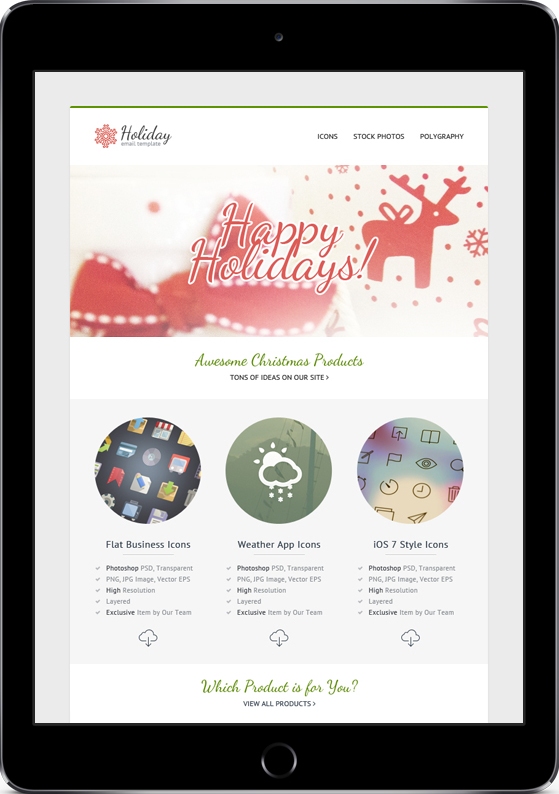 Holiday Premium Email Newsletter Template
A great newsletter template for those who run a magazine or a blog and want to announce the latest news and showcase the latest Christmas related posts from their website to their subscribers.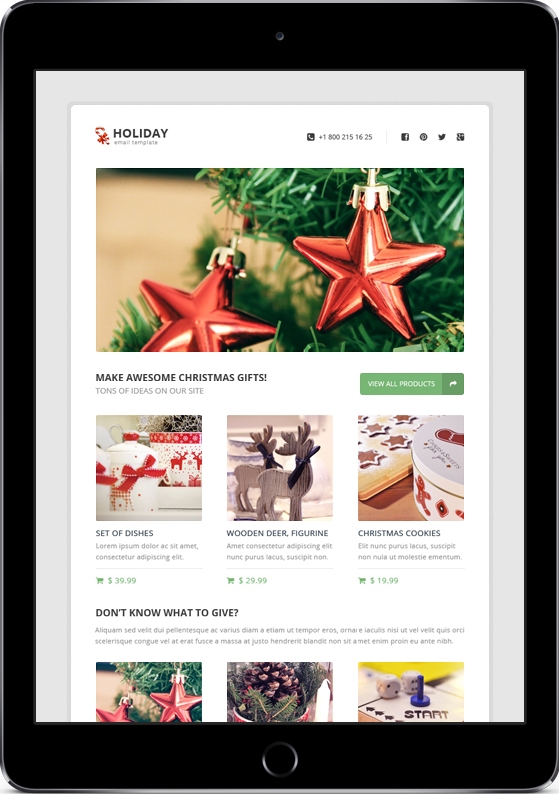 Make Awesome Christmas Gifts Premium Email Newsletter Template
A stylish newsletter template suitable for an online store to announce Christmas holiday discounts for some popular products.
Free Email Templates
Christmas Red Free Email Template
A free responsive holiday email template which is sure to put a smile on faces of your subscribers. You can edit the template and add your own congratulations and holiday offers.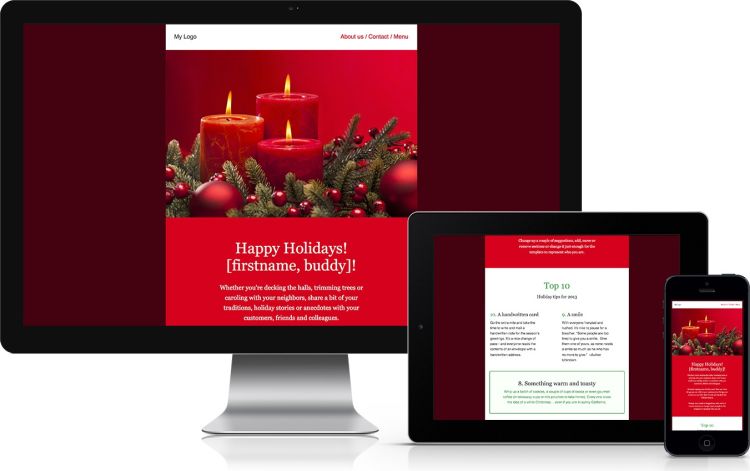 New Years Free Email Template
A free responsive email template to wish happy New Year to your subscribers. Share your congratulations and unveil your special holiday offers by email.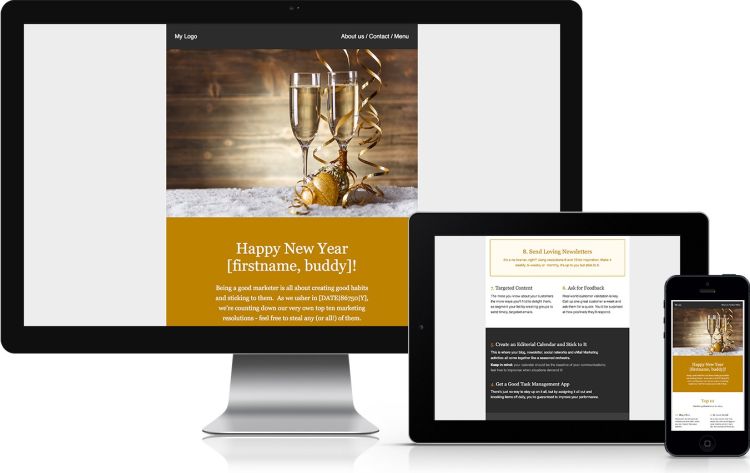 Christmas Free Newsletter Template (2 Pages)
A free and easily customizable email template consisting of two pages. You can edit it and place any information, a lot of space is available for content (2 pages are available).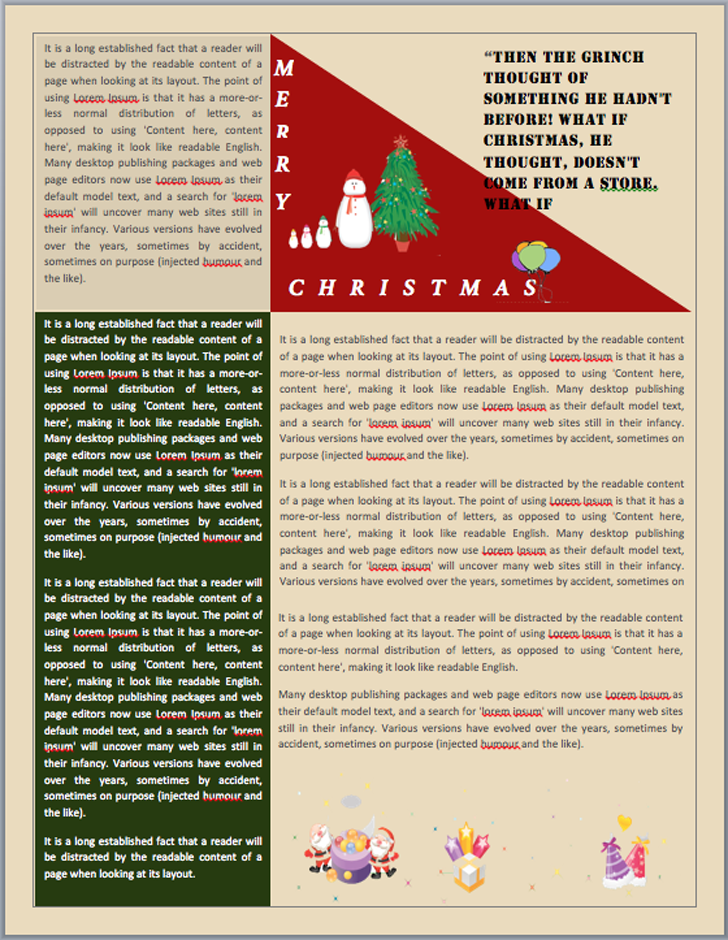 Christmas Free Email Template (2 Pages)
A free email template designed in green, red and white colors. The template consists of two pages and includes a lot of space for placing text content while editing. You can share your articles, posts, offers, and any other content with users.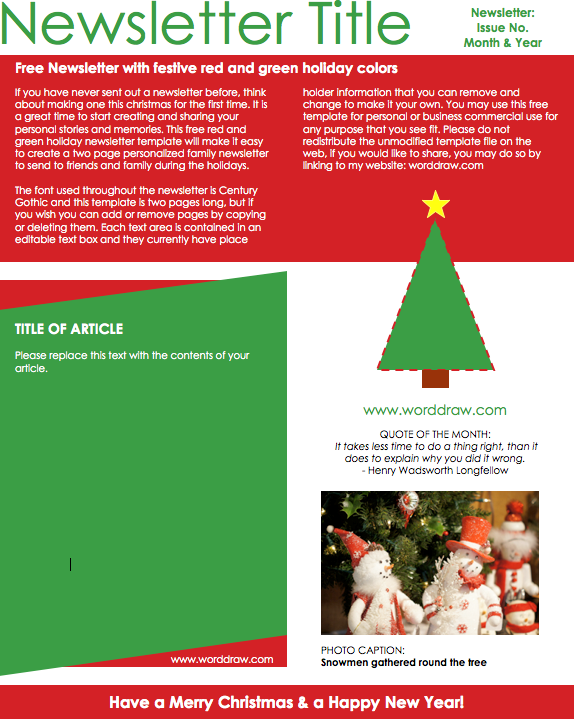 Premium Email Templates
X-Mas – Christmas Party Invitation Email Template PSD
A creative, clean and modern Christmas Wishes email template in PSD format. It can be used as a holiday invitation or promotional email. It's very easy to edit; layers and smart objects are very well-organized and structured.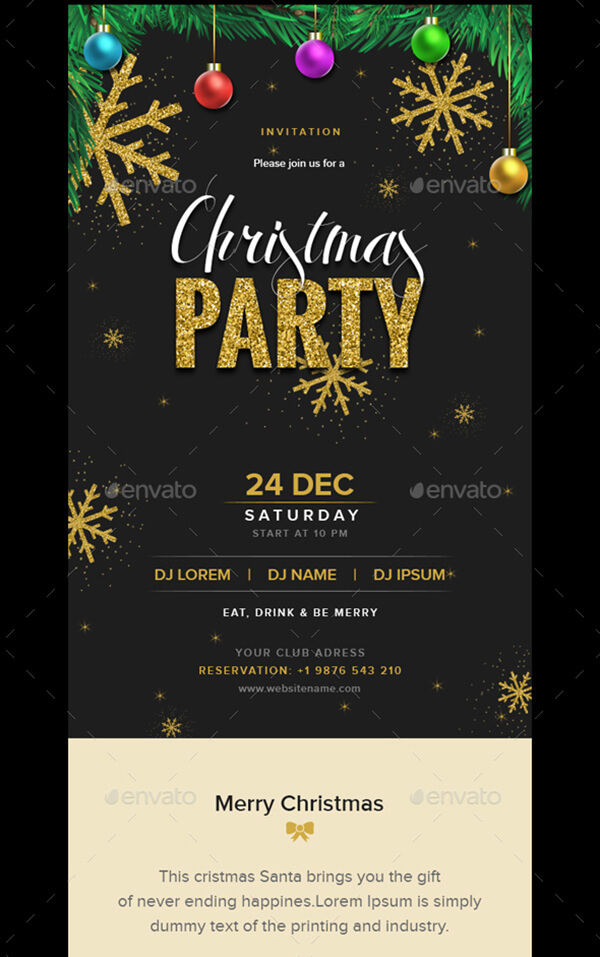 X-Mas – Christmas Wishes Email Template PSD
A modern Christmas email template suitable for holiday wishes, congratulations and promotion. The template comes in PSD format. It is very simple to edit thanks to smart objects and well-organized layers.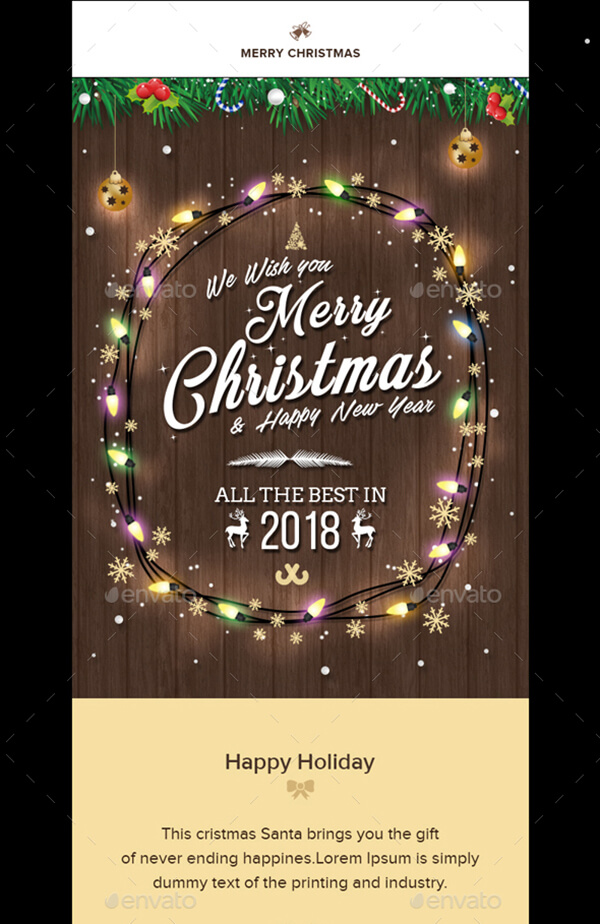 X'mas Mail
2 holiday templates – A Christmas and a New Year's eve. They are suitable for your special promotion campaign. A snow animation makes your campaign lively, and a place holder image makes your products more noticeable.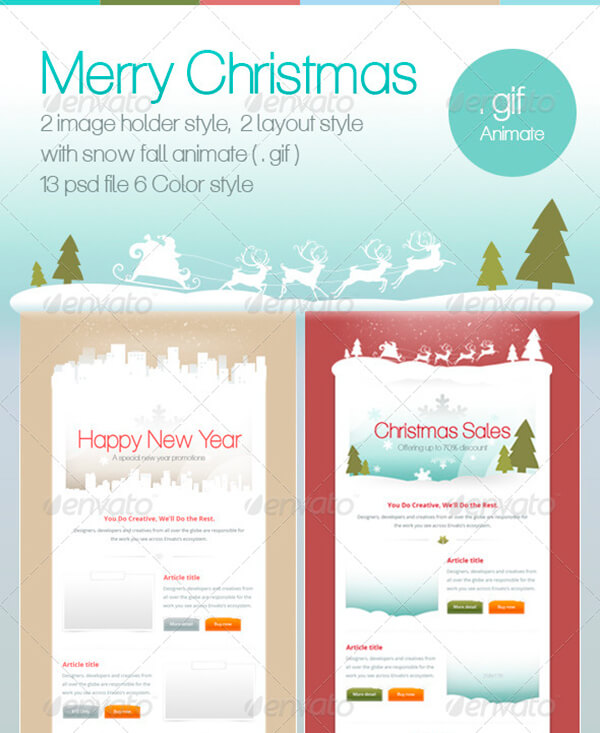 Christmas Fever E-Newsletter Template
A set of 3 PSD designs for your Christmas holiday mailing and business promotion. It boasts clean and professional design, smart objects to place your product images, 3 layout options, editable layers, and more features.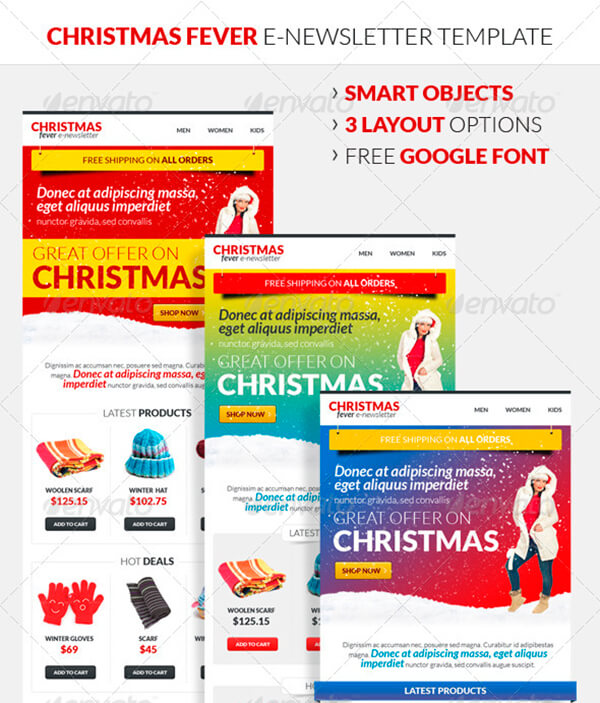 XmasTime – Holiday Business Email Template PSD
An email template built for companies, enterprises, businesses or freelancers who want to find a beautiful and clean solution for their email marketing needs. It comes in three styles including corporate, eCommerce and Christmas ones.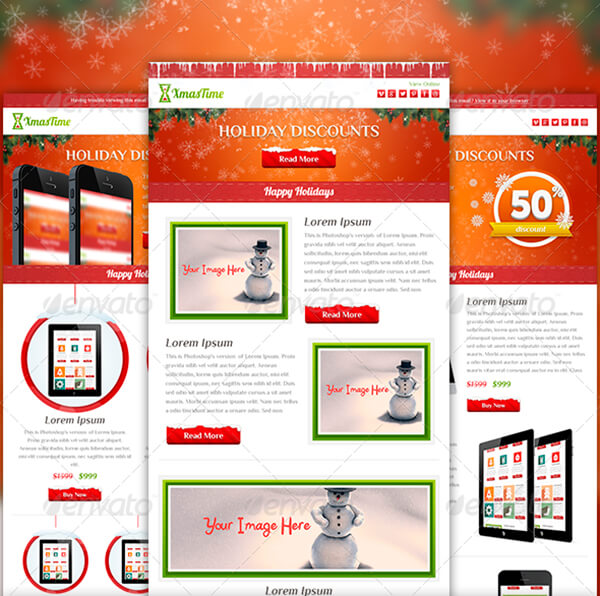 Winter Mailchimp Eblast Pack
A premium Christmas email template including 3 responsive HTML files plus images folder. The templates is easy to customize for users with a little HTML knowledge. You can also address the author to get him make a customization for you.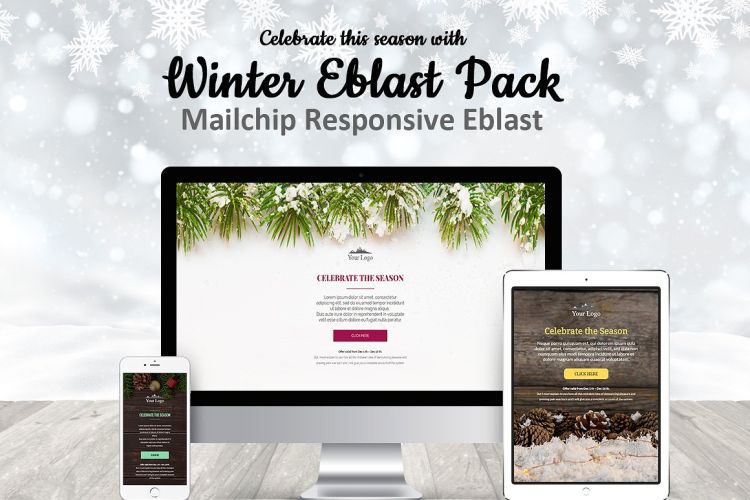 X-Mas Mailchimp Eblast
A premium holiday email template consisting of 1 HTML file plus a folder with images. It has inline CSS and optimized code. A Mailchimp ready one.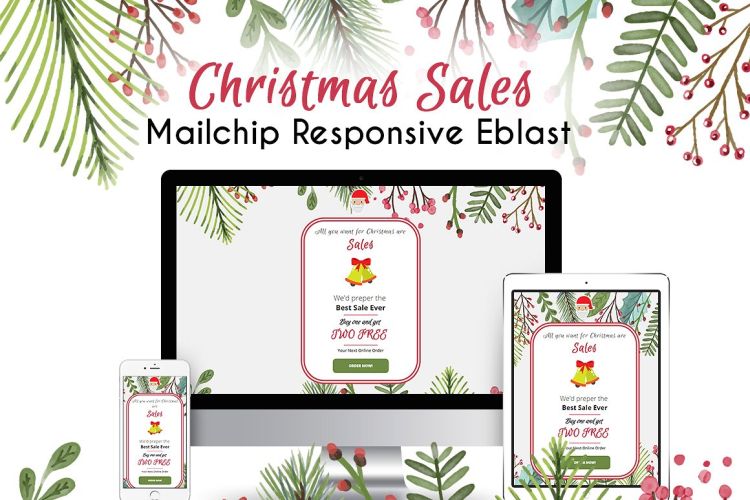 Holiday Email Template
A clean and cheerful premium email newsletter template perfect for blogs and shops wanting to get an email presence with large graphic impact and a focused call-to-action.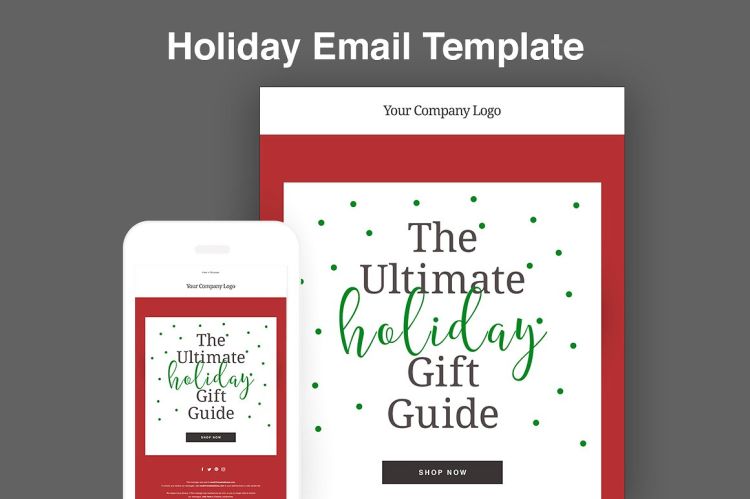 X'mas 4 | Holiday Template + Greeting Card
A premium Christmas email template consisting of 20 modules and 5 greeting card templates. A CSS keyframe animation will be visible in native email app on iOS device or viewed in web version.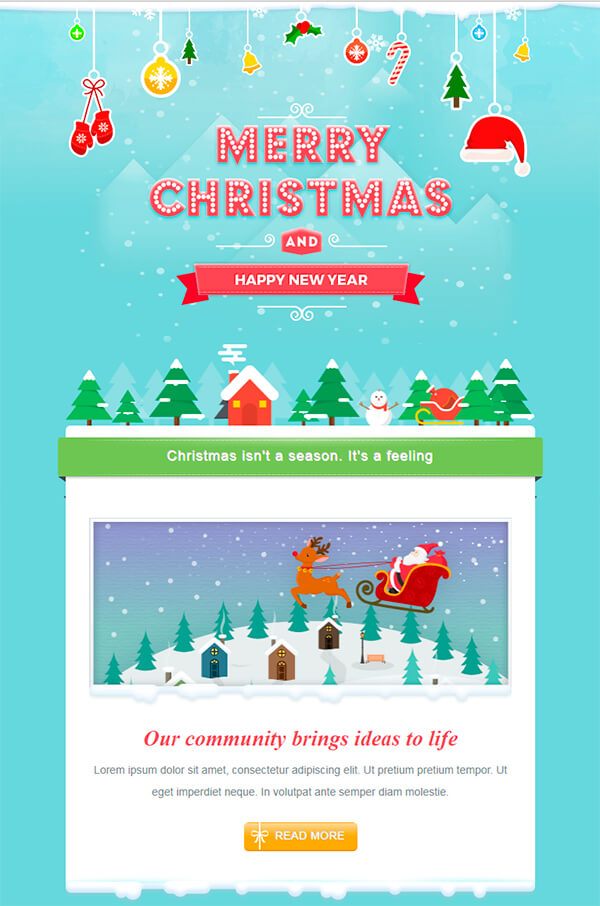 Christmas Offers – Complete Set of Christmas Email Templates
A premium set of Christmas email templates including 8 different editable vectors. Use it to send attractive offers and promote discounts for your products.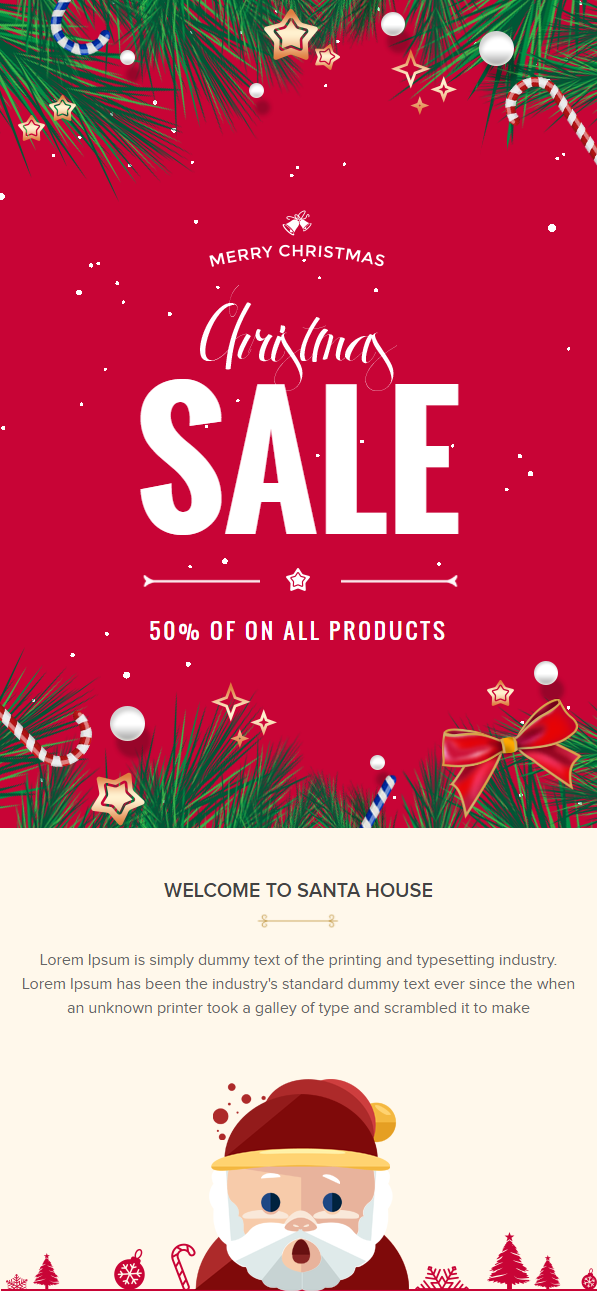 Christmas – Email Templates Set + Kbuilder 1.2
A premium email template for holiday mailing available with the integrated Kbuilder for more convenient customization. Unlimited color variations are available.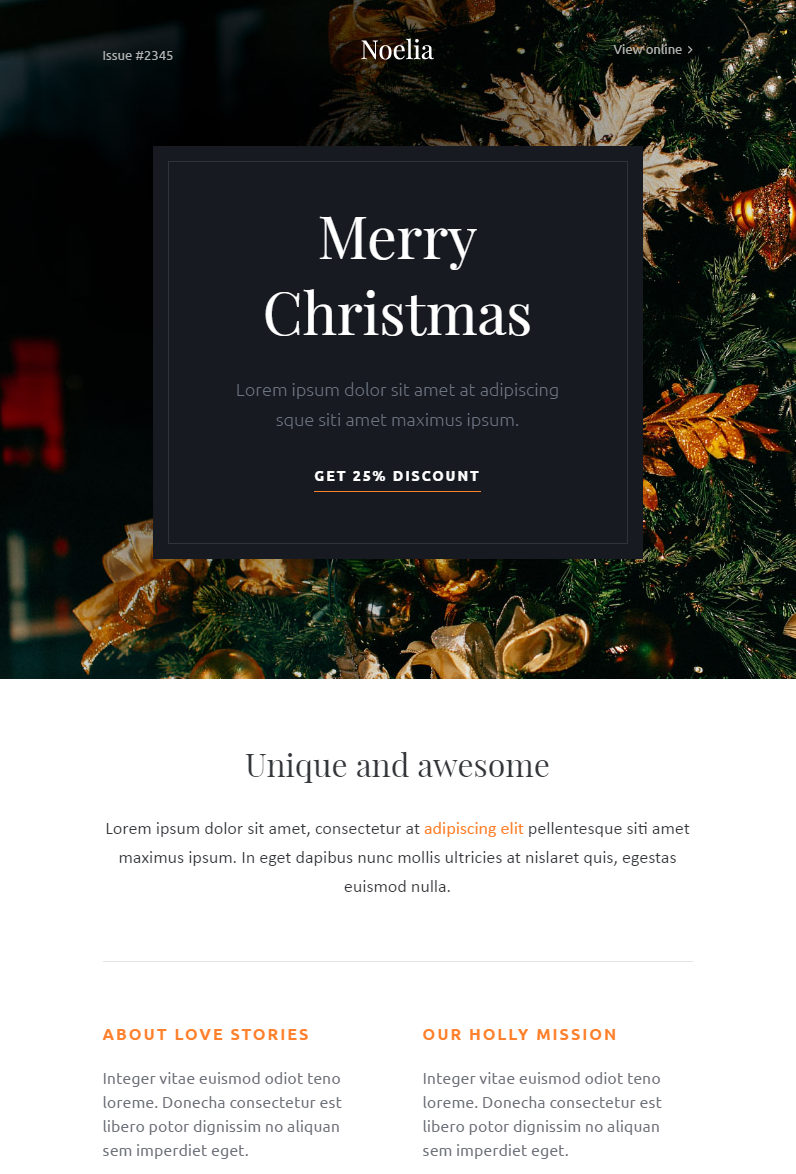 GLAD – Multipurpose Holiday Email Pack with Stampready Builder Access
A premium responsive multipurpose holiday email bundle designed for 8 different categories, and Christmas is one of them. The bundle includes more than a 100 modules which are easily editable.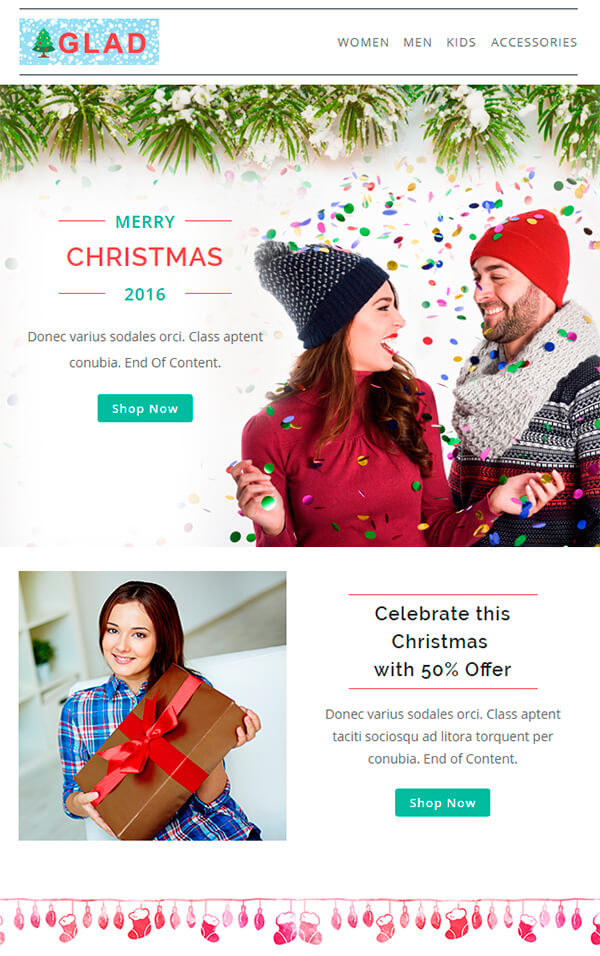 Christmas & New Year Newsletter + Builder Access
A premium Christmas and New Year email template available with responsive layout, drag-and-drop builder and multiple email clients compatibility.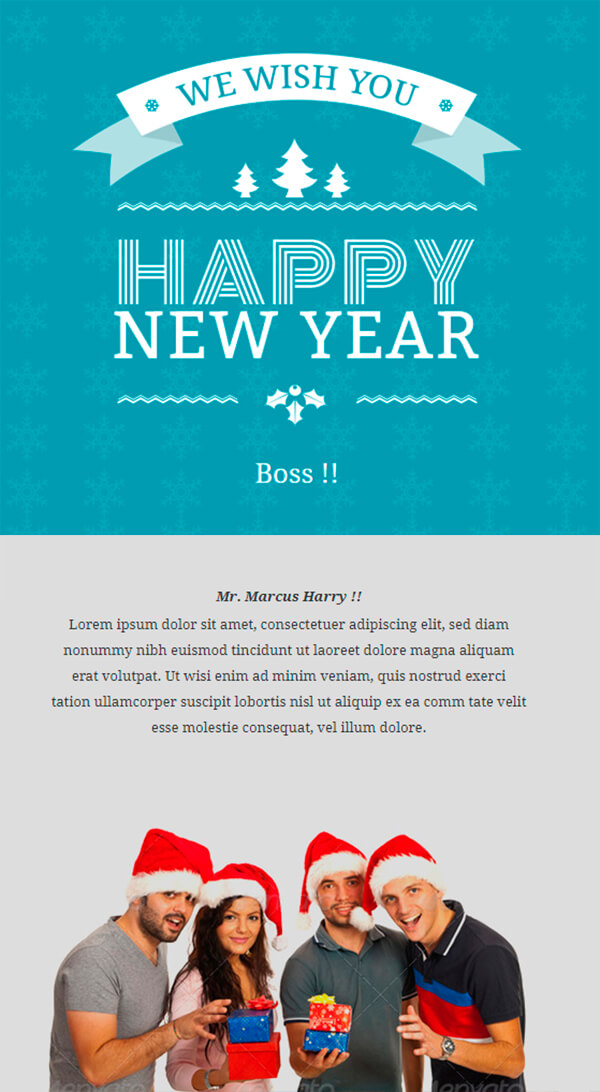 S-Shopping Responsive Email + Template Builder
A premium responsive email template designed in 22 different modules. It is compatible with Mailchimp, Mailbuild builder, and some other popular services. Unlimited layouts are available.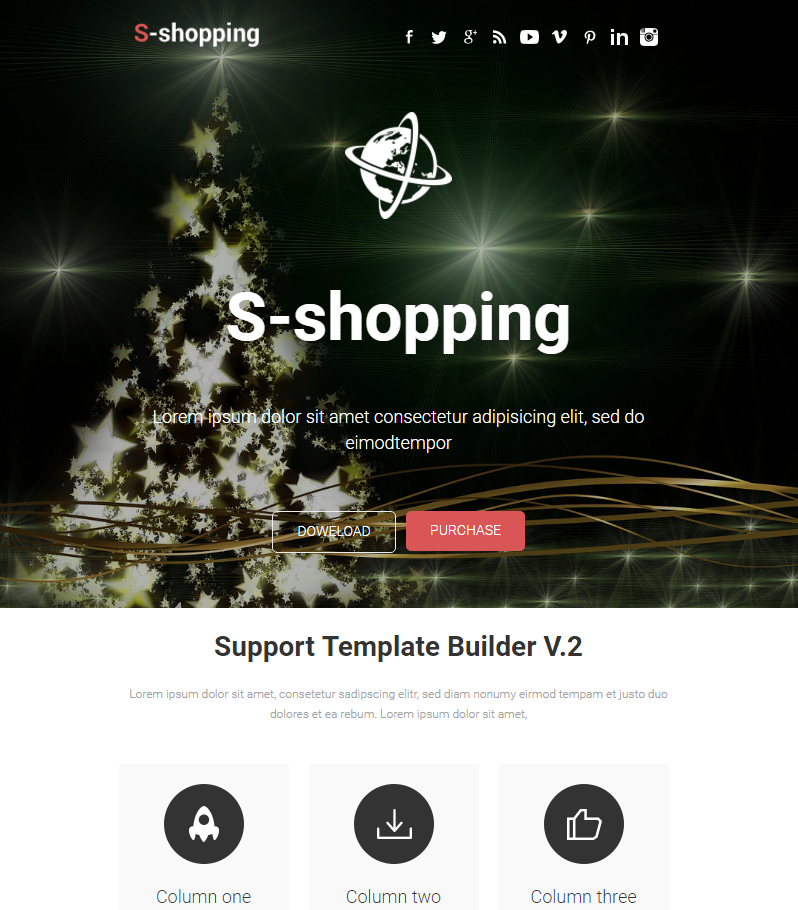 Conclusion:
The holidays are around the corner. We wish you happy celebration!